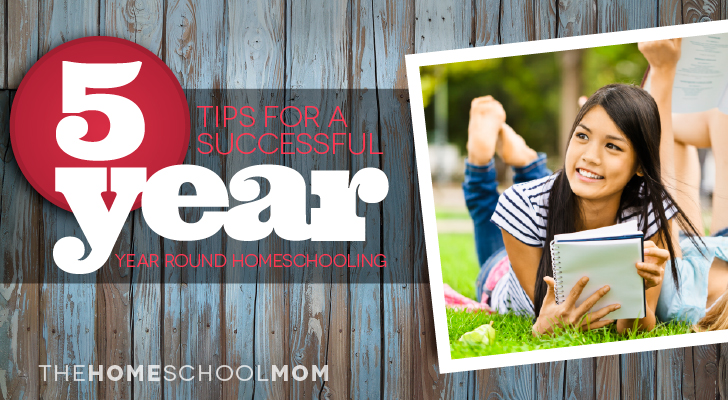 I remember our first day of homeschooling like it was yesterday. Emily was 5 and Jeremy was almost 3 years old. It was September--the time of apple harvests, the beginning of autumn, and the first day of school for many. It was our first day, too. In the beginning, we followed the traditional public school schedule. This was new territory for me, and I felt safe wrapped in tradition.
Well, fast forward several years. We began experimenting. I no longer needed the safety net of tradition. I had evolved. It felt freeing. After a bit of trial and error, we discovered year-round homeschooling. I was in love. Homeschooling through the year is a veritable smorgasbord of possibilities.
I know what you're thinking. Is she off her rocker? I assure you, I'm not. I do know that the mere mention of homeschooling year-round conjures up images of weariness and no school breaks. So. Not. True. Come along with me and follow my tips for a successful year-round homeschooling experience.  Year-round homeschooling just might be your new best friend.
1. Create a Unique Family Schedule
A personalized schedule is at the heart of year-round homeschooling. Think about your family's routine, lifestyle, personalities, and preferences. One of the reasons that we chose to homeschool year round was our relationship with summer heat. We didn't like it. We were genuinely content to while away the summer feeling cool and comfortable while logging in extra homeschool days.
Creating a year-long schedule may seem rather daunting at first -- there are a lot of things to consider. If you need a little inspiration, take a look at some of these common year-round schedules:
4 day weeks and 3 day weekends throughout the year
5 day weeks with Wednesdays off and school on Saturdays
5 day weeks throughout the year with week-long breaks at regular intervals and 2 day weeks in the summer--this was our schedule of choice, but you can play around with this basic idea to find what works best for your family.
How about celebrating your children's birthdays by taking off from school? We did! It's just a little something to make your children feel special.
Do you take a vacation every year? Think about this when creating your schedule. In fact, one of the bonuses of year-round homeschooling is the freedom it allows--you can take a vacation any time of the year. Yay! Even if your kids participate in co-op classes or take dual-credit college courses, you should be able to work out a plan to make up any missed work either prior to your trip or when you return.
Obviously the 1st and 2nd options don't leave much wiggle room for a vacation. You'll have to get creative. Simply Convivial to the rescue—fellow homeschool mom, Mystie, shares her tips for creating the best year-round homeschool schedule for your family.
2. Be Flexible
Flexibility is a must.
Being flexible is especially important when you school throughout the year. I certainly don't need to remind you that a year is a very long time. What was preferred in the beginning, may now summon up moans and groans. Routines get old quickly. So jazz it up a little. Mix in surprise field trips. Add dashes of interest-led learning. Rearrange your schedule. Yes, you can really do that.
3. Take Real Breaks
Everybody needs a break now and then. Breaks matter. Breaks refresh. Breaks confirm to your kiddos that you are indeed human and not a robot. Most importantly, breaks should be a time to bond in non-educational ways.
Whether your break is a longer family vacation, a quiet week spent at home relaxing and playing, or just a few days respite, I suggest that you consider all breaks to be sacrosanct. Breaks aren't only for students--moms need regular breaks, too, especially homeschooling moms.
Here's where it can get a little tricky. Opportunities abound—mini-lessons lurk around every corner. I know it's tempting to turn all of these wonderful prospects into a homeschool moment, but resist, resist, resist!  Your children will thank you. I am living proof.
Breaks are a wonderful way to reconnect with each child in a special way. Spend some quality time together playing a favorite card game, watching a marathon of your favorite television show, going on a mother and son dinner date. For you sports enthusiasts, grab your tennis rackets and hit a few or challenge your Olympic-ready swimmer to a race.
4. Make Summer Learning Fun
Year-round homeschooling = summer school. That's just a fact. In many states, homeschoolers must log a specific number of days. So in order to comply with your state law, some of those lazy, hazy, crazy days of summer will have to be a little less lazy.
Homeschooling during the summer need not be as comprehensive, though. Lighten it up. Make summer learning FUN!
For us, summer school meant the weeks following July 4th through the middle of August. We "did school" for two days each week. We also only covered the basics—each child received a unique journal prompt, several math problems, a paragraph for proofreading, and regular reading. It also helped that my children participated in the summer reading program at the library every year—readers received little prizes and incentives for books read. It's all about motivation my homeschool friends.
Summer is also a perfect time to conduct a little experimentation. Kitchen science is not only educational, it's delicious.
5. Encourage Feedback
Feedback is the ultimate tool in evaluating your year-round homeschool program. Everybody has an opinion, so let them be heard.
A great time to evaluate the success of your year-round schedule is at your first major break. If you take smaller regular breaks such as with 4 day weeks through the year, gather everyone together after a month or so.
Ask for feedback from everybody:
What did you like?
What didn't you like?
How would you do things differently?
Once everyone's contributed their two cents worth, brainstorm ways to make your year-round homeschool more successful.
Do you homeschool year-round? Feel free to share your tips and advice in the comment section below.