Whether you school year 'round or take a break during the summer months, June, July, and August are the ideal time to jazz up your homeschooling with a bit of extra fun. Warm weather, sunshine, and summer breaks from regular-year activities all make the middle of the year perfect for a little excitement!
Camps and swimming are pretty par-for-the-course for many families, but there are just so many things that homeschoolers can do to get the most out of summer and make some wonderful memories.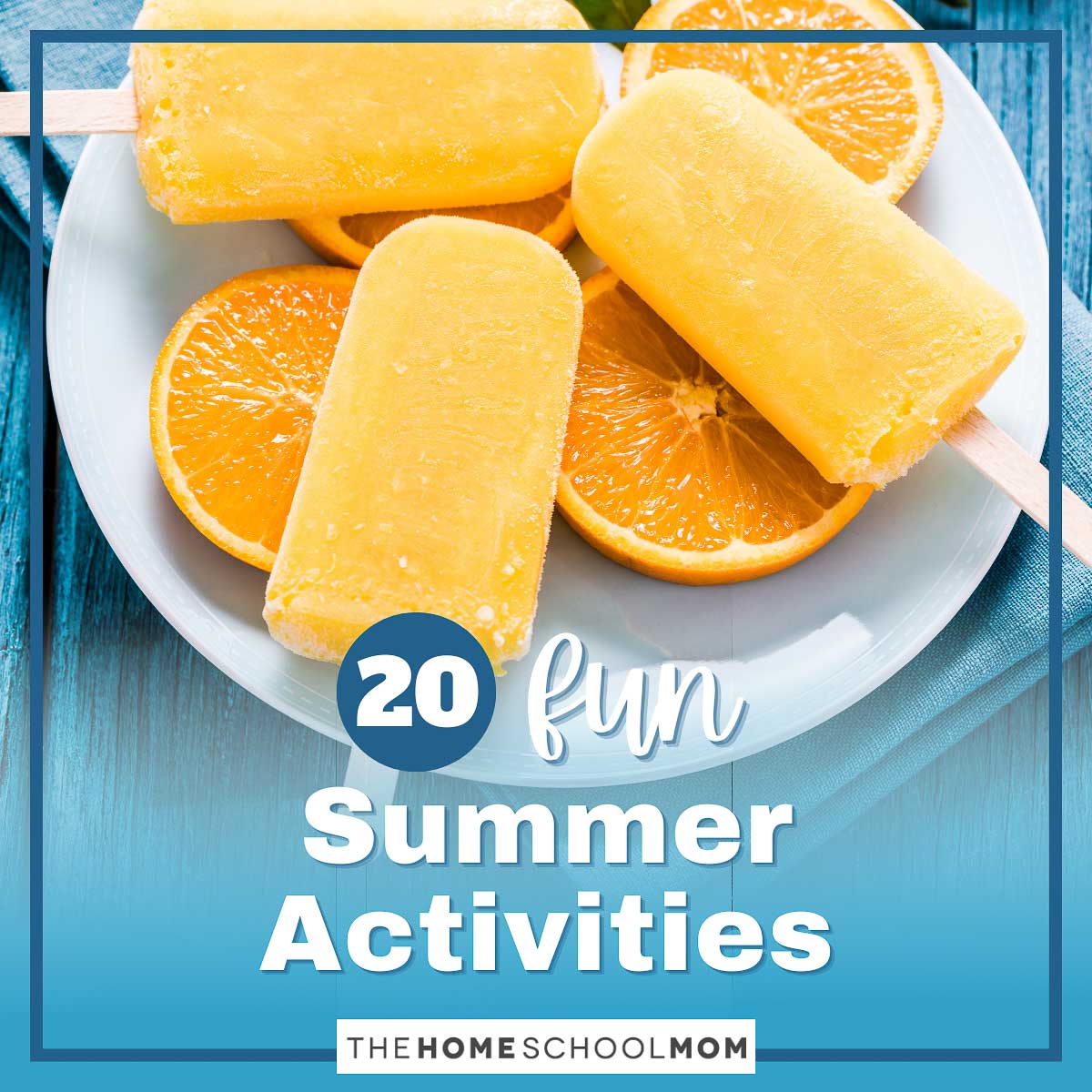 Here are 20 fun ideas to get you started:
Create your own slip-n-slide. Honestly, there is just little that is more fun for kids in the heat than a slip-n-slide! Get a large piece of plastic or tarp, put it on the side of a hill, add a hose, and you're good to go! For instructions on how to construct an especially hard-core fun slip-n-slide, check out DigitalMisery.com.
Attend a free woodworking workshop. Major home improvement stores like Lowe's and Home Depot offer free kids' woodworking clinics, where kids can build everything from organizers to race cars.  Go to Lowe's Build and Grow or homedepot.com for information on upcoming workshops.
Make your own freezer pops. Who wants store-bought freezer pops when you can make your own? Freezer pops are a staple of summer, and a great way for kids to get some beginning culinary skills! For 176 great freezer pops recipes, check out A Month of Ice Pops.
Participate in your local library's summer programs. Most local libraries offer a variety of summer activities and reading programs. These can be everything from magician shows to sewing clinics to reading for pizza coupons. Ask at your local library branch for details on upcoming summer activities.
See a movie for less. Many theaters, such as Regal Entertainment Group, offer summer movie programs for kids where admission can be as little as $1 on the particular days of the program. These programs are a fabulous way to beat the heat for less and be entertained at the same time! Some localities have brought back family drive-in movies for a safe outdoors viewing experience.
Create a lemonade stand. A lemonade stand is a great way to teach kids entrepreneurship while keeping neighbors cool during the heat of the summer months! Have kids design a lemonade stand, make the lemonade, and conduct the business transactions themselves. Let them use their profits to purchase something of their choice.
Visit a local arboretum or botanical garden. Kids can learn so much about local plants and flowers and gain an appreciation for nature by visiting these oft-neglected resources. To find local gardens, visit the American Public Gardens Association.
Make homemade ice cream. There is just something perfectly summery about homemade ice cream with which store-bought ice cream can't compete. It's worth the investment in an ice cream maker for kids to have the experience of making their own creamy treat! For some simple and traditional ice cream recipes, check out ice-cream-recipes.com, or for some more high-fallutin' options, visit My Recipes or Southern Living.
Go bowling for free. A number of bowling centers partner with schools to provide 2 free games of bowling for children each day throughout the summer. Visit kidsbowlfree.com for more information and to find the location of participating bowling centers in your area.
Create an outdoor art studio. I know, I know, the thought of painting projects sends seizures of fear through many a homeschooling mom. So why not create an art studio outdoors? An old bedsheet and some homemade paint in spray bottles can create loads of fun with minimal mess!
Take the kids to VBS. Summertime is the time for Vacation Bible School! Many local churches host VBS during the summer months, with a combination of recreation activities, crafts, singing, and Bible stories. VBS is a great way for kids to get a camp-type experience for free, without actually spending the night anywhere.
Go on a nearby field trip. There are just so many wonderful things to do in your own community! Visit our Field Trips page, click on your home state, and check out all of the nearby options at your fingertips! Summertime is the perfect time to take a field trip right where you live, on the cheap!
Catch lightning bugs. Are they lightning bugs or fireflies? Whatever you call them, this time-honored tradition is a "must" for every child. Grab a mason jar, poke some air holes in the lid, and let kids go out at dusk to see how many they can catch! Once you've caught them (or even before you do), bring the kids inside and check out firefly.com for information on the bugs, or investigate How Stuff Works to find out how they light up.
Pick your own summer produce. Strawberries, blueberries, peaches, apples, squash, tomatoes…just a few of the things your family can pick yourselves! Teach children where food comes from while bringing home your own fresh produce. Check out Pick Your Own to find a list of farms and orchards in your area where you can pick local produce. The site also lists farmer's markets, corn mazes, pumpkin patches, Christmas tree farms, and local fruit and vegetable festivals.
Create some fun shapes with watermelon.  This staple of summer is so much more fun when it is carved into fun shapes! Who doesn't want to eat fruit from a shark-shaped watermelon?! Older kids will love the challenge of making the fruit into an art project. Check out watermelon.org for lots of creative carving ideas, and have fun eating your fruit!
Attend a festival. Summertime is a great time for local festivals in many localities. Visit festivals.com for a list of upcoming festival events in your area.
Build a special hideaway or fort. Kids love to create their own forts – whether in the woods or the backyard, this great summertime pastime encourages physical activity, creativity, and ingenuity. CBC has a fun fort-building video kids can watch to inspire them, and Kansas Discovery's Fort Engineering 101 has tips for fort-building for kids!
Camp in your backyard. Set up a tent for the family in the yard, cook out on the grill, and make camping easy and fun! For some extra excitement, check out these tips on how to make shadow puppets on the tent. Read books by flashlight and tell some ghost stories: Visit American Folklore for some campfire story inspiration!
Attend a craft clinic. Craft stores such as Michael's and Jo-Ann Fabric and Craft Stores offer a variety of crafting workshops and tutorials for kids. From duct-tape wallets to bracelets, these "make-and-take" activities inspire creativity while leaving the mess somewhere other than your home! Click on each individual store link for a list of upcoming kids' events at craft stores in your area.
Check out some yard sales. Teach kids how to find great deals by hitting the local summer yard and garage sales! Give kids a small amount of money for them to purchase a few treasures of their own, and show the kids how to transform the "great finds" into useful items for the home.