Have you discovered that feeding the kids is the homeschooling challenge nobody warned you about?
For homeschooling to work, home has to work, including the food. Especially the food!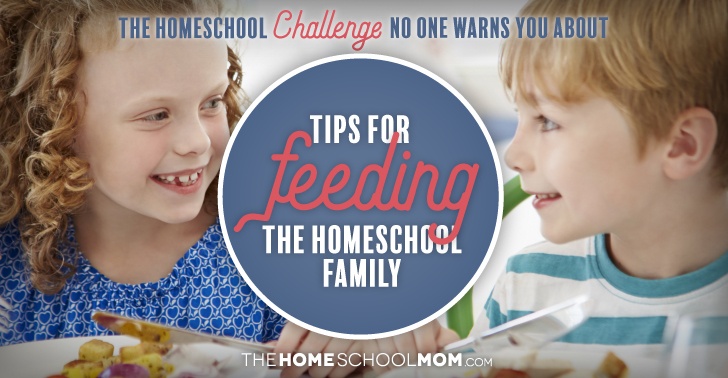 Here are some tips for keeping your sanity while feeding your homeschooled kids:
Pick favorite meals to make a menu, and list the ingredients in the recipes.
Put recipe ingredients on a regular, reusable shopping list.
Consider using a grocery shopping app to enter your list.
Have a regular rotation of meals. Make Taco Tuesday a thing. And Pizza Friday.
Cook fast: a panini grill makes quick hot sandwiches and grilled salmon or chicken.
Cook fast: Homeschool with an Instant Pot™ or a pressure cooker. Really.
Cook slow: come home from homeschool co-op to a slow cooker meal ready to eat.
Make food kid-accessible: think fruit bowls and help-yourself sections of the fridge.
In fact, make "monkey platters"—finger food for kids.
Collaborate on self-sufficiency: help kids learn to scramble eggs and make pasta.
Incorporate smoothies into the plan; get a good blender and bananas. Then customize!
Use your kitchen spaces well: stock your pantry and fill your freezer.
Don't just plan ahead; cook ahead! Shift meal prep to a better time for you.
Alternate giving and receiving a weekly meal with a homeschool friend.
Include snacks with read alouds!
When we're spending time planning field trips, co-op classes, and which library books to put on hold, we can use a site like Add Salt & Serve (formerly Menus4Moms) to help streamline the advanced planning that also takes our brain power. A sister site to TheHomeschoolMom, Add Salt & Serve recently relaunched their free weekly dinner menu plan.
It helps to see meal planning and cooking as part of an overall strategy of your homeschool and family life. We all have different strategies that work for us. Contributor Rebecca Capuano says the secret to her success is cooking during the homeschool day. She also has suggestions for homeschooled kids who are picky eaters. 
Others of us do best when we adapt a package of freezer-, quick-prep, and leftovers-strategies like those embodied in the Busy Cook's Pyramid. The five-level pyramid (free informative articles) teaches us how to combine approaches of using "fast ingredients" and prepping ahead in order to get dinner on the table with a minimum of fuss.
And cooking and prepping ahead aren't easy. I'm a Once-a-Month Cooking Dropout, but I still retained some strategies from trying it. Today I do attend monthly meal prep sessions, but I make a week's worth of meals when I'm at the workshop, and I use what I learn to make other meals for my family at home.
I also have fond memories of the "meal trades" a neighbor and I did when we lived in North Carolina. While I've had other friends who've traded meals on a schedule, Sheila and I did it more spontaneously, back when she had four young kids and I had three.
"Could you use dinner tonight? I'm making double."
Are you kidding me?
In the years we did this, I don't think either of us ever turned the other one down when a meal was offered. The only rule we had was to alternate. It might be a week or three weeks before we returned the favor, but that meal coming across the street in a little red wagon (not kidding) was the ultimate in hot meal delivery!
I know some people are ordering ingredients for meals that don't come in red wagons these days; it helps to compare meal delivery services to see what you're getting for this relatively expensive service. One of my friends said, "But it's still cheaper than what we spend if we go out to a restaurant and get healthy, decent food."
And that's part of the point, right? We want our families to have nutritious food that tastes good. We know that our homeschooling includes learning about nutrition, both intentionally and as part of the context of family life. As parents, we're also managing how we spend our time and our money, and it can be surprising just how much and how often our tweens and teens eat!
Investing some thought and planning into the best ways to feed your family is worth it. I for one, like knowing when it's Taco Tuesday or when I have a meal ready to roll from my freezer. This sets the stage for the feast of conversation and connection that makes family dinner a priority for many families. But beyond that, a little bit of planning also allows us to reserve time to prepare food together with our children, creating special meals that can help our kids learn about our world through cooking (affiliate link).
I never got as good at meal planning or cooking with my kids as I wanted to be, but an imperfect result, using tools and tricks I learned from others, was almost enough to keep us eating while we navigated soccer practice, scouts, sandboxes—and homeschooling. And sometimes, the little red wagon showed up just in time.