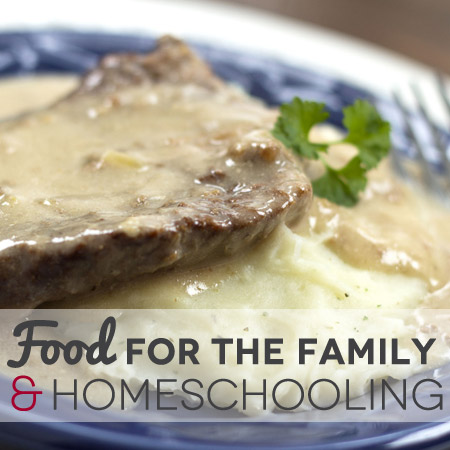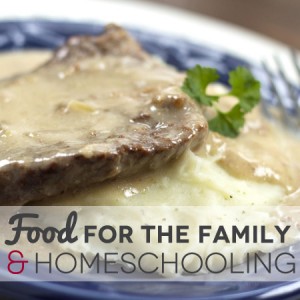 It's the mantra every homeschool parent says to him/herself at some point along the way: "How am I going to get it all done?" One of the biggest challenges for homeschool families is simply how to get food on the table. When the stay-at-home parent is responsible for educating multiple children, making sure the house is clean, transporting kids to lessons, field trips and extra-curricular activities, and often working part-time on the side, how exactly does the family eat?
Unlike many families who benefit from two full-time incomes, homeschooling families often do not have the financial resources to go out to eat regularly or pick up convenience foods last minute. The following are some ideas for getting food to the table, while trying to juggle the myriad responsibilities and challenges homeschoolers face:
Plan a food schedule ahead of time. Get out the recipes and plan meals way in advance. Write down each recipe, where to find it amongst all of your recipe books, and then make a list of all of the grocery items that must be purchased for each recipe. Plan ahead for two weeks' worth of meals and then shop for the needed items. By having everything on hand and planned ahead, meals can be make quickly at any time. This also saves money and time, because there are fewer grocery store trips (and we all know that the more trips we make, the more money we spend!).
Prepare food according to your convenience rather than mealtimes. Nothing is worse than trying to prepare a meal at dinnertime when you are exhausted, the kids are hungry, Dad has to rush in and eat before his evening meeting, and the baby is crying non-stop. Rather than preparing meals according to traditional mealtimes, prepare meals when your schedule best allows it. Fix food, for example, during the baby's naptime, when the older kids are happy playing outside. Choose items such as casseroles that can be assembled in advance and simply popped in the oven at mealtime, or crockpot recipes that can be prepared at any time and kept on low until needed. Preparing food when it is most conducive to your schedule will alleviate stress, increase your efficiency (just eliminating the food prep interruptions from having to manage unhappy children can reduce your prep time by at least half!), and help you feel more confident and in control. This works even more effectively if you have followed #1 and made a food schedule in advance, so that you have all of the needed items at your fingertips!
Have children help. Take the time to teach children how to prepare food, and then expect that they help. Even children as young as 4 can peel carrots or grate cheese, and teenagers should have regular responsibility for completing an entire meal for the family. Giving children responsibility for helping with meals not only gives them valuable life skills for the future, but helps to inoculate against a sense of entitlement. By pitching in with household responsibilities, kids learn that work is valuable, they feel a sense of self-esteem from truly being needed by the family, and they develop the character qualities of responsibility and diligence. Oh, and it helps a very busy homeschool family get food on the table, and still accomplish everything else they have to do!
Always double your recipe. Contrary to logic, it does not take twice as long to make twice as much. Although there may be some additional time in chopping or prepping food for a double recipe, once you already have all of the ingredients out, pots and pans ready, and dishwater in the sink for cleanup, you will save a tremendous amount of time by simply making a double portion of whatever you are cooking, and freezing the second portion. This approach also saves money, because you can buy items in bulk. There's nothing better than completing a meal, knowing that you have another one for the following week waiting for you in the freezer!
Go for soups. Get all of your nutrition in one fell swoop. Soups are perfect for including protein (meat), vegetables, and complex carbohydrates (such as brown rice or whole wheat pasta). Plus, they are easy to make, relatively quick, and can be made ahead and just reheated for meals. They tend to be inexpensive, especially when stock is made from scratch by using the carcass of a turkey or ham bone, or other large meat. And a final benefit of soups? They're a great way to use up leftovers that everyone is tired of eating. The pork roast from 2 days ago makes a great pork chili; rice and chicken from a previous meal can both go in the pot for a scrumptious chicken and rice soup.
Prepare a large protein, and make multiple meals with it. An economical and efficient way of cooking is to choose a protein that is on sale and make multiple meals with that protein. For example, a large ham on sale can be purchased for around $12 and will feed a family of 4 easily for at least 2 meals (eating the ham as a stand-alone meat). After those 2 meals, chop up leftover ham with cheese and pasta into a casserole for dinner, or put it into an omelet for breakfast. Finally, throw some potatoes, celery, carrots, oregano, salt, pepper and split peas into a pot with the ham hock and some water, and create a delicious split pea soup! As a general rule, think about using the protein alone for 2 meals, then use leftover meat to make a casserole or breakfast item, and finally finish by making a soup with the leftovers.
Make multiple recipes on one day. A great time saver is to cook multiple items at once. This saves prep and cleaning time, and reduces the amount of time spent in the kitchen. By planning ahead you can create meals for many days of the week, and then freeze them until they are needed. This is an especially helpful idea for those times when the family goes on vacation, so that when you return, food is already ready and available, leaving you time to do the piles of laundry that will have accumulated!