"The world is but a canvas to our imagination." 
Henry David Thoreau
Ah, so true!
Artistic expression is a wonderful way to encourage creativity in your children.  Children's imaginations are BIG, so inspiration can be as easy as supplying them with paper and pencil for sketching, but there are many ways you can guide and encourage artistic exploration.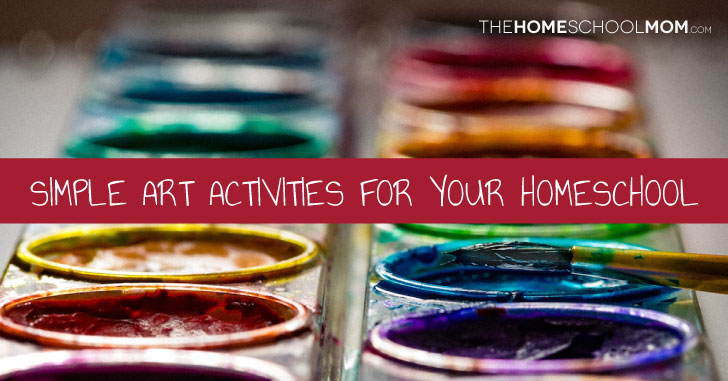 Nature Appreciation
One of the best foundations for inspiring artistic expression is to foster an appreciation of nature. Art is everywhere . . . if you know where to look. As a veteran homeschool mom, I was always on the lookout for an "appreciative" moment and Mother Nature never disappointed. Think about it. Rainbows, butterflies, baby birds in nests, new buds in spring, snowflakes, reflections in new rain puddles, and autumn leaves are just a few of the myriad beauties to appreciate in the world around us. Make it a point to point out nature's beauty every chance you get and soon your children will be pointing it out to you.
Help your children to capture the beauty of nature with the following activities:
Have a picnic at a local park or lake and encourage your young artists to sketch plants, trees, wildlife or scenes they find interesting. For fun, look for ABCs in nature.
Make artistic wreaths for their bedroom doors with a simple styrofoam frame and collected treasures such as leaves, pinecones, nuts, seedpods, twigs, etc.
Pick some flowers from the garden and host an impromptu flower arranging class, then encourage your kids to give it a go. For a different kind of fun with flora, look at the designs from Flora Forager and let your kids try to come up with their own.
Grow a Bonsai Tree.
Make nature journals.
Basic Art Lessons
Sketching is the simplest of art forms and every homeschool has an abundant supply of paper and pencils. That's just homeschool life! And, the other beauty of sketching is that it's travel friendly. Kids can sketch anywhere—while traveling in the car, while waiting for doctor and dentist appointments, and while waiting for your food at restaurants, etc.
Painting is just a more colorful form of sketching and kids tend to love color. The more the color-ier! Paint up a storm with these colorful activities:
Paint like an artist at an easel. Maybe Grandpop has an old beret up in his attic, you know, just to add a little artistic flair.
Experiment with unique paint "brushes" such as sticks, sponges, potato halves, cotton balls, etc.
Experiment with different media, such as charcoal, chalk, watercolor pencils, and scratchboard.
Fingerpaint with edible paints such as pudding, color-tinted whipped cream, or peanut butter (the natural kind is just perfect for this activity as it's thinner), or ketchup.
Discovering Great Artists (affiliate link) is a fun way to try the style of famous artists like Van Gogh, Michelangelo, Rembrandt, and more.
Creating collages appeals to most children because there are no rules. Making a collage is a wonderful open-ended art project. Kids can choose to use a single medium or combine several--use paper only, use paper and 3D objects such as paper clips, buttons, feathers, pom poms, and other crafty supplies, or make a nature themed collage. How about a red, white, and blue patriotic collage? A favorite color collage? A personalized favorite things collage? Oh, the possibilities are endless!
Homemade playdough was always a staple in our homeschool. Every new batch was a different color, and some special batches had scent-sational appeal--powdered drink mixes mix in quite well and are always a treat for the senses, both young and old. Yes, I do love getting my hands into fresh, pliable, scent-sational dough. It's actually very therapeutic. Who needs a fancy day at the spa?
Crafts and DIY Projects
You don't have to have a crafty thumb to encourage or inspire your children to create. Craft stores and bookstores sell a variety of helpful and inspiring kits and supplies.
Do you sew, crochet, knit, or do needlework? Teach your kids. If not, check out a children's instruction book from the library and learn together. Or maybe a doting grandmother would be interested in stepping in and having some quality one-on-one time with their favorite grandkids. Perhaps you know a nimble and talented older neighbor lady in need of companionship who would be tickled pink to share some great stories while teaching your daughter how to make a simple scarf or hat, a piece of clothing she can actually wear, or a blanket for the newest member of your family.
Make candles or create a seasonal table or put together a calendar.
Make salt dough Christmas ornaments throughout the year and you'll have a lovely, homemade assortment by December. Or, better yet, wrap them up as gifts. Simply, beautiful!
We are blessed to have a man of the house who is multi-talented. My husband, David, is a true jack of all trades and spent hours teaching our two children how to prep walls for painting, how to paint, how to build simple wood projects, and how to design, frame, and build a garden shed, etc. There is an art to painting a wall and building a strong and aesthetically pleasing garden shed.
If you don't mind a little creativity, let your kids paint their bedrooms (with adult supervision, of course). Maybe they fancy a mural on the wall, some stencils along the perimeter, or clouds on the ceiling. Do you have a lovable canine companion? Why not let your kids design and build a personalized (with paint, of course) dog house for keeping him dry during those rainy spring days or for resting his head in the shade during the hot dog days of summer. Remember this, while you're fostering their creativity, you're also teaching valuable practical life skills.
Photography
Photography is definitely an art form. Capturing and composing well-balanced photographs of nature, family and friends, or great action shots takes skill and practice.
You can even consider enrolling in a beginner parent/child photography class. Later, lay your masterpieces out on the kitchen table and choose some to put in a scrapbook together.
"The world is but a canvas to our imaginations." Thank you, Mr. Thoreau. I couldn't have said it better. So, inspire your kids to dream, to imagine, and to express those images for all to see.