Jump to:
Learning ABCs with Nature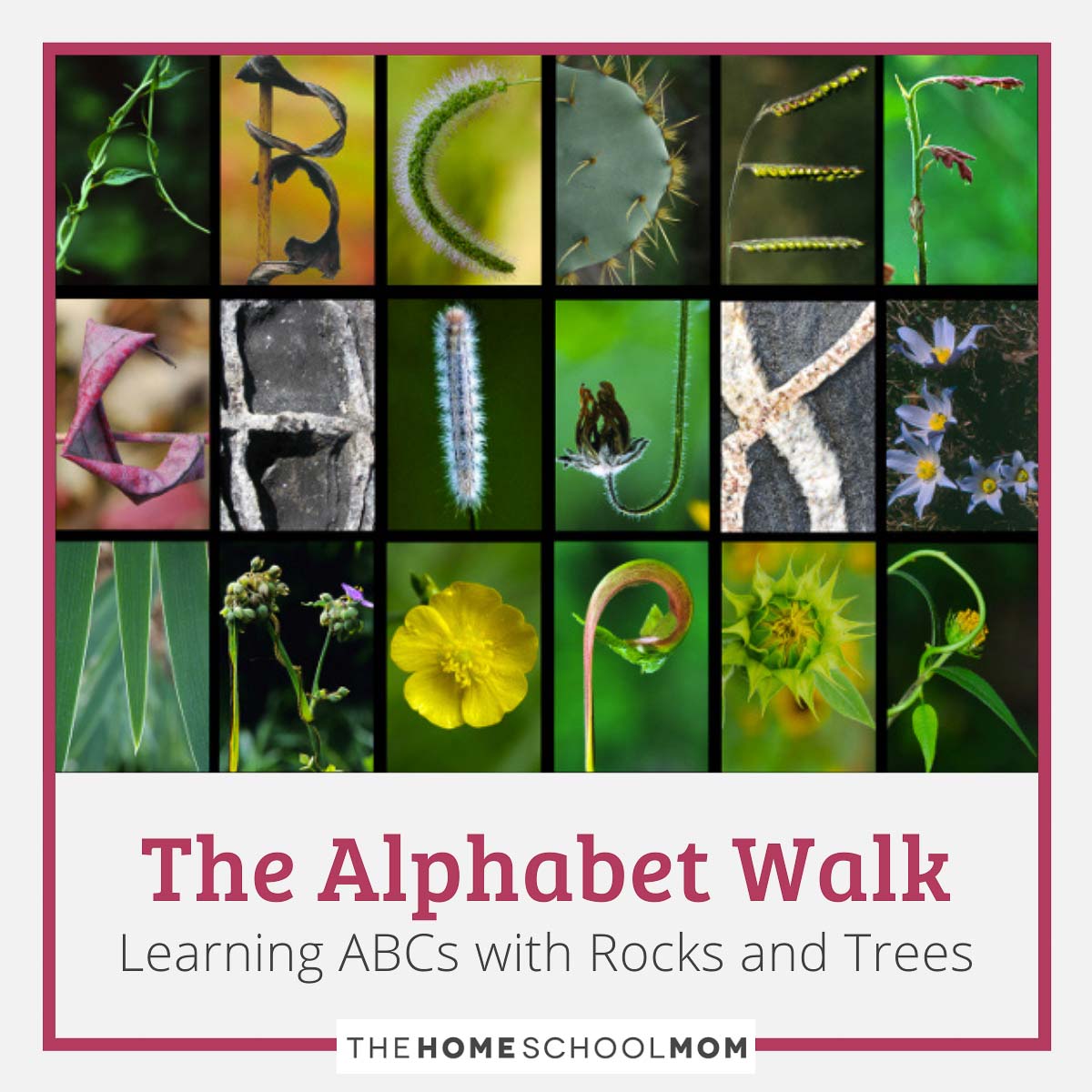 Winter is a wonderful time to take Alphabet Walks with your children.
In my part of the U.S., this means bundling up for the cold weather, but hunting for the ABCs in nature may be just the thing to get you and the kids moving on darker winter days.
The main object of an Alphabet Walk is to find letters that have been unintentionally formed in the outdoors. Perhaps crossing tree branches form an X against the blue sky, or a cat curved on your deck forms a perfect C. A front door wreath on your neighbor's house is an O. The brickwork above the windows in an old Main Street building creates a V.
An alphabet walk works well to develop pre-reading skills for those learning ABCs, but it's also interesting to older children, who enjoy the challenge of finding patterns in nature and the outdoors. In addition to solidifying the letter shapes in the mind's eye, the alphabet walk sets the stage for abstract thinking and provides practice for visual learning.
Organizing with "Rules"
You can organize your alphabet walks in multiple ways, setting up "rules" that work for your family and your kids' stages of learning.
For example, if you happen to be doing a "letter-a-week" learning with your little ones, you can spend a week of walks looking for As, then the next week looking for Bs, and so on.
You can also simply try to find all the letters at once, either setting the guideline that you're seeking them in order, or just carrying a copy of the ABC's and checking them off as you find as many as you can in any order. This has its own learning opportunity, as kids have to look harder for letters that are more elusive in nature or design.
You may choose to look for letters formed only by nature (a D-shaped rock), or you may include human-made constructions that are outdoors (the X that is part of a fence). After an introduction to the concept, the kids' collaboration on developing the "rules" of the Alphabet Walk is a great opportunity for them to exercise some autonomy.
With young children, you may want to make this a family project, with all the kids contributing the letters they "see."
Another option is for each child to mentally collect his or her own letters, or to mark them off in a personal notebook.
Adding Fun with Photography
And in addition to mentally collecting the letters, the Alphabet Walk really becomes effective when combined with photographing the letters. As the kids point out the letters they see, let them take a picture.
The letters are often rendered more clearly in the photos than they were on the Alphabet Walk, especially if you can help a child focus the camera tightly on the "letter" they see, using the camera's frame to crop out the extraneous background around the letter.
Back in the house, when you transfer the files to computer or tablet, the kids get another alphabet lesson when reviewing and discussing the letters on the screen.
You may want to encourage them to get especially good pictures of the letters of their first name, your family last name, or a word they feel connected to. Then you can edit them on screen and consider getting prints that can be framed to form words, then hung in bedrooms, family room, or kitchen.
If you do your own Alphabet Walk photography project while they are doing theirs, the children realize they are involved in an art project that is interesting and worthy of grown-ups, too.
Enriching with Books
Your Alphabet Walks might be enriched by a book like ABCs Naturally: A Child's Guide to the Alphabet through Nature (affiliate link), by Lynne Smith Diebel and Jann Faust Kalscheur. Diebel and Kalscheur also operate Wild Alphabet, a business that features natural letters framed to form words.
You could begin your Alphabet Walks with a poster from Wild Alphabet (scroll down on their website to see how they've captured all 26 letters in nature), and you can show your kids their framed words as examples and inspiration.
Enjoying with Unit Studies
One of my sons has become a pretty serious photographer, and I look back and realize that one of the first photography projects he did was of ABCs in nature -- long after he was a strong reader without need for an overt review of the alphabet.
This is why Alphabet Walks can be an ideal family unit study -- children can walk together, benefit from each other's observations, and learn what is relevant for their level of academic development or interest.
For one child, this might be letter recognition; for another, this might be about seeing the symbol in abstractions; for another, it might be about spelling out words; for another, it might be about capturing the images. And, the especially energetic three-year-old can just run in circles, while you carry the baby in a sling or push the stroller.
he Alphabet Walk is one of those approaches to education you can use instead of curriculum to create a high level of engagement and learning. It's a pretty fine thing to learn your ABCs from rocks and trees.