Children with right-brain characteristics can learn to read effectively! These holistic thinkers often just need a different approach – one with plenty of visual and kinesthetic stimuli, and a whole-to-part perspective. A previous article provided an overview of the characteristics of the right-brained reader, and "Right-Brained Reading Strategies" detailed a variety of approaches and resources to help these kids read effectively. Don't stress out, homeschool moms—use some of these additional strategies to help your right-brained reader maximize his or her potential.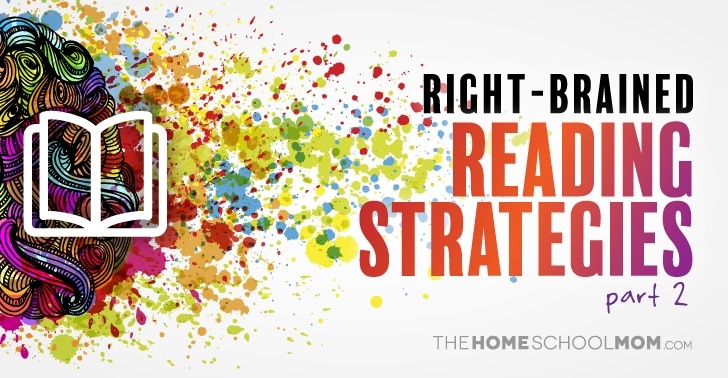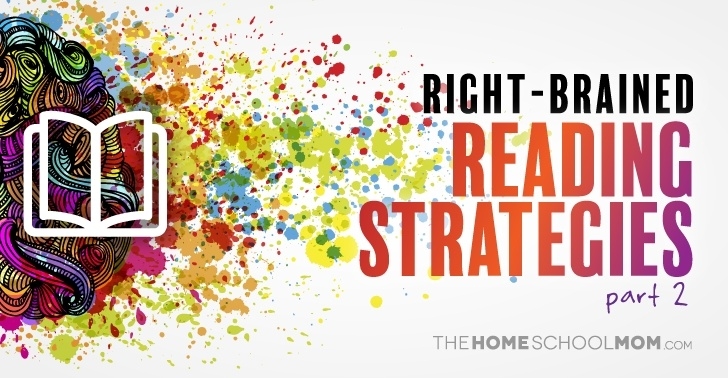 Use a reading program with plenty of visual and kinesthetic stimuli, which incorporates things like story elements to teach reading, even if it is not specifically developed for right-brained learners. Consider these options:

Color the letters of the specific phonics sounds you are trying to teach a different color from the rest of the word. This will tap into the visual nature of right-brained students and help their retention of phonics sounds. Some curricula suggestions which utilize this idea:

The Illustrated Book of Sounds & Their Spelling Patterns (a follow-up to Easy For Me Reading; affiliate link)

When the child struggles with something simple, put that concept into something more complex. This is a good general rule for working with right-brain oriented students. Remember that these students see things holistically (the big picture), and often miss details. If small details are put into a larger context, they are often much easier for the child to retain. For example, put simple words ("the", "in", "out") into larger phrases or sentences for the child.
Build vocabulary through pictures. Right-brain oriented children read by translating words into pictures. Consequently, building word pictures in the child's mind is a great way to increase vocabulary and make reading easier. Some ideas:

Let the children create notebooks with pictures of different vocabulary words (particularly items they care about), and put the name of each item under each picture.
Make labels for items around the house and tape the word to the item.
Read picture dictionaries to the child.
Have the child draw pictures for different vocabulary words.

Read aloud to the child. Even when a child is learning to read, it is important to read aloud to her often. This builds vocabulary and helps children with listening comprehension. Another great option is to use audio books that are of interest to the child. As right-brained children listen to stories, they create visual pictures in their minds of what they are hearing; the same process they use when reading themselves. Frequently hearing books read helps right-brained children develop their mental visualization skills, which will aid reading comprehension. Some audio book options:

Separate reading for decoding from reading for comprehension. Focus on decoding strategies at a different time from reading for comprehension to minimize interruptions and correction. When a child is reading for comprehension, do not interrupt and correct him if he skips or makes mistakes with inconsequential words (particularly small sight words like "the", "into", etc.). Doing so will disrupt the child's ability to comprehend the larger meaning of what he is reading, and will build frustration.
Practice brain integration exercises. An alternative technique that has been effective for many right-brain oriented students is called "repatterning" – a series of exercises that seek to help the brain process more effectively and holistically. For example, Brain Integration Therapy (BIT), developed by right-brain and struggling learner expert Dianne Craft, uses repatterning exercises to retrain the brain so that both hemispheres are used efficiently in processing, rather than only one hemisphere at a time. Essentially, these simple exercises, which can be performed at home in a few minutes, involve the child moving and looking in ways that cross the midline of the body, in order to increase brain connectivity across the hemispheres and remove learning blocks (such as difficulty reading). BIT is relatively new and has not yet been the subject of peer-reviewed research. However, similar techniques have been used in the fields of education and occupational therapy, such as Brain Gym International and Sensory Integration Global Network. To learn more about Brain Integration Therapy, watch the online video The Biology of Behavior by Dianne Craft, or read Dianne Craft's book Brain Integration Therapy Manual.
Encourage the child to make up her own stories. Tap into the right-brained child's creativity, and build the skills necessary for reading. Creating their own stories also helps children develop the visualization skills they use to read. Here are some ideas for story starters:

Have the child draw pictures and then tell you a story about the pictures.
Get a wordless picture book from the library and let the child dictate the story to you.
One family member starts a story and then the rest of the family goes around in a circle and adds a sentence to the story.
Choose 3 things: something that grows in the ground, something manmade, and a person or animal. Have the child make up a story, using those 3 things.
Check out our vocabulary teaching strategies for right-brained learners.
More right-brained learning resources »
References:
http://www.rightbrainkids.com/content/view/112/41/
http://www.gifteddevelopment.com/Articles/vsl/reading.pdf
http://www.gifteddevelopment.com/Articles/vsl/v43.pdf
http://www.education.com/reference/article/Ref_Reading_Readiness/
http://applestars.homeschooljournal.net/typical-right-brained-reading-traits/
http://www.education.com/reference/article/Ref_Staying_Awake_During/
http://www.compwellness.net/eGuide/brainint.htm
http://www.diannecraft.org/tutor2.htm
http://www.homeeddirectory.com/blog/reading-right-brained-learners
http://child-1st.typepad.com/my_weblog/2010/08/why-teach-spelling-patterns.html