Children with right brain characteristics often need a different approach to reading. These children, who tend to be visually-spatially oriented, holistic, and "big picture" rather than detail-oriented, and tend to create meaning from words by developing three-dimensional pictures in their minds. It is not unusual for traditional decoding phonics programs or decoding strategies to be ineffective for right-brain oriented kids. Previous right-brained learning articles provided strategies for helping right-brain learners with math, and gave a general overview of how the right-brained student processes information for reading.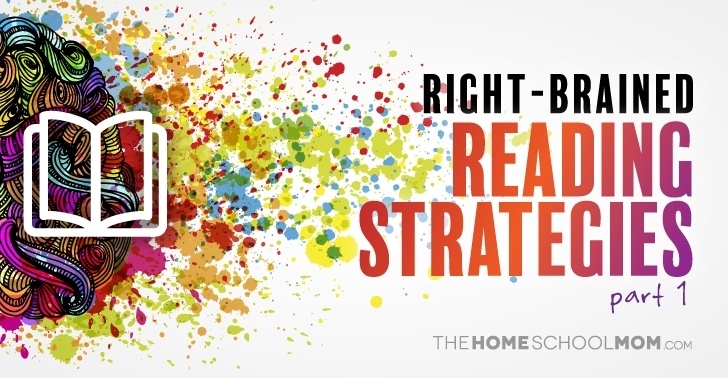 If you have a right-brained reader, consider the following curricula and strategies:
Use a blended approach to teaching reading, which includes both phonics instruction and a whole-language approach. The National Reading Panel found that the best approach to reading includes "…phonics instruction, methods to improve fluency, and ways to enhance comprehension"[1]. Right brained students generally read more quickly with a sight-word approach (because they are able to see the word as a whole rather than have to break it down into parts), which can help them gain confidence and quickly build their reading skills. However, once children have begun to recognize some words, they should receive phonics instruction as well, with an approach palatable to right-brain learners (ideas are listed below).
Use a reading program specifically designed with the right-brain oriented child in mind. Some suggestions:

Choose reading material that is of interest to the child. Right-brained learners want to find meaning in what they do; they have difficulty following steps or going through processes if they do not understand why doing so matters to them. Lean toward real books with a plot and stimulating storyline rather than phonics readers or readers that utilize passages or sections which are divorced for a larger story. If you need to use simple readers, consider these options:

Modern Curriculum Press Phonics Practice Readers

Use pictures to help teach reading. Because right-brain oriented kids are visually oriented and see things holistically rather than in parts, utilize phonics programs that incorporate visual images to teach reading. When teaching sight words, write the name of the word either on top of a picture of the word, or incorporate the written text of the word as a picture. For example, the word "bed" could be made with a stick figure person lying down with a pillow against the "b" and feet against the "d". Examples of programs that use this picture approach:

Use lapbooks. Lapbooks not only make things visual for right-brain learners, but they tap into the hands-on, kinesthetic tendencies as well. Have children make a lapbook of words, phonics sounds, phonics rules, or other reading-related areas with which the child struggles. The visual and hands-on nature of creating the lapbook will help the child remember the concepts more effectively.
Use online or computer programs to practice reading.Right-brain oriented children often enjoy the visual nature of computer programs (as long as they are not used as a substitute for regular interaction with a person). There are a variety of free online programs that can provide excellent practice for kids learning to read, and which can often take the stress out of the reading process.

Focus on patterns rather than strict memorization. The more you can identify patterns in words, the easier it will be for right-brained children to read them. Rather than focusing on memorizing sight words simply by looking at them, memorizing spelling words, or remembering phonics rules, focus instead on identifying patterns in the words. Provide plenty of examples so that children can group words according to the patterns of sounds they make. For example, write "-tion" in a certain color at the top of a poster, and have the child help you make a list of "tion" words (conversation, motion, devotion, etc.). Each time "tion" is written in the word, use the same color as you did at the top. While a right-brained student will likely not remember how "tion" is said just by remembering a rule told to her, she will be able to remember it if a clear pattern for "tion" words is demonstrated.
Set the child up for reading success. Pre-read the section, page or chapter your child will be reading, and write down any words that will likely be problematic for him. Go over these words and practice them with the child before he begins to read the passage. This will help the child gain confidence and fluency so he does not have to stumble over challenging words, which disrupt the child's comprehension and desire to read.
Let them practice by reading material that is easy for them. Right-brained readers focus on the big picture rather than the details, so it is common for them to skip or make up words when learning to read, and miss minutiae in the effort of comprehending the larger meaning. As they practice reading books with which they are familiar, or that are below their actual reading level, they build fluency and increase their ability to correct these semantic mistakes. A great way to do this is to set aside a quiet time each day during which no other activity is allowed other than reading. Allow the child to read whatever materials he wants during this period.
Use colored transparencies over reading material. Some children, especially those who are dyslexic, have difficulty visually keeping the white of the paper in the background when reading black text, and find that the letters seem to move around. The energy required to differentiate the black text from white background can take away from energy necessary for actual reading. Colored transparencies can help these children tremendously. By simply putting a blue, green, or other colored transparency over the words they are reading, often kids find that they are able to read much more easily.
Look for more ideas in "Right-Brained Reading Strategies: Part 2."
More right-brained learning resources »
References:
http://www.rightbrainkids.com/content/view/112/41/
http://www.gifteddevelopment.com/Articles/vsl/reading.pdf
http://www.gifteddevelopment.com/Articles/vsl/v43.pdf
http://www.education.com/reference/article/Ref_Reading_Readiness/
http://applestars.homeschooljournal.net/typical-right-brained-reading-traits/
http://www.education.com/reference/article/Ref_Staying_Awake_During/
http://www.compwellness.net/eGuide/brainint.htm
http://www.diannecraft.org/tutor2.htm
http://www.homeeddirectory.com/blog/reading-right-brained-learners
http://child-1st.typepad.com/my_weblog/2010/08/why-teach-spelling-patterns.html
[1] http://www.nichd.nih.gov/health/topics/national_reading_panel.cfm