When we began our homeschooling journey a decade ago, I truly didn't know where it would lead.  With three kids very close in age (a singleton boy and boy/girl twins 22 months younger), I was mainly trying to keep them fed, clean, engaged, and supported on a daily basis.
We spent hours sitting together reading, playing games, making lapbooks, watching library DVDs on every subject imaginable, playing and going to park days with friends.  Bedtimes were early for the kids (I miss that) and life, while always busy, had a consistent rhythm day in and day out.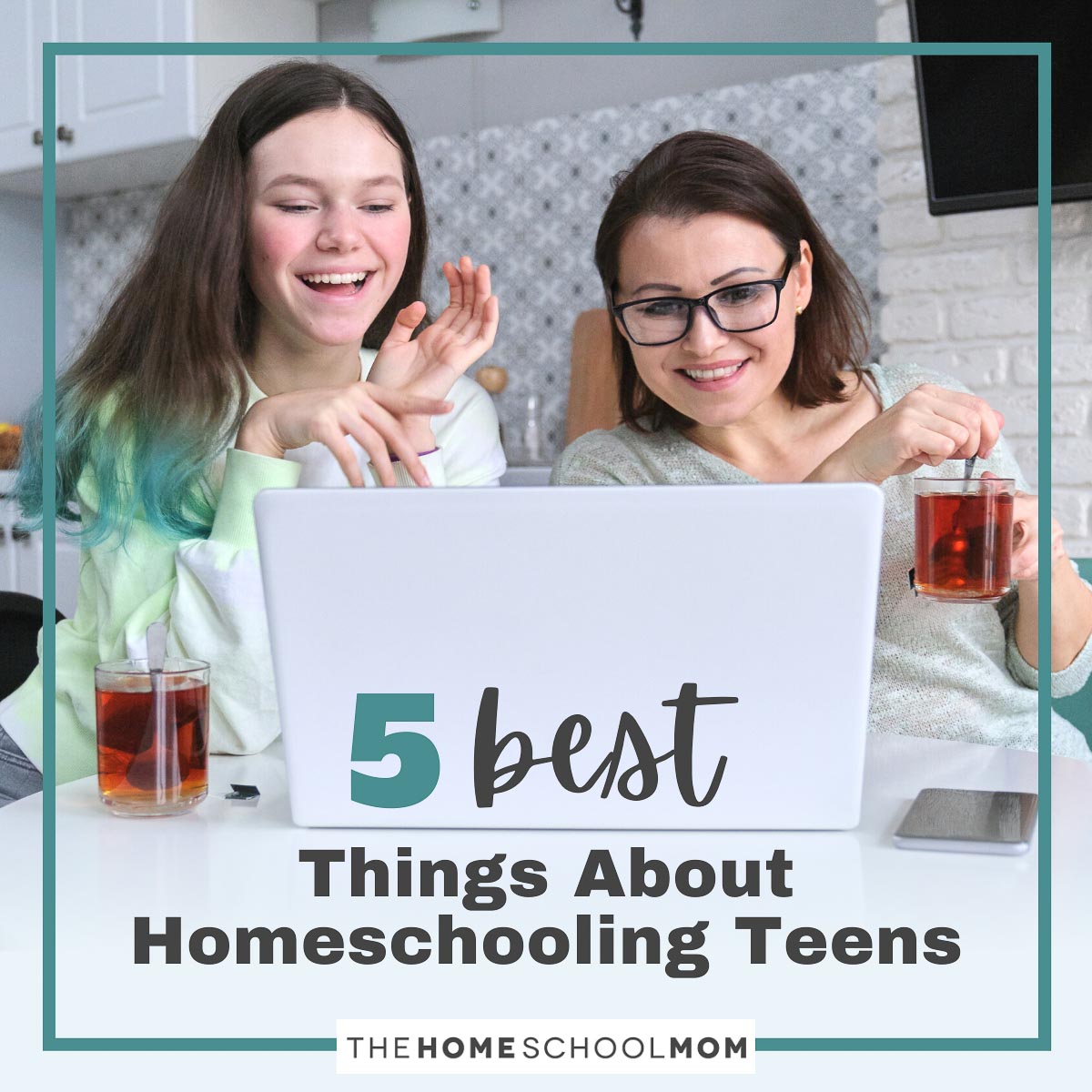 Fast forward to today, all of my kids are teenagers and life is intentionally busy and every day there's something different on the schedule.
We've leaned into this season of life, trying to balance everyone's needs and goals as best as possible.  Not everyone gets to DO all the things they want to do at the same time, but we work together.
Homeschooling teens, for me, has been challenging and refreshing and fun (most days).  It can be easy to get bogged down in the day-to-day craziness of sibling bickering, mood swings, wondering where all the groceries went, driving to and from four different places, and finding time to fill up my own cup.
So, what are my five favorite things about homeschooling teens right now?  I'm sharing them all below and I hope they inspire you too.
My 5 Favorite Things about Homeschooling Teens
The more I talk to other friends who are homeschooling teens, the more I realize that we're all doing everything differently.
We're all meeting our teens where they are.
We're all striking a balance of interest-led learning and checking the boxes for subject areas that we deem as non-negotiable.
We're all driving a lot and wondering if things will be easier or more stressful once our kids have driver's licenses.
College, vocations, career path questions abound.  Mental and physical health is always top of mind, especially in the world we live in today.
If you're a parent homeschooling high school, I see you and I applaud you.  Don't forget to stop and appreciate the daily moments.
It's not our job to ensure our teens know every bit of information in every single subject before they graduate.  But, you probably know that, right?  Now, go warm up your tea, take a deep breath, and ask your teen to make you dinner tonight.  It's only fair.