Are you a podcast lover like me? I cannot get enough of them, especially the best parenting and homeschooling podcasts! I slip my earbuds on and off I go. In fact, I am listening to one right now as I write this. It's true.
If you're a busy homeschooling mom (and I know you are), podcasts are a perfect way to learn, laugh and, let's be honest, block out the 237 questions about food choices and screen time.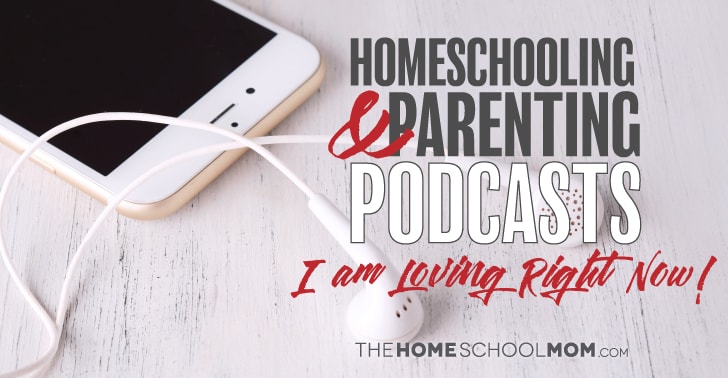 I've curated a list of my current favorite homeschooling and parenting podcasts. These are my go-to podcasts for encouragement, ideas, and connection.
I also wrote about my favorite free educational podcasts for homeschoolers with teens, so be sure to check that out.
Grab your earbuds and let's get listening!
Best Homeschooling Podcasts
You'll notice that my list is eclectic—just like me and my homeschooling! I love learning from homeschoolers of all walks of life in all seasons of life. It's so inspiring! Don't be afraid to branch out and explore a homeschool podcast that shares a different perspective from yours.  I hope you'll find my suggestions helpful.
Best Parenting Podcasts
No matter where you are on your parenting journey, you always could use some encouragement.  My list contains podcasts that cover a variety of topics, from parenting differently wired children, to homemaking, to balancing working and motherhood and more.
Joyful Courage: Casey is a positive-discipline expert who brings real-life solutions to real-life parenting. She is honest, funny, and non-judgemental.  I personally love that she offers advice to parents with older kids and teens because positive parenting isn't just for little ones.
TiLT Parenting: I listed Debbie Reber's book in my top homeschooling book list. Her podcast is an absolute must if you're raising a differently wired child. I found the Tilt Parenting podcast from another homeschooling mom.  I cried through the first seven episodes I selected.  I stopped feeling alone and that I had somehow failed my child. Debbie interviews doctors, parents, teachers, practitioners, clinicians and other experts who are making a difference in the world families on the differently wired path.
Everyday Motherhood: I was privileged to be one of the first people that Christy, the podcast host, mentioned an idea of a podcast to when she was brainstorming. Christy, the founder of Play4Life Moms, is committed to coming alongside mothers in this crazy parenthood journey. Her episodes are short and sweet and leave you with ways to connect with your kids and reminders to fill up your own bucket. Self-care delivered!
Over at Alicia's: Do you need some encouraging and practical homemaking, parenting and mom-ing (yes, it's a word) advice? Alicia delivers! She is a homeschooling mama of four and founder of the Learning Well Community. Her podcast topics cover a variety of topics from easy tips to keeping your house tidy, connecting with your kids, goal-setting, morning and evening routines, and more. I look forward to hearing from her each week.
Refreshed Moms: Deanna and Kelly are all about work-life integration for busy moms. They discuss self-care, emotional wellness, healthy relationships, and how all of it impacts all of us #bossmoms. These two best friends bring the laughs, the advice and the encouragement to all mamas who are building businesses, cultivating their dreams all while raising and loving on their kids.
Dear Anxiety by GoZen: We came across this podcast when we starting working through the GoZen online program. This podcast addresses topics such as anxiety, procrastination, over-scheduling, overwhelm, and more. I love the role-playing, the humor and the helpful tips that Ed and Renee share. If your child is old enough and/or willing, have them listen along too.
Healthy Family Connections: I first heard Dr. Neil on the TiLT parenting podcast and I immediately ordered his book. I read it in one night! I enjoy Dr. Neil's podcast because they are concise and he offers doable advice that doesn't feel overwhelming. He is direct and to the point. If you're in a challenging season of parenting, I recommend his podcast and his book.
Celebrate Calm: I absolutely love Kirk Martin and his company, Celebrate Calm. I have worked with him personally, have met him several times, and love his straight-shooter approach to parenting and working WITH our kids and not against them. His podcasts are short and sweet--no fluff! He will make you laugh and he will make you think.
I hope you find some new podcasts to add to your listening repertoire. Treat yourself to a yummy beverage, a quiet space (yes, this includes the bathroom), and a treat from your hidden stash (I know you have one).  Let me know what you think by commenting below.  What are your favorite homeschooling and parenting podcasts?