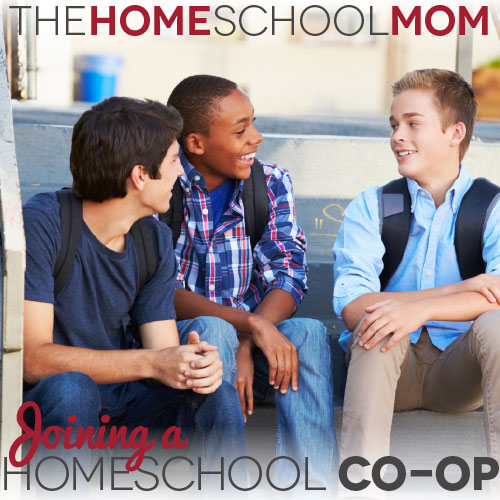 How can I join a homeschool co-op?
If you're looking for a homeschool co-op, keep in mind that co-ops have different approaches to new families. Some co-ops are "closed," meaning they already have all the families they can accommodate, and they are not accepting new members. Others take new members every year or every couple of years, as children age out, families move away, or needs change.
Some co-ops actually hold an open house or allow families to visit during the spring of one year in order for parents and co-op participants to consider whether prospective members and the co-op are a good fit for one another.
You can hear about co-op opportunities through local homeschool groups, email lists, Facebook pages, at your church or community center, and through your library.
Who can be in a co-op?
Co-ops may accept families with homeschooled kids only in specific age groups to fit the classes and activities they offer, and they frequently consider what the family has to offer the whole group. If you are a parent who is willing to teach a class, watch toddlers, organize craft time, provide tea and snacks, provide a meeting place, or help in another concrete way, you will find yourself more welcome at co-ops that work this way.
Other co-ops are looking for parents who can help pay for the cost of hiring specialized teachers or activity leaders.
I'll be honest -- most co-ops are looking for kids who can get along with others and behave. They may be open to children with more challenging personalities or learning difficulties if a parent is willing to attend with a child and provide one-on-one coaching when it's needed, without being a helicopter parent or interfering with how the co-op works for other families.
Join the Right Co-op For You
Some more formal co-ops operate a lot like schools, even though they meet one or two days a week. They'll frequently be organized with a board of directors, and they seek new students regularly in order to pay teachers to offer formal classes. Expectations for completion of homework and good behavior will likely be quite high in these co-ops, perhaps including a dress code and minimum grades for continued enrollment.
Other co-ops are far less formal, with parents taking turns leading classes or activities.
Co-ops may be organized around specific aspects of homeschooling or family life. Some are religious based, some are decidedly secular, and some are inclusive, meaning that religious teachings aren't included at the co-op but both religious and non-religious families are welcome.
Some co-ops require parents to sign a Statement of Faith, which, depending on your viewpoint, is something you can easily do if you agree with its tenets, or something that you may be unwilling to do. Keep in mind that co-ops that require Statements of Faith may be quite serious about them, and all their classes and activities will likely reflect religious beliefs.
Other co-ops may be organized around a homeschooling style, such as Waldorf-inspired or Classical homeschooling. Don't assume you know what this means. Ask questions and investigate the homeschooling style to determine if it is a good fit.
Co-ops whose organizers intend it to be artsy and enrichment-oriented may create a co-op that is quite unlike what you expect. Ask enough questions to discover the flavor of the co-op.
Location, Location, Location
Of course, busy parents have to juggle many things, and you may be tempted to choose a co-op based on its proximity to your home or regular route. The reality is, other aspects of a homeschool co-op are probably more important than its location.
Poor fit because the approach to education is wrong or there are religious or philosophical backgrounds that are mismatched will create more headaches than you can imagine in a homeschool setting.
Parents often do drive a long ways to get to the "right" co-op for them, or they may take part in creating their own co-op that is more convenient if driving is not an option. Of course, in larger cities, there are usually more co-ops available of different types and in different geographical areas.
Not a One-Way Street
The main thing to remember about participating in a co-op is that it is not a one-way street. Parents are working collaboratively to create something all the families benefit from, and you and your child are expected not to just receive from the co-op, but also to give to the co-op.
If you join a homeschool co-op and want your experience to go well, make sure you are doing your part.
To get a more basic introduction to homeschool co-ops, read What's a Homeschool Co-op?
If you're taking a child out of school and think a co-op might be just the answer for your family, or if you've never tried a homeschool co-op but you're considering one now, you'll want to read my post From School to Co-op.