For children who are starting homeschooling after an experience in a traditional school setting, deschooling is an important part of the transition. In an earlier post, we answered the question "what is deschooling?" and talked about how it might manifest in children who are transitioning from school to homeschooling. Knowing about deschooling helps parents to have realistic expectations about their children's adjustment to homeschooling after they have attended school.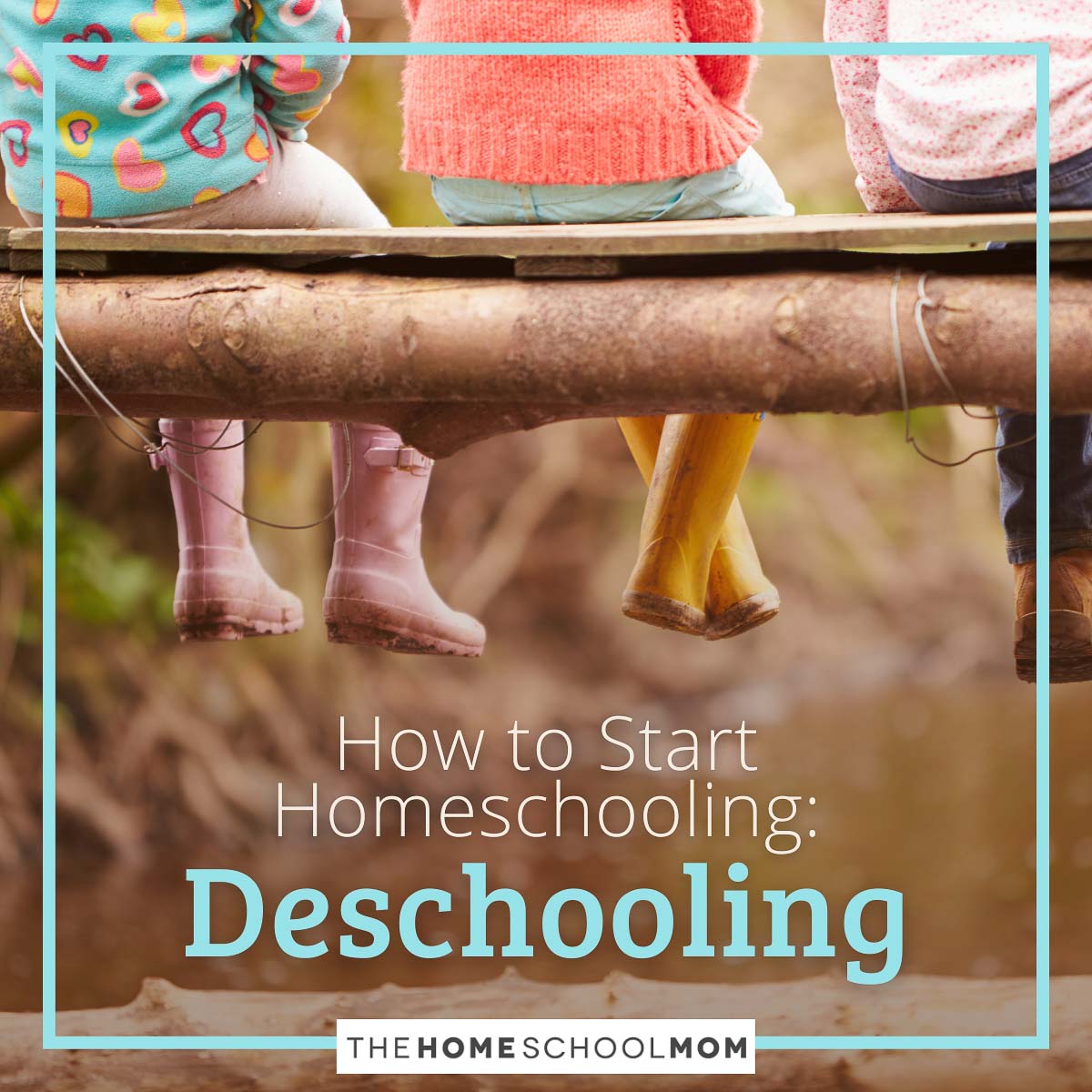 Today, we'll take a look at how to start homeschooling after a traditional school experience with tips for deschooling:
Tell your child about deschooling. Be honest that homeschooling has a "break-in" period while the family is getting used to the new dynamics. Explain that during this time, your homeschooling will be developing, and it won't look the same now as it will in a year or so. If you intend to allow this (and please do), tell your child that she or he will be able to make suggestions about how homeschooling will go. However, keep in mind that kids respond differently to this -- some want to have influence right away while others may find it overwhelming after not having much input when they were school students. You may hear some "just-tell-me-what-to-do" as you attempt to get your child involved.
Go easy on the curriculum or formal academics. Give your child a break from formal, school-like lessons. If you need your child to complete some "work" so  you'll feel better, or if your child feels this way, you can certainly have some "school work." Keep in mind, though, that discovering the curriculum or learning style that will work best for your child is a process, and deschooling will help you identify what will be most effective. Don't spend a bucket of money on a curriculum at the outset. And remember that if you put yourself in the position of a classroom teacher, enforcing work that must be completed right from the beginning, you may get a lot of pushback from a child who is not used to seeing you in this role.
Go places. One of the best things to do during deschooling is to make use of the new freedom to explore the world. Visit museums, historic sites, and galleries. Attend concerts, plays, and sporting events. Let your child help pick where to go and how long to stay. This experience in autonomy is a great way to help your child embrace the benefits of homeschooling.
Find homeschoolers. Network on Facebook, homeschooling email lists, or through your state homeschool organization to find other homeschoolers. Ask your librarian where the homeschoolers are. Look for a Not Back To School event in your area, and if there isn't one, organize one yourself and invite others. Keep in mind that not every homeschool group fits every homeschooler. You may have to visit several groups before you find people you are comfortable with, or you may have to visit the same group multiple times. Homeschoolers are notorious for being unable to attend all the things they'd like to -- so your child's new best friend (or yours) might be coming to the next park day.
Create, build, and engineer. Encourage your child to make art. Stock up on paints, clay, and craft supplies. Tell stories or write down your child's stories and make them into a little books. If he's always wanted to build a workbench or fort or raft, now is the time to go to the hardware store and get the supplies and start building. Let the figuring-out-how-to-do-it be the homeschooling.
Get back to nature. Visit your nearest natural area. Take a picnic, a camera, binoculars, a sketchbook -- anything that might more fully connect your child to the outdoors. Use field guides to identify wildlife; set up a bird feeder and start a list of birds you see there.
Get moving. Find ways to increase physical activity -- hiking, swimming, backyard play, neighborhood walks, organized sports or pickup games. A gym or YMCA nearby may have a daytime homeschool program you haven't discovered yet. Small-town gyms may let your child work out with you under your direct supervision, depending on the age and maturity of the child. Try both competitive and non-competitive approaches to activity, to see what interests your child.
Go to the library. Now your child has more relaxed time to browse, get to know the resources, chat with the librarian. Let your child select books and audiobooks. If your child has not been doing much independent reading, try pairing a book and its movie adaptation -- which are probably both available at your library.
Read, read, read. Read aloud. You can try a snuggly version of reading -- in bed or on the couch, but you can also read aloud while a child is building with Lego bricks or digging in the dirt. The deschooling period is a great time to model reading, as well. Let your child see you reading your own materials -- novels, magazines, and news.
Volunteer. Find an area of interest and volunteer alongside your child. Many homeschoolers start out as parent/child dog walking teams at the local animal shelter, and you will find other great ways to help others through your church or a community organization. Service work is a great way for your child to develop compassion, feel herself doing something worthwhile in the world, and get connected to new people and concerns.
Watch documentaries and educational TV. A lot of kids have interests in topics that are covered by television programs on The History Channel, NOVA, and PBS. Now they have time to watch and learn about black holes, earthquakes, and the black plague. If you use an inquiry-based approach with your child, you'll find that a lot of learning has taken place -- and you haven't even taught a lesson! And, I admit it, a lot of homeschooling is done via Mythbusters.  It's never too early to start watching that show together and talking about the concepts and the way the guys do their analysis. It's the scientific method!
Use the internet. Share interesting websites with your child. If age appropriate, encourage him to do searches on areas of interest and send you links to articles and videos. Make an interesting routine of checking an eagle cam or a panda cam. Watch TED talks. Try out some online games and educational sites. Discuss internet safety and responsibility.
Connect with relatives and other important people. Take advantage of the no-school routine to spend more time with grandparents, other relatives, and those close family friends who are especially meaningful to your kids. Your child might want to create a blog for family and friends to keep them informed about the interesting activities you're doing together. Children who leave school may perceive a void at first because their days are not filled with the number of people they saw in school. They will still play with neighborhood friends and see folks in Scouts or other activities, and they will keep up with their closest friends from school. They will make new friends in the homeschooling community.However, there is no substitute for a loving grandparent or special auntie -- and it's possible that your new homeschooling schedule will allow for more visits.Being with people who care about you is an especially good way to cope with transitions, and it helps kids realize the benefits and joy of cultivating high quality relationships rather than just having a high quantity of acquaintances. Of course, if your relatives are not supportive of homeschooling, you may have a different situation and, sadly, find you need to limit time with them so they don't undermine your new efforts. And let's just say that even referring to "deschooling" with them might create more problems that it's worth, so you don't have to share everything!
Cook and housekeep together. Children in school may have chores, but because they are gone from their homes 8 - 10 hours a day, they may become disconnected from the ways their contributions keep the household going. During deschooling, you may find value in the opportunity to plan meals with your daughter or son, shop for ingredients, cook together, and eat meals the child has contributed to. Learning life skills is grounding for a child. Take the time during deschooling to incorporate your child into the life and work of the home. This shouldn't be just about cleaning bathrooms, but also about your child affecting the environment with her creativity and initiative -- can she help design a reading niche in the living room? Can he pick wildflowers for the table?
As children adjust to being out of school, parents see patterns emerge about how they learn, what their strengths and weaknesses are, their highest functioning times of day, and what their natural areas of interest are. This helps parents decide how to move forward with homeschooling -- what homeschooling style to choose, what curriculum if any, and what kind of schedule and environment might work best.
A parent can make the most of what she learns during a child's deschooling period if she's also deschooling herself. That's right, parents also need to deschool -- and that's the topic for my next post.