Homeschoolers have lots of options when it comes to physical education. First, we can remind ourselves that what we do for P.E. doesn't have to look like what schools do for P.E.
We can get our kids moving, learning about fitness, improving their coordination, building strength, and enjoying their physical selves in a variety of ways. Let's take a look at some possibilities.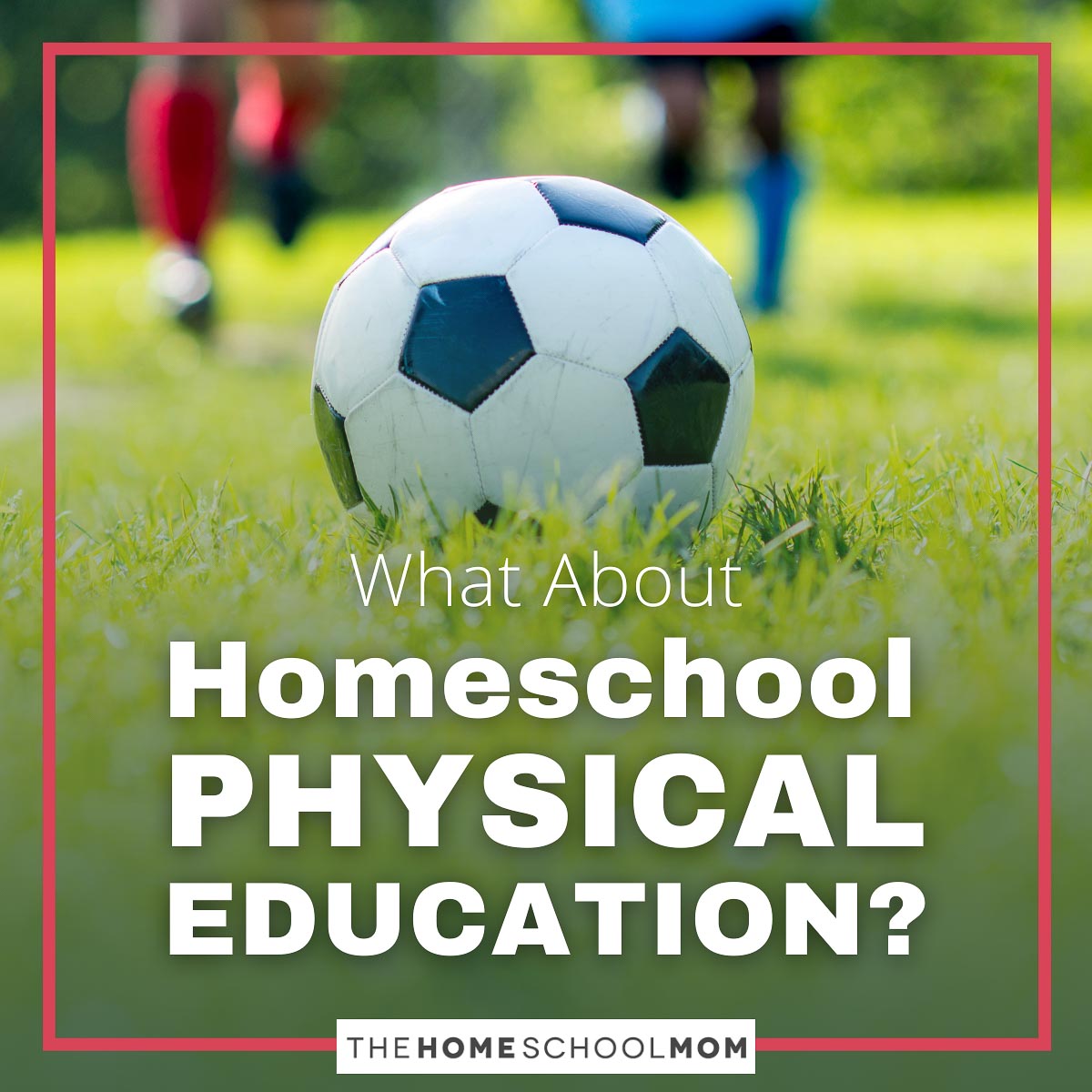 Jump to:
Participation in organized team sports.
In many communities, youth sports associations, recreation departments, the Amateur Athletic Union (AAU), and the YMCA offer seasonal programs in soccer, basketball, football, softball, baseball, volleyball, hockey, and other sports.
With practices and games, your child will have the opportunity to build skill and play as a member of a team that must work together on the field in order to improve their chances of winning.
Participation in organized individual sports.
Like their counterparts in schools, many homeschoolers enjoy individual sports such as tennis, gymnastics, swimming, martial arts, horseback riding, fencing, track, wrestling, and ice skating. True, often individuals competing in these sports are on a team.
They train together and compete at the same competitions, with their scores added together for team results. This means they still enjoy the social time, competitive spirit, and bonding of a team, even though they're not playing simultaneously with a ball on a single field of play.
Participation in school sports or P.E.
Public schools in many states allow students to participate in physical education classes, extra-curricular activities, and sports as homeschoolers or part-time students. A majority of states allow homeschoolers to try out for varsity sports teams, including several more states just within the past year.
Your state or school division may be behind the curve and not yet open to homeschoolers, but the trend is toward school sports being open to tryouts for all students in their service areas. If you are interested in your child playing for a public school, there may be specific academic requirements, and kids who attend schools even part-time will, of course, fall under school rules, so make sure you are comfortable with them.
In rural areas where homeschoolers are embraced by their communities' schools and there are few other opportunities, participation in school sports and activities may be a great option for meeting phys ed goals.
Participation in a homeschool sports league.
In some more populated areas, there might be enough homeschoolers to form a unique homeschool sports league that includes competition against other teams - either other homeschoolers within the league or, at middle school and high school levels, against private schools. The most common sports offered are soccer, football, and basketball.
Many of these sports leagues may require families to sign a statement of faith or operate within a specific religious world view, which may be something that fits for your family or may conflict with your beliefs. Make sure you understand the underpinnings of any homeschool sports league and how strongly they impact the field of play.
While participation in a homeschool sports league is not a realistic option for most homeschoolers due to distance and the small number of homeschoolers, if you find you live near enough and share similar beliefs, it might be the right option for your family.
Working out at a fitness center.
A family membership at the right fitness center can provide exercise classes and work-out opportunities for your kids. Many fitness clubs provide ways for their patrons to chart their progress toward fitness goals.
Fitness centers have varying rules regarding minimum ages for people using their equipment. Be sure you are clear about what your kids will be allowed to do. Do some research about the appropriate level of weight lifting for your child's age. Transitioning to independent work-outs at a fitness center can be a positive rite of passage for teenagers.
Taking dance classes.
Some kids are naturally drawn to participation in dance; you may be able to interest other kids in dance when they are reluctant to take part in sports that people more typically associate with physical education.
Dance studios today frequently offer a wide array of disciplines--classes in hip hop, capoeira, and modern dance are available to homeschoolers as well as traditional offerings in ballet, tap, and jazz. Dance encourages fitness, flexibility, rhythm, and coordination, as well as the mental challenge of learning choreography.

Enjoying the outdoors.
Of course, some families don't live in a community with these kinds of resources, or their kids don't enjoy competition, or they aren't attracted to the type of focus required. Some of these activities can also be beyond the family budget. But parents can get these kids out and active with nature walks, hiking, backpacking, climbing, or canoeing.
Adding a camera or a dog to walk to the mix can add incentive for many children. Camping, archery, fishing, and river floating are not high-intensity activities, but they often provide a gateway to the outdoors, leading children toward the more active outdoor pursuits. (See additional ways to incorporate the outdoors into your homeschooling here).
Organizing or leading a homeschool P.E. class.
If you want a homeschool physical education class for your kids that works like a school P.E. class, offer to put one together for your local homeschool group. You may find that a local rec department, Y, or fitness center has a gym, a trainer, and some daytime hours to fill, and they'd be happy to run a once- or twice-a-week P.E. class featuring those ubiquitous warm-up exercises along with exposure to kickball, dodgeball, and other sports.
Another option is to teach the class yourself or hire someone to teach it where your homeschool group or co-op meets. It's also possible to create sport-specific classes, such as organizing a gymnastics class or horseback riding lessons just for homeschoolers, which may fit homeschool schedules better and could possibly be designed to accommodate wider age ranges.
Using a Scouts curriculum.
Of course, if your child is in Scouts, you will become aware of the badges he or she can earn in fitness and healthy living. But did you know that the Boy Scout personal fitness curriculum is available to anyone online?
Working through the requirements includes developing and following a 12-week exercise program with measures to evaluate improving performances in strength, speed, endurance, and flexibility.
Working.
I don't hear much about how physical work can be part of physical education, but I've always thought the two can be interrelated. Farm chores and wood-splitting and stacking are among the physical chores that develop strength, skill, and body confidence.
I have been in many a barn with a basketball hoop -- the same strength that stacks hay can contribute to eventual development of a three-point shot. Certainly doing physical work isn't the same as participating in a sport, but it can be an ingredient in helping kids feel physically capable.
Participating in high adventure activities.
Mountain climbing, trail running, white water kayaking, mountain biking, BMX racing, snowboarding, skateboarding, and windsurfing are examples of extreme sports. Getting and staying fit and gaining the knowledge and coordination in order to successfully participate in these sports can certainly be the basis of physical education, especially for teens.
Taking swimming lessons.
Honestly, from one point of view, I think this may be the most important physical education activity of all. Make it a priority to devote enough time to swimming that your children really learn how to be safe in the water.
Having grown sons as well as a young one, I'm aware that as kids get older, they frequently find themselves in swimming situations in social settings, such as a youth trip to the lake or a young adult camp-out. The swimming lessons you provide for a little one may help ensure his or her safety many years later.
Training for a running race.
So many communities now have 5K and 10K races, and local running clubs often offer group training opportunities, even for beginners. While the races may be competitive for the top runners, many feature a lot of support for runners who are seeking to run a "personal best" or meet the goal of finishing a first race or a longer race.
Your family may also want to branch out into marathons or triathlons. Homeschooling families training together for running races is fairly common, since at many races, there are divisions for different ages within the same event.
Enjoying outdoor play.
Making your yard a friendly outdoor play space for your young children sets the stage for lifelong enjoyment of the outdoors and physical activity. Visiting playgrounds and parks allows little ones to use their energy and shows them early that being active is a priority. Playing in a community pool or lake does not need to be "organized" to be fun, healthy, and a foundation for swimming skills.
Playing neighborhood games, pick-up games, and non-competitive games.
Giving kids generous time to play informal soccer, baseball, and other pick-up games in their own communities can be a great way for kids to get physical. Skill levels vary, but the kids playing pick-up games often have an openness to kids who are learning.
Another option is for you to organize a non-competitive version of a competitive sport for homeschoolers in your area. One of my favorite descriptions of this is in the classic article "Family Baseball" that Earl Stevens wrote for Home Education Magazine. What a wonderful way for families to play together and get some exercise.
Conclusion
Homeschoolers can mix and match a variety of approaches to physical education and also learn about health and nutrition to round out their knowledge about healthy living. You can find some additional ideas and tools for physical education here at TheHomeSchoolMom.
Parents should keep in mind that "walking the walk" is probably the most effective tool in encouraging true physical education in our children. If they see us making fitness a priority, having fun on the field, and enjoying our daily walks, runs, or bike rides, they are more likely to truly make exercise a lasting part of their lives.