Jump to: Homeschool Arts | Homeschool Sports
In addition to the opportunity to get out of the house and socialize, homeschool sports and arts programs can offer long-term benefits by developing characteristics like leadership, self-confidence, perserverance, and self-esteem. Many organizations and businesses have opportunities specifically for homeschoolers, while others invite homeschoolers to participate in their regular programs.
Not sure how to choose activity/activities for your children? Read how Rebecca narrows down the choice of extra-curricular activities.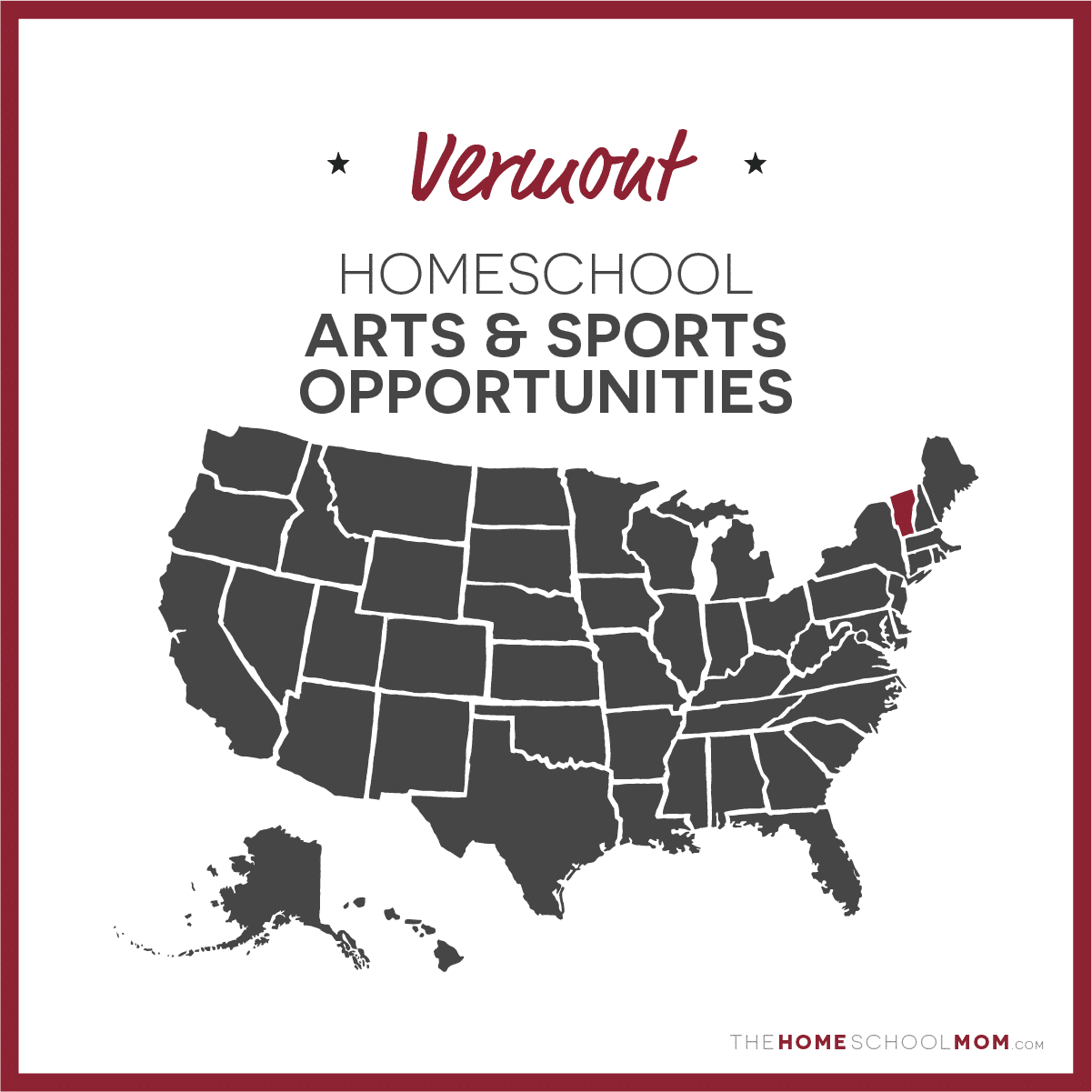 Submit a Local Resource
Our listing of Vermont list of homeschool arts and sports programs is ordered alphabetically by city, with arts in the first section and sports in the second section. If you would like to submit an Vermont arts or sports program, you may do so using the red button above.
Vermont Homeschool Arts Programs
In-Sight Photography ProjectBrattleboro, VT
The In-Sight Photography Project and its Exposures Cross-Cultural Youth Arts Program empower youth, through photography, to find their own creative voices and to communicate their unique personal visions. Classes in p...
Davis StudioBurlington
Art, Design, Theater, Fashion & Fun... Creative classes, workshops, and camps for artists of all ages and levels of experience.
Very Merry TheatreBurlington
The Very Merry Theatre is a dynamic organization that provides children from the ages of five to eighteen with the opportunity to produce and perform original plays through their schools. Students of all levels of exp...
South End Studio Dance ClassesBurlington
A new series of after school dance classes is available at South End Studio on Wednesdays. Ballet 1 for ages 6-8 2:15-2:55 Ballet 2 for ages 8-11 3-3:45 PreBallet/Hip Hop ages 4-6 3:50-4:30
AVA Gallery and Art CenterLebanon- Lakes and Upper Valley Regions
The AVA Gallery and Art Center offers many online and socially-distanced classes for children of all ages. Financial aid is available and the application is confidential, simple, and easy. Also, we are providing volun...
Open Path HomeschoolingPlainfield
Open Path Homeschooling Resources provides individualized consulting, tutoring, and classes with a supportive and experienced Vermont certified teacher. Please visit our site to see all our current art camps and class...
Vermont Farm and Forest SchoolRoxbury
Vermont Farm and Forest Day School is a 5 day a week Vermont independent school serving grades K – 5. VFFS serves both full-time and part-time students. Students weave their days between the forest, the farm, and insi...
Seven Stars Arts CenterSharon
Seven Stars Arts Center is a non-profit that offers private music instruction as well as group classes and ensembles. Serving all of Central VT/Upper Valley, offer scholarships and the building is fully accessible.
Vermont Homeschool Sports Programs
Vermont Adaptive Ski & SportsKillington
A non-profit organization dedicated to providing sports and recreation to people with disabilities. A new program has just begun called EcoAble Explorers. In this program students come to participa... [Read more...]
Ice Skating Lessons at Riley RinkManchester
Riley Rink at Hunter Park is a premier, non profit civic center that hosts sports, events and exhibitions that provides quality athletic, cultural and social programming for children, teens, adults... [Read more...]
Go to...