Field trips are a great way to reboot a bad homeschooling week, get out of the house when everyone has cabin fever, and learn about your local area. Before heading out, check out Jeanne's tips for improving homeschool field trips.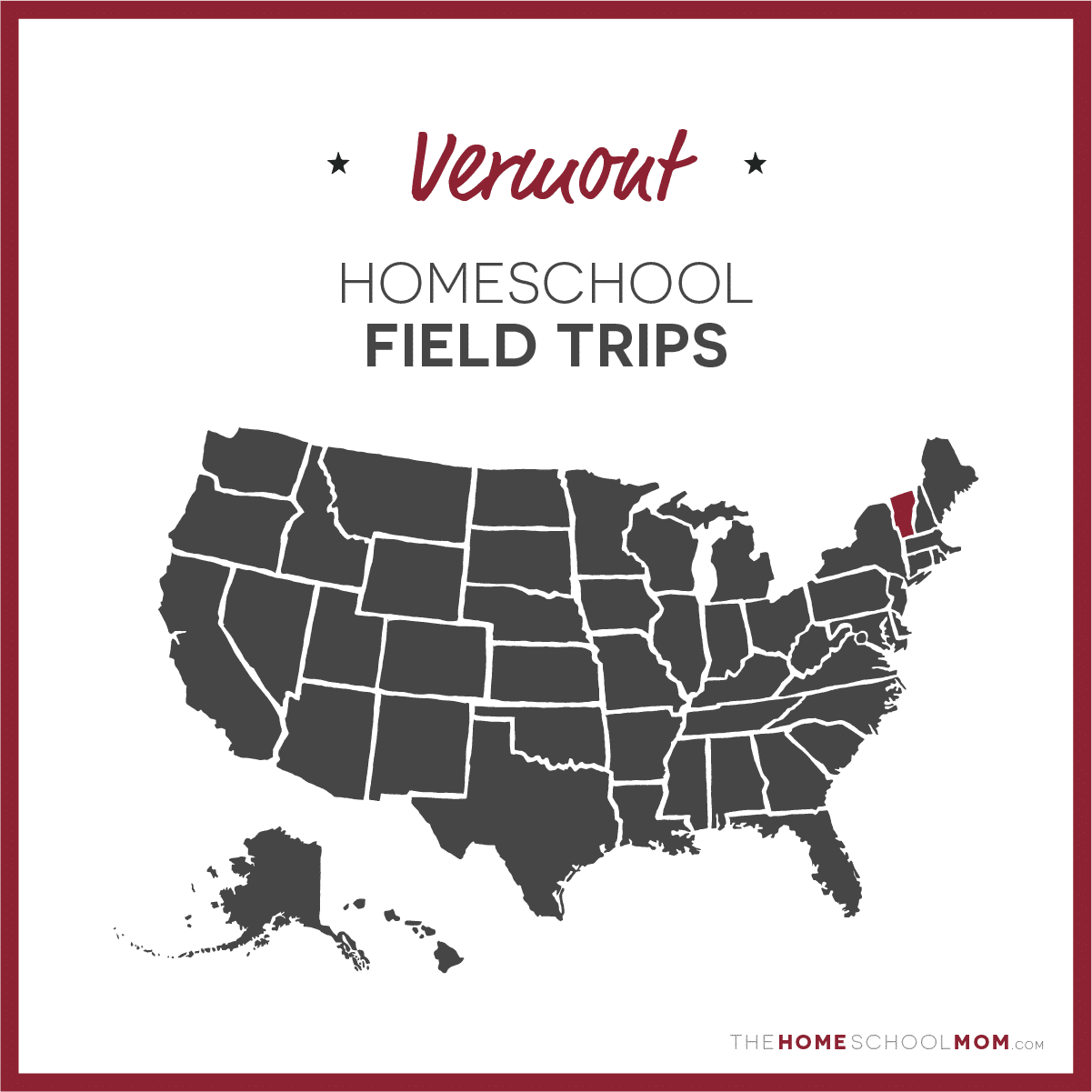 Submit a Field Trip Destination
Our listing of Vermont field trips for homeschoolers is ordered alphabetically by city. If you would like to submit a Vermont field trip destination, you may do so using the red button above.
An asterisk * after the title indicates that a virtual field trip is also available.
D.A.R. State Park

Addison

Welcome to D.A.R. State Park. With its picturesque setting on the shores of Lake Champlain, the park provides an ideal setting for anyone seeking a relaxing day visit or an overnight respite. A quiet park, it is popular for its large, open campground, grassy picnic areas and stone pavilion. It is a favorite spot for birdwatchers and provides access to Lake Champlain and an excellent fishery.
Alburg Dunes State Park

Alburg

Welcome to Alburg Dunes. This 625-acre property became a state park in 1996. It is named for the sand dunes near the center and western end of the south-facing natural sand beach. This beach is amongst the longest beaches on Lake Champlain. Come check out the sand Dunes and dune vegetation and wetland .
Appalachian National Scenic Trail

Appalachian Mountains

The People's Path and America's First National Scenic Trail. The Appalachian Trail (A.T.) is more than 2,175-mile long footpath stretching through 14 eastern states from Maine to Georgia. Conceived in 1921 and first completed in 1937, it traverses the wild, scenic, wooded, pastoral, and culturally significant lands of the Appalachian Mountains.
Wilgus State Park

Ascutney

Wilgus State Park is a very popular park for canoeists, since it is located on the Connecticut River.
Crystal Lake State Park

Barton

Crystal Lake is approximately three miles long and about one mile in width. In some places it is known to be more than 100 feet deep. It is a glacial lake beautifully situated among roughhewn mountain sides. The beach area has almost a mile of sandy shoreline with a marked swimming area. The large historic granite bathhouse has rest rooms, changing areas, and a concession stand. There are approximately 40 free standing charcoal grills, nearly 80 picnic tables, play areas, rental boats and canoes, and lots of parking space.
Woodford State Park

Bennington

Woodford State Park campground has 103 sites including 20 lean-tos. The heavily wooded area surrounds the reservoir and offers great camping opportunities. Flush toilets, hot showers ($), and a dump station are provided. There is a small beach and picnic area near the dam with pit toilet facilities. Rowboats, canoes, and paddle boats are available for rent. There are several hiking trails, including a 2.7 mile trail around the lake.
Silver Lake State Park

Bethel

Welcome to Silver Lake State Park, located the Barnard Village. Barnard is a classic Vermont hill town surrounded by high rolling hills, dotted with farms and affording many scenic vistas. This busy park is popular for its sandy swimming area, picnic grounds, and camping area.
Brattleboro Museum & Art Center

Brattleboro

The Brattleboro Museum & Art Center is a nonprofit organization founded in 1972, with a mission to present art and ideas in ways that inspire, educate, and engage people of all ages. Compelling new exhibits by regional and internationally acclaimed artists are shown each season.
Fort Dummer State Park

Brattleboro

Fort Dummer State Park, located in the Connecticut River Valley, has 217 acres of forest land just outside of Brattleboro. The park was named after Fort Dummer, the first permanent white settlement in Vermont. Built on the frontier in 1724, it was initially the gateway to the early settlements along the banks of the Connecticut River. Forty-three English soldiers and twelve Mohawk Indians manned the fort in 1724 and 1725. Later, the fort protected what was then a Massachusetts colony from an invasion by the French and Indians. Made of sturdy white pine timber, stacked like a log cabin, Fort Dummer served its purpose well.
Lake Champlain Chocolates Tours

Burlington

Visitors take in the aromas and sights ( and free samples)of a real chocolate factory. Learn all about how chocolate is made. Watch the crafting of truffles, caramels, butter crunch, and more.
Cabot Visitor Center & Tour

Cabot

The Visitors Center in Cabot, opened in 1919, offers a factory tour of talented cheese makers creating award-winning cheddars. Guests enjoy plenty of samples
Mt. Philo State Park

Charlotte

The 168-acre park is located atop Mt. Philo (968' elevation) and overlooks the Lake Champlain Valley and the Adirondack Mountains of New York. A narrow, steep road (not recommended for trailers) provides visitors access to the top of the mountain. This is Vermont's oldest state park, created in 1924. There are two small camping areas with a total of 10 sites including 3 lean-tos, located at the top of the mountain and on the mountainside. Flush toilets and hot showers ($) are provided. The mountaintop picnic area offers spectacular views of the lake, valley, and mountains to the west. An enclosed picnic shelter is available for large group gatherings. Hiking trails lead from the summit to the base. Swimming is available at Kingsland Bay State Park (6 miles) or Button Bay State Park (15 miles). There is boating, fishing, and sailing in nearby Lake Champlain.
Niquette Bay State Park

Colchester

Named for Niquette Bay, the local name for an indentation along the northeastern shore of Lake Champlain's larger Malletts Bay. 4700 feet of scenic rocky and sandy shoreline along the bay comprise the park's southern boundary. The westerly half of the park shore is of dramatically different character. Here, sheer cliffs of dolomitic limestone rise abruptly from deep water to heights exceeding 60'. These cliffs form the headwall of the western of the two ridges that cut through the park. The park's trail system accesses high points along each of these ridges, from which impressive vistas overlook Malletts Bay to the south, the Green Mountain ridge line to the east, and the Lake Champlain Islands to the west.
Spare Time Entertainment

Colchester

Spare Time is a family entertainment center featuring 36 lanes of bowling, a full service restaurant, catering services for in-house private parties, a new game zone with over 50 of the industry's most popular games, and a brand new state-of-the-art, 2-level laser tag arena. Conveniently located in Colchester, Vermont, Spare Time is the perfect field trip for those cold Vermont days. Located just off exit 16 of Interstate 89 near Costco, four miles north of Burlington.
Emerald Lake State Park

East Dorset

Welcome to 430-acre Emerald Lake State Park. Located conveniently between Manchester and Rutland, the park is popular for its wooded hillside campground, beach and swimming area, and nearby attractions and tourist destinations. The park surrounds 20-acre Emerald Lake, named for the emerald green color of its waters when viewed from above. Restricted to non-motorized watercraft, the lake is ideal for swimming and paddling. The lake also offers anglers an opportunity to catch yellow perch, smallmouth bass, northern pike and other warm-water species. The park is a favorite destination of hikers, with the Long Trail and Appalachian Trail nearby, and trails on Dorset Mountain.
Lake Carmi State Park

Enosburg Falls

There are 140 tent/trailer sites, 35 lean-to sites, and 2 cabins that make this the state's largest campground. Rest rooms have running water and hot showers($). There is a trailer dump station but no hookups. Most sites are large enough to accommodate self-contained RVs. There are swimming beaches in both camp areas. There is also a day use beach with a nature center, rest rooms and rental boats.
Bomoseen State Park

Fair Haven

Welcome to Bomoseen State Park. The 3,576-acre park is located in the Taconic Mountains on the shores of Lake Bomoseen, the largest lake entirely within Vermont's borders. The Taconics are the slate-producing region of Vermont, and the area's history parallels the rise and fall of Vermont's slate industry. The park contains several quarry holes and their adjacent colorful slate rubble piles as reminders of this period. These quarries provided slate for the West Castleton Railroad and Slate Company, a complex of 60 to 70 buildings that stood between Glen Lake and Lake Bomoseen. Several slate buildings and foundations remain in the park. A self-guided Slate History Trail leads hikers through remnants of this bygone era.
Kingsland Bay State Park

Ferrisburgh

Kingsland Bay State Park is one of Vermont's newest parks and at present has limited services. Much of the 264 acres, along the shores of Lake Champlain, remains as a natural area. The historic Hawley House (1790) is part of the complex. Future public access is planned. This property dates back to the first settlers in Ferrisburgh and has been home to Ecole Champlain, an exclusive girls camp, until the late 1960's. Picnicking, swimming, and toilet facilities are available. There are several buildings available for large group gatherings including family reunions, weddings, and company picnics. There are scenic trails along the shoreline of Lake Champlain. Boating, fishing, and sailing are also popular.
Grand Isle State Park

Grand Isle

Grand Isle State Park is located on, and takes its name from, the largest island in Lake Champlain. The Grand Isle, about fourteen miles long by three miles wide, is also known as South Hero. The Hero Islands were named to commemorate early Vermonters who had served in the American Revolution. The park, located on the east shore of the island off U.S. Route 2, began in 1959 with the purchase of Birchcliff, a private summer resort, by the state of Vermont. The original acquisition of 54 acres came with a hotel-like main building and accompanying rental cabins. The Activity Center in today's park is an original Birchcliff building.
Big Deer State Park

Groton

The campground has 23 tent/trailer sites and 5 lean-tos. The rest room includes hot showers ($). A sanitary dump station is available at Stillwater, but no hookups. There's easy access to the Nature Center and miles of hiking trails.
Boulder Beach State Park

Groton

The day use area has 75 shaded picnic sites with tables and hibachis. All rest rooms have lavatories and flush toilets. There is 200 feet of beach and swimming area, cartop boat launch, play area, shelter with group facilities, three large parking lots, and a concession stand.
Ricker Pond State Park

Groton

Ricker Pond State Park, established in the 1930's, is located on the western shores of Ricker Pond and adjacent to the Montpelier-Wells Rail Trail (Cross Vermont Trail). The rocky, tree covered hillsides were originally cloaked with white pine, spruce, hemlock, beech, maple and birch. These were logged by local farmers for lumber, fuel and potash. The logging industry was large-scale for almost 100 years while the railroad was operating. Today, logging is still a vital industry in the area, but has lost some of its dominance in favor of modern society's leisure time movement - private cottages/seasonal homes and a variety of outdoor recreation activities.
Seyon Lodge State Park

Groton

One of Vermont's best kept secrets, Seyon Lodge State Park provides rustic and welcoming facilities in the midst of the inspiring beauty of Groton State Forest. Situated on the pristine shores of Noyes Pond, the Lodge provides year-round lodging and meeting facilities for individual guests and groups, including small conferences, retreats,and weddings.
Stillwater State Park

Groton

The campground has 62 tent/trailer sites and 17 lean-tos. All rest rooms include hot showers ($). A sanitary dump station is available, but no hookups. There is a swimming beach, boat launch/dock facility, play area, shelter, and access to miles of hiking trails. The Groton Nature Center is within walking distance. Stillwater Campground is located on Lake Groton.
Maidstone State Park

Guildhall

Maidstone is the most remote of Vermont's state parks and still retains much of the wilderness character associated with the Northeast Kingdom. Maidstone Lake was created when glacial ice carved out a deep basin in a preexisting valley. When the last glaciers melted 12,000 years ago, a deep, clear, cold lake was formed. Surrounding the park are acres of forest lands that offer miles of logging roads for mountain biking or just walking.
Quechee State Park

Hartford

Quechee Recreation Area is a large park spread out over a vast area. It is unique in that 611 acres of the park are not owned by the state, but leased from the U.S. Army Corps of Engineers. The tract of land, which is leased from the Corps, contains the campground, picnic area, and utility building.
Half Moon Pond State Park

Hubbardton

Nestled away in the forests of 3,500-acre Bomoseen State Park sits the quiet camping area comprising Half Moon Pond State Park. Set in the dense woods of a small, sheltered basin, the park surrounds Half Moon Pond. The campground offers camping for all tastes with its waterfront campsites and lean-tos and five furnished cabins. For those seeking more creature comforts, Tall Timbers Cottage, with its waterfront location and private boat dock, offers all the amenities of home.
Green River Reservoir State Park

Hyde Park

Welcome to Green River Reservoir State Park. Green River Reservoir became a state park in March 1999 when 5110 acres were purchased from the Morrisville Water and Light Department. This is not your typical Vermont State Park -- Green River Reservoir provides camping and paddling experiences in a remote setting.. All campsites can only be reached by paddling to them - some a 1 to 2-mile paddle from the launch site.
Brighton State Park

Island Pond

The primary attraction of this general area is its remoteness: mountains with tree-covered slopes, fast running rivers and streams, and clear lakes. The land northeast and southeast of Island Pond is especially suited to the angler, the hunter, or the outdoor lover, and is virtually without roads or villages. Logging roads into the deeper reaches of this area are numerous and offer interesting side trips.
Jamaica State Park

Jamaica

Jamaica State Park is located on a bend of the West River about one-half mile from the center of the town of Jamaica. Nearby to the north is Ball Mountain. Hamilton Falls is located about one mile up Cobb Brook, which enters the West River upstream from the park. The West River has a very large drainage area extending from Weston and the south side of Terrible Mountain to Windham on the east and Bromley on the west. Every spring and fall, on one weekend in late April and late September, there is a water release on the West River from Ball Mountain Dam. This is a semiannual event for many kayakers and canoeists from all over New England.
Fairbanks Museum & Planetarium

Johnsbury

The Fairbanks Museum was founded in 1889 by St. Johnsbury industrialist Franklin Fairbanks. Inside our classic Victorian building, you'll find a dazzling array of animals and artifacts, dolls and tools, shells and fossils, and much more! Take a trip through the cosmos in Vermont's only public planetarium, and see weather forecasts in the works in our Eye on the Sky Weather Gallery. A full calendar of events, workshops, lectures and field programs invites everyone to explore the nature of our world.
Gifford Woods State Park

Killington

Welcome to Gifford Woods State Park. With its location at the base of Killington and Pico peaks and close proximity to the Appalachian and Long trails, this park is a favorite of hikers. Many through-hikers pass the park on their Appalachian Trail journey from Georgia to Maine. The park is also a popular destination during the fall foliage season for its dramatic autumn colors.
Elmore State Park

Lake Elmore

Elmore State Park is staffed by the Vermont Youth Conservation Corps (VYCC), in an educational partnership with the Department of Forests, Parks and Recreation. The program strives to teach personal responsibility, life and job skills, and environmental awareness in a community setting.
Lowell Lake State Park

Londonderry

Open year round for day use (winter road conditions permitting). Park is undeveloped with no camping or restroom faciliites. Free entry.
Camp Plymouth State Park

Ludlow

Welcome to Camp Plymouth State Park, 295 acres of state lands on the shores of Echo Lake in Plymouth, Vermont. Camp Plymouth is rich in history from the birth of our nation right up to present day.
Hildene: The Lincoln Family Home

Manchester

The home of Robert Todd Lincoln, the only child of Abraham and Mary Todd Lincoln to survive to adulthood He built his Georgian Revival mansion in 1905 in the scenic village of Manchester. It became home to only Lincoln descendants until 1975, longer than any other Lincoln residence. Visitors enjoy a brief video presentation, a self-guided tour of Robert and Mary Lincoln's home, listening to the 1,000-pipe Aeolian organ, and access to the Hoyt Formal Gardens.
American Museum of Fly Fishing

Manchester

The museum serves as a repository for, and conservator to, the world's largest collection of angling and angling-related items, numbering in the thousands. Our collections and exhibits thoroughly document the evolution of fly fishing as a sport, art form, craft, and industry in the U.S. and abroad, dating as far back as the 16th century. Rods, reels, flies, tackle, art, photographs, manuscripts, and books form the major portions of the Museum's collections.
Kettle Pond State Park

Marshfield

As early as 1704 Native Americans and the French were using routes through Groton to reach Canada and Massachusetts. Colonists settled this area of Vermont slightly earlier than the rest of the state due to the accessibility the network of waterways provided. The rocky, tree covered hillsides were originally covered by white pine, spruce, hemlock, beech, maple and birch. They were logged by local farmers for lumber, fuel and potash. The logging industry was large scale for almost 100 years while the railroad was operating. Today, logging is still a vital industry in the area, but has lost some of its dominance in favor of modern society's leisure time movement: private cottages and seasonal homes, park development and a variety of outdoor recreation activities.
New Discovery State Park

Marshfield

The campground has 47 tent/trailer sites and 14 lean-tos. Both rest rooms include hot showers ($). A sanitary dump station is available, but no hookups. There is a play area and access to miles of hiking trails. A picnic shelter with rest rooms is located at Osmore Pond about one mile from the campground. Also available are five remote campsites.
Henry Sheldon Museum

Middlebury

The Henry Sheldon Museum of Vermont is the oldest chartered community history museum in the United States, welcoming visitors and researchers since 1882. It offers lively tours, exhibits and programs to enrich our understanding of Vermont's past. Be sure to visit the Judd-Harris House, built in 1829, showcases a wealth of objects depicting small town life in nineteenth century Vermont.
Sand Bar State Park

Milton

Sand Bar State Park takes its name from a natural sandbar between South Hero Island in Grand Isle County and the town of Milton on the Vermont mainland. Home to beaver, muskrats, racoons, and turtles, it's a seasonal stopover for a great variety of migratory waterfowl and other birds, a waterfowl nesting area, and spawning grounds for many of the lake's fish. Hunting, fishing, and trapping are not allowed on refuge land.
Vermont's History Museum and Library

Montpelier

Our museum's permanent exhibit, Freedom and Unity: One Ideal, Many Stories, opened in March 2004 and won a national award. The multimedia exhibit, which represents Vermont's history from 1600 to the present, fills 5,000 square feet in the Pavilion building in Montpelier. Visitors walk through time and experience a full-sized Abenaki wigwam, a re-creation of the Catamount Tavern where Ethan Allen's Green Mountain Boys gathered, a railroad station complete with a working telegraph and a WWII living room furnished with period music and magazines.
Morristown Historical Society's Noyes House Museum

Morrisville

Explore the vast collection of the Morristown Historical Society and the stories that bring objects to life. The Noyes House Museum presents exhibits and local stories of nineteenth and early twentieth century life in Morristown, VT. The museum's collection includes furniture, textiles, military objects, clothing, photographs, pottery, folk and fine art, tools and objects of daily life. We can tailor your homeschool visit based on specific needs. Summer Hours: June-August Thursday 12pm-4pm, Saturday and Sunday 10am-4pm. Fall Hours: September - October Friday 12pm-4pm, Saturday 10am-4pm.
Knight Point State Park

North Hero

Knight Point State Park is home to the Island Center for Arts and Recreation, a community-based non-profit group that works to promote and encourage the splendid natural setting that is Knight Point as a venue for cultural and recreational programming. Expansive lawns are the center of this 54-acre day use park. The lawn becomes meadow west of the developed area, where the forest along the lakeside is a substantial natural feature. Besides stands of mature, windswept oak and maple on the point, hickory and hop hornbeam are found further inland. Tight clusters of cedar trees enhance the beauty and wildlife cover of the area.
North Hero State Park

North Hero

North Hero State Park is named for North Hero Island in Lake Champlain. The Hero Islands were named to commemorate those early Vermonters who served in the Revolutionary War. Land for the 399-acre park was purchased in 1963. Nearly one-third of that land lies below 100 feet elevation. Lake level on Champlain fluctuates seasonally from about 95 to 101 feet above sea level so much of the park is subjected to seasonal inundation. The forest type in these floodplain areas is uncommon in Vermont, found only around Lake Champlain. The North Hero example is noted for its size, relatively undisturbed condition, and rare flora habitat.
Calvin Coolidge Homestead

Plymouth

Vice President Calvin Coolidge became the 30th president of the United States when he took the oath of office in the sitting room of this modest frame and clapboard farmhouse. Coolidge and his wife are buried in the nearby town cemetery.
Coolidge State Park

Plymouth

A trip to Coolidge State Park is a trip back in time; the park remains essentially the way it was when it was first created in the 1930s. Known for its rustic feel, hillside campsites that give way to dramatic mountain views, and authentic character, Coolidge State Park is the developed recreation centerpiece of the 21,500 acre Calvin Coolidge State Forest, the largest state-owned land holding in central Vermont. Coolidge State Park is the only Vermont park with an entire loop of lean-to campsites, some of which have sweeping views of the Black River valley and the Green Mountains. Many campers feel that sites at Coolidge have the best views in all of Vermont. The park also has a loop of forested campsites, restroom facilities with showers, a hilltop picnic area with log picnic shelter, a group camping area, and several remote lean-to campsites for those wishing to really escape it all.
Lake St. Catherine State Park

Poultney

The park, which consists of 117 acres, first opened as a small picnic and swimming area in 1953. The area is known for its past slate quarrying operations, with remains of slate mills, quarries, and rubble piles still visible. The park itself was once a children's summer camp and farmland. The campground contains 50 tent/trailer sites and 11 lean-to sites. Grassy open areas, wooded sites and lake access make this camping area very popular. Flush toilets, hot showers ($), and a dump station are provided. The park has well-developed picnic, play, and swimming areas. There is a snack bar concession with rowboats and paddle boats rentals. Boating and fishing are popular on the lake.
Allis State Park

Randolph

Welcome to Allis State Park, one of Central Vermont's best kept secrets! The hilltop setting, private campsites, and dramatic views from the lookout tower make it a favorite spot for long-time campers who cherish the peace and tranquility the park affords. Allis State Park's location off of one of Vermont's few remaining gravel state highways and proximity to the "floating bridge" add to the rustic and old-time character of the area.
Branbury State Park

Salisbury

Branbury is located on the eastern shore of Lake Dunmore at the base of Mt. Moosalamoo. The Green Mountain National Forest is its neighbor to the east. Historically, the 69-acre park operated as a farm at the turn of the century, then a guest house, summer boy's camp and private beach and picnic area.
Shaftsbury State Park

Shaftsbury

Lake Shaftsbury State Park is on an 84-acre parcel surrounding the small but picturesque Lake Shaftsbury. The area operated as a private campground/cabin resort before it became a state park in 1974. It has become a popular park facility in southwestern Vermont. Thre is a fully furnished waterfront cottage on the "quiet" side of the park that comfortably sleeps six, with deck and grill. Lake Shaftsbury also operates a group camping area with clusters of lean-tos (15) available throughout the year for scouts, church groups, and other organizations. Pit toilet facilities are available. There is also a developed beach, play area, and picnic area. There is an open picnic shelter/pavilion available for large group gatherings. The snack bar concession has rental rowboats, paddle boats, and canoes. The "Healing Springs Nature Trail" around the lake is also a popular spot.
Shelburne Museum

Shelburne

Shelburne Museum is one of the finest, most diverse, and unconventional museums of art and Americana. Over 150,000 works are exhibited in a remarkable setting of 38 exhibition buildings, 25 of which are historic and were relocated to the Museum grounds.
Vermont Teddy bear Factory

Shelburne

Factory tours are offfered year round
Maple Grove Farms of Vermont

St Johnsbury

Visit the Sugar House Museum and learn about the whole sugaring experience
Burton Island State Park

St. Albans Bay

Burton Island is a 253-acre park off the southwestern tip of St. Albans Point in Lake Champlain's 'Inland Sea'. The park is accessible only by boat, with the state's passenger ferry making the 10-minute from Kill Kare State Park.
Kill Kare State Park

St. Albans Bay

Kill Kare State Park is named for Kill Kare, a summer camp for boys, which operated on this site for some fifty years through the mid-1900s. Located on the southwestern tip of St. Albans Point, a three-mile peninsula which defines St. Albans Bay, Kill Kare is surrounded on three sides by the sparkling water of Lake Champlain. In the 1840s, the property was part of a farm owned by C.C. Burton. The three-story building in the center of the park was built in the 1870s and operated as a summer resort hotel until about 1900, when the boys' camp was founded.
Knight Island State Park

St. Albans Bay

Knight Island was farmed historically then was uninhabited for many years. It was a privately operated primitive campground through the 1980s. The owner lived year-round on the island and began a timber management program to supplement the camping operation. Under state ownership, remote area camping is being continued on seven sites dotted around the island. Land management activities are those which will keep the island unique and unspoiled.
Woods Island State Park

St. Albans Bay

Woods Island is a "remote area" campground. Remote Area campsites, while beautiful, are not for everybody. Sanitary facilities are minimal, and there is no potable water supply. Each campsite does have a picnic bench, fire ring and nearby privy. The island's five campsites are situated approximately equidistant around the two-mile shoreline, and are connected by a trail system. This gives you great privacy, but it also means you're going to have to walk and carry your own gear from wherever you come ashore. You shouldn't bring anything you 're not prepared to carry in and carry out.
Smugglers Notch State Park

Stowe

Smugglers Notch is a narrow pass through the mountain with 1,000 foot cliffs on either side. In the early days, only a footpath and trail for horses existed. Smugglers Notch State Park is a corridor park with developed facilities along VT 108. It consists of a campground, a picnic area, the "Notch" proper, and trailheads to some of the more popular hiking trails in Vermont.
Stone Hut

Stowe

The historic Stone Hut was originally built as a warming hut in 1936 by the Civilian Conservation Corps (CCC). These same crews cut some of the original ski trails on Mt. Mansfield. Once a home away from home for the ski pioneers of Vermont, it is now operated as a public lodging facility with a unique partnership between the Vermont Department of Forests, Parks, and Recreation and the Stowe Mountain Resort (Mt. Mansfield Company) between Mid-November and Mid-April.
Thetford State Park

Thetford

Thetford Hill State Park is another state park developed by the Civilian Conservation Corps (CCC). During the 1930s, the CCCs built fireplaces, tables, a toilet building, and the main road in the park. The camp area and picnic area presents a great opportunity for quiet and secluded camping and picniking. The park is known for the world class trail system used for running and x-country skiing.
Townshend State Park

Townshend

Townshend State Park is located at the foot of Bald Mountain on a bend of the West River. There is a view of Rattlesnake Mountain to the north from the ranger's quarters. A hiking trail leads to the summit of the mountain, a vertical climb of 1,100 feet from the campground. Geological features along the trail include waterfalls, chutes, and pools. From the top of the mountain, vistas provide views to the north, south, and east.
Underhill State Park

Underhill Center

Underhill is within Vermont's 34,000-acre Mt. Mansfield State Forest. On the headwaters of the Brown's River, at about 2,000 feet elevation, the park lies on the west slope of 4,300 feet Mt. Mansfield, the state's highest peak. Just over the summit ridge is the Stowe ski area, one of North America's original ski resorts.
Button Bay State Park

Vergennes

Button Bay, a 253-acre park, is located on a bluff in Ferrisburgh along the 130-mile long Lake Champlain. Historically, the area has been visited by such notables as Samuel De Champlain (1609), Ethan Allen (1776), Ben Franklin (1776), and Benedict Arnold (1777). What once operated as a farm, opened as a state park in 1964. The park is so named for the button-like concretions formed by clay deposits found along the shoreline.
Ben & Jerry's Factory Tours

Waterbury

A 30-minute guided ice cream factory tour fun and educational for all ages. Guests learn about the ice cream manufacturing process and explain how values-led decisions are incorporated.
Little River State Park

Waterbury

Little River State Park, which is part of Mt. Mansfield State Forest, primarily consists of a campground with 81 tent/trailer sites and 20 leantos. This is central Vermont's largest and most popular campground. Three of the four restrooms include hot showers ($). A sanitary dump station is available, but no hookups. Within the campground, there are swimming beaches, play areas, a boat launch, ballfield, nature museum and programs, and boat rentals. Adjacent to the park are miles of hiking trails (open for day use) that take in the rich cultural and natural history of the area.
Cold Hollow Cider Mill

Waterbury Center

Tour the Cold Hollow Cider Mill and see how Cider's been made for hundreds of years by the rack and cloth method on a 1920-vintage press.
Waterbury Center State Park

Waterbury Center

The park is located on a 90-acre peninsula with 22 picnic sites, tables, hibachis, swimming beach, nature trail, trailer boat ramp, boat rentals, concession area and restrooms.
Molly Stark State Park

Wilmington

Welcome to Molly Stark State Park, named for the famous wife of General John Stark of the Revolutionary War. The park is located along the Molly Stark Trail Scenic Byway (State Route 9), the main east-west route in Southern Vermont that connects Brattleboro, Wilmington and Bennington. Two camping loops consist of 23 tent/trailer sites and 11 lean-to sites. One rest room with showers ($) is located in each loop. There are a play area and a picnic pavilion for large groups. A hiking trail starts from the park and goes up to the Mt. Olga fire tower.
Ascutney State Park

Windsor

Excellent viewing is offered from points along the summit road and trail. The original fire tower with the cabin removed has been relocated for excellent views in all directions. Another excellent view is found at Brownsville Rock, 1/4 mile by trail northwest of the summit. This is also the hang gliding launch site.
Billings Farm and Museum

Woodstock

Billings Farm and Museum in an operating dairy farms which includes a museum of Vermont's rural past. Visitors will experience a first-hand sampling of actual farm work, animals, and agricultural processes. The authentically restored 1890 Farm House features the farm manager's office, family living quarters, and creamery. Interactive programs in the farmhouse for visitors and students interpret 19th century agricultural improvement, butter production, and domestic life. Engaging exhibits housed in 19th century barns depict the annual cycle of rural life and work, as well as the cultural values of Vermont farm families a century ago.
Marsh-Billings-Rockefeller National Historical Park

Woodstock

The park is a tribute to three generations of conservationist. Visitors can tour the mansion and gardens, hike in the managed forest, and visiting the Carriage Barn Visitor Center. The website offers historical information about the park for those who cannot visit in person.