Jump to: Homeschool Co-ops | Homeschooling Classes & Academic Enrichment
Looking for someone to teach physics to your teen? Need a way to avoid teaching algebra? Want to enroll your Kindergartener in a co-op for social time? Homeschool classes and co-ops are a great way to spend time with other homeschoolers and skill-share with other homeschool parents.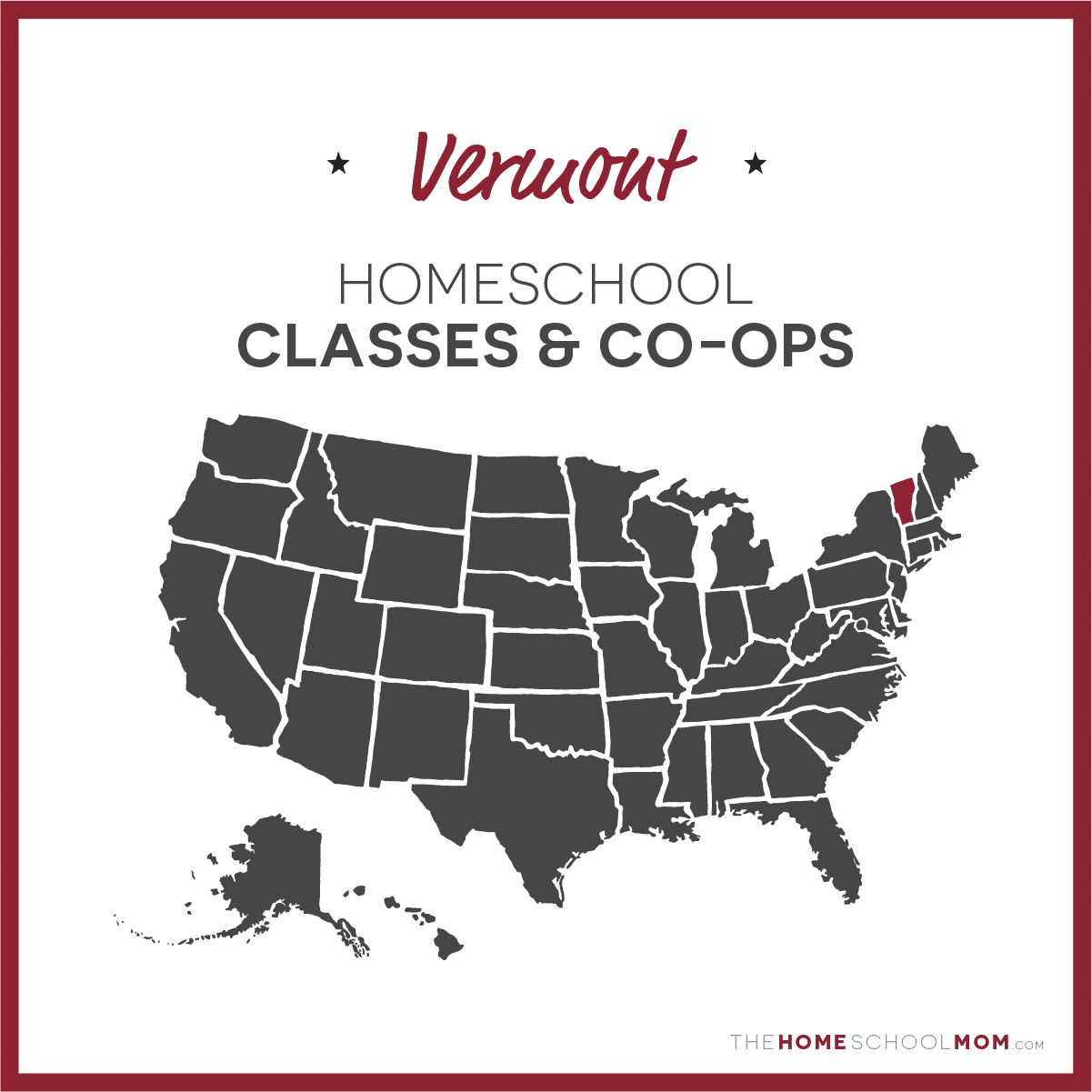 Submit a Local Resource
Our listing of Vermont co-ops and academic classes for homeschoolers is ordered alphabetically by city, with co-ops in the first section and all other academic resources below. If you would like to submit a Vermont co-op or academic resource, you may do so using the red button above.
Vermont Homeschooling Co-ops
No co-op information found for Vermont.
Vermont Homeschooling Classes & Academic Enrichment
Mayflower TutoringBoston
Mayflower Tutoring is a reputable Plymouth, MA-based tutoring service. It proudly offers online and in-person tutoring sessions for elementary through high school students. Its founder, Matthew Rowe (Ed.M. Philosophy ...
Royal Academy EducationChester
The Royal Academy offers a private school and home education resource center featuring portfolio review, and virtual or individual tutoring. Location: 145 S. Main St., Chester, Vermont 05143.
Homeschool Sessions at Cedar Circle Farm + Education CenterEast Thetford
Offering science and agriculture education for Homeschool students at Cedar Circle Farm every spring and fall since the program's inaugural year in 2015. Our farm is an incredible outdoor classroom with our production...
Audubon Vermont Homeschool ProgramsHuntington
Integrating the outdoor classroom with rigorous academic concepts, conservation-based themes, and connection with nature. This drop-in style homeschool program focuses on key science concepts: math, biology, environme...
AVA Gallery and Art CenterLebanon- Lakes and Upper Valley Regions
The AVA Gallery and Art Center offers many online and socially-distanced classes for children of all ages. Financial aid is available and the application is confidential, simple, and easy. Also, we are providing volun...
ThicketsMontpelier
Thickets is a place-based learning community for self-directed young people ages 5 – 8 in Montpelier, Vermont. Each day evolves differently and is created collectively as we explore the forests, parks and city. Thicke...
Open Path HomeschoolingPlainfield
Open Path Homeschooling Resources provides individualized consulting, tutoring, and classes with a supportive and experienced Vermont certified teacher. Please visit our site to see all our current art camps and class...
Vermont Farm and Forest SchoolRoxbury
Vermont Farm and Forest Day School is a 5 day a week Vermont independent school serving grades K – 5. VFFS serves both full-time and part-time students. Students weave their days between the forest, the farm, and insi...
The Governor's Institutes of Vermont Summer and Winter InstitutesSouth Burlington
The Governor's Institutes of Vermont creates prestigious, fun, accelerated, hands-on learning residencies for motivated Vermont teenagers. Any talented Vermont student can apply online at www.giv.org for an unforgetta...
O'Neill Tutoring Enrichment ProgramsSouth Burlington
Art, Lego, Math, Reading, and more! BUILD/Visual Spatial- Supporting children in constructing art and play environments that foster curiosity and mastery CREATE/Innovation-Supporting children in self-expression throug...
River Valley Technical CenterSpringfield
The River Valley Technical Center offers an education that prepares students to be career and college ready. Students learn technical skills in their program areas, employability skills that prepare them for the workp...
Hulbert Outdoor CenterUpper Valley
Since 1990, Hulbert Outdoor Center has offered week-long residential programs for homeschooled children ages 9-17. Currently we offer two, one-week residential programs throughout the year in March and May. We believe...
Vermont Academy of Science and Technology (VAST)Vermont
The Vermont Academy of Science and Technology (VAST) program is an independent, accredited high school exclusively for high school seniors. VAST is an accelerated program that allows high school senior to take a full ...
Vermont Classical ConversationsVermont Statewide
CC is a national homeschooling program that uses a Bible based curriculum taught in a christian, classical tradition. Classes are geared for age 4 through high school.
World Language Classes with Sharon FennimoreWaterbury
I am able to offer individual and small group instruction for Mandarin Chinese (k-12) and (k through high school French 2) French world language instruction. I have taught in colleges, private and public schools, and ...
Go to...