Jump to: Homeschool Co-ops | Homeschooling Classes & Academic Enrichment
Looking for someone to teach physics to your teen? Need a way to avoid teaching algebra? Want to enroll your Kindergartener in a co-op for social time? Homeschool classes and co-ops are a great way to spend time with other homeschoolers and skill-share with other homeschool parents.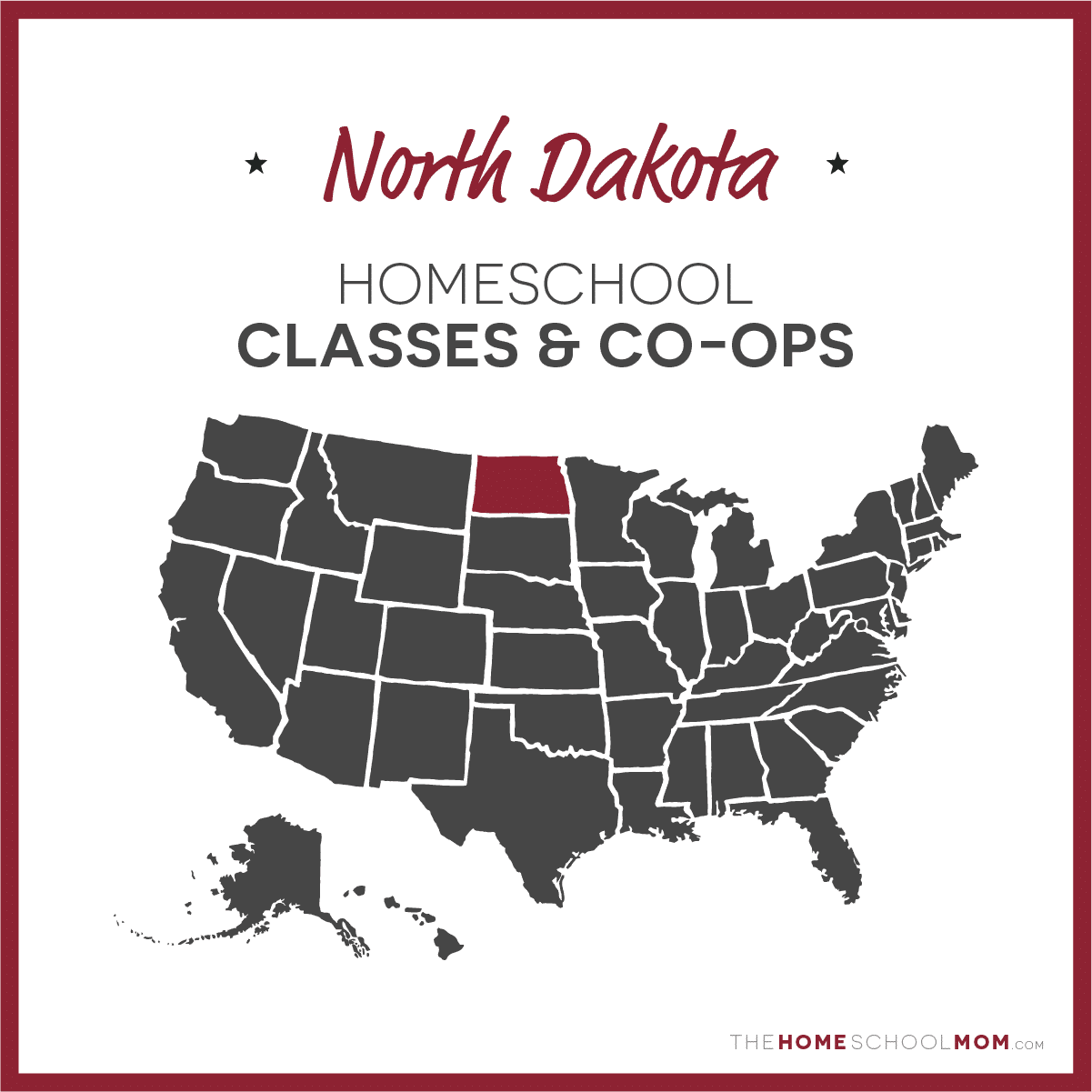 Submit a Local Resource
Our listing of North Dakota co-ops and academic classes for homeschoolers is ordered alphabetically by city, with co-ops in the first section and all other academic resources below. If you would like to submit a North Dakota co-op or academic resource, you may do so using the red button above.
North Dakota Homeschooling Co-ops
No co-op information found for North Dakota.
North Dakota Homeschooling Classes & Academic Enrichment
Bison Best

Fargo

BEST (Boosting Engineering Science and Technology) is a non-profit volunteer based program organization whose mission is to inspire students to pursue careers in engineering, science and technology through participation in sports like, science and engineering-based robotics competition. North Dakota State University
North Dakota Center for Distance Learning

North Dakota Statewide

The North Dakota Center for Distance Education (ND CDE) is a non-profit distance education high school that has been providing educational opportunities to students around the world for over 72 years. Currently, we offer over 170 print-based courses and over 100 online courses to students in grades 6-12. Lessons are evaluated by a highly qualified staff of 27 resident teachers who are committed to serving the needs of each student. Our curricular materials are also purchased by many public, private, home and charter schools.
North Dakota Classical Conversations

North Dakota Statewide

CC is a national homeschooling program that uses a Bible based curriculum taught in a christian, classical tradition. Classes are geared for age 4 through high school.
Empower.ed Writing Course

Rogers

Eileen Carlin, is a university instructor with 10+ years of experience. She teaches for several universities and has developed an easy to use, online writing course that students can access 24/7. The course includes podcasts, lectures, power points, assessments and templates that allow students to work at their own pace, or click on just the areas with which they need help. Students are taken through the writing process beginning with choosing a topic, conducting research, developing an outline, writing an introduction, writing a thesis statement, constructing paragraphs, developing a conclusion, formatting in APA and MLA format, proofreading and editing. All in a concise, user friendly format designed for new college students or high school students. Ms. Carlin is offer a steep discount to any homeschool students who may be interested. Let Ms. Carlin know you saw the promotion on The Home School Mom.