Jump to: Homeschool Arts | Homeschool Sports
In addition to the opportunity to get out of the house and socialize, homeschool sports and arts programs can offer long-term benefits by developing characteristics like leadership, self-confidence, perserverance, and self-esteem. Many organizations and businesses have opportunities specifically for homeschoolers, while others invite homeschoolers to participate in their regular programs.
Not sure how to choose activity/activities for your children? Read how Rebecca narrows down the choice of extra-curricular activities.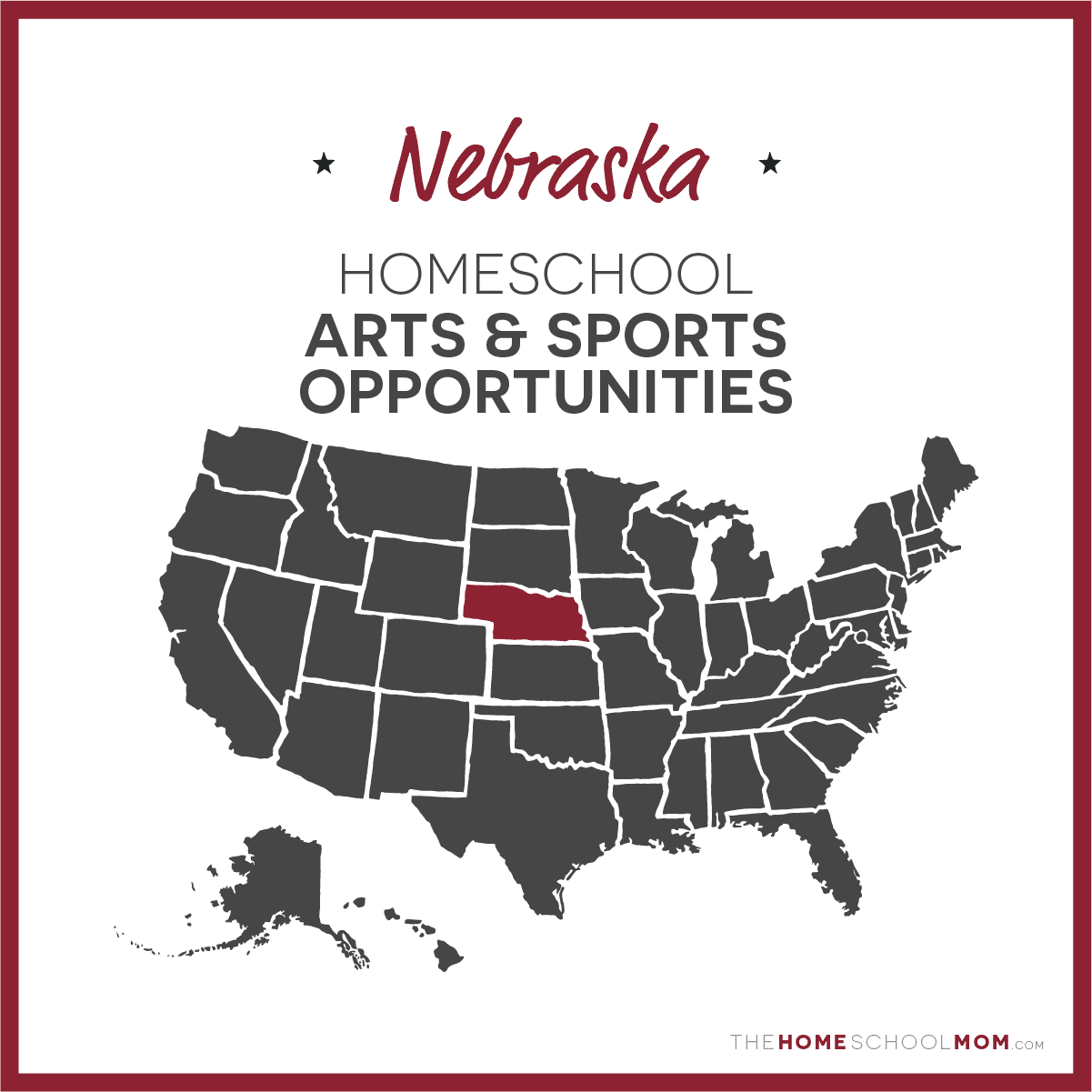 Submit a Local Resource
Our listing of Nebraska list of homeschool arts and sports programs is ordered alphabetically by city, with arts in the first section and sports in the second section. If you would like to submit an Nebraska arts or sports program, you may do so using the red button above.
Nebraska Homeschool Arts Programs
The Old Avoca Schoolhouse, Avoca, NebraskaAvoca
Harmonica Workshops: Within the first few minutes participants (age 7 and up) will be playing actual folk songs on their very own harmonicas ($3.00 each). Beginning Contra and Round Dance Workshop: If you can walk the...
CK Dance AcademyLincoln
CK Dance Academy is a Christian based dance studio that is offering Thursday afternoon dance classes. Classes begin at the end of August and continue through mid May. Along with regular evening classes, there is a Kic...
Star City Strings Music LessonsLINCOLN
Private lessons and group classes in cello, violin, piano, and general music topics. Korynne Bolt is a professional cellist with over a decade of teaching experience, from beginning students through the collegiate lev...
Suzuki Piano Lessons with Kathy KnebelOmaha
Suzuki Piano Lessons with highly trained instructor, Kathy Knebel. This method helps beginning students develop aural skills and technical skills before learning to read. They learn to play by ear first, and this meth...
Arts For All, Inc.Omaha
Arts For All, Inc. is a 501(c)(3) non-profit organization dedicated to providing affordable and accessible arts education throughout Greater Omaha. Offering classes in music, dance, voice, acting, painting, drawing, c...
The Makery is an arts and crafts studio that offers classes for all ages and skill levels. The Makery will inspire your child to make, create, and learn new skills. Perfect for home schooling children! Offers a one-ti...
Omaha Homeschool Band and OrchestraOmaha
The Omaha Homeschool Band and Orchestra provides instrumental music Instruction in a Christian environment. From new beginners to advanced high school aged players, there are ensembles and teachers to help your studen...
Omaha Pipes and Drums' core mission is to teach the playing of bagpipes. We do this free of charge (for over 50 years) with the hope of producing productive musicians and new members. Our web site has more information...
It's Your PotteryOmaha
Offering In-studio pottery classes. Appropriate for ages 4-12 years. Handicap Accessible, Subject or Themed Projects available in Pottery Painting, Clay Hand- building, Glass Fusion, Canvas Painting, Wood Painting, Ca...
Homeschool Art Class with Carey HernandezOmaha
JANUARY 17 - MARCH 7 | $200 Semester runs for 8-weeks. Students meet on Tuesday's for 60 minutes. Classes are limited to 15 students. GROUP CLASS SCHEDULE: 1:00pm - 2:00pm | K - 2nd Grade 2:00pm - 3:00pm | 3rd - 6th G...
Vesper ConcertsOmaha/Council Bluffs
Vesper Concerts is a performing arts series that offers seven concerts per season. All concerts are free and open to the public. They present world-class local, national, and international talent and all genres of mus...
Sonata Piano StudioPapillion
Offering individual piano lessons taught by experienced teachers who have been part of the homeschool community for years. Discounts for siblings and for large families. This makes prices vary by family situation, but...
Papillion Dance and TumblingPapillion
We offer dance and acrobatic classes for ages 18 months through 18 years. Classes go month-to-month and we have quarterly opportunities for performance.
Connie Wolfe Piano StudioPlattsmouth
Connie Wolfe Piano Studio has daytime openings. The studio is located in Plattsmouth, NE. The fee is $75/month. Email clmwolfe2@gmail.com if interested.
Kindermusik with Jenny provides music and movement classes for children ages 0-7.
Bravura Piano LessonsWahoo/Lincoln/Omaha
Andrea is offering private piano lessons of all ages in her studio in Wahoo, Nebraska. She is a dedicated and enthusiastic teacher that has been teaching piano for over 12 years. She is currently enrolling new student...
Nebraska Homeschool Sports Programs
Patriots girls volleyball teamBellevue
The Patriots are a girls volleyball team from a small Christian school that consists of 4 homeschoolers and 4 girls that attend the school. The Patriots want to continue building their sports progr... [Read more...]
Swimtastic Swim SchoolLincoln
The goal at Swimtastic is to teach young children to swim in a positive, safe and loving environment. Child-friendly atmosphere and pool is set to 90 degrees which helps children relax and allows l... [Read more...]
Lincoln Eagles BasketballLincoln
Lincoln Eagles Basketball is a home school basketball organization open to boys and girls grades 6-12. The Lincoln Eagles compete against teams in Nebraska, Kansas and Colorado. Visit the website f... [Read more...]
Currently hosting strength and conditioning classes for young athletes on Monday, Wednesday, and Fridays. Groups are limited to 15 participants per class. Please contact Tory Robinson at toryr@infi... [Read more...]
Warrior Volleyball ProgramOmaha
A competitive volleyball program for girls grades 5-12. [Read more...]
Omaha Lightning BasketballOmaha
For over a decade Omaha Lightning Basketball has served to create an opportunity for home school athletes from all over the metro area to experience the enjoyment and development opportunities that... [Read more...]
Research confirms what the great martial arts masters have claimed for decades: "The martial arts can help develop both better bodies and better minds and may lead to a better, more peaceful societ... [Read more...]
Omaha Roadrunners AthleticsOmaha
Boys & Girls Basketball from a Biblical perspective. Established in 2004, the Omaha Roadrunners provides home-schooled boys and girls in the metro area with a Christ-centered competitive sports pro... [Read more...]
Premier GymnasticsOmaha
Premiers Home School Open gym happens every Wednesday & Thursday it runs from 12-1 for $5/child. We are located currently at 108th and Fort (behind Jensen Tires & Walgreens). This is an opportunity... [Read more...]
Warren Academy Athletic Training, Teams and EnrichmentOmaha
Warren Academy provides classes, training and events for students that have a desire to improve their health and wellness or athletic performance. [Read more...]
Go to...