Jump to: Homeschool Arts | Homeschool Sports
In addition to the opportunity to get out of the house and socialize, homeschool sports and arts programs can offer long-term benefits by developing characteristics like leadership, self-confidence, perserverance, and self-esteem. Many organizations and businesses have opportunities specifically for homeschoolers, while others invite homeschoolers to participate in their regular programs.
Not sure how to choose activity/activities for your children? Read how Rebecca narrows down the choice of extra-curricular activities.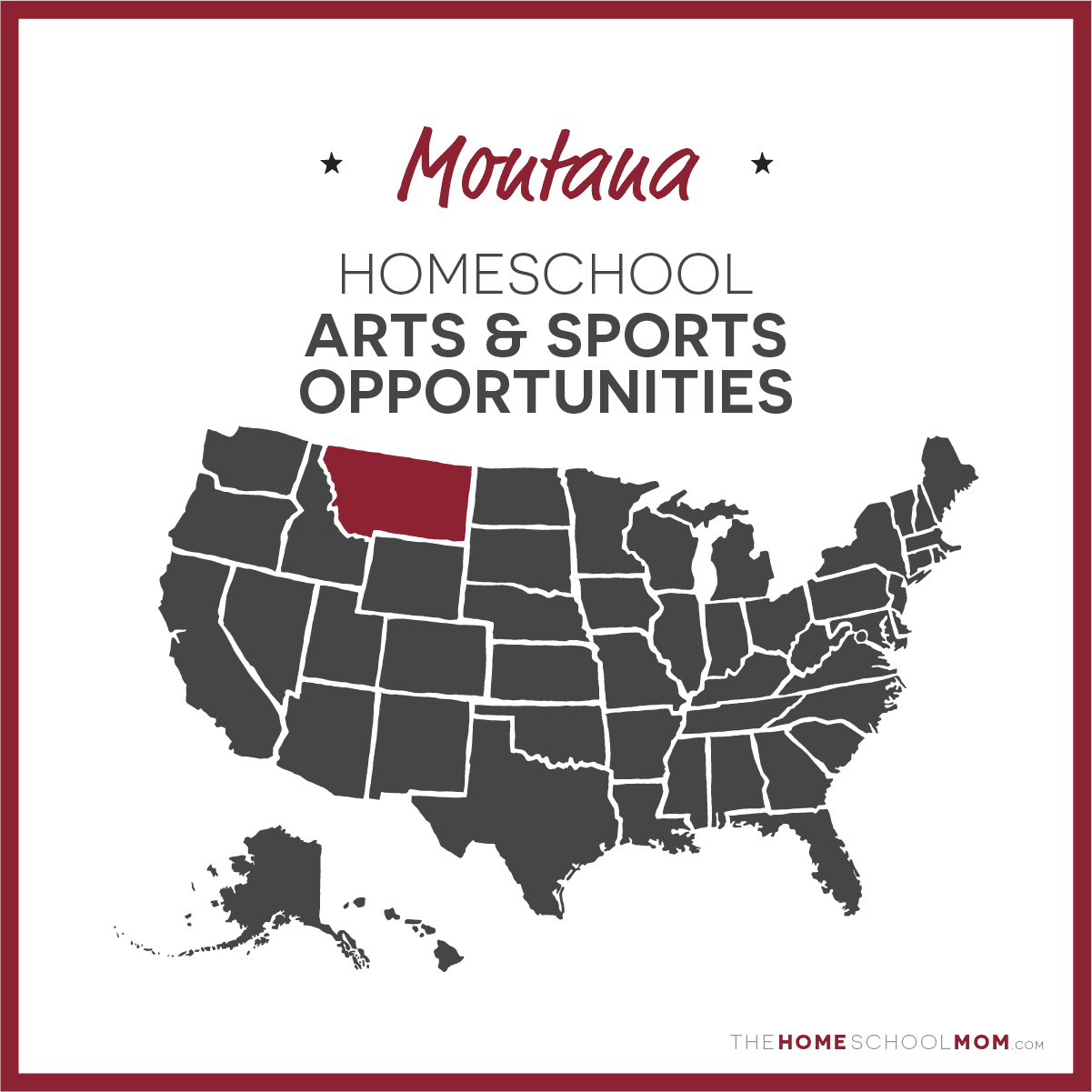 Submit a Local Resource
Our listing of Montana list of homeschool arts and sports programs is ordered alphabetically by city, with arts in the first section and sports in the second section. If you would like to submit an Montana arts or sports program, you may do so using the red button above.
Montana Homeschool Arts Programs
Rachel Waterman Studio, LLC

Bozeman

Learn to play the piano with a tenured teacher located between Bozeman and Belgrade who makes the 30 minute weekly lessons enjoyable through a wide variety of songs and music games. Students will learn the National and Montana Music Standards as applied to the piano through age appropriate curriculum, various teaching tools and customized approaches. More studio details at www.rachelwatermanstudio.com and/or contact Mrs. Rachel at 406-570-0179.
Music Together Bozeman

Bozeman

Music Together in Bozeman (with teacher, Music Kate) offers mixed-age kids music classes (infants to age 5) in two locations in Bozeman (West side and South Side). Children and the adults who love them will bond, musically, through music. These fun and educational classes involve singing, rhythm-making, creative movement, drumming, instrument play, creative improvisation and pure fun! The goal is give children (even at the youngest age) exposure to music in a relaxed educational environment that allows them to explore their musical selves while giving them a foundation for vocal and rhythmic competency that will last a lifetime as well as prepare them for voice/instrument/piano lessons and future music ensemble participation. Music Together draws heavily from traditional American folk songs, includes songs in a variety of musical keys, and incorporates tunes in a range of languages and rhythms. FREE PREVIEW CLASS: You are invited to come check out a class as a "free preview" with no strings attached CLICK HERE ==> http://bit.ly/RequestFreePreview QUESTIONS? Contact Music Kate Here ==> http://bit.ly/ContactMusicKate CLASS DAYS AND TIMES. Classes are offered Morning (10:30 AM), Afternoons (4:00 PM) and Early Evenings (5:30 PM). Fall, Winter & Spring Semesters. See website for current schedule.
Isaac Lee Drums

Flathead Valley (Kalispell area)

Isaac Lee is offering drum lessons at his teaching studio located in Evergreen. He is the drummer of the Flat Black band based out of Kalispell. Isaac has international touring experience, 10 years of teaching experience, some college as a music major (percussion), and is looking to add more students to his teaching practice. If sound levels are an issue at your home, Isaac can help with low volume solutions to enable your child to practice without disturbing the rest of the family. Get in touch today with questions and get your child professional drum lessons with a gifted teacher.
Montana Homeschool Sports Programs
Bozeman Aikido Children's and Young Adults Program

Bozeman

Bozeman Aikido offers aikido classes for children ages 6-18 located in a traditional Japanese dojo off of N 7th Ave in Bozeman. Aikido is a non-competitve, non-violent martial art that uses circular motions borrowed from nature to resolve conflict. Training is performed in a safe atmosphere where students are encourage to cooperate and encourage one another and learn sensitivity to each other's movements. Students will also learn proper falling technique including forward and backward rolls and break falls. Aikido is a traditional Japanese martial art and therefore students will learn basic Japanese words such as counting 1 through 10 and learn proper Japanese dojo etiquette and Japanese cultural history. After consistent training, students will demonstrate their knowledge through examinations where they are asked to perform the techniques with the spirit and care exemplified by the art form. Belts and certificates are given to celebrate in the student's achievement. At 13 years of age, students have the option of joining the general membership and examining for promotions recognized by the Aikido World Headquarters in Tokyo, Japan. The beginner class is 4:30 to 5:45 P.M. on Fridays and is on-going.
Hi Line Climbing Center Home School Program

Great Falls

The Hi-Line Climbing Center has partnered with the homeschool community for another year of climbing! Classes for K-12 students (ages 9 – 16) will meet weekly with different blocks of time to accommodate busy schedules. Enrollment in the Homeschool climbing program comes with a full membership, that can be used any time and includes use of rental equipment any time as well and 2 guest passes shared with each family membership. For more details on this program, please visit the website.