Jump to: Homeschool Co-ops | Homeschooling Classes & Academic Enrichment
Looking for someone to teach physics to your teen? Need a way to avoid teaching algebra? Want to enroll your Kindergartener in a co-op for social time? Homeschool classes and co-ops are a great way to spend time with other homeschoolers and skill-share with other homeschool parents.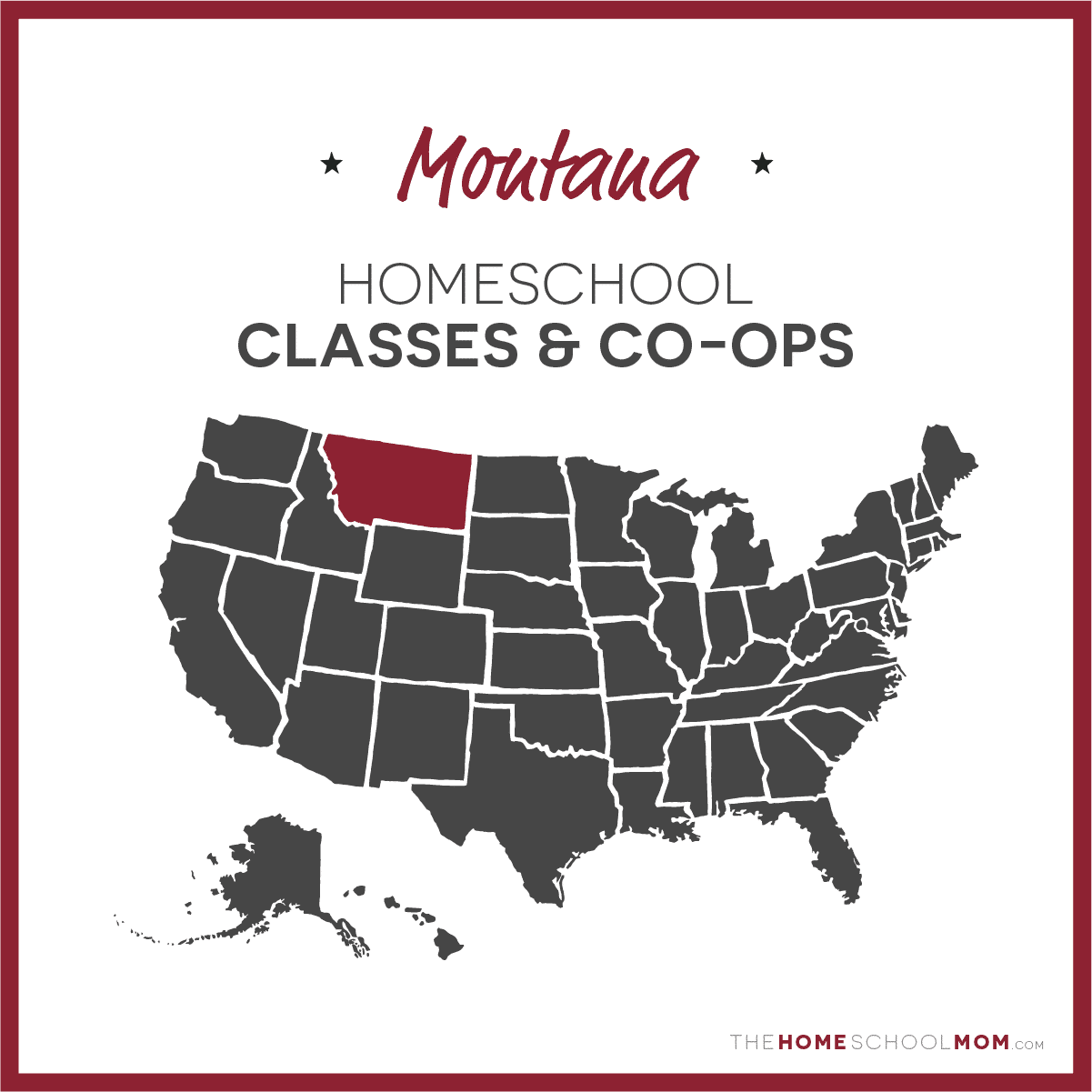 Submit a Local Resource
Our listing of Montana co-ops and academic classes for homeschoolers is ordered alphabetically by city, with co-ops in the first section and all other academic resources below. If you would like to submit a Montana co-op or academic resource, you may do so using the red button above.
Montana Homeschooling Co-ops
Gallatin Christian Homeschool Co-op

Bozeman

GCHC exists to provide a morning each week of fellowship, friendship, and a cooperative learning experience for parents and kids alike. Consists of twenty-five to thirty Christian families who are investing their time and skills for the purpose of enhancing the educational activities of our children.
Inspired Learning Co-op

Great Falls

Inspired Learning Co-op began in 2016, in Great Falls, MT. Inspired Learning is a Christian group, offering preschool classes for tots to preschool, and K-12 classes. ILC meets once a week and offers both academic and elective classes. Classes are kept small and personal. Teachers are parent-volunteers who co-teach with other parents in classes.
Helena Homeschool Enrichment Co-op

Helena

The co-op provides regular classes once a week and summer field trips. The focus is fun educational opportunities and building healthy relationships for the whole family.
Montana Homeschooling Classes & Academic Enrichment
Music Lingua LLC

Bozeman

Music Lingua offers French, German or Spanish classes to kids age 0-8 yrs old in parent/child or drop-off class settings. Multi-age classes fit well with home-schoolers and benefit the whole family. Music Lingua teaches foreign language through music, movement, drama, storytelling and art, and provides take-home materials of books and CDs, to continue the learning at home all through the week.
EMERGE School

Gallatin Valley and surrounding areas

EMERGE offers high school and middle school classes with a strong focus on practical purpose. The goal of EMERGE is to equip homeschooled students for college, career and community service through courses in science, English, math, history, foreign language, business, and life skills. Small, affordable classes, held weekly in Bozeman, are led by Christian teachers who are experts in their field and who love sharing their knowledge.
Flathead Enrichment Classes

Kalispell

Flathead Homeschool Enrichment Classes is a place where local instructors can come together and offer their classes in a common location on Tuesdays. Each instructor is responsible for setting their own course description, fees and class size as well as collecting their own fees. Classes are held at Cornerstone Community Church, 1970 Hwy 93, Kalispell, MT. Because we are using the church building we need to have each family pay a non-refundable registration fee to help cover cleaning, insurance, IT, and building rental costs. This fee is $20 for two or more people OR two or more classes for each session. If you know you will be attending the entire year you may also pay a one time discounted fee of $80 for the school year. One person taking one class may pay $10/session or $40/year.
Learning with Meaning Inc.

Missoula

We are currently utilizing an awesome individualized learning platform called Century Tech. It has great courses in English, Math, and Science that are based on UK education standards. They are of great quality and offer a ton of applicable data to track your child. What we are offering is access to this platform for an unlimited amount of courses AND in-person guided instruction opportunities and help to navigate the platform. You can register at learningwithmeaning.org Call 406-493-6886 and ask for Mike with any questions or email me directly at mike@learningwithmeaning.org
Montana Classical Conversations

Montana Statewide

CC is a national homeschooling program that uses a Bible based curriculum taught in a christian, classical tradition. Classes are geared for age 4 through high school.