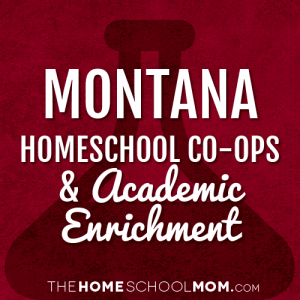 Our listing of Montana co-ops and academic classes for homeschoolers is ordered alphabetically by city, with co-ops in the first section and all other academic resources below. If you would like to submit a Montana co-op or academic resource, you may do so using the red button above.
Use the secondary navigation menu above to quickly make your way to pages for Montana state organizations, local homeschool groups, classes, co-ops, field trips, and more.
Montana Homeschooling Co-ops
Gallatin Christian Homeschool Co-opBozeman
GCHC exists to provide a morning each week of fellowship, friendship, and a cooperative learning experience for parents and kids alike. Consists of twenty-five to thirty Christian families who are ...
Helena Homeschool Enrichment Co-opHelena
The co-op provides regular classes once a week and summer field trips. The focus is fun educational opportunities and building healthy relationships for the whole family.
Montana Homeschooling Classes & Academic Enrichment
Music Lingua LLCBozeman
Music Lingua offers French, German or Spanish classes to kids age 0-8 yrs old in parent/child or drop-off class settings. Multi-age classes fit well with home-schoolers and benefit the whole family...
NanoDays / MicroDays free science outreach event at MSUBozeman
Join MSU for a hands-on celebration of small-scale science and engineering, featuring activities, demonstrations and nano souvenirs for kids and adults. Come anytime between 5pm and 7pm.
Dream Big family-friendly engineering film and activitiesBozeman
On Saturday, March 4th at 2:00 pm and 5:00 pm, Bozeman Film Society is proud to open its 2017 Science on Screen (SoS) series with the visually spectacular Dream Big: Engineering Our World, the firs...
EMERGEGallatin Valley and surrounding areas
EMERGE offers high school and middle school classes with a strong focus on practical purpose. The goal of EMERGE is to equip homeschooled students for college, career and community service through ...
Safe SitterKalispell
The Summit Medical Fitness Center would like to offer WEEKDAY Safe Sitter classes to home school students. We have an instructor who has expressed interest in doing the complete curriculum in a tw...
Montana Classical ConversationsMontana Statewide
CC is a national homeschooling program that uses a Bible based curriculum taught in a christian, classical tradition. Classes are geared for age 4 through high school.
Montana Natural Resources Youth CampMontana Statewide
This summer camp is hosted by and created by U of M School of Forestry. The camp is held at the Lubrecht Experimental Forest east of Missoula on Hwy 200. It focuses on the science, and management o...
Ravenwood Wild HomeschoolWhitefish and Columbia Falls
A day-long nature connection outing for homeschoolers, focusing on nature activities like fire by friction, creek wanders, naturalist skills, tracking, and survival skills. People connection activ...