Jump to: Homeschool Arts | Homeschool Sports
In addition to the opportunity to get out of the house and socialize, homeschool sports and arts programs can offer long-term benefits by developing characteristics like leadership, self-confidence, perserverance, and self-esteem. Many organizations and businesses have opportunities specifically for homeschoolers, while others invite homeschoolers to participate in their regular programs.
Not sure how to choose activity/activities for your children? Read how Rebecca narrows down the choice of extra-curricular activities.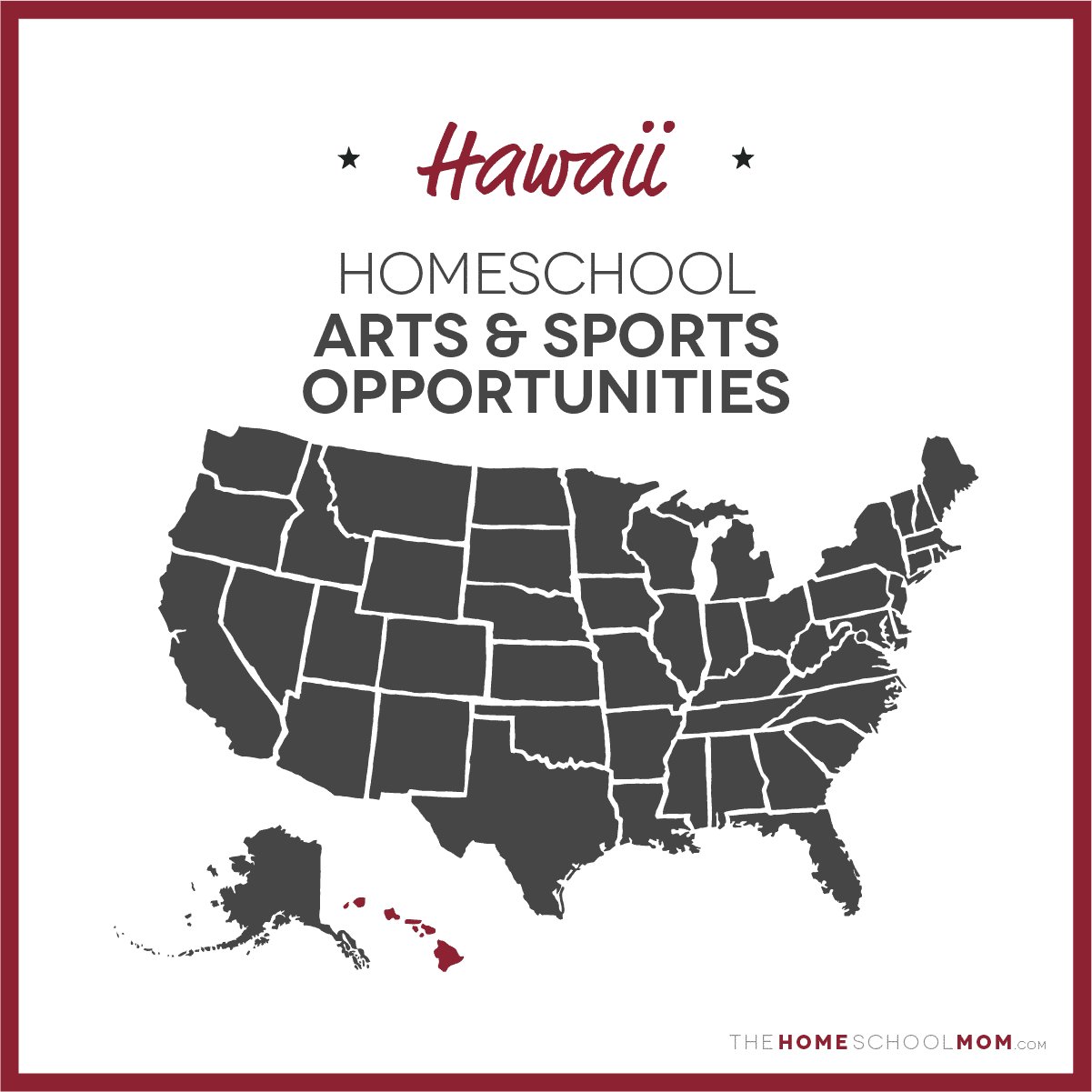 Submit a Local Resource
Our listing of Hawaii list of homeschool arts and sports programs is ordered alphabetically by city, with arts in the first section and sports in the second section. If you would like to submit an Hawaii arts or sports program, you may do so using the red button above.
Hawaii Homeschool Arts Programs
Theatre Specialist John Hagen - Private Voice and Piano InstructorHawaii Kai
This is a great resource to help enrich your child(ren) in the art and technique of either singing or learning to play the piano. This is an opportunity to work one on one with a Master in the field of music. Expertis...
Manoa School of Music & the ArtsHonolulu
Manoa School of Music & the Arts offers private music lessons in piano, voice, ukulele, guitar, violin, cello, bass, flute, clarinet, saxophone, trumpet and even jazz piano. Located conveniently in Manoa Marketpla...
Homeschool Music ClassHonolulu
SoKnow Studio offers group classes specifically for homeschoolers. Includes keyboard, recorder, chorus, ukulele, and music history similar to a public or private school music class. Classes are held once a week; free ...
Violin and Viola Lessons in HawaiiHonolulu
Dr. Carlo Andrea Malanima of Violin and Viola Lessons Hawaii provvides high qualified violin and viola lessons at reasonable rates. Suzuki Method Trained and Registered Teacher. Specialized in early childhood violin t...
Orvis Young Voices Studio Hawai'i Opera TheatreHonolulu
Hawaii Opera Theatre's Orvis Young Voices Studio is available to select high school singers living in the state of Hawaii. Those selected will have the opportunity to work with professionals in opera and the performin...
Aloha Piano Piano Lesson and Early Childhood Music LessonsKaneohe
Aloha Piano offers the playing based piano program Simply Music an Australian developed piano method that has students of all ages playing great sounding contemporary , classical , blues, jazz and accompaniment pieces...
Maui Music MissionLahaina
Essential music education for ages 6-12. Daytime programs for Home School students, after school music club, and personal lessons in Ukulele, Guitar, Piano, Violin, Voice, and more! High-quality and low-cost music edu...
Hawaii Handbell AcademyMililani
Hawaii handbell academy is built for children and youth to learn music on a unique percussion instrument of English handbells. The students will be put into ensembles of 8-12 children. There they will learn basic musi...
Hawaii Homeschool Sports Programs
Kids Bowl Free! Bowling is great for Math lessons!Kailua-Kona, Big Island, Hawaii Island
KBXtreme offers kids free bowling all summer long. Register your child and receive weekly coupons for two free games. [Read more...]
Hawai'i Olympic TKD (Taekwondo)Kona
Free martial arts classes in Old Industrial area of Kona. Go to website to register www.hitkd.org and to view class location and schedule. We are classified by the IRS as a public charity. [Read more...]
Ka'oi Soccer ClubWaipahu
Looking for players (ages 6 to 17), coaches and teams to join the Ka'oi Soccer Club. The club focuses on developing players, coaches and teams to play with confidence and win with character. [Read more...]
Go to...