Jump to: Homeschool Arts | Homeschool Sports
In addition to the opportunity to get out of the house and socialize, homeschool sports and arts programs can offer long-term benefits by developing characteristics like leadership, self-confidence, perserverance, and self-esteem. Many organizations and businesses have opportunities specifically for homeschoolers, while others invite homeschoolers to participate in their regular programs.
Not sure how to choose activity/activities for your children? Read how Rebecca narrows down the choice of extra-curricular activities.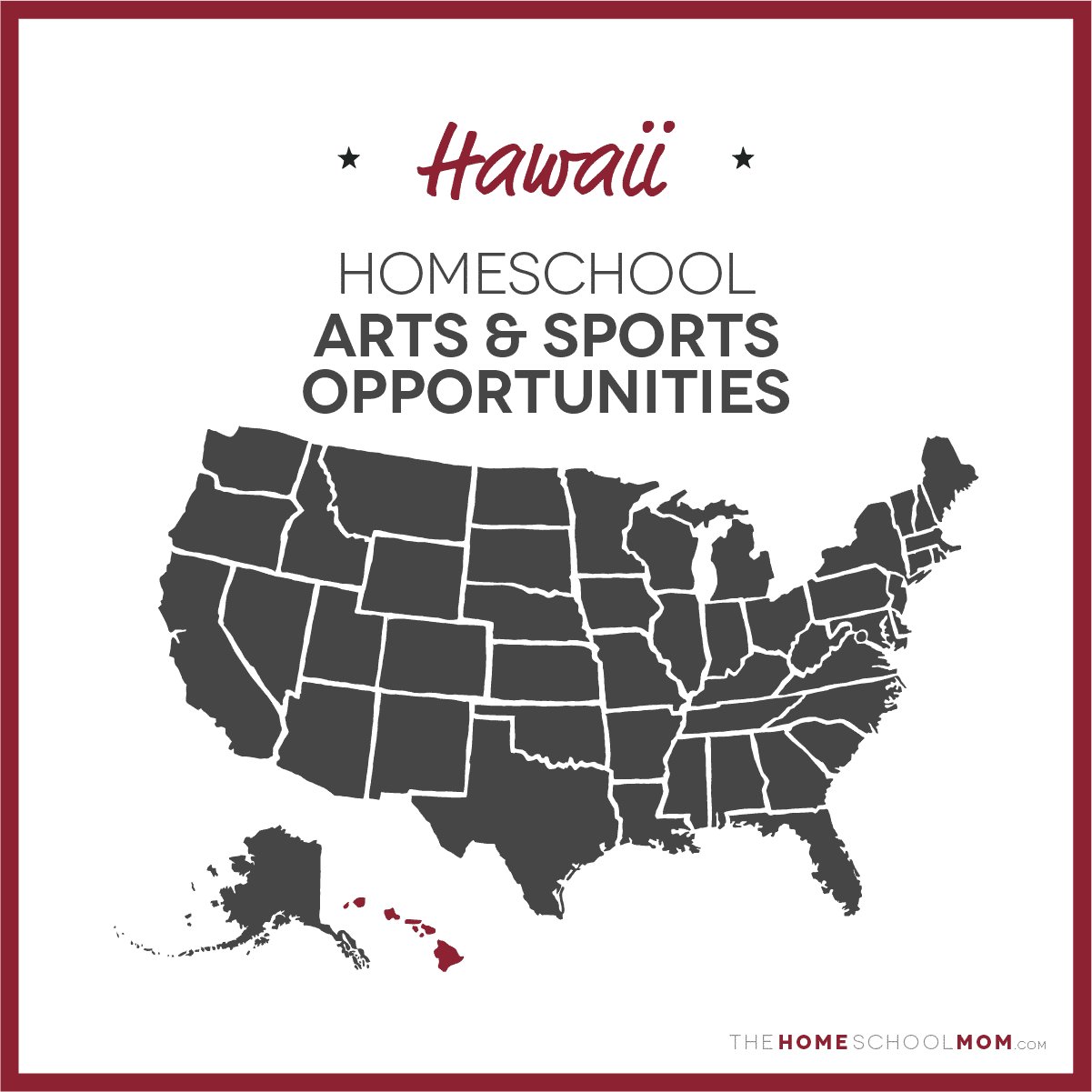 Submit a Local Resource
Our listing of Hawaii list of homeschool arts and sports programs is ordered alphabetically by city, with arts in the first section and sports in the second section. If you would like to submit an Hawaii arts or sports program, you may do so using the red button above.
Hawaii Homeschool Arts Programs
Theatre Specialist John Hagen - Private Voice and Piano Instructor

Hawaii Kai

This is a great resource to help enrich your child(ren) in the art and technique of either singing or learning to play the piano. This is an opportunity to work one on one with a Master in the field of music. Expertise in Stage Direction, Orchestral Conducting, Operatic/Musical Baritone, Set Designing, Lighting and Sound Designing, Stage Managing, Arts Education Consulting, Children's Theatre Direction, and Vocal Coaching.

Theatre Specialist John Hagen - Private Voice and Piano Instructor details
Manoa School of Music & the Arts

Honolulu

Manoa School of Music & the Arts offers private music lessons in piano, voice, ukulele, guitar, violin, cello, bass, flute, clarinet, saxophone, trumpet and even jazz piano. Located conveniently in Manoa Marketplace near the University of Hawaii with plenty of free parking. Each music studio is equipped with a Yamaha Grand Piano, and performances are scheduled monthly in the school's beautiful Recital Hall with an 8' Yamaha Concert Grand Piano. There are many practical benefits accruing from music instruction – at any age! These include development of muscular coordination, increased confidence, reasoning ability, and problem-solving. Daily practice develops discipline and the problems presented promote creativity in problem-solving. Studies have proven that, in children, science and math scores are vastly improved as well as school performance in general.
Homeschool Music Class

Honolulu

SoKnow Studio offers group classes specifically for homeschoolers. Includes keyboard, recorder, chorus, ukulele, and music history similar to a public or private school music class. Classes are held once a week; free orientations are available every month!
Violin and Viola Lessons in Hawaii

Honolulu

Dr. Carlo Andrea Malanima of Violin and Viola Lessons Hawaii provvides high qualified violin and viola lessons at reasonable rates. Suzuki Method Trained and Registered Teacher. Specialized in early childhood violin tutoring. 35 years of Execellence carreer as a musician in the most important musical institution of Europe. Dr. Carlo Andrea Malanima owns a Doctoral Deree in Viola Performance and an Advanced Certificate Degree from The Juilliard School in New York. Solfege and Ear Training Licensed Teacher and Chamber Music Tutor. Special discount of 10% for homeschool students.
Orvis Young Voices Studio Hawai'i Opera Theatre

Honolulu

Hawaii Opera Theatre's Orvis Young Voices Studio is available to select high school singers living in the state of Hawaii. Those selected will have the opportunity to work with professionals in opera and the performing arts to hone their skills as performers. Participants will perform and learn from HOT staff and guest artists and each other in masterclass format, learn about professional opera performances, and participate in workshops for acting, diction, and interpretation. Classes are led by Hawaii Opera Theatre staff, and guest artists and clinicians locally and from the mainland.
Aloha Piano Piano Lesson and Early Childhood Music Lessons

Kaneohe

Aloha Piano offers the playing based piano program Simply Music an Australian developed piano method that has students of all ages playing great sounding contemporary , classical , blues, jazz and accompaniment pieces immediately from their very first lessons! It also provides an improvisation program Innermusician where students improvise across the piano playing their own interpretation of life through music.

Aloha Piano Piano Lesson and Early Childhood Music Lessons details
Maui Music Mission

Lahaina

Essential music education for ages 6-12. Daytime programs for Home School students, after school music club, and personal lessons in Ukulele, Guitar, Piano, Violin, Voice, and more! High-quality and low-cost music education. Beginner and Intermediate level. Classes for ages 13 to adult also available.
Hawaii Handbell Academy

Mililani

Hawaii handbell academy is built for children and youth to learn music on a unique percussion instrument of English handbells. The students will be put into ensembles of 8-12 children. There they will learn basic musical skills such as rhythm, music reading and how to work as an ensemble to create handbell music. Studies have shown that handbell ringing utilize both the left and right sides of the brain--so involuntary intellectual development may also occur. Handbells is a fun, light-hearted time so spend learning the art of music!
Hawaii Homeschool Sports Programs
Oahu Taekwondo Center

Aiea, Hawaii 96706

This resource is a martial arts, studio, Taekwondo for children and adult. Classes are scheduled in the daytime as well as afternoon.
Kids Bowl Free! Bowling is great for Math lessons!

Kailua-Kona, Big Island, Hawaii Island

KBXtreme offers kids free bowling all summer long. Register your child and receive weekly coupons for two free games.
Ka'oi Soccer Club

Waipahu

Looking for players (ages 6 to 17), coaches and teams to join the Ka'oi Soccer Club. The club focuses on developing players, coaches and teams to play with confidence and win with character.