Jump to: Homeschool Co-ops | Homeschooling Classes & Academic Enrichment
Looking for someone to teach physics to your teen? Need a way to avoid teaching algebra? Want to enroll your Kindergartener in a co-op for social time? Homeschool classes and co-ops are a great way to spend time with other homeschoolers and skill-share with other homeschool parents.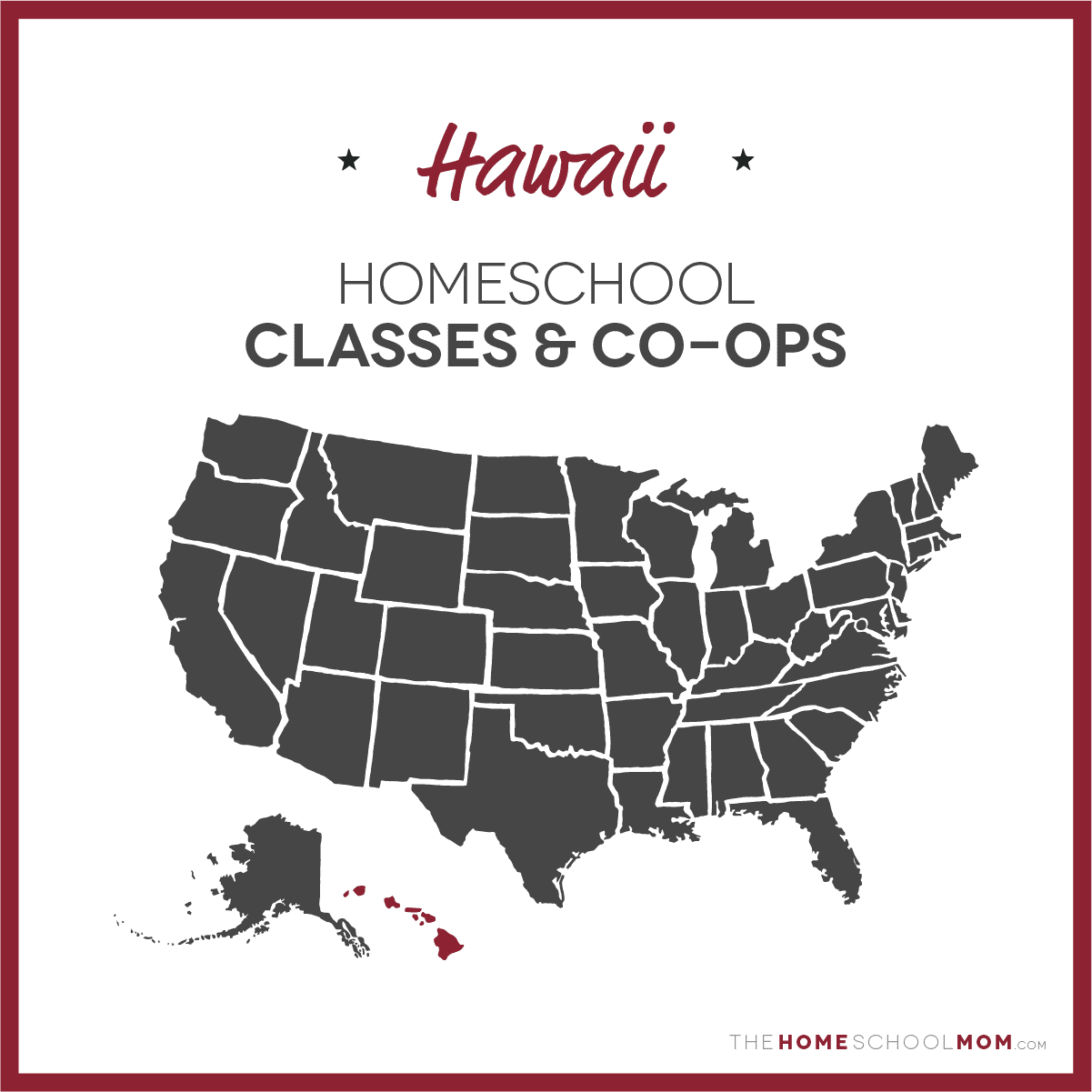 Submit a Local Resource
Our listing of Hawaii co-ops and academic classes for homeschoolers is ordered alphabetically by city, with co-ops in the first section and all other academic resources below. If you would like to submit a Hawaii co-op or academic resource, you may do so using the red button above.
Hawaii Homeschooling Co-ops
Ulana Hilo Homeschool Co-op

Hilo, Hawaii

Ulana is a member-led homeschool co-op meeting weekly. The co-op serves to equip parents and students in a Biblical worldview.
Hickam Homeschool Co-Op

Joint Base Pearl Harbor Hickam

This Co-Op is for families with military base access as it is located on Joint Base Pearl Harbor Hickam. This group meets weekly on Wednesdays and is available for kindergarten through 12th grade. Students attend 2 different classes that are not geared toward common core. Some class examples have been theater, STEM building, recycling art, finger painting, journalism, etc.
Ohana Homeschool Cooperative

Kapaau, Hawaii

'Ohana Homeschool Cooperative provides a safe, loving environment for young children, preschool through third grade. Children learn through art, outdoor activities, baking, music, hula, imaginative play, writing and arithmetic (grades classes.) We offer non-competitive games, language arts, gardening, potions, handwork and other specialty classes and supply nutritious snacks from the organic farm. Each child receives loving care and attention.
Hawaii Homeschooling Classes & Academic Enrichment
MathVantage

Honolulu

The MathVantage can be an excellent addition to homeschooling education. Parents are struggling with ineffective Math online courses or they can't afford private math teachers. Prof. Patrick Chevalier has more than 25 years of experience in teaching and tutoring advanced mathematics, developed a new hybrid solution that mixes traditional and homeschooling advantages in an interactive and high-technology environment in Hawaii Kai. He has been very successful in inviting parents into the classroom to directly participate in a personalized math learning process. He says: "Professor, Student, and parents walking step by step together is a transparent and an effective way to prepare homeschooling children to succeed in college and change their lives." This hybrid solution preserves the homeschooling perspective, is affordable, and provides the best-advanced math education in a short time. MathVantage will personalize the best way for homeschoolers to achieve the high math standards required to pursue a top university degree.
Lindamood-Bell Learning Processes

Kahului-Maui

Lindamood-Bell Learning Processes is an organization providing instruction in reading, comprehension, and math, and is successful with those previously diagnosed with dyslexia, hyperlexia, ADHD, and autism spectrum disorders.
RAI Hawaii LLC - Beginning coding programs with robots

Kailua

We are excited to offer basic coding instruction with 3 different educational robots as a supplemental and enriching STEAM program! Our curriculum currently offers basic coding designed for children in grades pre-K to 3rd grade, or children who are novices in coding in 1:1 or small group sessions. We are able to do mixed age groups/abilities as well. We have 3 different and very unique coding robots- Kebbi, KIBO, and Bee-Bot. We also offer 1:1 early academic and social skills instruction with a 5G Kebbi robot and MOVIA Robotics' curriculum for early learners at the Pre-K-Kindergarten level. We will start offering more advanced coding programs for older age groups as we grow.

RAI Hawaii LLC - Beginning coding programs with robots details
Forest Trail Academy

Maui

Forest Trail Academy is a online school for K-12. National accreditation with graduates in the top universities. Offers a private school experience with a reasonable tuition. Committed certified teachers interact with students to assure excellence.
Crewton Ramone's House of Math

Maui

On going classes for math. Specializing in Algebra but all ages welcome. Have experience with "special needs" students. I am a master trainer with Mortensen Math. Familiar with most curricula, including Saxon. Success 100% guaranteed.