Field trips are a great way to reboot a bad homeschooling week, get out of the house when everyone has cabin fever, and learn about your local area. Before heading out, check out Jeanne's tips for improving homeschool field trips.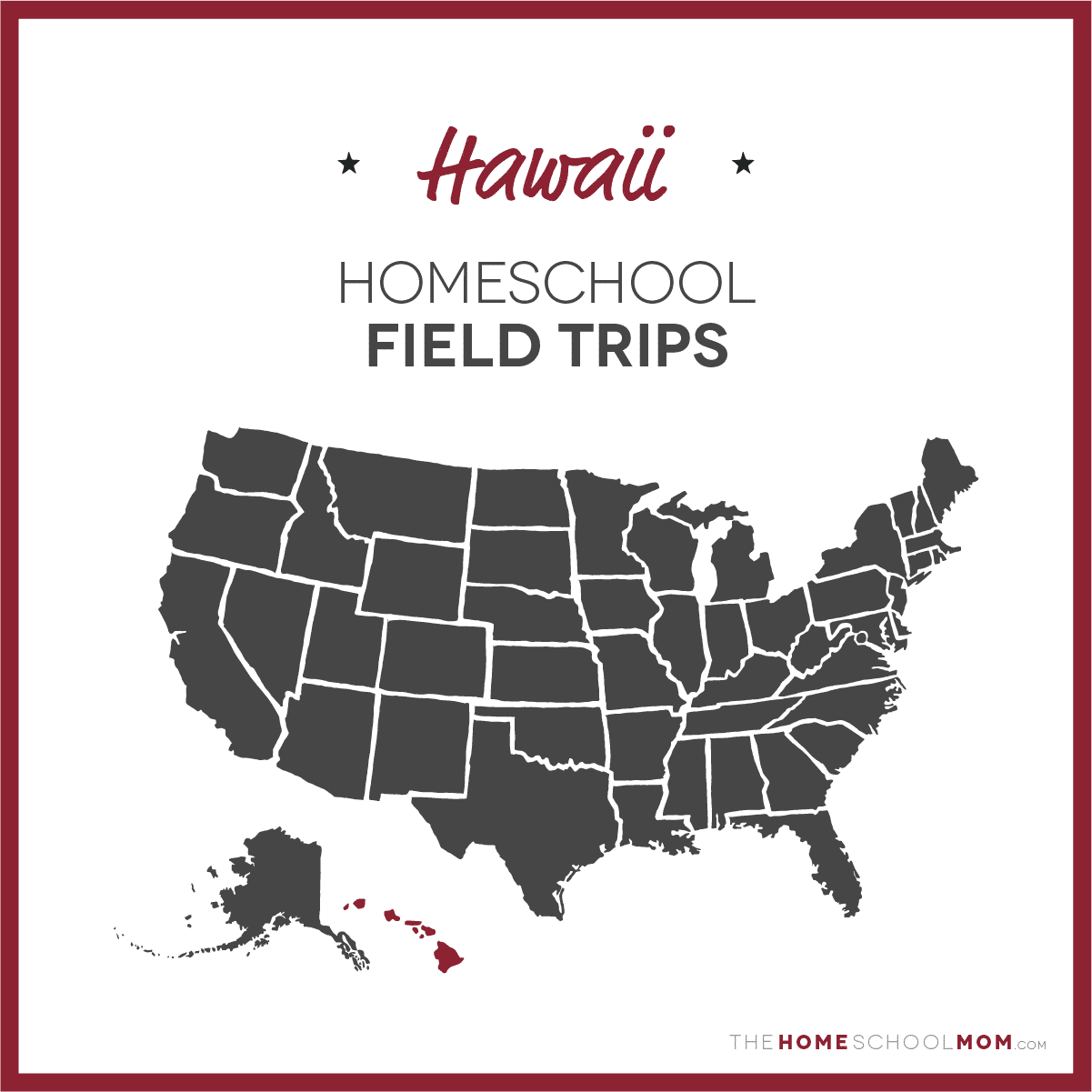 Submit a Field Trip Destination
Our listing of Hawaii field trips for homeschoolers is ordered alphabetically by city. If you would like to submit a Hawaii field trip destination, you may do so using the red button above.
An asterisk * after the title indicates that a virtual field trip is also available.
Aiea Bay State Recreation Area

Aiea, Oahu

Along the banks of Pearl Harbor's East Loch, the park offers picnicking opportunities. Views of Pearl Harbor and the Arizona Memorial. The Pearl Harbor bike path passes through the park
Keaiwa Heiau State Recreation Area

Aiea, Oahu

Keaiwa Heiau State Recreation Area is a 384-acre park located approximately 12 miles from Waikiki. Keaiwa Heiau is located at the park entry. Continue along the paved park road to the campgrounds, picnic areas, and trailhead for the 'Aiea Loop Trail.
Kealakekua Bay State Historical Park

Captain Cook, Hawaii

Site of the first extensive contact between Hawaiians and Westerners with the arrival of Captain Cook in 1779. Viewing of Hikiau Heiau, a traditional religious site, and the Captain Cook monument at a distance across Kealakekua Bay.
Kona Historical Society

Captain Cook, Hawaii

Come experience the 1880's in the H.N. Greenwell Store Museum where the shopkeeper will help you "gather your supplies" for your trip up Kona mauka. The mingled aromas of coffee beans and oranges blend together again, just as they did over 100 years ago when goods were sold here in the heydey of Kona ranching. Stroll through the award-winning Kona Coffee Living History Farm that tells the story of Kona's coffee pioneers during the years 1926-1945. It is America's only living history coffee farm where you may "talk story" with costumed historians and discover the history behind Kona's gourmet crop. You won't leave this place without feeling you have experienced a rare glimpse into Hawai'i's colorful past.
Ha'ena State Park

Ha'ena, Kauai

Scenic wildland park. This park lies at the "end of the road" on Kauai's north shore, and is an extremely popular destination for both visitors and locals. Viewing of wet caves -- ancient sea caves formed during a higher stand of sea, probably 4,000 years ago; tradition credits Pele the volcano goddess as having dug the caves in her search for a new home. Beach-related activities, shore fishing, viewing of spectacular Na Pali Coast and swimming at Ke'e Beach (conditions allowing). The turquoise cove provides a picturesque setting to enjoy a picnic or stroll on the beach. The trailhead for the 11-mile Kalalau Trail begins in this park. It is best to arrive early as the limited parking fills up rapidly.
Pua'a Ka'a State Wayside

Haiku, Maui

Rest stop and picnicking in the rain forest. An idyllic area with small scenic waterfalls and pools. (5.0 acres)
Kaumahina State Wayside

Haiku, Maui

Forested rest stop with exotic plants. Picnicking and scenic viewpoint of northeast Maui coastline. No drinking water.
Pua'a Ka'a State Wayside

Haiku, Maui

Rest stop and picnicking in the rain forest. An idyllic area with small scenic waterfalls and pools.
Wailua Valley State Wayside

Haiku, Maui

Viewpoint of Ke'anae Valley and Ko'olau Gap in Haleakala's rim, and of Wailua Village with taro lo'i fields.
Pu'u o Mahuka Heiau State Historic Site

Haleiwa, Oahu

Pu'u o Mahuka Heiau is the largest heiau (religious site or temple) on O'ahu, covering almost 2 acres. The name is translated as "hill of escape". Undoubtedly, this heiau played an important role in the social, political, and religious system of Waimea Valley which was a major occupation center of O'ahu in the pre-contact period.
Wai'anapanapa State Park

Hana, Maui

Remote, wild, low-cliffed volcanic coastline offering solitude and respite from urban life. Lodging, camping, picnicking, shore ?shing and hardy family hiking along an ancient Hawaiian coastal trail which leads to Hana. Excellent opportunity to view a seabird colony and anchialine pools. Other features include native hala forest, legendary cave, heiau (religious temple), natural stone arch, sea stacks, blow holes and small black sand beach.
Hana Cultural Center and Museum

Hana, Maui

Step back in time and visit the most isolated and traditional town in Hawaii.
Wailoa River State Recreation Area

Hilo, Hawaii

Pleasure walking, quiet relaxation, informal games and events, picnicking, and boat fishing are provided for in this landscaped park set around Wailoa River. Boat ramp provided. Fishing restrictions. Information services and cultural displays at Wailoa Center which is accessible through Piopio street.
Wailuku River State Park

Hilo, Hawaii

Viewpoints of geologic and scenic interest along Wailuku River. Boiling Pots is a succession of big pools connected by underground flow or cascades and whose waters roll and bubble as if boiling. The exposed hexagonal columns that line the pools were formed by the slow cooling of basalt lava. The 80-foot Rainbow Falls is renowned for the rainbow formed from its mist many mornings. Legends say that the cave beneath the waterfall was the home of Hina, mother of the demigod Maui.
Hawai'i Volcanoes National Park

Hilo, Hawaii

Hawai'i Volcanoes National Park displays the results of 70 million years of volcanism, migration, and evolution -- processes that thrust a bare land from the sea and clothed it with unique ecosystems, and a distinct human culture. The park highlights two of the world's most active volcanoes, and offers insights on the birth of the Hawaiian Islands and views of dramatic volcanic landscapes.
Pacific Tsunami Museum

Hilo, Hawaii

The Pacific Tsunami Museum is a museum in Hilo, Hawaii dedicated to the history of the April 1, 1946 Pacific tsunami and the May 23, 1960 Chilean tsunami which devastated much of the east coast of the Big Island, especially Hilo. The Museum strives to promote public education about tsunamis for the people of Hawaii and the Pacific Region.
Pala'au State Park

Ho'olehua, Molokai

Scenic overview of historic Kalalupapa to which persons with Hansen's Disease (leprosy) were once banished. Short trail leads to a phallic stone thought to enhance fertility. Picnicking and camping in a ironwood grove.
Molokai Museum and Cultural Center

Ho'olehua. Molokai

The Molokai Museum and Cultural Center is a museum that showcases the island's early sugar milling industry.
Pu'uhonua o Honaunau National Historical Park *

Honaunau, Hawaii

Virtual field trip onlineA Place of Refuge - Step back in time to a sanctuary of Hawaii's past where traditional Hawaiian lifestyle is preserved. Ancient temples and ki'i (wooden images) whisper stories from the past. This place provided refuge to Hawaiians who came here. Today, the park continues as a sanctuary for visitors seeking a peaceful place and as a safe haven for all of the native wildlife living here.
Kalopa State Recreation Area

Honoka'a, Hawaii

Lodging, picnicking and easy family nature hike (0.7-mile loop trail) in a native 'ohi'a forest at a 2000-foot elevation. Trail passes through the beginnings of an arboretum of the Island's native plants. Additional trails in the adjoining forest reserve, including a 2-mile horse loop trail.
Queen Emma Summer Palace - Hanaiakamalama

Honolulu, Oahu

Hanaiakamalama (The Southern Cross), or Queen Emma Summer Palace, served as a summer retreat for Queen Emma of Hawaii from 1857 to 1885, as well as for her husband King Kamehameha IV, and their son, Prince Albert Edward. It is a now a historic landmark, museum, and tourist site preserved by the Daughters of Hawai'i. Queen Emma Summer Palace was added to the National Register of Historic Places in 1972. The Palace is open seven days a week, guided tours are offered for a fee, and the palace hosts events, offers facility rentals, and has a gift shop.
Diamond Head State Monument

Honolulu, Oahu

The unique profile of Diamond Head (Le'ahi) sits prominently near the eastern edge of Waikiki's coastline. Hawaii's most recognized landmark is known for its historic hiking trail, stunning coastal views, and military history. Diamond Head State Monument encompasses over 475 acres, including the interior and outer slopes of the crater.
Iolani Palace State Monument

Honolulu, Oahu

Royal Palace of the Hawaiian Monarchy. Officially dedicated in 1882, 'Iolani Palace served as the setting for the monarchs and their courts on formal occasions. Guided tours of the palace interior by advance reservations (fee charged)--call the Friends of 'Iolani Palace at (808) 522-0832; tour hours are 9 a.m. to 2:15 p.m. from Wednesday through Saturday. Landscaped grounds popular for informal lawn picnics and Friday noon band concerts. National Historic Landmark
Kewalo Basin

Honolulu, Oahu

Oceanside park near downtown Honolulu with a pedestrian promenade, trellised picnic areas, and outdoor showers.
Royal Mausoleum State Monument

Honolulu, Oahu

Burial place of Hawaiian royalty -- members of the Kamehameha and Kalakaua Dynasties with their retainers. Information service; guided tours by advance reservations. Picnicking not allowed.
Sand Island State Recreation Area

Honolulu, Oahu

Landscaped coastal park with picnicking, camping, pleasure walking, shore fishing and board surfing. Small sand beach. Good view of Honolulu Harbor and attractive sunsets. Boat ramp nearby.
Wa'ahila Ridge State Recreation Area

Honolulu, Oahu

Wildland picnicking on a Norfolk Island pine forested ridge. Fine views of Manoa and Palolo valleys. Hardy family hiking in the forest reserve.
Pacific Aviation Museum Pearl Harbor

Honolulu, Oahu

High interest, hands-on activities for kids in grades K-12 include historic themes and STEM instruction. Field trips are available for groups of 15 or more. Self-guided tours with audio handsets are available for small groups. Summer programs include a variety of programs that immerse students in the history and technology of aviation at our unforgettable site on Ford Island.
Bishop Museum

Honolulu, Oahu

Bishop Museum was founded in 1889 by Charles Reed Bishop in honor of his late wife, Princess Bernice Pauahi Bishop, the last descendant of the royal Kamehameha family. The Museum was established to house the extensive collection of Hawaiian artifacts and royal family heirlooms of the Princess, and has expanded to include millions of artifacts, documents and photographs about Hawai'i and other Pacific island cultures.
Hawaii Army Museum Society

Honolulu, Oahu

Here at the U.S. Army Museum Hawaii the biggest artifact is the building itself. The museum is housed in Battery Randolph a massive reinforced concrete implacement with roofs as much as 12 feet thick. The battery was built around 1911 for two 14 inch guns that could fire projectiles as far as 14 miles. It was part of a coastal defense system that was to protect Honolulu Harbor from invasion.
Hawaii Children's Discovery Center

Honolulu, Oahu

The Hawaii Children's Discovery Center provides a world-class, interactive, participatory learning environment designed to inspire the young and "young-at-heart" to new heights of learning and discovery.
Hawaii State Art Museum

Honolulu, Oahu

To promote, perpetuate, preserve and encourage culture and the arts, history and the humanities as central to the quality of life of the people of Hawai`i.
Hawaiian Historical Society

Honolulu, Oahu

The Library of the Hawaiian Historical Society provides a research collection of printed and manuscript material for use by scholars, historians, history buffs, serious students, Society members, and others in the community interested in the history of Hawai'i and the Pacific Island area.
Honolulu Academy of Arts - Honolulu

Honolulu, Oahu

The Honolulu Academy of Arts is Hawaii's premier art museum, with a collection of more than 50,000 works. An encyclopedic museum where original works of art can be experienced in state-of-the-art galleries, it has major strengths in the arts of Asia, European and American painting, and graphic and decorative arts. With education as its mission, the Academy also administers the Academy Art Center at Linekona, the largest private art school in the Islands.
Honolulu Zoo

Honolulu, Oahu

Around 600,000 people visit the Honolulu Zoo annually. It is the largest zoo within a radius of 2,300 miles and unique in that it is the only zoo in the United States originating from a King's grant of royal lands to the people. Many visitors enjoy seeing the hippos frolic in the water from an underwater vantage point.
USS Arizona Memorial

Honolulu, Oahu

The official website of USS Arizona Memorial memorial from the National Park Service. It is also referred to as the Pearl Harbor National Memorial.
Lucoral Museum

Honolulu, Oahu

If you have a desire to learn about the natural treasures of the sea, then this establishment in Waikiki is the place to visit. There are fascinating exhibits on how coral and pearls transform into beautiful jewelry and works of art. Other exhibits showcase endangered plants and birds of the islands, and there's a wonderful area devoted to Hawaii's volcanic past. There is a for-sale area where you can pick up local arts and crafts made from the natural materials of the Hawaiian Islands.
Lyon Arboretum

Honolulu, Oahu
Mission Houses Museum

Honolulu, Oahu

The Hawaiian Mission Children's Society, a nonprofit educational institution and genealogical society, exists to promote an understanding of the social history of nineteenth-century Hawai'i and its critical role in the formation of modern Hawai'i. The Society operates the Mission Houses Museum, comprised of three historic houses, and a research library. The Society also compiles the genealogical records of the American Protestant missionaries in Hawai'i and promotes the participation of missionary descendants in the Society's activities.
Pacific Aviation Museum Pearl Harbor

Honolulu, Oahu

The Pacific Aerospace Museum is located at the Honolulu International Airport central lobby. The museum teaches visitors about the pioneers of aviation and the latest in aerospace technology.
University of Hawaii at Manoa Art Gallery

Honolulu, Oahu

The University of Hawaii Art Gallery presents a varied exhibition program which plays a significant role in providing information about the visual arts in both an historical and contemporary context. One of the finest temporary exhibition facilities in the nation, the gallery consists of approximately 4,200 square feet of versatile space with an installation system of modular and movable walls that allows the utmost in flexibility of presentation.
USS Bowfin Submarine Museum and Park

Honolulu, Oahu

USS Bowfin (SS-287) is a fleet attack submarine that fought in the Pacific during WWII, and helped to make famous the term, "Silent Service." Bowfin was launched on 7 December 1942, exactly one year to the day after the attack on Pearl Harbor. She was nicknamed the Pearl Harbor Avenger, so it is fitting that she is permanently homeported at Pearl Harbor, Hawaii.
Waikiki Aquarium

Honolulu, Oahu

The Waikiki Aquarium brings guests face-to-fin with colorful tropical fish, reef sharks, living corals, endangered Hawaiian monk seals, sea jellies, squid, octopus and more. The exhibits, programs, and research focus on the aquatic life of Hawaii and the tropical Pacific. The aquarium also serves as the Coastal Ecosystem Learning Center for the Pacific Island Region.
Akaka Falls State Park

Honomu, Hawaii

Pleasant self-guided walk through lush tropical vegetation to scenic vista points overlooking the cascading Kahuna Falls and the free-falling Akaka Falls , which plunges 442 feet into a stream-eroded gorge. The 0.4-mile loop footpath requires some physical exertion.
Ahupua'a O Kahana State Park

Kaaawa, Oahu

The primary purpose of this park is to nurture and foster native Hawaiian cultural traditions and the cultural landscape of rural windward O'ahu. Established as a "living park", there are thirty-one families living in the ahupua'a of Kahana. These families assist with interpretive programs that share the Hawaiian values and lifestyle.
Alexander & Baldwin Sugar Museum

Kahului, Maui

Located next to Hawaii's largest working sugar factory in the historic plantation town of Puunene, Maui, the award-winning Alexander & Baldwin Sugar Museum is a marvelous repository of information and exhibits about one of the most significant and influential periods in Maui's history. Dedicated to preserving and presenting the history and heritage of Maui's sugar industry, the 1,800-square-foot Museum not only charts the establishment and growth of the industry, but looks at sugar's influence on the development of Maui's water resources and rich multi-ethnic make-up, and features intriguing displays on the inner workings of a sugar mill.
Astronaut Ellison S. Onizuka Space Center

Kailua Kona, Hawaii

Located at Kona International Airport
Hulihee Palace Museum

Kailua Kona, Hawaii

Located on the upcountry estate of Kaluanui, the Hui No`eau Visual Arts Center provides an array of programs that support lifelong learning in the arts including public workshops and classes, lectures, exhibitions, art events, historical house tours and educational outreach programs with schools and community partner organizations. One of the last of its kind on Maui, we are a non-profit, non-degree granting, community-based arts education organization offering open access to quality arts instruction by professional teaching artists. Our programs and services are accessible to all, regardless of artistic aptitude or ability to pay registration fees.
Hulihee Palace Museum

Kailua Kona, Hawaii

Situated on Ali'i Drive in Kailua-Kona, Hulihe`e Palace was the vacation residence of Hawaiian royalty. Today it is a museum operated by the Daughters of Hawai`i and is a showplace of beautiful furniture and fascinating artifacts.
Ulupo Heiau State Historic Site

Kailua, Oahu

It's 1750. Kailua is the political seat of power for the district of Ko'olaupoko and a favored place of the O'ahu chiefs for its abundance of fish and good canoe landings. The houses of the ali'i (chiefs), their families, and their attendants surround Kailua Bay. Behind the sand beach is the large, fertile expanse of Kawai Nui which has been converted to a fishpond surrounded by an agricultural fieldsystem. Kawai Nui is a large, 400 acre fishpond with an abundance of mullet, awa, and o'opu. Ka'elepulu and Nu'upia fishponds are nearby. The maka'ainana (commoners) provide support for this chiefly residence. Farmers grow kalo (taro) in the irrigated lo'i (fields) along the streams from Maunawili and along the edges of the fishponds. Crops of dryland kalo, banana, sweet potato, and sugarcane mark the fringes of the marsh. The fishermen harvest fish from the fishponds and the sea. The kahuna (priests) oversee the religious ceremonies and rites at several heiau around Kawai Nui. There is Ulupo Heiau on the east with Pahukini Heiau and Holomakani Heiau on the west side.
Kiholo State Park Reserve

Kailua-Kona, Hawaii

This area is under park reserve status and still undergoing conceptual planning for future public use. The area is a stark, lava-covered coastal park with small bays, sparsely vegetated coastline, historic lava flows, and wide open spaces. Gates are locked nightly.
Hulihe'e Palace

Kailua-Kona, Hawaii

The Hulihe'e Palace is located in historic Kailua-Kona, Hawai'i, on Ali'i Drive. Once a summer vacation home for Hawaiian royalty, today Hulihe'e Palace is a museum showcasing Victorian artifacts from the era of King Kalakaua and Queen Kapi'olani.
Ala Kahakai National Historic Trail

Kailua-Kona, Hawaii

Established for the preservation, protection and interpretation of traditional Native Hawaiian culture and natural resources, the Ala Kahakai NHT is a 175-mile trail corridor full of cultural and historical significance. It traverses through hundreds of ancient Hawaiian settlement sites and through over 200 ahupua'a, or traditional sea to mountain land divisions. Cultural resources along the trail include several important heiau (temples), royal centers, kahua (house site foundations), loko 'ia (fishponds) ko`a (fishing shrines), ki'i pohaku (petroglyphs), holua (stone slide), and wahi pana (sacred places). Natural Resources include anchialine ponds, pali (precipices), nearshore reefs, estuarine ecosystems, coastal vegetation, migratory birds, native sea turtle habitat, and several threatened and endangered endemic species of plants and animals.
Kaloko-Honokohau National Historical Park

Kailua-Kona, Hawaii

Along the western coastline of the Island of Hawai'i lies the hot, rugged lava of Kaloko-Honokohau. Some people find it difficult to understand why the ancient Hawaiians chose to settle upon these stark lava fields. The reason was, perhaps, a spiritual one, for there was a spirit in Kaloko-Honokohau. The Hawaiians who first came to the area felt its presence in every rock and tree, in the gentle waters of shallow bays and in the tradewinds that gently swept across the lava flow.
MacKenzie State Recreation Area

Kaimu, Hawaii

Low cliffed, wild volcanic coastline with picnicking and tent camping in a ironwood grove. Good shore fishing. Old Hawaiian coastal trail traverses the park.
Kalaupapa National Historical Park

Kalaupapa, Molokai

The primary story being told at Kalaupapa National Historical Park is the forced isolation from 1866 until 1969 of people from Hawai'i afflicted with Hansen's disease (leprosy) to the remote northern Kalaupapa peninsula on the island of Molokai.
He'eia State Park

Kaneohe, Oahu

Coastal site with picnicking and good views of Kane'ohe Bay and He'eia Fishpond.
Nu'uanu Pali State Wayside

Kaneohe, Oahu

Impressive view of windward O'ahu from brink of pali (cliffs) at 1200 feet elevation, Ko'olau Range. Winds are usually so strong that one can lean against the wall of wind.
Na Pali Coast State Wilderness Park

Kapaa, Kauai

The Na Pali Coast is a very special place. The pali, or cliffs, provide a rugged grandeur of deep, narrow valleys ending abruptly at the sea. Waterfalls and swift flowing streams continue to cut these narrow valleys while the sea carves cliffs at their mouths. Extensive stone walled terraces can still be found on the valley bottoms where Hawaiians once lived and cultivated taro.
Ka'ena Point State Park

Kapolei, Oahu

Relatively remote wild coastline with picnicking opportunities and shore fishing. Large sandy beach at Keawa'ula Bay with board surfing and bodysurfing for experts and swimming only during completely calm conditions in the summer; lifeguard services. Long family hike (2.7 miles one-way) along volcanic coast with tide pools, small natural stone arches and fine views of Makua coastline. Early morning dolphin sightings from point near Kaluakauila stream mouth. Viewing of the large sea cave, Kaneana, legendary home of Nanue the shark man. Hot, dry area with little shade. No drinking water.
Hapuna Beach State Recreation Area

Kawaihae, Hawaii

Landscaped beach park with swimming during calm seas, bodysurfing during periods of shore breaks, sunbathing and other beach-related activities, picnicking and shelter lodging opportunities. Dangerous rip currents and pounding shore breaks during periods of high surf! Waves over 3 feet high are for experts--all other should stay out of the water and away from the shoreline! Lifeguard services. Hiking opportunity along the coastal trail.
Lapakahi State Historical Park

Kawaihae, Hawaii

Learn about the tradition Hawaiian lifestyle by taking a self-guided tour through the partially restored remains of this ancient Hawaiian coastal settlement. Nearby ocean waters comprise a marine preserve with various activities regulated.
Pu'ukohola Heiau National Historic Site

Kawaihae, Hawaii

Built between 1790-91 by Kamehameha I, Pu'ukohola Heiau displays the skill of chiefs, men, women, and children under the astute leadership of Kamehameha I. With the assistance of two stranded European sailors, John Young and Isaac Davis, Kamehameha I extended his reign over all Hawaiian Islands. The remains of John Young's homestead may be toured at the site.
Kekaha Kai (Kona Coast) State Park

Keahole, Hawaii

Mahai'ula section has a sandy beach and dune offering opportunities for swimming and beach-related activities. A picnic area with tables is available. A 4.5-mile hike north through this wilderness park on the historic coastal trail, Ala Kahakai, leads to Kua Bay. Midway, a hike to the summit of Pu'u Ku'ili, a 342-foot high cinder cone, offers an excellent view of the coastline. Dry and hot with no drinking water. Kua Bay section at north end of park offers beach-related activities.
Koke'e State Park

Kekaha, Kauai

The park offers commanding views of the lush, amphitheater-headed Kalalau Valley from 4000 feet elevation. Wildland picnicking, tent camping and lodging. Hiking in native rain forest and along rim of Waimea Canyon; additional trails in neighboring forest reserves. Excellent area for observation of native plants, forest birds and insects. Seasonal plum picking and trout ?shing. Pig hunting in public hunting area.
Kokee Natural History Museum

Kekaha, Kauai

Devoted to illuminating, celebrating, and nurturing the essence of K?ke'e, engaging all in a spirit of appreciation and service.
Makena State Park

Kihei, Maui

Scenic wildland beach park characterized by prominent cinder cone Pu'u Ola'i and large white sand beach. Swimming during calm seas, bodysurfng, board surfng, shore fishing, and beach-related activities. No drinking water.
National Tropical Botanical Garden

Koloa, Kauai

The importance of plants to life on earth is immeasurable. We depend upon them for the air we breathe, for the food we eat, for shelter, and for medicine. Ninety percent of all plant and animal species on our planet exist in the tropics -- that warm moist belt that circles the earth. And it is in these regions where the extinction rate is the highest. Species are disappearing faster than anyone knows. They cannot be replaced. The National Tropical Botanical Garden is dedicated to preserving tropical plant diversity and stemming this tide of extinction - through plant exploration, propagation, habitat restoration, scientific research, and education. NTBG's gardens and preserves are safe havens for at-risk species that otherwise might disappear forever.
Polipoli Spring State Recreation Area

Kula, Maui

Camping and lodging (one cabin) within the fog belt of the Kula Forest Reserve at 6200 foot elevation. Extensive trail system in the forest reserve, including through a forest reminiscent of the conifer forests of the Paci?c Northwest coast. Sweeping views of Central and West Maui, Kaho'olawe, Moloka'i and Lana'i in clear weather. Pig and seasonal bird hunting. Hikers should wear bright colored clothing -- hunters may be in the area. Nights are generally cold; winter nights frequently have below freezing temperatures. No campground showers.
Malaekahana State Recreation Area

La'ie town, Oahu

Wooded beach park with swimming, bodysurfing, beach-related activities and shore fishing. Picnicking and camping a Kalanai Point Section. Picnicking, lodging and fee camping at Kahuku section
La'ie Point State Wayside

La'ie, Oahu

Scenic views of offshore sea arch and island seabird sanctuary. Good shore fishing from sea cliffs at the point.
Whalers Village Museum

Lahaina, Maui

Catch a glimpse of the wild days of Maui's whaling expeditions where seafarers would sign up for 3-5 year voyages to Japan and the Arctic. Visitors can immerse themselves in the sea-faring life of the 19th Century.
Hale Pa ahao Prison

Lahaina, Maui

This prison dates back to the early 1850's and was built by convict laborers with coral stone from the demolished waterfront fort. It had wall shackles and restraints for difficult prisoners. Those to be jailed for more than a year were shipped to O'ahu. However, the prison mostly housed ship deserters, drunks, reckless horse riders and violators of the Sabbath.
Hale Pa'i

Lahaina, Maui

One of the earliest Lahaina Restoration Foundation projects was the restoration of Hale Pa'i (the house of printing). It is located on the Lahainaluna Campus. The missionaries who arrived in Lahaina in 1823 explained to the Hawaiian Royalty the importance of an educational institution. Lahainaluna Seminary was founded in 1831. It was the first school West of the Rockies and survives today as Lahaina's public high school.
Lahaina Restoration Foundation

Lahaina, Maui

Lahaina Restoration Foundation manages and maintains the Baldwin Home Museum, Hale Pa'i Printing Museum, Lahaina Heritage Museum, Old Lahaina Prison, Plantation Museum, Pioneer Mill Smokestack & Locomotives Exhibit and Wo Hing Museum, which are open to the public.
Whalers Village Museum

Lahaina, Maui

The museum also has a prized collection of 19th century scrimshaw--pictures finely carved on whale teeth and bone, then rubbed with ink to bring out the design. Self-guided audio tours are available in English, Spanish, German and Japanese.
Polynesian Cultural Center

Laie, Oahu

To help you get a better understanding of the diverse cultures of Polynesia, we have compiled information that will help give each of our visitors a deeper understanding of the culture, customs, and spirit of the people of Polynesia.
Ahukini State Recreational Pier

Lihue, Kauai

Ahukini Pier is situated at mouth of the Hanamaulu Stream. It consists of a cement pier with a wooden walkway located where the stream meets the Pacific Ocean.
Wailua River State Park

Lihue, Kauai

Lush river valley with riverboat cruise (fee charged) to Fern Grotto, an unusual fern-covered cave set in a tropical garden; scenic vistas of attractive waterfalls 'Opaeka'a Falls and Wailua Falls) and the Wailua River Valley. The Wailua Complex of Heiau (National Historic Landmark)--remains of heiau (places of worship), pu'uhonua (places of refuge), and birthstones at this once important seat of power in old Hawai'i. Picnicking in riverside coconut grove; and dining and gift shopping at Wailua Marina.Hours: Daily during daylight hours.
Kaua'i Museum

Lihue, Kauai

The Kaua'i Museum is the cultural sanctuary for the art and artifacts of Native Hawaiians and it nurtures the creative spirit of today's artists. This year, we have embarked on a journey to revitalize the historic buildings that have been home to our collections.
Haleakala National Park

Makawao, Maui

This special place vibrates with stories of ancient and modern Hawaiian culture and protects the bond between the land and its people. The park also cares for endangered species some of which exist nowhere else. Come visit this special place - renew your spirit of adventure amid stark volcanic landscapes, sub-tropical rain forest and the unforgettable experience of hiking the backcountry.
Polihale State Park

Mana Village, Kauai

Braving a long and rutted dirt road rewards the traveler with a stunning beach park. Picnicking and tent camping on wild coastline with large sand beach backed by dunes. Scenic setting, colorful sunsets and good views of the high sea cliffs of Na Pali Coast. Swimming in summer during calm conditions; shore fishing. Beware of strong, offshore currents. Hot, dry area.
Manuka State Wayside

Na'alehu, Hawaii

A rest stop with an opportunity to picnic among a collection of native and introduced trees. A 2-mile nature hike through the Manuka Natural Area Reserve offers an experience in Hawaiian natural history. Open shelter camping.
Lava Tree State Monument

Pahoa, Hawaii

Viewing of an excellent example of a forest of lava trees along an 0.7 mile loop trail. This unusual volcanic feature is the result of a lava flow that swept through this forested area and left behind lava molds of the tree trunks. Picnicking opportunities.
Kohala Historical Sites State Monument

Upolu, Hawaii

Viewing of Mo'okini Heiau and Kamehameha I Birthsite. A National Historic Landmark, Mo'okini is one of the most famous luakini heiau (sacrificial temples) on the island. The birthsite is a memorial to Hawai'i's greatest king who united all the island chiefdoms into a kingdom.
Kukaniloko Birthstones State Historic Site

Wahiawa, Oahu

Kukaniloko Birthstones is one of the most significant cultural sites on O'ahu. This significance was recognized in the listing of the site on the National and Hawai'i Registers of Historic Places. A 5-acre parcel encompassing the site was acquired by the State of Hawai'i in 1992 and placed under the jurisdiction of State Parks to preserve and interpret this important historic site.
Wahiawa Freshwater State Recreation Area

Wahiawa, Oahu

Picnicking along the wooded shore of Wahiawa Reservoir. Year-round shore and boat freshwater fishing; fishing restrictions. No swimming or water skiing. Boating only for fishing purposes; boat ramp at the site.
Kahumana Organic Farm & Cafe

Waianae, Oahu

Kahumana Organic Farm & Cafe is a 501(c)(3) non-profit organization located in Wai'anae. They offer half-day or daylong farm-to-school field trips, as well as overnight learning retreats and camps to learners of all ages. Pre-K, elementary, middle, and high school students are welcome. Our Aina-based activities are fun, safe and interactive, covering a broad-range of subjects. Planting, harvesting, produce tasting, aquaponics, composting, Aina-based games and art projects, and animal husbandry are just some of what there is to experience! See you soon!
Halekii-Pihana Heiau State Monument

Wailuku, Maui

Remains of two important heiau (places of worship) that were rededicated as war temples by Kahekili, Maui's last ruling chief. Viewpoint of Central Maui.
Iao Valley State Monument

Wailuku, Maui

A paved 0.6 mile walk provides a scenic viewpoint of Kuka'emoku (Iao Needle), an erosional feature which abruptly rises 1200 feet from the valley ?oor. Learn about the plants brought by the Hawaiians who settled in Iao Valley by taking a short walk through a botanical garden. This valley is rich in cultural and spiritual values and is the site of the battle of Kepaniwai where the forces of Kamehameha I conquered the Maui army in 1790. (6.2 acres)
Maui Historical Society

Wailuku, Maui

The Maui Historical Society shall collect, preserve, study, interpret, and share the history and heritage of Maui.
Hawaii Nature Center

Wailuku, Maui

Numerous studies indicate that young children are the most open to attitudinal change. For that reason, the Hawaii Nature Center emphasizes elementary grade school programs. Both public and private school children enjoy our full-day environmental field programs conducted in the forest and other natural environments. An independent evaluation of the Hawai'i Nature Center's programs has confirmed that children's attitudes towards the environment significantly improved after participating in our field education programs.
Ka Iwi State Scenic Shoreline

Waimanalo, Oahu

A 1-mile hike (one-way) along a paved roadway leads to a lookout atop a headland above the historic Makapuu lighthouse (the lighthouse itself is off-limits, but can be viewed from the trail). At various points along the route there are sweeping views of the southeastern O'ahu coastline, and migrating humpback whales may be visible during whale season. No drinking water or restrooms available.
Sea Life Park Hawaii

Waimanalo, Oahu

Sea Life Park Hawaii is a world--class aquatic experience at Oahu's Makapuu Beach. Swim with dolphins, hug sea lions, and have an underwater adventure in this awesome place by the sea.
Parker Ranch Visitor Center and Museum

Waimea, Hawaii

Parker Ranch on the Big Island of Hawaii is home of the Hawaiian cowboy: ka' aina o ka paniolo. The Parker Ranch story is a road from Hawaiian history to modern day life in Hawaii. Parker Ranch offers activities and events, which give insight into life on Hawaii.
Russian Fort Elizabeth State Historical Park

Waimea, Kauai

The boulder-built fort stands as a reminder of Russia's short-lived adventure (1815-1817) in the Hawaiian Islands. Massive stacked-stone walls of the fort are a mixture of Hawaiian construction and Russian design. Self-guided walk with brochure available.
Waimea Canyon State Park

Waimea, Kauai

Rim overlooks of one of the State's scenic treasures - the deep, colorful gorge of Waimea Canyon. Viewpoint of Ni'ihau Island; wildland picnicking and short nature trail. Adjacent forest reserve with long, strenuous hike into and out of the canyon. Seasonal trout fishing. Pig and seasonal goat hunting nearby.
Hawaii's Plantation Village

Waipahu, Oahu

The Hawaii's Plantation Village in the historic Waipahu is an outdoor museum that showcases the lifestyles and experience of Hawaii's plantation workers. Furnished homes and other community structures display and interpret the history of Hawaii's multi-ethnic heritage. Asian art and architecture, along with awesome antiques and relics, are among the main features of the Village.