Jump to: Homeschool Arts | Homeschool Sports
In addition to the opportunity to get out of the house and socialize, homeschool sports and arts programs can offer long-term benefits by developing characteristics like leadership, self-confidence, perserverance, and self-esteem. Many organizations and businesses have opportunities specifically for homeschoolers, while others invite homeschoolers to participate in their regular programs.
Not sure how to choose activity/activities for your children? Read how Rebecca narrows down the choice of extra-curricular activities.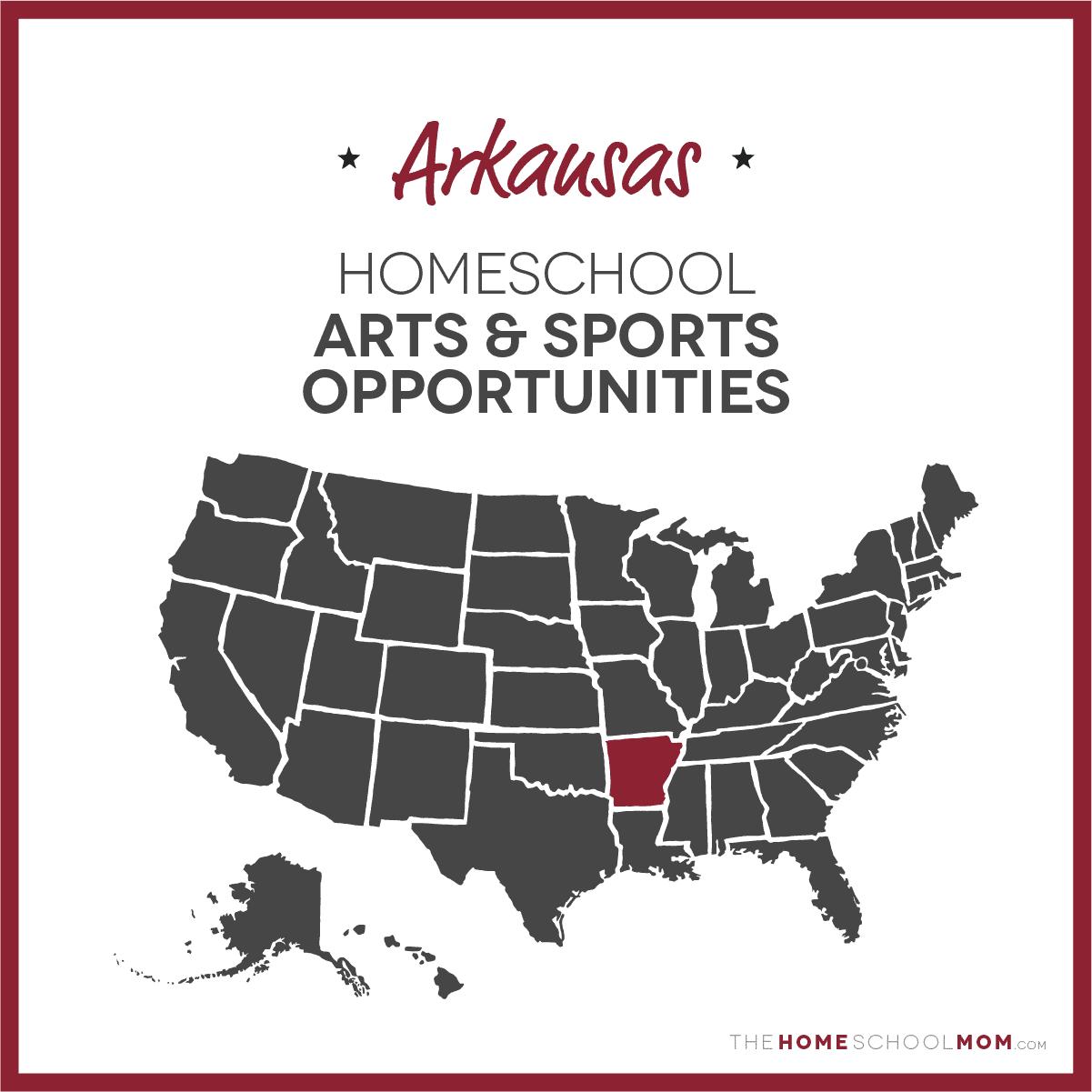 Submit a Local Resource
Our listing of Arkansas list of homeschool arts and sports programs is ordered alphabetically by city, with arts in the first section and sports in the second section. If you would like to submit an Arkansas arts or sports program, you may do so using the red button above.
Arkansas Homeschool Arts Programs
Arkansas Homeschool BandsBentonville, Fayetteville, Little Rock, North Little Rock, Rogers
The Arkansas Regional Bands is a non-profit group that provides homeschool students the opportunity not only learn to play an instrument, but learn to play an instrument with other musicians in a band. Students partic...
U of A Children's ChoirFayetteville
The University of Arkansas Children's Choir has been providing the finest music training to young singers in Northwest Arkansas since it's founding in 1997! This group of 100 students from public and private schools f...
Una Voce at Wildwood Park for the ArtsLittle Rock
Una Voce at Wildwood is a youth community choir that rehearses each Monday 6pm-8:30pm at Wildwood Park for the Arts in Little Rock. We assist with All Region, All State, National, and International Choral Competition ...
My Music LessonsLittle Rock/North Little Rock/Maumelle/Sherwood
Learning to play a musical instrument has many benefits, but perhaps the number one benefit is the feeling of accomplishment and confidence that your child gains from their weekly progress. Chrissie Davis loves workin...
Atelier School of ArtNorth Little Rock
Whether you are a beginner, experienced artist, or somewhere in between, The Atelier can offer quality art lessons to you based on your interests and skill level. Learn drawing, painting, and so much more!
The Atelier School of ArtNorth Little Rock
The Atelier School of Art offers engaging, ongoing art lessons to all ages. Classes are organized by age groups and are taught by highly qualified, licensed teachers. Classes that are offered currently are studio arts...
Silver Fox and Black Crow StudioSoutheast Arkansas
A group for homeschool moms and dads to fulfill Art, Writing and Literature components. Some of these classes will be ongoing and some will be up to 12 weeks. State frameworks will be used in conjunction with studio/c...
Arkansas Homeschool Sports Programs
Saline County Christian Home Education Association (SCCHEA)Benton/Bryant/Saline County
Saline County Christian Home Education Association (SCCHEA) is a homeschool group serving families in Saline county and the surrounding area. SCCHEA offers a basketball program for both boys and gi... [Read more...]
Conway Toe2Toe Martial ArtsConway
Toe2Toe Martial Arts has a block of time two days a week for homeschool kids to come to get their PE credit. $50 a month but if you pay 6 months at a time its $270 for 6 mo. They also offer field t... [Read more...]
Dutch Acres FarmJacksonville
Dutch Acres understands that horses are inherently therapeutic, and shares this value with people of all ability levels in a safe and supportive environment, while providing opportunities for perso... [Read more...]
The School of Yaya's FishesLake City
This resource teaches your children survival swim skills. The swimming lessons at this school is designed for children of all ages, from the time they can crawl up into adulthood. In SAFE Swim 1, c... [Read more...]
D1 Little RockLittle Rock
Athletic based training for kids; strength, speed and agility, mobility and flexibility, functional movements. Boot camp class for parents offered at the same time. Please call 501-588-3910 for mor... [Read more...]
Southwest Christian Varsity FootballLittle Rock
The Southwest Christian Academy (SCA) football team is looking for anyone interested in playing football for the Fall 2019 football season. SCA plays 8 man football in the Heartland Christian Athle... [Read more...]
Tri-State Home School Athletic AssociationNorthwest Arkansas
Non-profit 501 C-3 organization providing competitive athletics for the Northwest Arkansas, Southeast Oklahoma and Southwest Missouri home school families. [Read more...]
Pulaski County Home Education Athletic Association (PCHEA)Pulaski County
Come see what the Flames are up to. The Pulaski County Home Education Athletic Association was started by parents interested in providing a program that would emphasize character development and pr... [Read more...]
Wofford Ranch Horseback RidingVilonia
Now offering home school classes! Wofford Ranch is owned and operated by Tyler and Lily Wofford. Located in Vilonia, Arkansas, Wofford Ranch provides year-round horseback riding lessons, barrel rac... [Read more...]
Go to...