Jump to: Homeschool Arts | Homeschool Sports
In addition to the opportunity to get out of the house and socialize, homeschool sports and arts programs can offer long-term benefits by developing characteristics like leadership, self-confidence, perserverance, and self-esteem. Many organizations and businesses have opportunities specifically for homeschoolers, while others invite homeschoolers to participate in their regular programs.
Not sure how to choose activity/activities for your children? Read how Rebecca narrows down the choice of extra-curricular activities.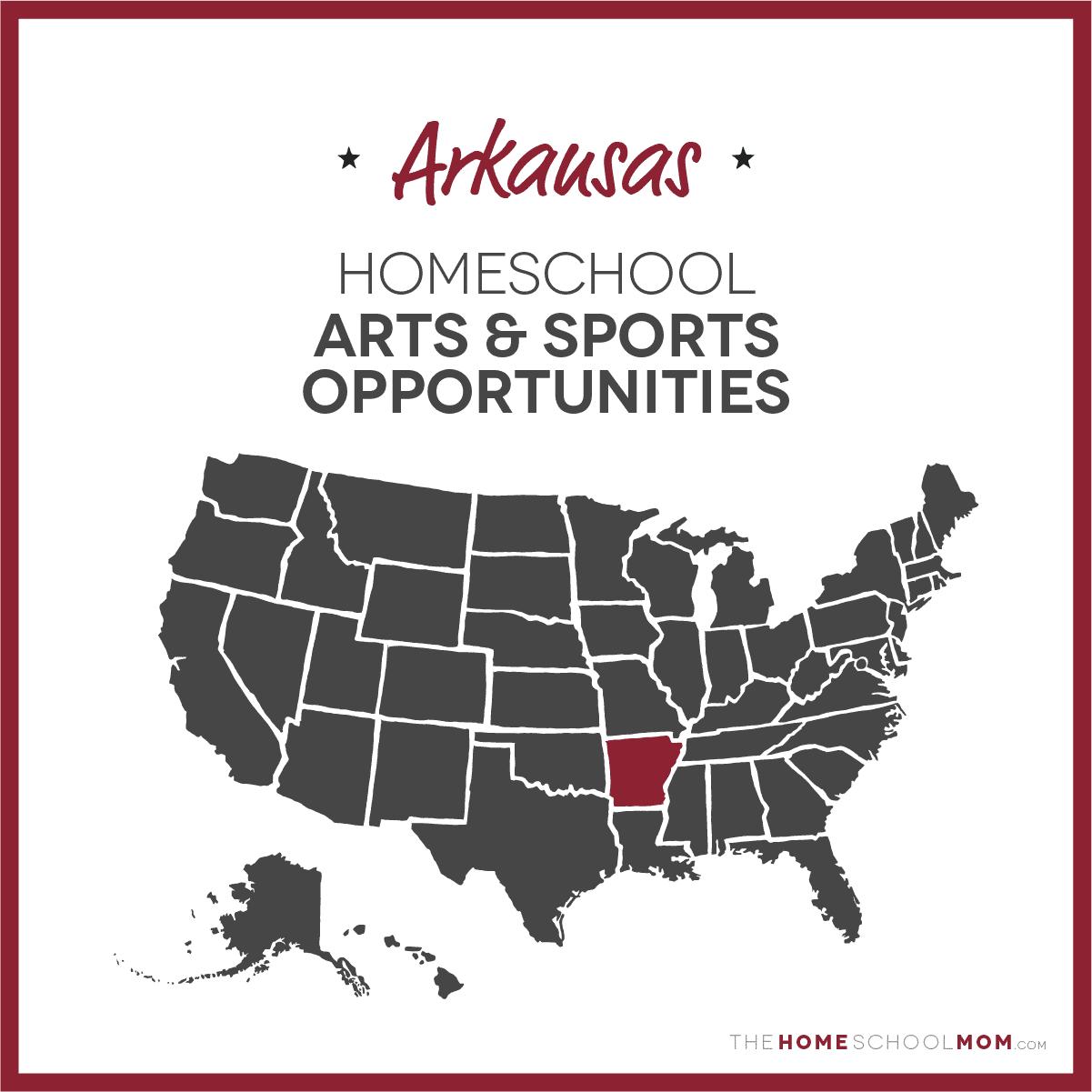 Submit a Local Resource
Our listing of Arkansas list of homeschool arts and sports programs is ordered alphabetically by city, with arts in the first section and sports in the second section. If you would like to submit an Arkansas arts or sports program, you may do so using the red button above.
Arkansas Homeschool Arts Programs
Arkansas Homeschool Bands

Bentonville, Fayetteville, Little Rock, North Little Rock, Rogers

The Arkansas Regional Bands is a non-profit group that provides homeschool students the opportunity not only learn to play an instrument, but learn to play an instrument with other musicians in a band. Students participate in the Arkansas Regional Bands Solo/Ensemble contest as well as Homeschool Regional tryouts. These bands have performed at the Homeschool Day at the Capitol, The Education Alliance Homeschool Graduations, and The Great Passion Play. The goal is to keep tuition cost low so parents can afford to give their students the same opportunities as the traditional public school students. Homeschool Band Signup https://docs.google.com/forms/d/e/1FAIpQLSdFJ0m3B5h8ak-GzNyBvn4kp2_HrLfHlZm-3pJgjKQuHYOzXw/viewform?usp=sf_link
Inspired Artist Academy

Bentonville, Rogers, Centerton

Inspired Artist Academy offers music lessons for brass, woodwinds, piano and voice in Bentonville, AR. Lessons take place at First Christian Church (14th St. west of J St.)
U of A Children's Choir

Fayetteville

The University of Arkansas Children's Choir has been providing the finest music training to young singers in Northwest Arkansas since it's founding in 1997! This group of 100 students from public and private schools focuses on singing a diverse selection of choral music, including language pieces.The choir also learns performance skills, sight singing, ear training and music theory. The UACC has performed at Northwestern University in Chicago, Carnegie Hall in New York City, St Patricks Cathedral in Ireland, and in various other venues locally and nationally. Join us! The UACC has two choirs open to all female and male singers in grades 2nd through 12th. Contact us for more information about being a part of the choir!
Una Voce at Wildwood Park for the Arts

Little Rock

Una Voce at Wildwood is a youth community choir that rehearses each Monday 6pm-8:30pm at Wildwood Park for the Arts in Little Rock. We assist with All Region, All State, National, and International Choral Competition opportunities. We travel locally, nationally, and internationally to Compete and/or perform. Una Voce serves singers from Pulaski and Saline Counties. Scholarships and private lessons are also available to singers. Contact Dr. Matthew Farr at 501-350-0117 for more information about joining.
My Music Lessons

Little Rock/North Little Rock/Maumelle/Sherwood

Learning to play a musical instrument has many benefits, but perhaps the number one benefit is the feeling of accomplishment and confidence that your child gains from their weekly progress. Chrissie Davis loves working with budding musicians of all ages, 5 to adult. She offers private, weekly lessons in two convenient locations: Sherwood and Maumelle. She teaches flute and piano, and is one of the only people in the state of Arkansas with a doctorate in flute performance. ​ Ms.Davis teaches year round for the simple reason that, unlike learning other subjects, it is best when learning to play a musical instrument that you practice and build your skills on a daily basis. By stopping for several months and then starting up again it slows your progress because in the first few lessons you are having to refresh and remember what you learned before. Because Ms. Davis teaches year round, she does not charge a registration fee to hold your place. For those outside central Arkansas, lessons are also available for Skype. ​
Atelier School of Art

North Little Rock

Whether you are a beginner, experienced artist, or somewhere in between, The Atelier can offer quality art lessons to you based on your interests and skill level. Learn drawing, painting, and so much more!
The Atelier School of Art

North Little Rock

The Atelier School of Art offers engaging, ongoing art lessons to all ages. Classes are organized by age groups and are taught by highly qualified, licensed teachers. Classes that are offered currently are studio arts, including painting, drawing, sculpture, etc. as well as process art for younger students. These are once per week, for one hour each class. Students will learn techniques for using a large variety of media in art. Please visit ArkansasArtLessons.com or call 501-680-9670 for more information.
Arkansas Homeschool Sports Programs
Saline County Christian Home Education Association (SCCHEA)

Benton/Bryant/Saline County

Saline County Christian Home Education Association (SCCHEA) is a homeschool group serving families in Saline county and the surrounding area. SCCHEA offers a basketball program for both boys and girls, a cheer program for girls, a co-op, field trips, and more. Co-op terms run for 7 weeks per session in the fall, winter, and spring.

Saline County Christian Home Education Association (SCCHEA) details
Conway Toe2Toe Martial Arts

Conway

Toe2Toe Martial Arts has a block of time two days a week for homeschool kids to come to get their PE credit. $50 a month but if you pay 6 months at a time its $270 for 6 mo. They also offer field trips for homeschool and those are free unless you are wanting more than a one hour field trip. Contact Curtiss Robinson at (501)515-4788 if you have any questions.
Christian Homeschool Athletics of Saline County

Hensley

We are the Christian Homeschool Athletics of Saline County Inc. We, the Christian Homeschool Athletics of Saline County Inc., have come together for the purpose of Christ-centered community and encouragement to those who are committed to providing both religious and academic education to their children in the home environment.
Dutch Acres Farm

Jacksonville

Dutch Acres understands that horses are inherently therapeutic, and shares this value with people of all ability levels in a safe and supportive environment, while providing opportunities for personal growth and independence. Certified instructors provide beginner and intermediate English riding lessons for those wishing to learn the mechanics of riding, in an environment that both accepts and challenges its participants. We also provide Therapeutic Lessons for children or adults with disabilities. Along with lessons Dutch Acres offers equine boarding and other equestrian-related services--we would love for you to join our family of horse enthusiasts!
The School of Yaya's Fishes

Lake City

This resource teaches your children survival swim skills. The swimming lessons at this school is designed for children of all ages, from the time they can crawl up into adulthood. In SAFE Swim 1, children learn appropriate swimming postures, including swimming face down, rotating onto their backs to a floating position, which allows the child to rest and breathe, then returning to a face down swim position. Later courses (SAFE Swim 2 and 3) students will maintain what they learned in the first course, and build on proper form and swim strokes. This is a year-round swim facility with a heated pool and enclosure to keep students safe from the elements and warm.
D1 Little Rock

Little Rock

Athletic based training for kids; strength, speed and agility, mobility and flexibility, functional movements. Boot camp class for parents offered at the same time. Please call 501-588-3910 for more information.
Southwest Christian Varsity Football

Little Rock

The Southwest Christian Academy (SCA) football team is looking for anyone interested in playing football for the Fall 2019 football season. SCA plays 8 man football in the Heartland Christian Athletic Association. The Lions football team will be holding summer workouts, practices and team building activities to build camaraderie, strength and skills. Games are played both locally and out of town. If your student is in the 9th - 12th Grade and is interested in being a part of the SCA football team, please email gferguson@firstnlr.com.
Tri-State Home School Athletic Association

Northwest Arkansas

Non-profit 501 C-3 organization providing competitive athletics for the Northwest Arkansas, Southeast Oklahoma and Southwest Missouri home school families.
Wofford Ranch Horseback Riding

Vilonia

Now offering home school classes! Wofford Ranch is owned and operated by Tyler and Lily Wofford. Located in Vilonia, Arkansas, Wofford Ranch provides year-round horseback riding lessons, barrel racing lessons, birthday parties, pasture boarding, and stall boarding with easy access across Central Arkansas from Conway, Cabot, and Little Rock. The mission on the ranch is to educate, enrich, inspire, and empower the lives of others in the community through the gifts of the horse.