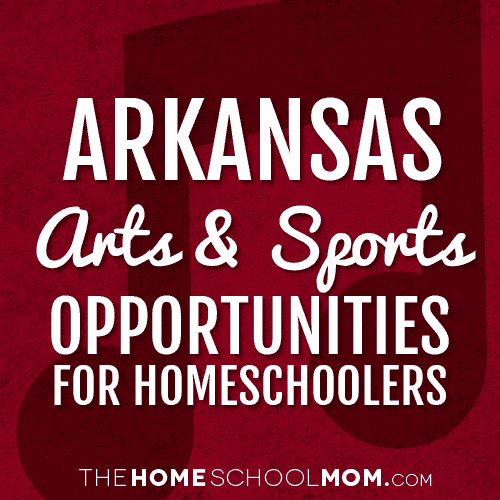 In addition to the opportunity to get out of the house and socialize, homeschool sports and arts programs can offer long-term benefits by developing characteristics like leadership, self-confidence, perserverance, and self-esteem. Many organizations and businesses have opportunities specifically for homeschoolers, while others invite homeschoolers to participate in their regular programs.
Not sure how to choose activity/activities for your children? Read how Rebecca narrows down the choice of extra-curricular activities.
Below is a list of homeschool sports and arts programs in Arkansas listed alphabetically by city, with arts resources in the first section and sports resources below. If you would like to submit a Arkansas arts or sports resource, you may do so using the red button above.
Use the secondary navigation menu above to quickly make your way to pages for Arkansas state organizations, local homeschool groups, classes, co-ops, field trips, and more.
Homeschool Arts Opportunities in Arkansas
Arkansas Homeschool BandsBentonville, Fayetteville, Little Rock, North Little Rock, Rogers
The Arkansas Regional Bands is a non-profit group that provides homeschool students the opportunity not only learn to play an instrument, but learn to play an instrument with other musicians in a b...
Creative Art StudioBryant
Joella Peck Originals Creative Art Studio offers art classes for kids and adults ages 5 and up. Classes are open for homeschoolers throughout the year. Painting, drawing, jewelry making and mixed ...
U of A Children's ChoirFayetteville
The University of Arkansas Children's Choir is holding Open Auditions this summer to welcome new singers into their Choirs for the 2019-2020 season.The upcoming season will include performing ...
Pinot's Palette Little RockLittle Rock
Pinot's Palette is an art instruction studio. Art instructors teach ages 5 to adult to paint in 2 or 3 hour art sessions. Art instruction is step by step with a skilled local artist. the studio pro...
My Music LessonsLittle Rock/North Little Rock/Maumelle/Sherwood
Learning to play a musical instrument has many benefits, but perhaps the number one benefit is the feeling of accomplishment and confidence that your child gains from their weekly progress. Chriss...
School of Rock RogersRogers
School of Rock offers students of all skill levels age 7-18 a performance-based music curriculum in a fun environment. Weekly private lessons are combined with structured group rehearsals. Student...
Silver Fox and Black Crow StudioSoutheast Arkansas
A group for homeschool moms and dads to fulfill Art, Writing and Literature components. Some of these classes will be ongoing and some will be up to 12 weeks. State frameworks will be used in conju...
Homeschool Sports Opportunities in Arkansas
Saline County Christian Home Education Association (SCCHEA)Benton/Bryant/Saline County
Saline County Christian Home Education Association (SCCHEA) is a homeschool group serving families in Saline county and the surrounding area. SCCHEA offers a basketball program for both boys and gi...
THSAAA- Northwest Arksanas Hornets Track and Field/Cross CountryBentonville, Fayetteville, Springdale, Rogers, Centerton
The THSAAA- Northwest Arkansas Hornets offer Cross Country, Basketball. Cheer, Baseball and Track and Field.
D1 Little RockLittle Rock
Athletic based training for kids; strength, speed and agility, mobility and flexibility, functional movements. Boot camp class for parents offered at the same time. Please call 501-588-3910 for mo...
Southwest Christian Varisty FootballLittle Rock
The Southwest Christian Academy (SCA) football team is looking for anyone interested in playing football for the Fall 2019 football season. SCA plays 8 man football in the Heartland Christian Athl...
Tri-State Home School Athletic AssociationNorthwest Arkansas
Non-profit 501 C-3 organization providing competitive athletics for the Northwest Arkansas, Southeast Oklahoma and Southwest Missouri home school families.
Pulaski County Home Education Athletic Association (PCHEA)Pulaski County
Come see what the Flames are up to. The Pulaski County Home Education Athletic Association was started by parents interested in providing a program that would emphasize character development and pr...
Wofford Ranch Horseback RidingVilonia
Now offering home school classes! Wofford Ranch is owned and operated by Tyler and Lily Wofford. Located in Vilonia, Arkansas, Wofford Ranch provides year-round horseback riding lessons, barrel rac...