Jump to: Homeschool Co-ops | Homeschooling Classes & Academic Enrichment
Looking for someone to teach physics to your teen? Need a way to avoid teaching algebra? Want to enroll your Kindergartener in a co-op for social time? Homeschool classes and co-ops are a great way to spend time with other homeschoolers and skill-share with other homeschool parents.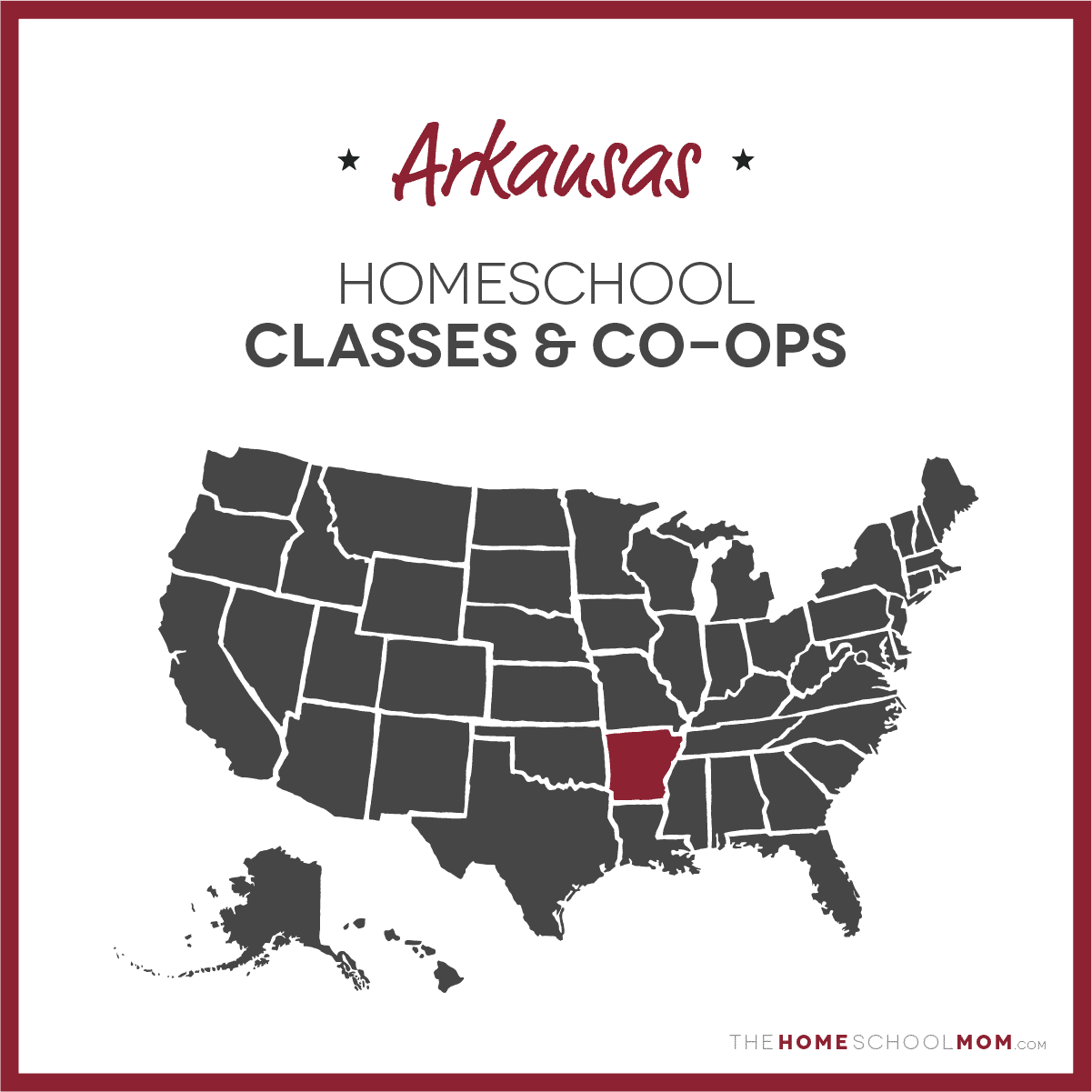 Submit a Local Resource
Our listing of Arkansas co-ops and academic classes for homeschoolers is ordered alphabetically by city, with co-ops in the first section and all other academic resources below. If you would like to submit a Arkansas co-op or academic resource, you may do so using the red button above.
Arkansas Homeschooling Co-ops
Saline County Christian Home Education Association (SCCHEA)Benton/Bryant/Saline County
Saline County Christian Home Education Association (SCCHEA) is a homeschool group serving families in Saline county and the surrounding area. SCCHEA offers a basketball program for both boys and girls, a cheer program...
Cabot Christian Homeschool Co-opCabot
We are a volunteer-based group, where homeschool parents volunteer to teach a variety of classes. A parent or guardian must be at Co-op with their children, volunteering to teach a class, to assist in a class or nurse...
HomeStyle Christian Educators of the OzarksMountain Home
We are a Christian homeschool co-op located in the Mountain Home area. Through the cooperative efforts of our parents, we offer field trips, activities, parties, park days, and parent-led co-op classes. We aim to prov...
Homestyle Christian Educators of the OzarksMountain Home/North Central AR
HCE of the Ozarks is a Biblically-based co-op whose purpose is to provide support and fellowship for Christian homeschool families through extracurricular co-op classes, park play days, field trips, outdoor adventures...
Arkansas Homeschooling Classes & Academic Enrichment
Arkansas Classical ConversationsArkansas Statewide
CC is a national homeschooling program that uses a Bible based curriculum taught in a christian, classical tradition. Classes are geared for age 4 through high school.
Lexicon Speech, Language, & ReadingFayetteville
A family-owned and operated clinic that works with children in all areas of speech, language, and reading. Specialization in dyslexia evaluation and tutoring.
Frontier Trails BESTFt. Smith
BEST (Boosting Engineering Science and Technology) is a non-profit volunteer based program organization whose mission is to inspire students to pursue careers in engineering, science and technology through participati...
Ron Coleman MiningJessieville
Ron Coleman Mining has a private quartz crystal digging area. Fee for groups of 10 paying adults or more is $10 per person (flat fee for digging only). For individuals and families - public quartz crystal mining fee i...
Homeschoolers @ the LibraryLittle Rock
William F. Laman Library offers activities and programs specifically made for homeschooled children and teens. The Children's Department offers Homeschoolers @ the Library every Monday at 11am and Thursday at 1pm. The...
Little Rock BEST - University of ArkansasLittle Rock
BEST (Boosting Engineering Science and Technology) is a non-profit volunteer based program organization whose mission is to inspire students to pursue careers in engineering, science and technology through participati...
Come Sign With Jessica - Sign Language ClassesLittle Rock
Certified instructor of Baby Sign Language offering classes for homeschooled students ages 7-12 beginning January 2011. Contact comesignwithjessica@gmail.com to schedule a class and ask about low rates.
Tasha Teaches SpanishLittle Rock
Tasha Teaches Spanish provides tutoring, lessons, and programming to children of all ages. It utilizes audio, visual, and hands-on activities to meet the various needs of language learners. Services can be provided in...
Family Consumer SciencesMountain Home
Veteran teacher offering Family Consumer Sciences, Physical Education & Health Education courses to all North central and Central Arkansas students starting spring 2023. Current courses include middle level Health...
Awesome ScoresMy local Algebra classes are offered in North Little Rock
This is a website to help prepare students for the ACT. It is a refresher course that I offer online the weekend before the test. I also tutor all levels of Algebra locally.
Northwest Arkansas Young MarinesNorthwest Arkansas area
The Young Marines is a nonprofit youth organization for kids ages eight through completion of high school. The Young Marines teaches respect, responsibility, to give back to the community, life skills, survival skills...
Honors Summer Academy 2022Oklahoma City
Application is open for the 2023 Honors Summer Academy, July 9-14, 2023! Students can earn 2 hours of transferable college credit in Engineering, Bible, Humanities, or Science. HSA students receive the full university...
Silver Fox and Black Crow StudioSoutheast Arkansas
A group for homeschool moms and dads to fulfill Art, Writing and Literature components. Some of these classes will be ongoing and some will be up to 12 weeks. State frameworks will be used in conjunction with studio/c...
The Monkey House of SpringdaleSpringdale
The Monkey House is an indoor bouncer/slide party and play place geared toward kids 12 years or less. We have separate areas for toddlers (under 3 years old) and non-toddlers. Parents are free to enter, and are encour...
Ecclesia PrepSpringdale
Ecclesia Prep offers a place for Christian homeschoolers designed and created especially for them by an institution that shares their most cherished values. For many families, this place has been a perfect fit; for so...
Go to...