Field trips are a great way to reboot a bad homeschooling week, get out of the house when everyone has cabin fever, and learn about your local area. Before heading out, check out Jeanne's tips for improving homeschool field trips.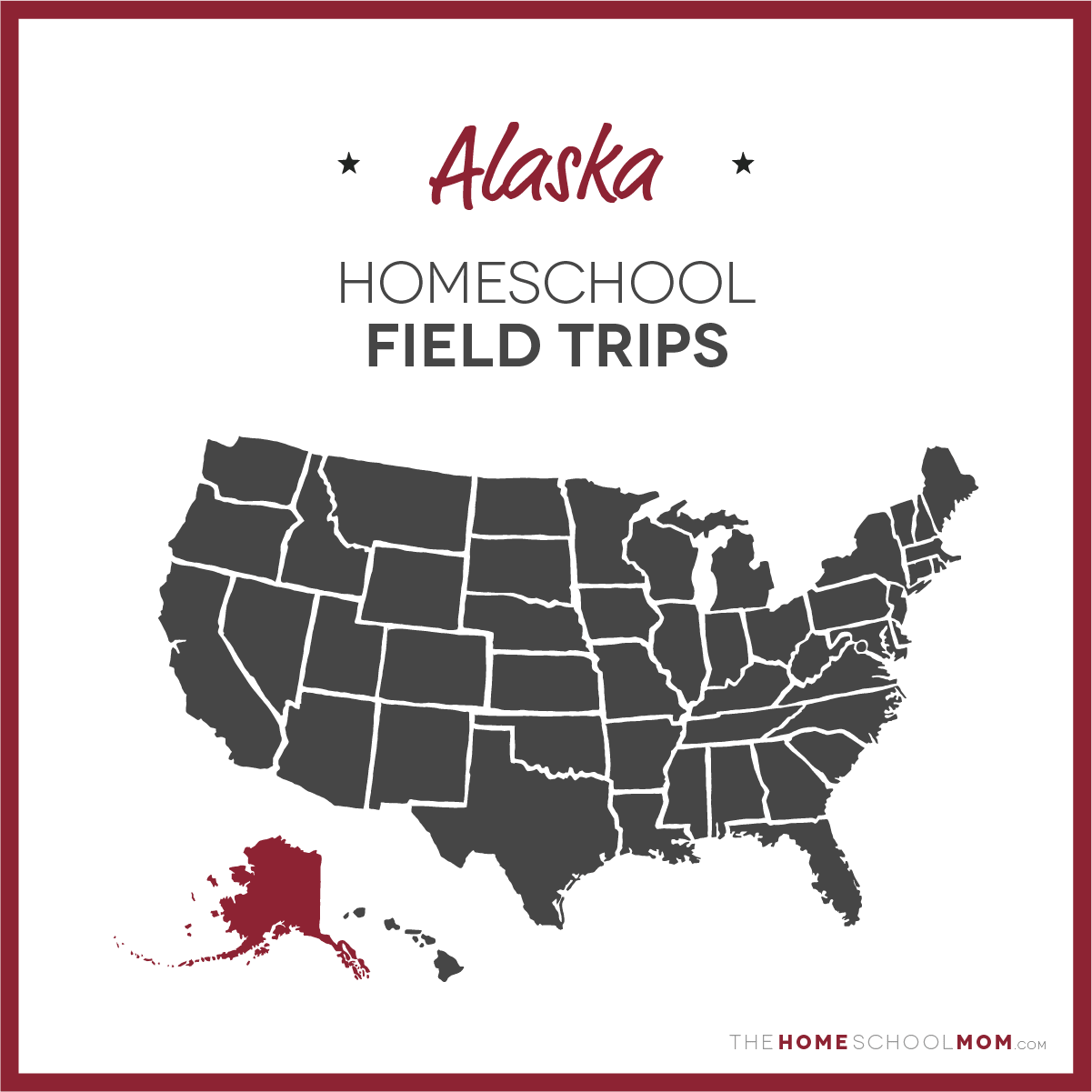 Submit a Field Trip Destination
Our listing of Alaska field trips for homeschoolers is ordered alphabetically by city. If you would like to submit a Alaska field trip destination, you may do so using the red button above.
An asterisk * after the title indicates that a virtual field trip is also available.
Katmai National Park & Preserve

Alaska Peninsula

Famous for the Valley of Ten Thousand Smokes, a spectacular forty square mile, 100 to 700 foot deep ash flow deposited by Novarupta Volcano. A National Park & Preserve since 1980, today Katmai is still famous for volcanoes, but also for brown bears, pristine waterways with abundant fish, remote wilderness, and a rugged coastline.
Anchor River State Recreation Area and Stariski State Recreation Site

Anchor Point

Wildlife abounds around the Anchor River, with moose, beaver, mink, bald eagles and a variety of ducks along the river, and harbor seals, sea otters, and beluga whales near shore in Cook Inlet. Across Cook Inlet from Anchor Point three of seven volcanoes bordering the inlet can be seen. To the south, Mount Augustine, then Mount Iliamna, and Mount Redoubt to the north. Mount Augustine's last eruption was in March 1986; Mount Redoubt's latest eruption was in April 1990. No eruption of Mount Iliamna has ever been recorded. Anchor Point, where Anchor River State Recreation Area is located, is the most westerly point on the U.S. Highway System. Stariski State Recreation Site is situated on a high bluff overlooking Cook Inlet, offering spectacular views of Mount Augustine, Mount Iliamna and Mount Redoubt. The park is five miles north of Anchor Point with nine individual camp sites. A small, quiet campground away from the crowds. There is no fishing at Stariski SRS.

Anchor River State Recreation Area and Stariski State Recreation Site website
H2Oasis Water Park

Anchorage

"H20asis, Alaskas Indoor Waterpark! Ride the Master Blaster, 6 Water Cannons, Wave Pool, 575 foot long Lazy River and Children's Lagoon.
Alaska Law Enforcement Museum

Anchorage

View the complete history of Alaska law enforcement at the Alaska Trooper Museum.
Alaska Aviation Heritage Museum

Anchorage

The Alaska Aviation Heritage Museum's mission is to "preserve, display, and honor Alaska's aviation heritage."
Chugach State Park

Anchorage

The third largest state park in America -- a half-million acres of some of the most accessible hiking, skiing, camping, wildlife viewing, snow-machining, rafting, and climbing in Alaska.
Alaska Botanical Garden

Anchorage

Where northern horticulture and native plants are showcased throughout a 110 acre spruce and birch woodland.
Alaska Native Heritage Center

Anchorage

A renowned cultural center and museum where people can come to expand their understanding of Alaska's first people. Our cultural center is designed to enhance self-esteem among Native people and to encourage cross-cultural exchanges among all people.
Alaska Zoo

Anchorage

Learn about animals and conservation through interactive programs.
Anchorage Museum

Anchorage

The largest museum in Alaska, the Anchorage Museum is a community-based institution with exhibits and programs on the art, history and cultures of Alaska. Over 20 exhibitions are presented each year to more than 200,000 visitors. The Museum also presents a full calendar of public programs and art classes. We invite you to explore the many features of the Anchorage Museum at Rasmuson Center.
Inupiat Heritage Center

Barrow

The Inupiat Heritage Center tells the story of the Inupiat people.
The Pleistocene Gubik Formation, Skull Cliff, Alaska

Barrow

This virtual field trip for earth science and geology was compiled from images and data collected under a research permit (NSB 96-093) from the North Slope Borough Planning Department, Barrow, Alaska.

The Pleistocene Gubik Formation, Skull Cliff, Alaska website
Yukon Delta National Wildlife Refuge

Bethel

The refuge headquarters houses a visitor center that depicts not only the wildlife that inhabit the region, but a historical perspective on the use of the USFWS.refuge by the Yup'ik Eskimo population in the area. There is a small museum that exhibits wildlife, interprets the uniqueness of tundra and includes a relief map showcasing the expanse and ecological diversity of the refuge.
Gates of the Arctic

Bettles

In the wilderness, weather rules. Visitors to need to be prepared for all types of weather. Travel plans in and out of the park are always weather dependent. Rain and snow melt can cause rivers to rise, making some routes impassable. Visitors should have enough food to stay extra days in the park and try to have flexible travel plans in case flights into the park are delayed.
Clam Gulch State Recreation Area

Clam Gulch

Clam Gulch, as the name implies, is famous for the hundreds of thousands of razor clams harvested annually from the sandy beaches adjacent to the State Recreation Area. Situated on the bluffs overlooking scenic Cook Inlet, the recreation area offers visitors a panoramic view of the Aleutian Mountain Range and its three tallest peaks - Mount Iliamna, Mount Redoubt and Mount Spurr. Wildlife in the area includes moose, bald eagles, gulls and many small birds and mammals. A wide variety of wild flowers may also be found within the recreation area, including the lupine, Jacob's ladder, wild geranium and the prickly rose.
Izembek National Wildlife Refuge

Cold Bay

Established in 1960 to protect the rich wildlife resources of the area, Izembek National Wildlife Refuge is a panorama of natural beauty on the southern tip of the Alaska Peninsula. A mini-visitor center at Refuge headquarters houses several wildlife displays; and a variety of maps and printed information is available through the Alaska Geographic, store to assist Refuge visitors. Refuge staff are available to answer questions and provide information.
Wrangell-St. Elias National Park & Preserve

Copper Center

The Chugach, Wrangell, and Saint Elias ranges converge here in what is often referred to as the "mountain kingdom of North America." The largest unit of the National Park System, this spectacular wilderness includes the continent's largest assemblage of glaciers, and greatest collection of peaks above 16,000 feet, including 18,008' Mount St. Elias, the second highest peak in the United States.
Cordova Historical Museum

Cordova

The Cordova Historical Museum has a variety of activities for Cordova's youth. Each month the museum welcomes students from Mt. Eccles Elementary.
Canoe Passage State Marine Park

Cordova

Canoe Passage State Marine Park: This park encompasses the natural low pass on the island. Forested uplands and considerable wetlands line Canoe Passage. The seas are shallow to the south. The majority of Hawkins Island is private land.
Kayak Island State Marine Park

Cordova

Kayak Island lies in the Gulf of Alaska some 50 miles southeast of Cordova. Few people visit this site due to the exposed shores and bad weather. The island is famed for being the site where the first European, Georg Steller, set foot in Alaska on July 1741. The marine park encompasses the approximate landing site of the Bering Expedition. Steller found a native camp, but no natives, and "exchanged some goods", leaving some European items and taking some native items.
Big Delta State Historical Park

Delta Junction

One of the greatest aspects of coming to an area in Alaska is learning about its tremendous history. At Big Delta State Historical Park you get to take a walk back into time. This site was an important crossroad for travelers, traders, and the military during the early days of the 20th century. The Delta Historical Society maintains a museum in a sod-roofed cabin at Big Delta State Historical Park. The artifacts in the museum, dating from 1900 to 1950, were collected from local people. Artifacts include blacksmith tools, horse tack, dog harnesses and sleds, many household items and much more. There is also a display of historic photographs.
Clearwater State Recreation Site

Delta Junction

A beautiful little campground lies tucked beside a crystal clear river that offers great fishing opportunities and a peaceful place to spend the day. Clearwater State Recreation Site has 17 campsites, a boat launch, a picnic area, water and toilets. For those who enjoy walks and a chance to view animal life and plant life close-up, there is a boardwalk located along the river behind the campsites. At the end of the walk you can fish for grayling, whitefish, or salmon. If you are traveling in the spring or fall, Clearwater State Recreation Site is an excellent place to see sandhill cranes, swans, geese and other migratory birds.
Delta State Recreation Site

Delta Junction

Delta State Recreation Site is a popular campground for those traveling between Tok and Fairbanks. This campground gives visitors a wilderness feel, but keeps them conveniently close to town for events or shopping. There are stores, commercial showers and other services nearby. Delta State Recreation Site has 25 developed campsites, a picnic area, a covered picnic shelter, water and toilets. A city airstrip next to the site allows for fly-in camping. Directly across the highway from the recreation site lies the Delta River. This allows for some spectacular views of the Alaska Range beyond. On a clear day one of the tallest mountains of the Alaska Range, Mt. Hayes with an elevation of 13,832 feet, can be viewed from the park. Because of their high elevation, Mt. Hayes and five other mountains, that can be seen from the park, remain snow covered year round.
Donnelly Creek State Recreation Site

Delta Junction

Donnelly Creek State Recreation Site, located on the braided Delta River, is one of the state's most scenic campgrounds with views of some of the tallest peaks of the Alaska Range. There is also a great opportunity here to examine alpine plant life. This secluded wilderness campground is seldom crowded and has 12 campsites, toilets, and water. A variety of wildlife inhabit the area around Donnelly Creek State Recreation Site. Moose, bear, porcupines, beavers, and snowshoe hares are fairly common, as are many species of birds. Upon occasion, caribou are sighted browsing in the area. The Delta bison herd can often be seen across the Delta River on their summer calving grounds.
Fielding Lake State Recreation Area

Delta Junction

Fielding Lake State Recreation Site is a scenic campground at an elevation of 2,973 feet in the Alaska Range. Because of the elevation, which is above treeline, the ice sometimes remains on the lake until July. This rustic campground has 17 sites, a boat launch, and toilets. Fielding Lake State Recreation Site also offers a public use cabin, which is available by reservation. The boat launch provides access to some excellent fishing. The fish population is all natural and not stocked. Arctic Grayling, lake trout and burbot are all found in Fielding Lake. Please be aware of the fishing regulations before going out on the lake. The great fishing opportunities and the simple beauty of this alpine campground continue to bring people back to the area year after year.
Quartz Lake State Recreation Area

Delta Junction

For travelers and locals alike, Quartz Lake State Recreation Area is a great place to visit. Recreational opportunities abound. Whether you enjoy the feel of a 20 inch rainbow trout on the line, the breathtaking view after a hike to Bluff Point, or sitting around the campfire with friends, these opportunities and more are available. Wildlife viewing, camping, picnicking, swimming, playing volleyball, and water skiing are also popular summertime activities. During the winter months popular activities include ice fishing, snowmachining, dog mushing, skijoring, and even staying at a rustic cabin when the temperatures can drop to well below zero.
Denali State Park

Denali

Denali State Park is an integral part of one of North America's most spectacularly beautiful regions. The park's 325,240 acres, almost one-half the size of Rhode Island, provide the visitor with a great variety of recreational opportunities, ranging from roadside camping to wilderness exploration. Denali is the original name for Mt. McKinley. At 20,320 feet, Mt. McKinley is North America's highest peak. It literally and figuratively towers over Southcentral Alaska from its base in Denali National Park.
Denali National Park & Preserve

Denali Park

Features North America's highest mountain, 20,320-foot tall Mount McKinley. The Alaska Range also includes countless other spectacular mountains and many large glaciers. Denali's more than 6 million acres also encompass a complete sub-arctic eco-system with large mammals such as grizzly bears, wolves, Dall sheep, and moose.
Togiak National Wildlife Refuge

Dillingham

Togiak National Wildlife Refuge works with local educators by providing information, curricula, materials, and personnel.
Wood-Tikchik State Park

Dillingham

The largest state park in the nation, at 1.6 million acres, Wood-Tikchik State Park was created in 1978 for the purpose of protecting the area's fish and wildlife breeding and support systems and preserving continued subsistence and recreational activities. The management philosophy is one of non-development and maintenance of the area's wilderness character. Park facilities are rustic and few, with great emphasis placed upon low impact camping and "pack it in, pack it out" practices.
Aleutian World War II National Historic Area

Dutch Harbor

The Aleutian World War II National Historic Area and Visitor Center in Dutch Harbor, Alaska, preserves the historic Fort Schwatka on Mount Ballyhoo. US Servicemen fought the Japanese here. At the same time, the local Unangan people were sent away from the area to internment camps a thousand miles away.
Eagle Historical Society & Museums

Eagle

Established in 1897 during the Klondike Gold Rush, the community still provides visitors with the nostalgic atmosphere of the early days when Eagle was the judicial, commercial, mining and military center for the Upper Yukon. Your visit to our unique community would be welcomed.
Yukon-Charley Rivers

Eagle

Geology, cultural history, remnants of the last great gold rush, wildlife and scenery. But, best of all, solitude. Your adventure awaits.
Pioneer Park

Fairbanks

Formerly, Alaskaland. Attractions: Harding Car, Civic Center, Gold Rush Town, Riverboat Nenana (Information center), Pioneer Hall, Railroad Station, Native Village, Fishwheel , Boat dock, Wilderness Trails, Mining Valley/Salmon Bake, Hard Rock Mine, Tunnel, Waterfall/sluice, Moose Creek Pond, Square Dance Hall, Aviation Museum
Pioneer Air Museum

Fairbanks

Alaska's air history is rich and exciting. The Great Land's frontiers were being explored just as the early pilots and explorers were testing the frontiers of flight. It was an inspiring time. Housed in the beautiful gold dome, designed by Buckminster Fuller, the museum's rare & unique collection of over 500 photographs chronicle early flight and the brave men and women who ventured into the unknown.
University of Alaska Museum of the North

Fairbanks

Alaska's best introduction to the state are the museum exhibits that show the diverse wildlife, people and land.
Chena River State Recreation Site

Fairbanks

This 29-acre park sits on the banks of the Chena River. Facilities include over 60 campsites for vehicles, 11 have electric and water hookup, five walk-in campsites, picnic sites along the river, drinking water, restrooms with flush toilets, dump station, boat launch, and river-side walking trails. For group use by reservation, there is a playfield with a shelter.
Lower Chatanika and Upper Chatanika State Recreation Areas

Fairbanks

There are two state park units north of Fairbanks. Both of these units sit on the banks of the Chatanika River. On the Elliott Highway is Lower Chatanika State Recreation Area. Farther north on the Steese Highway, is Upper Chatanika State Recreation Site.

Lower Chatanika and Upper Chatanika State Recreation Areas website
Arctic National Wildlife Refuge

Fairbanks

Renowned for its wildlife, Arctic Refuge is inhabited by 45 species of land and marine mammals, ranging from the pygmy shrew to the bowhead whale. Best known are the polar, grizzly, and black bear; wolf, wolverine, Dall sheep, moose, muskox, and the animal that has come to symbolize the area's wildness, the free-roaming caribou. Thirty-six species of fish occur in Arctic Refuge waters, and 180 species of birds have been observed on the refuge.
Yukon Flats National Wildlife Refuge

Fairbanks

Yukon Flats National Wildlife Refuge was established to conserve fish and wildlife populations and habitats in their natural diversity including nesting waterfowl, other migratory birds, dall sheep, bears, moose, wolves. wolverines, other furbearers, caribou, and salmon.
Georgeson Botanical Garden

Fairbanks

A nationally recognized botanical garden and a member of a national network of educational and research institutions dedicated to plant culture and conservation.
Koyukuk National Wildlife Refuge

Galena

The Koyukuk/Nowitna Refuge Complex has a large number of resources to teach about the environment. Teaching kits, curriculum, books and videos, provide information to schools and communities.
Nowitna National Wildlife Refuge

Galena

Nowitna Refuge Complex has a large number of resources in our reference library to help others teach about our environment -- birds, mammals, wetlands, watersheds, and more! We have teaching kits, curriculum, books and videos, as well as a staff of experts that can visit and/or provide information to schools and communities.
Crow Creek Mine

Girdwood

Crow Creek Mine, was one of the largest producing hydraulic placer gold mines in South Central Alaska and today is Alaska's most popular "recreational" gold panning area.
Glacier Bay National Park and Preserve

Gustavus

The marine wilderness of Glacier Bay National Park and Preserve includes tidewater glaciers, snow-capped mountain ranges, ocean coastlines, deep fjords, and freshwater rivers and lakes. This diverse land and seascape hosts a mosaic of plant communities and a variety of marine and terrestrial wildlife and presents many opportunities for adventuring and learning about this unique and powerful place.
Sheldon Museum and Cultural Center

Haines

The Sheldon Museum's presentation of artifacts, clan trust property, and memorabilia enhances quality of life for area residents and visitors; informs researchers and historians; inspires artists and creative writers; and encourages community pride through permanent, temporary, and traveling exhibits, and through a variety of programs for schools and the public.
Alaska Chilkat Bald Eagle Preserve

Haines

The Alaska Chilkat Bald Eagle Preserve was created by the State of Alaska in June of 1982. The preserve was established to protect and perpetuate the world's largest concentration of Bald Eagles and their critical habitat. It also sustains and protects the natural salmon runs and allows for traditional uses; provided such uses do not adversely affect preserve resources. The Preserve consists of 48,000 acres of river bottom land of the Chilkat, Kleheni, and Tsirku Rivers. The boundaries were designated to include only areas important to eagle habitation.
Chilkat Islands State Marine Park

Haines

This undeveloped, 6,560-acre park is a group of islands just south of Chilkat State Park. It is 13 air miles south of Haines. Access is problematic due to high and unpredictable winds, making a regular anchorage difficult. Kayaks have the best bet since they can be brought on shore and have a shallow draft. A bay on the middle island of Shikosi is best. Beaches are rocky. Be sure to bring your boat above high tide mark when pulling it on shore.
Chilkat State Park

Haines

This park offers a log cabin visitor center, 15-site campground, picnic area, boat launch and trails. The campground sits in a mixed forest of evergreens and deciduous trees at the edge of Chilkat Inlet. The boat launch provides access to the inlet and the run of king salmon in early June. The visitor centers offers incredible views of Chilkat Inlet and Rainbow and Davidson glaciers. The center also has wildlife spotting scopes so you can spot the inlet wildlife, such as seals, porpoises, and whales. Visitors have even been able to spy on bears and mountain goats on the other side of the inlet. There are three trails in the park.
Chilkoot Lake State Recreation Site

Haines

Park Facilities include an 80-site campground, picnic shelter, and boat launch. The campground sits amid a beautiful stand of Sitka spruce. The park and surrounding area offers some of the best salmon fishing in Southeast Alaska, with four salmon runs, starting in mid-June and ending in mid-October. Because of the salmon spawning in the river and at this end of the lake, this area is also a bear highway. Bears come down from the tundra to feast on the salmon.
Mosquito Lake State Recreation Site

Haines

This quiet campground of 5 sites is nestled next to Mosquito Lake, in a Sitka spruce and Western hemlock forest. There is a dock and boat launch to access the lake, and a picnic shelter. This park is appropriately named, so be sure to have plenty of insect repellent!
Portage Cove State Recreation Site

Haines

On the water's edge near downtown Haines and offers a wonderful view of the Inlet and surrounding mountains. There are a handful of campsites, but only for bicycle or walk-in camping.
Sullivan Island State Marine Park

Haines

This 2,720-acre park sits at the south end of Sullivan Island. Two bays on east side provide access, but no anchorages. In Lynn Canal, weather and winds are unpredictable, making anchoring very difficult. Kayaks have the best bet since they can be brought on shore and have a shallow draft. Be sure to bring your boat above high tide mark when pulling it on shore. Beaches are rocky.
Summit Lake State Recreation Site

Hatcher Pass

Hatcher Pass Summit is in the park at an elevation of 3,886 feet. Road access to the park is limited to the summer months, usually July thru late September. Summit Lake is a small cirque lake, or tarn, reaching a depth of 20 feet. This cirque was the beginning of a long-gone, alpine glacier. The surrounding terrain is all glacially carved. North of the lake, the uneven ground is caused, not by boulders, but by frost action in combination ground moisture and soil type. There is a trail around Summit Lake, and along the bluff above, and west, of the lake. The views from the bluff viewpoint are outstanding, including the Willow Creek Drainage, the Susitna Valley, and the western arc of the Alaska Range. Best viewing is on a clear morning. The scenic viewpoint is a popular launch site for paragliders in the summer, who can ride the updrafts for several hours on a good day.
Boswell Bay State Marine Park

Hinchinbrook Island

Boswell Bay State Marine Park is located on the eastern tip of Hinchinbrook Island. Evidence of 1964 Earthquake can be seen here. The former shoreline is now farther inland by more than a mile. This southern edge of the park is a high-energy beach exposed to the Gulf of Alaska. Beach combing and hunting are popular here. Areas of the park are adjacent to the Copper River Delta State Critical Habitat. There are no sources of fresh water within the park.
Alaska Maritme National Wildlife Refuge

Homer

The most remote and far flung unit of the National Wildlife Refuge System, the refuge hosts seabird populations of both national and international significance. The refuge also provides valuable habitats for marine mammals.
Pratt Museum

Homer

Dedicated to the process of education by exploring the natural environment and human experience relative to the Kachemak Bay region of Alaska and its place in the world. The Museum seeks to inspire self-reflection and dialog in its community and visitors through exhibitions, programs, and collections in the arts, sciences and humanities.
Alaska State Museum

Juneau

The Alaska State Museums identify, collect, preserve and exhibit Alaska's material and natural history and provide public access to services and collections of the Museums. The Alaska State Museums interpret and disseminate knowledge of the history of the state, its people, and its resources, and support others in these efforts. The Museums also assist and advise in the growth, development, and excellence of other museums within Alaska.
Point Bridget State Park

Juneau

This beautiful 2,850 acre state park, located forty miles north of Juneau, offers meadows, cliffs, spectacular views, salmon spawning streams, rocky beaches, and the sea. In the winter the meadows and open forest allow for excellent skiing and snowshoeing opportunities.
Wickersham State Historic Site

Juneau

House of Wickersham - Home of Alaska's Pioneer Judge, James Wickersham Built in 1898 and listed on the National Register of Historic Places. Step back in time thorough the doors of the House of Wickersham, the first large Victorian home built on "Chicken Ridge", the "Nob Hill" of Juneau, Alaska. Sip tea from an elegant bone china cup and drink in the history of Alaska's territorial days as seen through the life of the man responsible for "Home Rule", the Alaska Railroad, the University of Alaska and Mount McKinley National Park (now known as Denali National Park).
State Parks near Kasilof

Kasilof

The town of Kasilof is located fifteen miles south of Soldotna along the Sterling Highway on the Kenai Peninsula. It is a popular summer recreational destination. Camping, wildlife viewing, scenic views, and fishing at the Kasilof River and at Johnson Lake are some of the reasons why. Wildlife in the Area: Moose, black and brown bear, lynx, squirrels, hares and other creatures are plentiful in all of these areas. Enjoy and respect them for this is their home. Please help them by not feeding them and keeping a clean camp. Crooked Creek State Recreation Site:. There are 80 campsites and 36 day use parking sites. Crooked Creek SRS: Most popular in May and June for king salmon fishing from the bank of the Kasilof River. Additional fisheries include a small steelhead run in the spring and fall, and Dolly Varden, sockeye and silver salmon in the summer. Johnson Lake State Recreation Area is a nice, wooded, 332 acre area surrounding Johnson Lake. Camping, fishing for rainbow trout, canoeing and walking are popular activities. There are 48 campsites, 16 day use parking sites, and a group picnic area (groups of over 12 people require reservations). Kasilof River State Recreation Site is located in a wooded setting along the Kasilof River, adjacent to the Sterling Highway bridge. Kasilof River SRS is a popular put-in and take-out spot for drift fishing on the Kasilof River. Bank angling for most species is available both up and down stream from the camping area. There are 25 day use parking sites and a boat launch.
Challenger Learning Center of Alaska

Kenai

The mission of the Challenger Learning Center of Alaska is to inspire students to look beyond the ordinary, imagine the unattainable and answer those impossible questions through the pursuit of higher education in science, technology, engineering and math.
Kenai Visitors and Cultural Center

Kenai

The museum features Athabascan, Aleut and Russian cultural exhibits, homesteading, mining, commercial fishing, and oil industry history displays, and a natural history room with mammal, bird and fish exhibits.
Kenai River Special Management Area

Kenai River

The Kenai River boasts major runs of four Pacific salmon species - king, red, silver and pink - in addition to trophy-sized rainbow trout and Dolly Varden. Kenai River kings, or Chinook salmon, are among the largest North Pacific salmon, often weighing from 50 to over 85 pounds. The abundant productivity of the Kenai River and variety of habitats enables the area to support large concentrations of bald eagles and many species of migratory waterfowl. Moose, caribou, wolves, bears and other wildlife also use the river system's resources. The area offers prime opportunities for fishing, boating, camping and wildlife observation.
Tongass National Forest

Ketchikan

The nation's largest national forest, covers most of Southeast Alaska, surrounding the famous Inside Passage. It offers unique chances to view eagles, bears, spawning salmon, and the breath-taking vistas of "wild" Alaska.
Totem Bight State Historical Park

Ketchikan

The Story of Totem Bight - With the growth of non-Native settlements in Southeast Alaska in the early 1900's, and the decline of a barter economy, Natives moved to communities where work was available. The villages and totem poles they left behind were soon overgrown by forests and eroded by weather.
Alagnak Wild River

King Salmon

The headwaters of the Alagnak Wild River lie within the rugged Aleutian Range of neighboring Katmai National Park & Preserve. Meandering west towards Bristol Bay and the Bering Sea, the Alagnak traverses the beautiful Alaska Peninsula, providing an unparalleled opportunity to experience the unique wilderness, wildlife, and cultural heritage of southwest Alaska.
Aniakchak National Monument and Preserve

King Salmon

Given its remote location and notoriously bad weather, Aniakchak is one of the least visited units of the National Park System. A vibrant reminder of Alaska's location in the volcanically active "Ring of Fire," the monument is home to an impressive six-mile wide, 2,500 ft. deep caldera formed during a massive eruption 3,500 years ago.
Alaska Peninsula National Wildlife Refuge

King Salmon

Established to conserve brown bears, caribou, moose, marine mammals, shorebirds, other migratory birds, raptors, and fish; to fulfill treaty obligations; to provide for continued subsistence users; and to ensure necessary water quality and quantity.
Becharof National Wildlife Refuge

King Salmon

Established to conserve brown bears, salmon, migratory birds, caribou, marine birds, and mammals; to fulfill treaty obligations; to provide for continued subsistence uses; and to ensure necessary water quality and quantity.
Baranov Museum

Kodiak

Explore Kodiak's rich history, from Alutiiq culture and the Russian colonial period to the early American era, WWII and the present day. The Baranov Museum is located within Kodiak's 200-year-old National Historic Landmark building known as the Russian American Magazin, or the Erskine House.
Kodiak Military History Museum

Kodiak

Museum Radios and Electronics Collection
Fort Abercrombie State Historical Park

Kodiak

Few other units of the Alaska State Park System,which are comparable in size, possess the cultural and natural resources that are found in Fort Abercrombie. The historic ruinsof a World War II coastal defense installation coupled with the steep surf-pounded cliffs, deep spruce forests, wildflower ladened meadows, and a lake containing trout offer the public a unique opportunity to learn of the events of World War II while enjoying the natural beauty of the park.
Buskin River State Recreation Site

Kodiak

Buskin River State Recreation Site borders the Buskin River and is near the state airport. The Buskin River is one of the most productive fisheries on the Kodiak road system. Visitors from around the world visit this river to fish for sockeye and coho salmon. For those that like to hike or mountain bike, there are old military roads connecting WWII structures hidden in the spruce forest on the north side of the park. Visitors can expect to see a variety of birds and wildlife including brown bears, eagles, harlequin ducks, and harbor seals.
Pasagshak River State Recreation Site

Kodiak

The Pasagshak River, the outlet to Lake Rose Tead, is approximately three miles long and empties into salt water at the head of Pasagshak Bay. Pasagshak River is considered one of the outstanding sport fishing streams on Kodiak Island and provides thousands of man-hours of angling annually for Dolly Varden, sockeye, pink, chum, and silver salmon. Besides seasonal salmon runs, Pasagshak Bay and area supports a rich and varied constellation of land, coastal and marine wildlife, including brown bear, whales, seals, dolphins, sea bird colonies, eagles, overwintering waterfowl, shrimp and crab. The bay is fished by commercial purse seiners.
Woody Island State Recreation Site

Kodiak

Woody Island was home for centuries to the Alutiiq people, who fished and hunted there before the Russians established their own agricultural colony. Life resurged in the late 1800s with a Baptist Orphanage and a small town on the island. Woody Island has also has served as a staging ground for military communications during World War II. Now, all that's left is a small Christian summer camp run by the American Baptists.
Kodiak National Wildlife Refuge

Kodiak

Kodiak Refuge offers superb recreational opportunities--an ideal destination for wildlife viewing, hunting, hiking, kayaking, fishing, camping, and other types of outdoor adventures.
Driftwood Bay State Marine Park

Kodiak

Driftwood Bay SMP. This rocky amphitheater overlooks a gravel and cobble beach, set among a thin grove of spruce and cottonwood. A private cabin is located at the head of the cove on a small tract of private land. Few established campsites exist on shore, although there are areas beyond the beach berm within the trees that could be used for camping. Driftwood Bay is primarily known and used as a bottom fishery for black bass, lingcod and rockfish. Wildlife viewing is also a very popular activity, especially for goats, sea birds and marine mammals.
Alutiiq Museum

Kodiak

Mission is to preserve the prehistoric and historic cultural traditions of the Alutiiq people and promote greater public awareness of the rich cultural legacy of all the indigenous societies of the Alaskan Gulf coast. In pursuit of these goals, the museum collects and preserves archaeological, ethnological, and archival materials from the Alutiiq Nation in a repository that is accessible to the public. The organization supports research on Alutiiq culture and history, and disseminates the results through exhibits, publications, and scholarly presentations.
Cape Krusenstern National Monument

Kotzebue

A coastal plain dotted with sizable lagoons and backed by gently rolling limestone hills. Nearly 5000 years of prehistory are represented on the 114 well- preserved beach ridges located adjacent to Krusenstern Lagoon (Giddings and Anderson 1986). Sites on the bluff behind the beach ridges may date as early as 9,000 year before present.
Kobuk Valley National Park

Kotzebue

The Great Kobuk Sand Dunes lie 40 miles above the Arctic Circle, yet summer temperatures there can soar to 100 degress Fahrenheit! One of Alaska's true oddities, in some places, the sand stands 100 feet high. The three clusters of dunes within the park
Noatak

Kotzebue

As one of North America's largest mountain-ringed river basins with an intact ecosystem, the Noatak River environs features some of the Arctic's finest arrays of plants and animals. The river is classified as a national wild and scenic river, and offers stunning wilderness float-trip opportunities - from deep in the Brooks Range to the tidewater of the Chukchi Sea.
Lake Clark National Park and Preserve

Lake Clark

Lake Clark National Park and Preserve was created to protect scenic beauty (volcanoes, glaciers, wild rivers and waterfalls), populations of fish and wildlife, watersheds essential for red salmon, and the traditional lifestyle of local residents. Lake Clark's spectacular scenery provides a true wilderness experience for those who visit.
Captain Cook State Recreation Area

Nikiski

Captain Cook State Recreation Area is virtually undiscovered by most visitors to the Kenai Peninsula. It offers a peaceful setting of forests, lakes, streams and saltwater beaches. The recreation area can be reached by driving 25 miles north of Kenai on the North Kenai Road to milepost 36. Captain Cook State Recreation Area offers a variety of recreation activities, from canoeing and boating on Stormy Lake to beach combing on Cook Inlet's tide-swept shores, bird watching, berry picking, and wildlife observation. The beaches are popular with agate hunters.
Deep Creek State Recreation Area

Ninilchik

The halibut and king salmon runs at Deep Creek are legendary, making the campsites in the park very much in demand. Bald eagles are visible year-round. In the month of May, sandhill cranes and other shore birds inhabit the saltwater marsh. Whales, seals and otters can be seen offshore. Deep Creek Beach is located at mile 137.3 of the Sterling Highway near Ninilchik. It is adjacent to the shores of Cook Inlet with excellent scenic views of Mt. Iliamna and Mt. Redoubt. A campground and day use area are located along the beach where Deep Creek enters the ocean. The park also offers fishing access to Deep Creek.
Ninilchik State Recreation Area

Ninilchik

Ninilchik, whose name means "peaceful settlement by a river", is located on the west side of the Kenai Peninsula, about 40 miles south of Soldotna. It was settled in the early 1800's by Russian colonists. They subsided on fishing, hunting, trapping and gardening. When Alaska was sold to the United States, many of these settlers decided to stay on. Some of the old buildings still exist in the Ninilchik village and many descendants of the old families still live here. Today, Ninilchik has become a popular staging area for world class salmon and halibut fishing. Mt. Iliamna and Mt. Redoubt, both active volcanoes, greet visitors to the area. While your are in Ninilchik, be sure to see the experience the historical Ninilchik Village and the Russian Orthodox Church.
Bering Land Bridge

Nome

The Bering Land Bridge connects Asia to North America. The website offers historical information about the park for those who cannot visit in person.
Independence Mine State Historical Park

Palmer

Gold was the magnet that drew thousands of adventurers to the last frontier. Gold was discovered just southeast of Anchorage in 1886. From there prospectors spread into the Susitna and Matanuska river basins, testing the creeks in the nearby mountains. Begin your tour of the Independence Mine State Historical Park at the Mine Mangers's House, which houses the Visitor Center and museum. Inside you'll see displays about mining, natural history and the Independenc Mine story. Take a self-guided interpretive tour through the mine camp. Sign up for a guided tour that takes you inside some of the mining camp's historic buildings. Pan for gold.
Clausen Museum

Petersburg

Established in 1968, the Clausen Museum is dedicated to preserving the history and telling the story of those who have lived and worked in Petersburg and the surrounding area. The Tlingit Indians have fished in the Petersburg area for thousands of years. Russia's sale of Alaska to the United States in 1867 opened the area to people from all parts of the world.
Shoup Bay State Marine Park

Prince William Sound and Resurrection Bay

Shoup Bay State Marine Park is located five miles southwest of the Port of Valdez. The primary access is by boat, although an 11-mile trail from Valdez to the park is available. The bay is famous for the 150-foot tidal wave, which supposedly surged in and out of the bay three times during the 1964 earthquake. The bay has changed substantially since then. The Shoup Glacier has receded about a mile and a half changing the terrain, exposing new land and creating a brackish lagoon connected by a tidal river. Be sure to use the USGS map of the area dated 1996, which shows these new land features.
Harding Lake State Recreation Area

Richardson Highway

Harding Lake State Recreation Area, 45 miles south of Fairbanks on the Richardson Highway, is one of the longest standing park facilities in the Alaska State Park system. All together there are over 90 campsites, including five walk-in group campsites. The park also has numerous picnic sites and two picnic shelters. In addition, areas have been set aside for activities such as baseball, volleyball and horseshoes with equipment available at the ranger station. Hiking along nature trails is another activity available at Harding Lake SRA. A boat launch facility gives access to the lake for those having canoes, motorized boats, jet skis or other watercraft. A straight canal leads from the boat launch toward the center of the lake. There is fishing for lake trout, arctic char and burbot. Pike fishing is closed.
Salcha River State Recreation Site

Richardson Highway

Salcha River State Recreation Site, located at Mile 323.3 of the Richardson Highway, offers campsites, boat launch and a public use cabin. Cost to camp is $10 per night. Use of boat launch costs $10. Click here for more information on the cabin. King salmon, arctic grayling and northern pike are the most common species of fish caught in the Salcha River.
Birch Lake State Recreation Site

Salcha

Birch Lake SRA is nestled between a lilypad-covered lake and forested wetlands. The lake is popular with fishers, jet-skiers, and water skiers in the summer, and with snowmachiners and ice fishers in the winter. There is excellent fishing all year for stocked species: rainbow trout, king and silver salmon, grayling, and arctic char. Fishing during the open water months is best from a boat. Ice fishing huts are available for rent.
Selawik National Wildlife Refuge

Selawik

The Selawik National Wildlife Refuge occupies a remote corner of Northwest Alaska and a visit to this area is an unforgettable experience.
Alaska SeaLife Center

Seward

The Alaska SeaLife Center is both a public aquarium and fully supported cold-water research facility. The Research Department offers programs for pinnipeds (seals and sea lions), eiders, sea otters and salmon.
Kenai Fjords National Park

Seward

Where the ice age still lingers! In Kenai Fjords, glaciers, earthquakes, and ocean storms are the architects. Ice worms, bears and whales make their home in this land of constant change. Native Alutiiq used these resources to nurture a life entwined with the sea. Explore this site to discover Kenai Fjords, its history, science and remote splendor.
Caines Head State Recreation Area

Seward

Caines Head State Recreation Area is the scenic site of an abandoned World War II fort. Early in World War II, as the territory of Alaska was attacked and occupied by Imperial Japanese ground forces, Caines Head and other Resurrection Bay vantages became strategic spots for defending the Port of Seward. The port was the southern terminus of the Alaska Railroad, a critical supply line for the war effort and for Alaskans.
Thumb Cove State Marine Park

Seward

Thumb Cove State Marine Park is located approximately nine miles south of Seward on the east side of Resurrection Bay. The park's 720 acres include the southeast shoreline of the cove; a long beach of fine to medium sand and beach cobble; forested uplands of spruce, hemlock and alder; and most of the waters of Thumb Cove. Perhaps the most striking geologic feature in the area is Porcupine Glacier, towering above the park and providing a dramatic backdrop to this popular marine destination.
Safety Cove State Marine Park

Seward

Safety Cove SMP is located along the western side of Day Harbor, twenty-eight miles by boat from Seward. The park's 960 acres include the cove's marine waters and an upland spruce, hemlock, and alder forest. A three-acre fresh water lake is located just above the gravel storm berm at the head of the cove. Behind this, the land rises steeply to the peaks of Resurrection Peninsula. There is a two-acre private inholding that abuts to the ocean on the north side of the lake. Safety Cove offers excellent beach camping as well as safe anchorage for recreational boats. Upland exploration is also an appealing activity in the park, with excellent views of Ellsworth Glacier, an arm of the Sargent Icefield, near the cove's entrance. Fresh water can be taken from the lake at the head of the cove.
Sandspit Point State Marine Park

Seward

Sandspit Point State Marine Park is located at the northeast tip of Fox Island (Renard Island) in Resurrection Bay, twelve miles southeast of Seward. The park includes steep, inaccessible uplands to the west and a half-mile long spit to the east, a total of 560 acres. The north beach of the spit is fine sand while the south beach is medium to large size cobbles. Sandspit Point SMP offers spectacular panoramic views of Resurrection Bay to the north and Eldorado Narrows to the south. The variety of marine life found in tide pools, the ease of launching and landing on the sandy northern beach, and suitability for beach camping make this a popular destination for kayakers. The southern beach is not recommended for landings due to its rocky nature and the often heavy surf. There is no fresh water available in the park.
Sunny Cove State Marine Park

Seward

Sunny Cove is a popular anchorage and beach camping destination. The cove offers excellent views of Callisto Head, Bear Glacier, and Aialik Cape of Kenai Fjords National Park. The park's 960 Acres encompass the entire south portion of the island, including an unnamed peak of 1,362 feet. With the exception of the Sunny Cove beach, the remainder of the park is characterized by vertical rock cliffs. Several rock arches on the southern tip of the island can be viewed by boat. Sunny cove is an undeveloped State Marine Park, and there are no established campsites, fresh water sources, or established shelters of any kind.
Alaska Raptor Center

Sitka

Alaska Raptor Center operates as a bald eagle hospital and educational center, as well as one of the state's premier visitor attractions.
Sitka National Historical Park

Sitka

Alaska's oldest federally designated park was established in 1910 to commemorate the 1804 Battle of Sitka. All that remains of this last major conflict between Europeans and Alaska Natives is the site of the Tlingit Fort and battlefield, located within this scenic 113 acre park in a temperate rain forest.
Sitka Historical Society and Museum

Sitka

Known as the only museum in Sitka that contains elements of all of Sitka's history, the Sitka Historical Museum is packed with displays, photographs, and artifacts from Sitka's Tlingit, Russian, and American history. This is a great first stop for travelers to orient themselves to Sitka.
Baranof Castle State Historic Site

Sitka

Commonly referred to as Castle Hill, this park is one of the most historically significant sites in Alaska. Tlingit natives originally inhabited this area and built a strategic fortification at this site. Between 1804-1867 Russians occupied this site. In 1867, on top of Castle Hill, Alaska was officially transferred from Russia to the United States. Today, Castle Hill is a state historic site and also designated as a National Historic Landmark. A fully accessible walkway leads visitors to the top of the hill and provides outstanding views of downtown Sitka and waterfront. Interpretive panels provide opportunities to learn more about the history of this site. This park is located in downtown Sitka.
Big Bear/Baby Bear State Marine Park

Sitka

Big Bear Bay and Baby Bear Bay are designated as a state marine park and located near Peril Straits about 35 miles north of Sitka. Access to this park is primarily by boat and the park remains undeveloped with no visitor facilities. Attractions at this marine park include a protected anchorage with opportunities for camping, hunting, and fishing.
Halibut Point State Recreation Site

Sitka

A popular day use recreation area for local residents and visitors. Three covered picnic shelters and a number of picnic sites are located in this park. In addition, a half-mile hiking trail provides an opportunity to walk through the coastal spruce and hemlock forest. The ocean beach offers people a chance to beach comb and explore the inter-tidal zone.
Magoun Islands State Marine Park

Sitka

Access to this park is primarily by boat and the park remains undeveloped with no visitor facilities. Attractions at this marine park include protected island sheltered bays with opportunities for camping, hunting, fishing, exploring, and beach combing.
Old Sitka State Historic Site

Sitka

In the early 1800s, Russians built a settlement at this site along Starrigavan Bay. Today, the site is designated as Old Sitka State Historic Site. Located 7 miles north of downtown Sitka, this park offers a variety of recreational opportunities. This site has been designated as a National Historic Landmark and interpretive panels provide information about the history of this site. A public use boat launch and dock allow boaters to access ocean waters north of Sitka. The Forest & Muskegs trail is a 1.25 mile barrier free trail (maximum 12% grade) with a self guiding brochure that has information about the natural and cultural history of this area. The Mosquito Cove trail (1.5 miles long) provides an opportunity to hike along Starrigavan Bay and Mosquito Cove in the coastal spruce and hemlock forest.
Sealion Cove State Marine Park

Sitka

Sealion Cove State Marine Park offers more adventurous people an opportunity to explore a remote sandy beach on the Gulf of Alaska. This park is located on the north end of Kruzof Island, approximately 25 miles northwest of Sitka. People typically access this park by taking a boat to Kallinin Bay. A trail starts at Kallinin Bay along a river estuary and leads 2.5 miles through forest and muskegs to Sealion Cove. A mile long sandy beach on the open Pacific Coast at Sealion Cove allows for excellent beach combing, hiking, camping, and bird watching. There are no developed facilities at this remote park.
Security Bay State Marine Park

Sitka

Provides safe haven anchorage for vessels in an area of large open water. The nearest village is Kake, about twenty miles to the east. There are two private landowners within the park, and one historic native site is in the park.
Klondike Gold Rush National Historical Park

Skagway

Gold! Headlines read in 1897, starting the rush. Thousands, hoping to ease the woes of economic depression, sold farms, dropped businesses and boarded ships to follow their dreams north. They braved icy passes to reach the interior of Canada, only to find the gold claims staked by prospectors who preceded them. A few struck gold; many more returned home penniless, yet richer for the adventure.
Kachemak Bay State Park and State Wilderness Park

Soldotna

Alaska's first state park, and only wilderness park, contains roughly 400,000 acres of mountains, glaciers, forests and ocean. The bay's twisted rock formations are evidence of the movement of the earth's crust. Highlighted by constantly changing weather patterns, the park's outstanding scenery is a backdrop for high quality recreation. Park visitors will find opportunities for fishing, boating, kayaking, hiking, camping and mountain sports.
Kenai National Wildlife Refuge

Soldotna

The Kenai NWR is featured in "America's Wildest Places".
Tok River State Recreation Area

Tok

Tok is the gateway to Alaska. This small town (pop. 1000) is located only 92 miles from the Canada-US border on the ALCAN Highway. Tok is situated in the upper Tanana River Valley, near the foot hills at the end of the Alaska Range. To the north and east of Tok, the famous "40 Mile Country" stretches up to the Yukon River. This land contains historic gold mines, wildlife, woodlands, wide interior Alaskan rivers, and modern day Alaskan pioneers and prospectors. South of Tok, the traveler enters the Copper River Valley, which eventually terminates at Prince William Sound. Westbound travelers can continue on to Fairbanks. The Tok area gives visitors entering Alaska by way of the Alaska Highway their first opportunity to explore the Alaska Range. Summers are very short here in Interior Alaska, but they are warm and dry with long daylight hours. Eagle Trail State Recreation Site, Moon Lake State Recreation Site and Tok River State Recreation Site
Tetlin National Wildlife Refuge

Tok

The Refuge hosts a well stocked Environmental Education library/resource center. Story, resource and activity books, curricula, music, videos, interactive CDs and field and lab equipment are available for teachers, home educators and individuals to check out. The Tetlin Resource Guide (pdf) is regularly updated and sent to all district teachers at the beginning of each school year.
Trapper Creek Museum

Trapper Creek

A settler's log cabin housing a wonderful collection of artifacts, stories and pictures depicting the life of Alaska's homesteaders, gold rush miners and trapping pioneers.
Museum of the Aleutians

Unalaska

An archaeological research and Museum storage facility for the Aleutian Region
Valdez Museum

Valdez

The Valdez Museum & Historical Archive is an active place. We bring the stories of our community's history alive through our programs and activities. Please explore this site or come visit us at our two locations: The Valdez Museum in the of the heart of downtown at 217 Egan Drive and the Remembering Old Valdez Exhibit on the waterfront at 436 S. Hazelet.
Jack Bay State Marine Park

Valsez

Jack Bay State Marine Park is located 15 miles from Valdez, southeast of Valdez Narrows. The uplands of the park consist of alder, muskeg, salt marsh and old growth forest of spruce and hemlock. The northern arm of Jack Bay within the marine park becomes shallow one-quarter mile out and caution is recommended. Although the bay can be used as a fair weather anchorage, it is not protected. Access only by boat or plane.
Dorothy Page Museum & Historic Town Site

Wasilla

Follow the history of Wasilla in this gallery. Formerly the Dorothy Page Museum & Historic Town Site
Decision Point State Marine Park

Whittier

Decision Point State Marine Park is located at the eastern end of Passage Canal approximately eight miles from Whittier. This popular park is aptly named as one decides at this point whether to head out into the larger expanse of water of Port Wells. This park is generally used by kayakers and small boat users, as there is no adequate anchorage. Along with forested uplands of spruce and hemlock, there are two excellent camping beaches.
Nancy Lake State Recreation Area

Willow

Nancy Lake State Recreation Area is different from most Alaskan park areas. It is one of the few flat, lake-studded landscapes in Alaska preserved for recreation purposes. The recreation area's clear waters are ringed with unspoiled forests, and provide tranquil settings for canoeing, fishing, hiking and camping. In winter, the rolling topography is ideal for cross-country skiing, dog mushing and snowmachining.
Shuyak Island State Park

Zodiak

Shuyak Island State Park comprises most of the island's 47,000 acres. The park encompasses part of a coastal forest system, unique to the Kodiak Archipelago, which contains only one tree species: Sitka spruce. Besides a virgin Sitka spruce forest, the park includes miles of rugged coastline, beaches and protected waterways. The island is located 54 air miles north of Kodiak, Alaska. Shuyak Island's compact dimensions measure 12 miles long and 11 miles wide, but contain more sheltered interior waterways than anywhere in the Kodiak Archipelago. The land and water of the area host an infinite variety of seabirds. Otters share the sea with whales, harbor seals, sea lions, and Dall porpoises. Kodiak brown bear and Sitka black-tailed deer inhabit the island's forests.
Afognak Island State Park

Zodiak

The park is known for its rugged topography, dense old-growth Sitka spruce forests, and salmon spawning habitat. Kodiak brown bear, Sitka black-tailed deer, Roosevelt elk, and the endangered marbled murrelet inhabit the park. Visitors can fish, hunt, hike, or just enjoy the pristine environment.