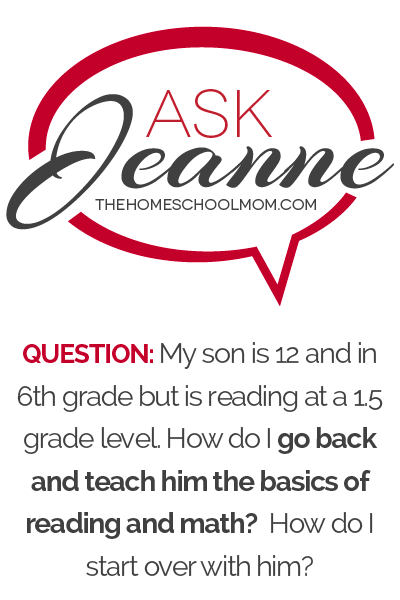 My son is 12 and in 6th grade. He is failing this year. Truthfully, I don't know how he has passed in past years, and this year he seems to be regressing.
He is currently reading at a 1.5 grade level. It is making it impossible for him to learn anything in school when he can't read. He is in special ed, but they can not work with him one-on-one - not enough resources. We have spoken with the special ed dept and the staff and they agree that pulling him out of school and working with him at home would be best for him. I want to go back and teach him the basics of reading and math.
My question is how do I legally do this? I mean I want to start over with him at 1st grade, so how do I do that and still have him enrolled in some homeschool program? He doesn't have the ability to go to school and then me teach him the basics at home. It's just too much for him. So how do I start over with him? Please help.    ~ Concerned in Louisiana
I'm sorry to hear about your son's situation. You must be so concerned for him, and I can tell you want to do anything you can to help him. He is fortunate to have a mom who is on his side. This will help him have the best possible chance to improve his education.
Understand the School's Obligation to Educate
You're asking how to start over with your son by homeschooling. I'll point you in the right direction for that, but first, it is important for you to know that your school is obligated to provide an appropriate education for your child. More and more in the homeschool world, we hear from parents whose children have become known as force outs or "push-outs."  Their parents were not seeking to homeschool, but were pushed to do so, being told that the school cannot meet the child's needs.
Start by reading more about how schools sometimes push parents to homeschool in a previous article I wrote. This should help you do some important thinking about the school's obligation, the message you are hearing from the school about your son, and your decision to homeschool.
The school may not actually be trying to push or force homeschooling in your case, and homeschooling may indeed be the best thing for your son, but you should understand this trend before making your final decision about pulling your child out of school.
Now for the fun part: how to homeschool!
Getting Started After Withdrawing from School
The good news is, once we get past the understandably desperate feelings you're having, starting to homeschool your 12 year old will basically follow the same guidelines for beginning homeschooling that any parents would follow.
TheHomeSchoolMom has a Homeschool 101 tab at the top of the menu to this website where you can access many Getting Started articles that will apply to you, regardless of your child's circumstances in school.
Read these articles and the links within them. Reading about homeschooling is an effective first step in learning what to do, and the information you need has already been written -- you just need to winnow down to what applies to you.
That said, I'll address some things you've mentioned and that I think will be particularly helpful to you.
Legalities
You ask about legalities. Homeschooling is legal in all fifty states in the United States as well as in many countries around the world. In the U.S., each state has its own laws governing homeschooling. You want to find an authoritative resource for the laws specific to your state, and then check your understanding of the laws by communicating with homeschoolers in your community or state. Most states have one or two state-wide homeschooling organizations that are expert in interpreting the law in that state. Look for their websites. There are Facebook groups and email lists for local, regional, and statewide homeschooling groups, so you can ask any clarifying questions of experienced homeschooling parents.
Enrollment in a "Homeschooling Program"
Next you ask about how to start over with your son at first grade and still have him "enrolled in a homeschooling program." Here is where we begin to see how homeschooling differs from school. Homeschooling does not require enrollment in a homeschooling program at all, except as a technical matter in a few states that use umbrella or cover schools as part of the legal requirement to homeschool there.
In those "umbrella school" or "cover school" states, the homeschool statute might require you to sign up or "enroll" to homeschool through an umbrella or cover school, but those "schools" may provide little to no instruction or services, or may make such services optional. Umbrella and cover schools may exist mainly for administrative and legal purposes, including receiving end-of-year assessments if they are required in your state. Cover school laws are often quirky though not hard to comply with. Ask homeschoolers in your community how using a cover school plays out in your state if you happen to be in one of the minority of states that requires you sign up with one.
You may be surprised to learn that homeschooling is commonly done independently rather than through "enrollment in a program," though there are full programs of curriculum, online schools, and homeschool co-ops you may be able to pay for and enroll your child in.
Customize Your Homeschooling
Here is where you'll get my personal opinion, which is shared by many long-term homeschoolers. When you withdraw a child from school who is significantly "behind" as is the case with your son, I believe homeschooling will help the most if you do not enroll him in an all-in-one "program" or use a curriculum that presents things the same way that school does with everything on one standardized grade level.
You already know that the "school approach" has not worked for him. Using a program or curriculum that mimics all aspects of a school is also unlikely to work. You'd just be doing the same thing the school did. You don't need everything at one grade level or lots of worksheets, tests, and quizzes. You need to develop a customized approach to learning that will meet his specific needs. Homeschoolers become accustomed to thinking outside the textbook.
Recommendations
My general recommendations for this kind of situation (and of course I don't know your child so I can't "prescribe" specifically for him) are:
Read and learn about homeschooling.
Withdraw your child from school and begin deschooling - the transition to homeschooling. The deschooling articles I've listed at that link are deep with further links. Follow the rabbit trails and soak in all the ideas.
While deschooling, seek to connect your child to reading and writing in positive, un-pressured, and non-curricular ways. The most important parts of this are warm, cozy read-alouds of stories and non-fiction he is interested in.
While deschooling and homeschooling, help your child spend a lot of time on projects he enjoys, in order to build his confidence and build his relationship with you. Although being behind in reading has been so negative for him in school, homeschoolers have many ways they help children learn much even when reading skills lag behind.
Consider other perspectives about your child's "grade level" in reading. He won't catch up all at once, and rather than panicking at his being "so far behind," your job is simply to help him improve a little from where he is. Then a little more and a little more. Don't focus on the gap; focus on the next step. Then keep taking next steps.
After you have been deschooling for a while and reading about homeschooling curricula and methods, try using some of the ideas you've been learning about. This might include purchasing books or reading curriculum, signing him up for tutoring, using a unit study approach, or using real world resources instead of curriculum. 
Learn about homeschooling children with special needs. Read articles and books specifically about homeschooling children who have special needs, and look for online groups that provide support to parents who are homeschooling children that would be considered "behind" in school. You may be able to attend a homeschool conference or convention that has sessions on homeschooling children who have been in special education.
Determine if your child does require special services or interventions, and find ways to provide them if necessary. Homeschooling a child will not help him learn to read better if the problem is that he doesn't see well and needs glasses -- and that's just a simple example of something your child might need.However, consider carefully whether some interventions have been ineffective when offered previously in the school setting. Sometimes school interventions "pathologize" challenges that can be better approached from a more holistic point of view -- letting a child relax and learn at his own pace. Other times you need to seek out similar services once you withdraw a child from school because the services were helpful and needed -- or because you find a different service provider who can be more effective from a different angle.As a homeschooling parent of a child who has been in special education at school, you will be negotiating that space between developing a more relaxed and encouraging approach to learning--and providing the stimulation and resources that address his challenges. Some services and therapies are expensive outside the school setting. This may be a consideration in your decision to homeschool or your decision to homeschool long-term. However, if services were not being provided at a helpful level in your child's school previously, re-enrollment in school in order to qualify for services you find too expensive may not solve the problem.Some school divisions do make services available to homeschooled children in their district, but if services have not been effective when your child was in school, they will be of questionable value when your child is withdrawn from school.
You may falter on some of these recommendations at first as you try different things. This may feel scary. However, the child is 12 and reading on a first grade level after years of schooling. A few more months of your concerted effort to figure out what works may not be an unreasonable risk.
By now, I hope you see that "enrollment in a homeschool program" is not the answer you will find in homeschooling for most children who are withdrawing from school when they are behind or have special needs. The answer usually lies in customizing the learning experience, which sounds intimidating, but the results can be real, and regular parents can do this. Homeschooling programs that require "full enrollment" across the board at one age or grade level are just often too inflexible and "school-like" for this situation, although they can be useful in other homeschooling situations. Programs that help you pick different grade levels for different subjects may be more helpful -- but they probably will still not be as helpful until you and your child have done some deschooling and considered how you can customize just for him.
Homeschooling Not After-Schooling
And yes, I understand that it can be too much for a child to be in school all day and have to work with Mom all over again after school. You have intuitively claimed one of the big benefits of homeschooling for a child who has not had his needs met in school. Involved parents can certainly see many children reap benefits from "after-schooling," but it can be too much for some children who are having intense challenges at school. More is simply too much.
By homeschooling, you and your child will greet each day fresh and with energy for learning together.
I hope this primer on getting started will give you a boost, and I send you my best wishes as you embark on the homeschooling journey with your son.
Save
Save