The idea of hands-on learning is a popular topic in homeschooling circles, on blog posts, on Instagram stories, and in homeschool books.  Young children learn so much when they experience life using all their senses, right? Sensory bins! Lapbooks! Play silks! Costumes! Park days! But then they get older, and it takes more creativity to find hands-on learning opportunities.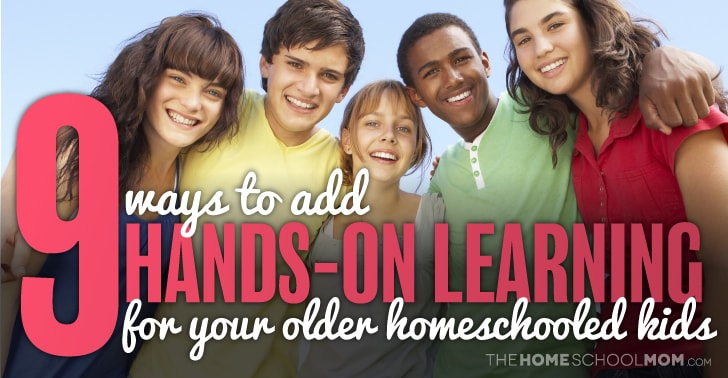 My kids are now 12, 12, and 14 and our days are very different.  And they should be! I love that we have all grown and changed so much. Our days have become intentionally busy will self-directed projects, classes, sports, and other interest-led activities.
One thing that has remained is their need for hands-on learning. We've just updated and tweaked what that looks like these days compared with when they were younger. With some creativity, planning, partnership, and imagination, hands-on learning can be explored in a variety of ways.  I've got nine ways you can cultivate hands-on learning for your older homeschooled kids. Grab your pen and planner, and let's chat!
Make a mess with science: Look, I get it. Science experiments can be messy, time-consuming, and you're always missing that ONE item that you thought you had in your secret homeschool stash. But, most kids LOVE experiments and they can really help drive home concepts too.

Find a science class out of the house. It might be worth the expense of having someone else teach and provide all the materials.  These classes are usually done in a group setting which also lets kids connect and learn from each other.
Start a science co-op with friends! The parents can take turns doing experiments with the kids and the work is divided up among the families.  I've been in a few science co-ops and we always had fun and the kids were excited to get their hands dirty, blow things up, and interact with their friends. I liked the group work, sharing the workload, and having other people teach my kids too.
Subscribe to science kits and have them delivered to your home. There are so many companies that will ship you boxes of science goodies as often as you need them. Again, research topics and companies with your child. Are they into physics? Chemistry? Biology?  Curate an experience that works for them. Figure out if the experiments need parental guidance or if they are designed just for your kid. Some subscription boxes include MEL Science, Steve Spangler Science Club, and Think Outside kits.

Lend a hand or work it out:

Volunteer: A great thing about homeschooling is the flexibility. Volunteering has become a huge part of my teen's weeks and he has learned so much from these experiences. He is heading into his third year as a teen leader at our library, where he helps with projects and presentations for K-5th-grade children. This past summer, he worked at a local children's camp where he did everything—cleaning bathrooms, leading groups of kids to and from activities, helping the staff, and more. He THRIVES in this environment.
Work: There are jobs out there for homeschooled kids--you just need to look! Some companies will even hire 14-year olds. Have a budding entrepreneur? Let them work their business!* Babysit, tutor, find odd jobs around the house or around the neighborhood. Cut lawns or do landscaping. Walk dogs. Get creative! Don't forget to look for an apprentice opportunity with local companies or people that share interests with your teen. Partner with your teen and help guide them.

Act up!:  Do you have a budding writer, director or actor at home?  Why not have them write a play or songs or skits to showcase what they are learning? My teen is helping to write and direct a movie for a local zombie film festival. It's been a great experience! Look for local theater troupes and classes too if your teen really wants to get in on the act (pun intended). Participating in theater productions is an amazing experience. Don't forget the behind-the-scene jobs too: costume designs, makeup, and stage crew--it all counts!
Grow a garden: Got a kid with a green thumb? Get gardening!

Research plants that are native to your area and how to grow and care for them.
Sketch out a garden for your yard, find a local community garden, explore container gardening or even indoor gardening.
Plant and cultivate the garden—this will require math, science (tracking weather), and, my favorite—patience!
Grow veggies, fruits or flowers and sell them at your local farmer's market—entrepreneurship!*

Get cooking (and baking too!): I've had my kids in the kitchen since they were toddlers.  When you spend so much time at home and your kids spend so much time eating, learning to cook is required. I mean, how many breakfasts do you need, kid? Give these ideas a try:

Meal planning and food prep (research and organization skills).
Create a budget (math) and have them cook the meal (math and life skills).
Learn science with baking! Have them research the difference between baking soda and baking powder. Play around with different types of sugars to see how it affects cookie results.
Make food models! Check out this amazing animal cell cake idea! Don't forget crispy rice cereal is GREAT for making all kind of food models too!

Create your own games: Do games play a big role in your homeschool or family time? Make your own games!  A friend of mine has a son who makes incredible board games using pieces from a variety of games, his love of history and a great imagination! You can turn almost any subject into a board game or card game! Amazon sells products that are perfect for "official" looking projects. We've also used simple items from the Dollar Tree store as well.
Design and produce a yearbook: Is your family in a co-op or homeschool group? Have the teens design and produce a yearbook. Take photos, write captions, document activities, interview their friends—the options are endless! The yearbook could be printed or digital.  What a great way to preserve memories and learn at the same time.
Go on BIG adventures: I love field trips as much as the next homeschooler, but let's face it—certain types of field trips and adventures are best suited for older kids. If you've been waiting for your kids to get older to take some big adventures—make a plan!

Discuss all the places your family would like to visit—local, around the country or even internationally!
Make a budget.
Research places to stay, things to do, where to eat, transportation costs, etc. This is a great task for teens!
Document your travels with photos, journals, social media, etc.

Give DIY a try: Do you have home projects that you keep putting off because of time or cost? Why not turn these tasks over to your teen? Between YouTube, online guides, local hardware stores classes, you might be surprised what can get accomplished!

Teach life skills. Raising independent and self-sufficient humans is a good thing.
Save money with DIY on home repairs and projects.
Give kids space to learn new skills. What a great way to contribute to the family.  You might want to consider paying your kid for their time as well. Maybe they will discover a passion for painting, carpentry, plumbing or electrical work.
Seek out mentors—family friends and neighbors who can share insight.
There are, of course, tons of other ways to add hands-on learning to your teens' and tweens' homeschool days. Sometimes, boredom is the BEST way for them to come up with their own ideas.  Just step back and see what happens. Have you experienced this in your home? What are your favorite ways to bring hands-on learning alive for your kids? I'd love to know so please share below!
* Be sure to check the requirements for operating a business in your locality. Dealing with business licenses and taxes may be required, but it is also an important part of a hands-on education.