We all know there are many positives of reading aloud to our kids.
Research has shown that it helps develop social-emotional awareness, a stronger bond between caregiver and child, a more extensive vocabulary, and better overall reading comprehension.
Hearing books read aloud is especially beneficial for kids with learning differences.
When listening, kids can understand books at a higher level than they can read themselves. This opens the door for more challenging material and exploring a variety of genres.
At times, we get so busy with our day-to-day responsibilities that reading aloud tends to be the first thing to go.
The truth is, reading aloud is quite possibly the most important part of our homeschool day.
The relational and educational benefits are second to none.
And just about any subject can be learned through reading.
What's better than snuggling up on the couch with blankets, snacks, and a good book? It beats boring worksheets any day.
Reading aloud doesn't come without its challenges though — especially when you have multiple kids spanning a wide range of ages.
How do you choose what book to read? Do you pick one on the oldest's reading level? The youngest's? What time of day do you read? And for how long? How do you keep them quiet and listening harmoniously?
(Hint: you don't!)
That's what I'm going to talk about today — the nitty-gritty of reading aloud when you have more than one kid.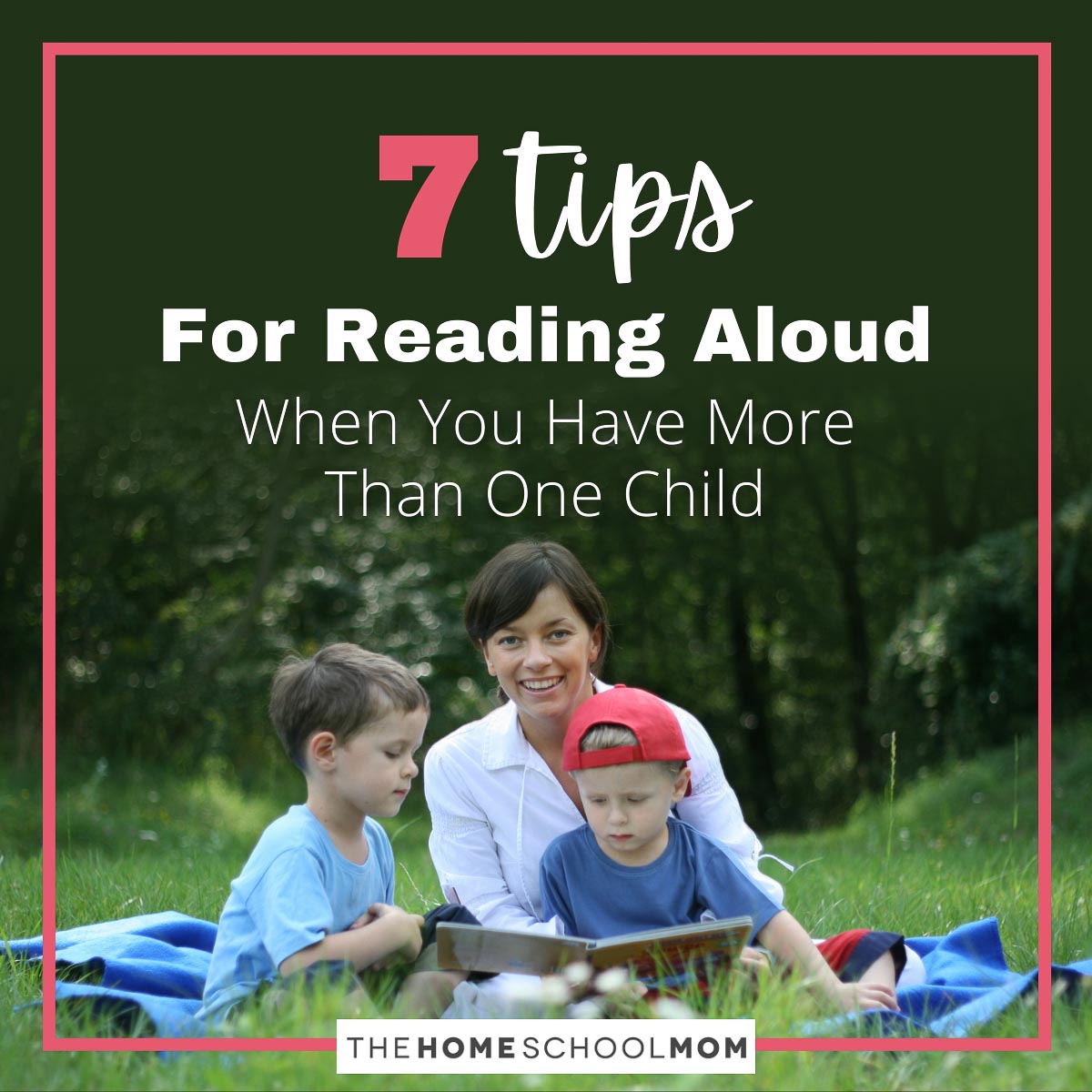 Here are 7 tips for reading aloud to your children.
Jump to:
1. Choose books the whole family can enjoy together.
There are certain books that appeal to any age.
You know the ones.
These are the books that you enjoyed as a child and still love, even today. The books where your kids beg for "just one more chapter". The ones where they listen with rapt attention, from the oldest on down to the youngest.
When aiming for books that everyone will enjoy, choosing books loved by ages 8-12 is the sweet spot. If you need some inspiration, check out Vanessa's favorite book series for 8-12 year olds, Rebecca's favorite book series for 6-10 year olds, or this list of 25 timeless chapter books for kids from Scholastic.
2. Give kids the opportunity to move.
Sitting still is hard for little kids.
Sometimes sitting still is hard for big kids too.
Yes, it can be distracting when you're reading to your kids and they're fidgety and asking a ton of questions.
But, it's normal.
Don't let it deter you. Plan for it.
Give kids the opportunity to move. Let them speak up when they have a thought.
When you sit down to read, bring out the LEGO™ bricks, crayons, or a new jigsaw puzzle. Give them something to keep their hands busy as they listen.
Understand that they're young and interruptions will happen.
Reading aloud is not a race. It's a marathon. 
Think of all the memories you'll make when you cultivate a love of reading together in your home.
3. Pair reading with snack time.
As mentioned above, when you give kids something to do with their hands (and mouths!), you can read together with fewer interruptions.
Snack time is the perfect time for reading aloud.
You can also read to your kids during meals. If you're all sitting around the table at lunch, why not read a few chapters from your family read aloud?
This works especially well for your littlest learners. If you want to read to the whole family at once, whip up some goodies, strap the toddler in their high chair, and let everybody listen together.
4. Try listening to audiobooks.
When you're in a reading rut, audiobooks may be the answer.
Nowadays, audiobooks are accessible from any smart device and in many cases you can listen to them for free.
Here are some ideas for finding free audiobooks.
And Audible has a free story streaming service for kids that they launched at the beginning of the pandemic.
Audiobooks are often narrated by incredibly talented voice actors and are a nice change of pace when you need to change things up.
Pair audiobooks with the above tips — choose timeless classics or fun new reads, let kids snack or play while you read — and you'll reinvigorate your reading routine in no time.
5. Try reading during nap time.
If you're struggling to incorporate family read-aloud time when your baby or toddler is awake, it may be time to consider reading during their nap.
Now, that's not to say your little one should never be included when you read together. Definitely keep reading during their awake time — board books, picture books, and even beginner chapter books, like the Mercy Watson series (affiliate link), are awesome as they enter the preschool years.
But when you've got older kids, it can be hard to read to everyone at once.
Thus, the reason for this blog post.
If the above workarounds don't work, don't be afraid to change the game and break up your reading time until they get a bit bigger.
Read to your older kids while the little ones sleep and read to the little ones while the older kids are off doing other things.
6. Read in the pockets of your day.
As a mom, you're busy. When you have more than one child — be it 2 or 10 — you're reeeaaalllyyyy busy.
For that reason, it can be difficult to find time to sit down and read together as a family.
Let me start by saying this. If it's a choice between hours and hours of textbook learning, don't feel guilty for wrapping that up a bit early and snuggling up on the couch together with a good book.
But, if you're always on the go and time is short, grab the opportunity to read when it presents itself.
If it's 10 minutes while the water boils for dinner, 20 minutes in the waiting room at the doctor's office, or half an hour while your kids are eating lunch — take these moments while you can.
They add up to cherished memories of time spent connecting through shared stories.
7. Let go of the desire for perfection.
Perfection is an impossible standard to hold yourself to.
Yet, we do it all the time.
We have this image in our minds of what family read-aloud time should look like — everyone calm and happy, kids sitting perfectly still and quiet, and Mom narrating a childhood classic flawlessly next to a cozy fire with mugs of cocoa all around.
Sure, it'd be great if read-aloud time went like that every day.
But, it won't. 
The reality is that kids are loud, messy, and ask a tonnnnnn of questions. And your voice will get tired, your patience will wane, and you'll end up frustrated over the dishes sitting in the sink because you just don't have time some days to read AND clean.
Hang in there.
The days are long, but the years are short. And the time you invest now will pay off in the years to come. 
The wrap-up
Reading aloud is a wonderful way to bond as a family.
But in reality, it isn't always so straightforward — especially when you have more than one kid.
Take heart. It's worth it to work through the challenges.
I hope the 7 tips shared above have shown you that it's not only possible but completely doable to work reading aloud into your homeschool routine.
And the rewards are bar none. So get to reading!
What book are you gonna read next? We'd love to know! Share in the comments below.