As fall heads into winter and with the holiday season upon us, you might find that your homeschooled teen's classes are slowing down (just a bit) and that everyone's energy is too. This time of year is perfect for setting aside the normal schedule and having some fun and learning, either as a family or with a group of other teens.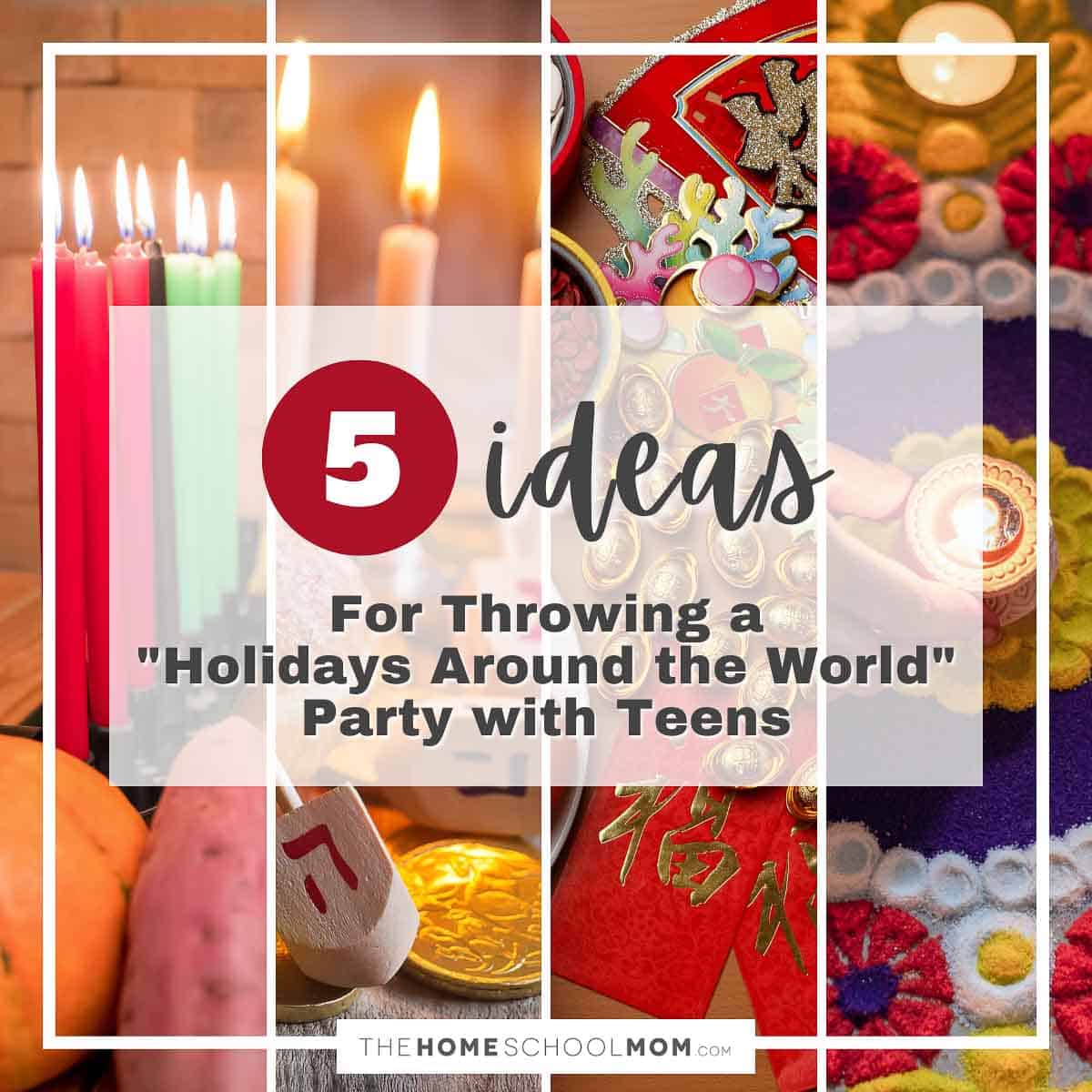 Jump to:
One idea is to throw a "Holidays Around the World" party! This is a great way to combine research, presentation skills, fun, and FOOD! Nothing fancy is required, I promise! Homeschooling provides us with flexibility and options that traditional high schoolers might not have.
Below, I'm sharing 5 ideas plus tips for quickly and painlessly organizing an event that combines history, writing, geography, and more! Let's get started.
Decide on presentation details
Before you even pick a holiday, decide how the presentations will be structured. Canva? Old-school poster board? Light show? (I'm kidding but also homeschoolers do anything).
If you're going to invite other homeschooling families to participate, invite people ASAP to give people time to prep and plan. If you're inviting other teens, find out if they want to work together on a project in teams or work individually.
It will depend on how many people you have and also what the teens prefer. Either way, presentation skills are important and this is a great way to practice.
Pick a holiday
Encourage your teen to select a holiday they don't traditionally celebrate or maybe one they've never heard of. I came across this fantastic site that lists holidays around the world on any given day!
Spend time learning about a few different holidays before choosing one. Be sure to keep a list of the holidays everyone is presenting so that there are no repeats.
Research the holiday
Time to do a deep dive! Your teen can sharpen their research skills by digging into anything they can find and looking at a variety of mediums too.
Here are some ideas to get you started:
Geography: If the holiday they pick is observed in several countries, perhaps chose one or chose a smaller area. Get out the (Google) maps and start exploring. The goal is to learn not just about the holiday, but other countries too.
History: When did this holiday originate? How has it been celebrated throughout time? See if you can find videos to bring history to life. Consider creating a timeline of the holiday if that fits in with your research.
Food and Drink: Did someone say snacks? What's a holiday without food? Not only will they be researching celebratory holiday food and drink, but finding recipes they can make and share with family and friends. This is also a great way to sneak in meal prep, food budgeting, and cooking. Depending on your holiday, check out local ethnic food markets if available. Have them research the meaning behind why certain foods and drinks are used for the holiday.
Music and Art: Find samples and selections of music and art associated with the holiday. This could be an easy find, depending on the holiday, or put your teen's research skills to the test. Have them replicate a piece of art or share what they learn in the presentation. Music is great for a celebratory atmosphere. Be sure to include a song or two! For example, here's a playlist for Kwanza.
Clothing: If there are ceremonial or cultural outfits and adornments, include photos, and videos, or perhaps recreate one on a poster as art! Be sure to learn & share the meaning behind the different aspects of the outfit.
Fun Facts: Are they any random and fun facts associated with this holiday? Don't forget to include them. Your teen could even create a quiz game or flyer for others to take with them.
Prepare
Once your teen has all their research, it's time to prepare. Be certain to leave plenty of time to find supplies, and prepare food, clothing, reports, etc.
If you're hosting a group, check in with everyone to make sure they are on track and to ensure each teen has time to present.
If teens are working together on a holiday, inquire how the work is being split, how they are working together, etc. Again, lots of important skills can be practiced.
Present and celebrate
It's time to present! Enjoy learning about new holidays, trying new foods and drinks, listening to music, watching videos, and learning fun facts. Take plenty of pictures too.
Ask the teens why they chose the holiday and don't be shy about asking questions too. If there's food involved, label the holiday and any ingredients too.
If there's time, create a celebratory playlist of songs from each holiday and have it playing in the background.
Conclusion
Creating hands-on and engaging learning experiences for teens doesn't have to be difficult. Researching and celebrating holidays from around the world is a great place to start. This could become a yearly tradition!
Remember, the research project is your teen's to own—they will not do it as you would. I can almost guarantee it! Parents can also research their own holiday and present too, make it a family affair if you're not hosting a group party. Have fun, learn something new, and try a new food or three.
Embrace the magic and flexibility of homeschooling and connect with your teens too.