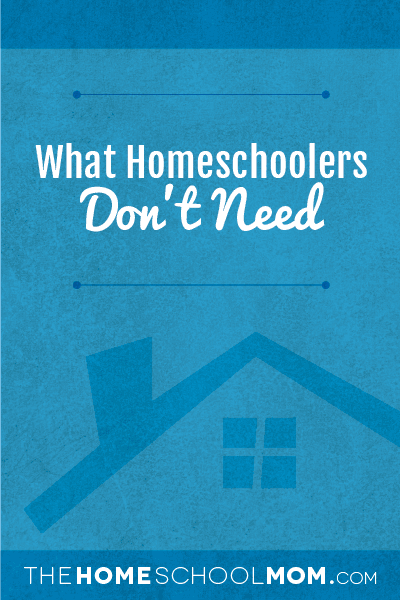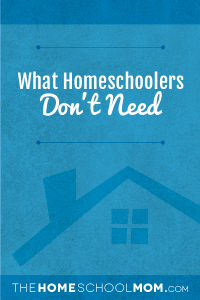 With back-to-school gearing up everywhere, the lists of school supplies are long. Even we homeschoolers can't escape hearing about all of the stuff we need to make this year a good one. Dues for homeschooling co-ops, a new History curriculum, books from the library, field trip plans, lots and lots of erasers…
It's dizzying. And overwhelming.
But have no fear. I am here to bring you some much-needed consolation in all of the school-prep hoopla. Because even though there are plenty of things you can buy and do and have to make your homeschool a success, you don't need to stress. Because the truth is that this homeschooling thing doesn't have to be complex. This two-part series is here to help you focus on something revolutionary:
What homeschoolers don't need!
Part 1 looked at the first 4 things homeschoolers don't need. But that's not all. Yes, you've gotta love this homeschooling thing for what else you don't have to have:
5) Lots of space
Yes, there are homeschoolers who have dedicated "homeschool rooms". And I hate them.
Was that harsh? OK, maybe I don't exactly hate them, but envy is in play, for sure. Having lots of space for homeschooling, with abundant book shelves and cabinets and bins for paraphernalia and projects and separate work spaces for each child – it is the stuff about which I dream. But it's not my, or many homeschoolers', reality.
But that's ok, because lots of space is not a requirement for homeschooling. I've got homeschool curricula in a decorative cabinet in the dining room that is supposed to hold china. The kitchen table makes a perfect desk for everybody. Mom and Dad's bed serves as our reading nook, and books from the library go…well, pretty much anywhere they will fit. Oh, and did I say that we also do a lot of our work on the couch and coffee table?
The truth is that any space you have will work. Sometimes it takes a bit of creativity to figure out how to organize homeschool stuff in small spaces, but homeschooling is about educating within the flow of life. If you have plenty of room for homeschooling, count yourself blessed. If you don't, use what you have. It's not where you are that matters, but what you're doing while you're there.
6) Lots of creativity
Yes, there are plenty of uber-creative homeschool moms out there, who come up with their own curricula and invent cool science projects and make art studios in their basements so that their kids can get the full art experience. I am not one of those moms. And neither are plenty of other homeschool parents.
The truth is, you don't have to have an ounce of creativity to homeschool. There are so many incredible resources out there that will do the creative work for you. You just buy the curriculum, follow what it says to do, and your kids will think you are a creative teaching superstar. Plus, homeschool co-ops, group teaching, and online classes all offer ways to expose kids to different teaching styles that can inject creativity into areas where you as a teacher are lacking. Homeschooling allows you to capitalize on your own strengths as a teacher to your kids, and to supplement those areas which are not your strengths. If ingenuity is not your gift, then just find some structured resources that do the creative thinking for you. The one-on-one, personal individualized teaching from a parent who loves them more than anyone else in the world is a whole heck of a lot more important for kids' success than the teacher's creativity.
7) Lots of resources
Although it is true that homeschoolers tend to become resource hounds, you don't have to have a lot of resources to homeschool. Sure, those cool robotics science kits are amazing, those manipulatives can make Math fun, and those Create-Your-Own-Pyramid kits add pizzazz into History, but they are not necessary to get the job done. I know many homeschooled children (including my own) who have been taught effectively how to read with just one major book: Teach Your Child to Read in 100 Easy Lessons. No DVDs. No puzzles. No sing-alongs. No hands-on activities. Just Mom and 100 Easy Lessons, a little at a time.
The basic resources needed for educating children are fairly few. Home educators are successful using all sorts of simple options: all-in-one curricula, where everything for each subject comes together in one package, books from the library (such as the Charlotte Mason living books approach), and free educational sites on the internet, just to name a few. Many homeschoolers, sucked in by the lure of all the amazing curricula options available at homeschool conventions or used curriculum sales, stock up on resources that they think they can't live without – only to get home and realize they don't have the time and energy to use them, anyway.
You don't have to, and can't, use it all. More important than the number of resources are their quality, and their appropriateness for the learning style of each child. Invest your energy in understanding your particular child's needs and interests, and then choose a proven resource that will best address those needs and interests. One teaching tool, when it is the right tool, can be immeasurably more effective than a whole schoolroom full of great resources that don't work best for your individual child.
8) Lots of socialization
Or, at least, socialization as the world understands it. Homeschool parents, you don't have to surround your children with lots of same-age peer interactions. Research shows that kids do not learn much good from their peers, and they do learn a lot of stuff we don't want them to learn. But, honestly, do you even need research to be convinced? Just take a moment to think back to what you saw and heard on the back of the middle school bus, or in the middle school locker room. Yeah.
The truth is that children are best socialized when they have experiences and interaction with people of a variety of ages, races, backgrounds, and socio-economic statuses. They need to learn how to be respectful of the elderly and tender with the very young and how to have non-competitive, caring relationships with persons of similar ages. They need to recognize and practice the difference in ways of relating out of obedience and respect to adults versus camaraderie and rapport with friends, and how to respond to and appreciate people different from themselves. So instead of trying to fill your kids' time with contrived, not-to-be-found-anywhere-else-in-real-life same-age peer co-ops and sports teams, in order to make sure they are "properly socialized", just give your kids opportunities to interact with a variety of different types of people within the natural flow of everyday life - and then teach them through those interactions. It is, after all, real life, where no one actually lives according to homogenous same-age groups, that we are preparing our students to be socialized for.