Christmas is coming!
This is the time of year I like to snuggle up under a warm blanket, mug of hot cocoa in hand, and binge on all things Hallmark.
My kids love nothing more than writing letters to Santa, seeing the light displays, and participating in town festivities.
With 2020 nearing its end and so many families struggling in one way or another this year, we could all use a little extra joy this holiday season.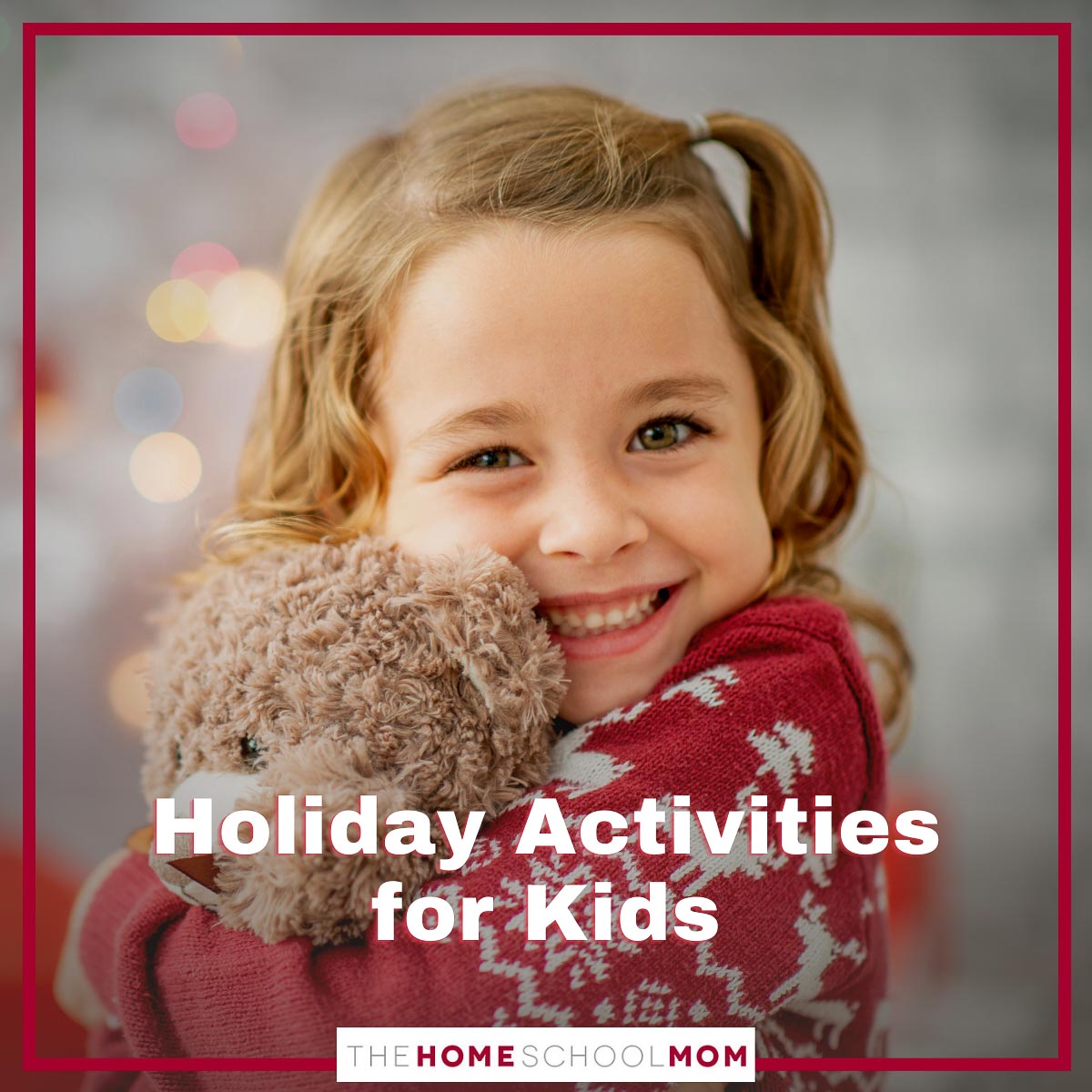 That's why we've decided to put together a handy list of ways to keep the family entertained that are budget-friendly, easy to pull together, and fun for all ages!
Some of these may be tried and true traditions in your home, but who knows? Maybe you'll find some new ideas to add to your calendar this December.
Jump to:
1. Advent Calendar
A familiar favorite for many, the Advent calendar is a fun way to count down to Christmas day. The great thing about advent calendars is that there's one to fit every family. 
You can go with a traditional advent calendar, a Jesse Tree Advent calendar, a character-themed one, or a DIY Advent calendar.
If you go the do-it-yourself route, your options are pretty much endless.
Wrap 24 holiday/winter books and put them under the tree, unwrapping and reading one each night leading up to Christmas.
Or create a December bucket list with a fun family activity to complete each day.
Another idea is to put together a list of random acts of kindness to complete throughout the month with your kids. These can be as simple as "smile at a passing stranger" or "hold the door for someone at the grocery store".
2. Neighborhood Scavenger Hunt
This is a fun game and entirely customizable. Put together a fun checklist for your kids and have them keep an eye out all month long.
Whoever wins can open the first present Christmas morning!
If you'd prefer to promote teamwork, make it a collaborative challenge. Let the kids work together to fill in a family checklist.
Your list can include things like see someone wearing a green scarf, hear Jingle Bells playing on the radio, find an inflatable snowman display in a neighbor's yard, and so on.
These fun finds can be discovered both at home and out and about in the community. Tailor your list to fit your family and you won't go wrong.
3. Holiday Bake-Off
Here's a fun challenge to complete at home.
Either go to the store first—Grocery Game style—for ingredients, or add in an extra layer of difficulty by only using what's already available in your kitchen.
Each family member (or split up into teams if you've got little ones who can't safely use the oven) creates their own Christmas-themed concoction. Points are awarded for both taste and presentation.
Losing team gets dish duty.
Maybe you'll have so much fun, the holiday bake-off will become a yearly tradition.
4. Road Trip BINGO
Going to see Grandma for winter break? Don't worry. We've got you covered for traveling too.
Road Trip BINGO is the perfect screen-free activity to keep the whole family entertained on a long car ride.
We've even got handy BINGO cards—a newsletter subscriber exclusive printables —to print out on card stock and take with you.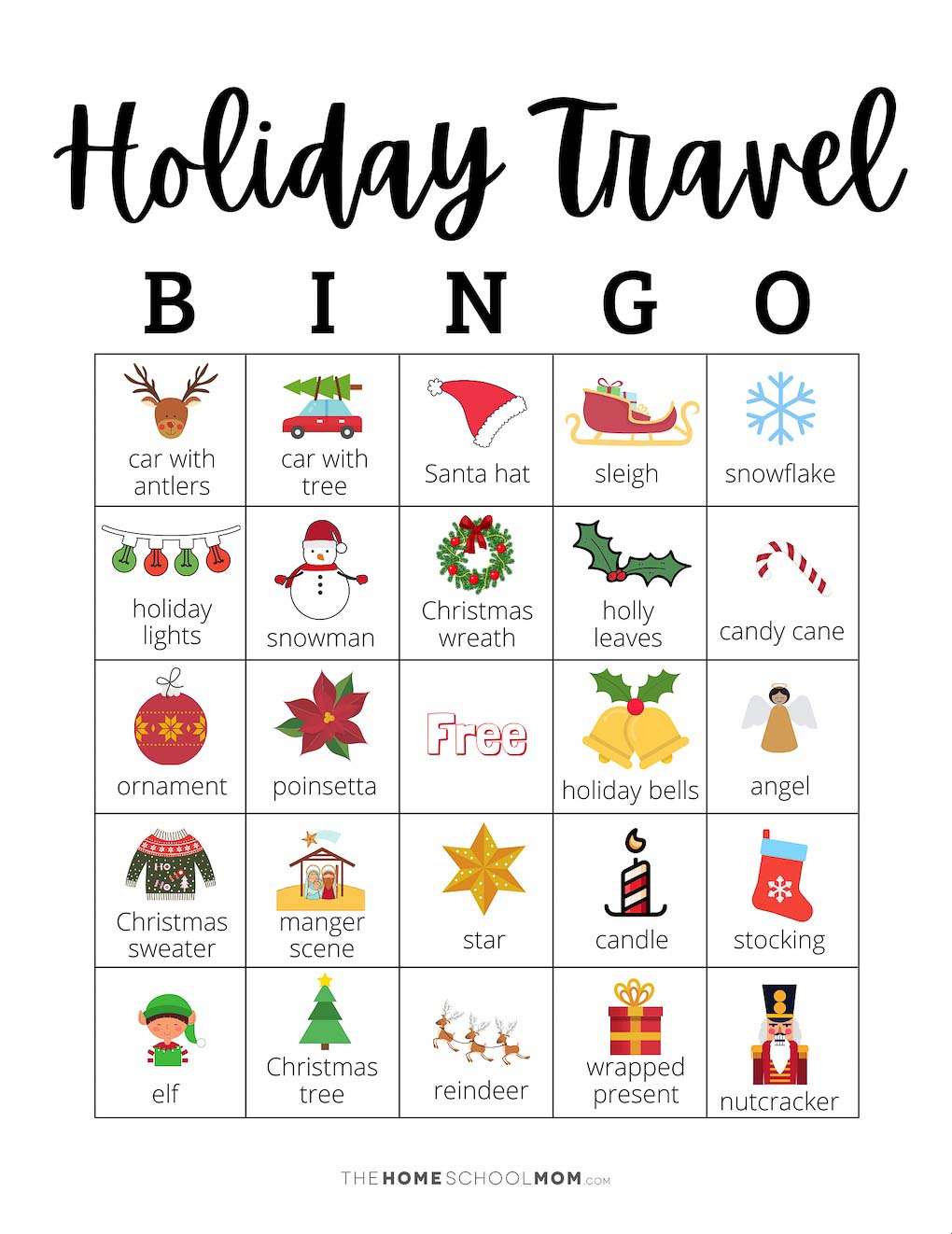 Give everyone a BINGO dobber (the circular markers meant for marking off BINGO cards), a washable marker, or even a crayon to mark off their boxes.
To make the cards reusable, consider laminating them and using dry erase markers.
5. White Elephant Gift Exchange
White Elephant gift exchanges are a great activity for holiday parties, but they can be just as fun at home.
Take everyone to the store and give them a $5 limit, or shop at a dollar store with a $1 limit. Let them pick out a fun and/or funny gift to give to one another.
Be sure to specify whether the gifts should be serious or gag gifts, and consider adding in fun rules like having the gift start with the same letter as the recipient's first name.
Or if you want to keep it simple (and even more budget- and eco-friendly!), let everyone pick a household item to wrap up and give away. Hilarity will ensue as you see what items family members have chosen to exchange.
6. Christmas Light Contest
Does your family like to drive around and look at Christmas lights every year?
If so, you can take it up a notch by giving everyone a notebook and having them rate their favorite setups for 1st, 2nd, and 3rd place. If you're feeling fancy, have your kids render a sketch of their numero uno display.
If you'd like, have the kids create award certificates for the 1st, 2nd, and 3rd place light displays that can be left for the winning homes.
Pick up cocoa and pastries for a night out on the town your family won't soon forget.
7. Snowball Fight
This one is a classic, but classics are that for a reason.
Getting outdoors (fresh air!) and having everyone move their bodies is a great way to spend a weekend afternoon.
If you don't live in a place where there's snow on the ground, you can always make it happen by wadding up a bunch of paper (or cotton balls work too) and having a "snowball fight" indoors. This is a great way to expend some energy when the kids are getting bored, restless, and bouncing off the walls.
The great thing about snowball fights is you can have them all season long - with or without actual snow.
Final Thoughts
The holiday season offers a great reminder to slow down and spend more time together as a family.
You can take the ideas on this list and use them as a jumping-off point to come up with more of your own. Whatever you do, keep it simple. Keep it fun.
From our family to yours, happy holidays!