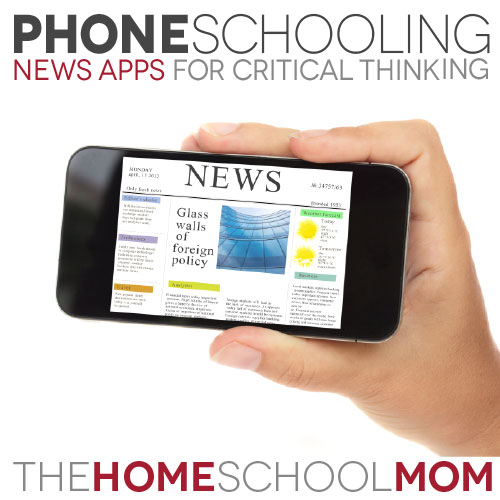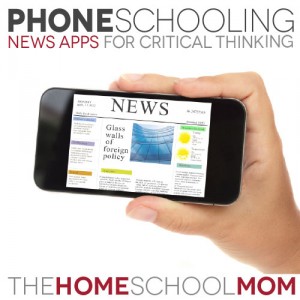 When I was in high school and college, my mom clipped newspaper and news magazine articles for me. She left them for me on the steps to my bedroom or put them in an envelope and mailed them to me at with a handwritten note in the margin -- "Thought you'd be interested in this" or "What do you think about this news?"
Today, I do something similar with my teen and twenty-something sons, only I do it electronically. Most of the articles I share come from the reading I do on my Android phone. After reading an article, I find "share" or "email" on the menu, type in the email addresses I want to share with, and push send.
Basically, these apps stimulate our study of current events, and they have become part of our PhoneSchooling.
My favorite apps for sharing news with my sons are:
Of course, there are many other publications that have mobile apps, and you can choose which ones to use. Most news apps are available for both iPhone and Android.
Sharing news stories often leads to discussions of historical, geographical, political, and sociological context. Long before the word "app" came into general usage, sharing news stories in our household also led to heated kitchen table debates, taking inquiry-based homeschooling all the way to a study of argumentation -- including an exploration of the logical fallacies that might be lurking in a brother's argument.
"But how does homeschooling develop critical thinking?" I'm sometimes asked.
And this is one way it has happened in our household -- the sharing of articles, the discussion, the debate, the analysis of the logic, the weighing of evidence.
I try not to overdo the forwarding of stories -- I sure don't want to be seen as a spammer by my own kids. But they frequently comment in response, and most telling of all, they sometimes email me articles they think I'll be interested in.
This is just about enough to cause me to do a fist pump "Yes!" in its own right, but even better was the day shortly after we got smart phones, when one of my young adult sons emailed me from his apartment to be sure I knew there was a BBC app.
Basically, that was enough for me to feel like my years of homeschooling have been worthwhile.