Your dog, cat, bird, fish, ferret, hamster, or lizard may be a pet unit study waiting to happen. Many children are fascinated by domestic animals, and their strong interest will motivate them to read, write, solve problems, and create projects. Here are some ideas for developing a unit study around our pets.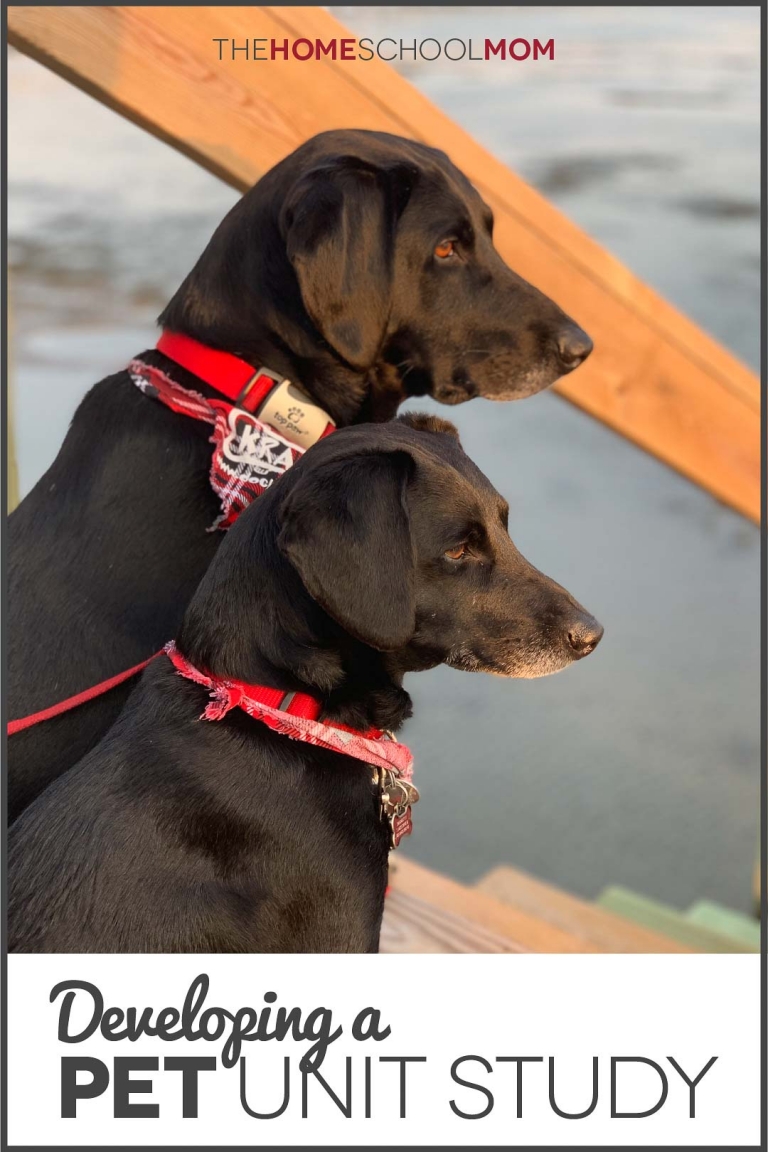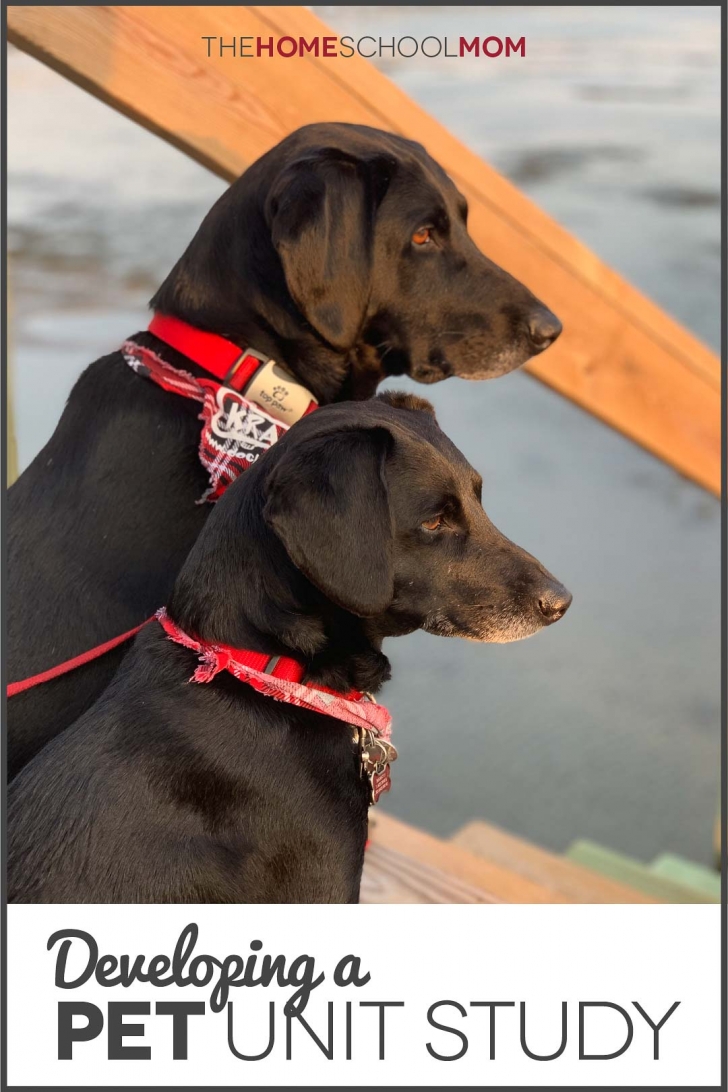 Choosing a pet
When a child wants to add a pet to the family, he or she will be especially motivated to research which pet will fit into the household. I have seen children who had previously been reluctant readers consume book after book on the pros and cons of various dog breeds. I have also read outstanding essays kids have written campaigning for their parents' approval of taking on a more unusual pet, such as a ferret or lizard.
Take your child to the library for books about our companion animals. It's a great opportunity for them to learn what resources are available at the library.
Discuss the choice of a pet. This is also a great early exercise in critical thinking -- comparing and contrasting the impact various pets might have on the household, examining stereotypes about certain breeds or species, and finding evidence to support the assertion that a certain type of pet is the one our family should have.
Pet care
Learning to care for a pet is a great lesson in responsibility, of course. Children can learn about:
grooming
pet nutrition and feeding
providing a proper environment
ensuring the right amount and kind of exercise
veterinary care
Pet care is an opportunity for true hands-on experience, with kinesthetic kids often enjoying playing with and brushing a dog or cat.
Construction and/or setup for a pet can be great learning experiences. With guidance, have your child:
build a dog house
install a cat door
assemble everything needed for an aquarium
build a habitat for a ferret or guinea pig
We understand more and more about how these kinds of activities develop "agency" in children – they have to think ahead and use organizational skills. There is more and more research indicating that these qualities help predict later academic success better than early focus on academic skills!
Even a young child who is mainly a "helper" in a parent-led project can get a feel for the planning and steps it takes to complete the project, sort of acting as an apprentice in getting "executive function" experience.
Arithmetic and business
At its simplest level, having a pet is a financial responsibility that can be demonstrated with a child's basic arithmetic – with an easy record keeping project simply being to add up the weekly or monthly cost of food, vacation boarding, supplies, and vet care.
Many kids also take their enjoyment of pets outside their own home, starting a business as a pet sitter or dog walker. I also knew an older teen homeschooler who raised purebred puppies as a money making venture, and he had a complete business plan, including the guidance of a responsible dog breeder.
Animal behavior
Owning a pet is a window to the world of animal behavior. Parents can help children learn about:
the natural differences in herd animals and pack animals
the differences in behavior of animals that are naturally "prey" versus those which are naturally "predators"
normal animal behavior as well as behaviors that develop because an animal is stressed or ill
"SAT words" can creep into animal behavior conversations early and painlessly – kids love knowing about nocturnal and diurnal animals, imprinting, and dominance hierarchies.
Training
Learning about natural animal behavior often leads to learning about animal training. Again, this is another area where motivated kids will do much research and reading. You can help your children learn how dogs are trained to do specialized jobs today, such as working as search and rescue or therapy animals.
One of my sons learned a lot from taking his dog to several dog obedience classes, and I know a teen who learned a lot about training her border collie to herd sheep from reading books, watching online videos, and later, working with an experienced trainer.
Several of my young homeschooling friends who have kept birds have trained them to "talk," learning a lot about bird behavior and also becoming conversant about "operant conditioning."
Learning about the psychology, intelligence, and responses of animals provides a great platform for high school and college level learning.
Empathy and responsibility
Of course, living with and caring for a living creature means understanding that creature's needs and taking care of them. The fish must be fed, the cat's litterbox must be scooped, the dog needs her medicine. Most children can come to understand the dependence our pets have on their families. Coaching kids to think about "the hungry dog" or "kitten's sore paw" helps them think outside their own personal needs.
Civic considerations – local and state laws
Owning a pet may involve obeying leashing and tagging laws and making sure a barking dog doesn't disturb others. This is a great opportunity to discuss the role of government at the neighborhood and community level.
Some kids also become interested in why certain animals aren't acceptable as pets, which may be enforced by state laws. This can include wild and endangered animals, who can put people at risk or become at risk themselves, if they acclimate to humans and lose natural fear that actually protects them from interaction with humans.
Volunteering and social responsibility
Many children first encounter a sense of social responsibility by volunteering with an animal shelter. They come to understand the overpopulation problem with domestic cats and dogs, and they want to understand the issues and do their part to help.
Learning language arts
Kids with a heart for their pets often enjoy stories about animals. An early elementary years favorite book I can't resist recommending is James Herriot's Treasury for Children: Warm and Joyful Tales, with its vivid stories and luscious illustrations. A Level 3 "Step Into Reading" book your kids may like reading themselves is  The Bravest Dog Ever: The True Story of Balto. There are some heart wrenching classics when your child is ready, such as Old Yeller and Where the Red Fern Grows. Ask your librarian for other fiction and nonfiction books about pets your children will enjoy.
In my years of teaching writing at homeschool co-ops (and helping my own kids learn at home), I've seen kids also find writing about pets to be accessible and enjoyable. Little ones enjoy anthropomorphisizing their own pets in their stories, imagining their cat or dog on an amazing adventure. Let your young child dictate pet stories to you and illustrate the pages of little books you make together.
Reading and writing can be stimulated further when you add the arts. You can find a great list of music about pets at the Songs for Teaching website, and of course, Pinterest is your friend if you want pet-related art and crafts ideas for kids.
Learning science, history, and geography
Naturally, learning zoology is a great opportunity with pet ownership. At the most basic level, kids can learn about the characteristics of mammals, fish, reptiles, and birds. Coloring sheets, notebooking, or lapbooking are all great ways for young children to document this kind of learning.
Science
At a slightly more advanced level, children can begin to learn about organ systems, such as:
respiratory system
circulatory system
skeletal system
nervous system
reproductive system
digestive system
Even more advanced concepts such as genetics can be explored through studying the development of differing dog and cat breeds for different purposes.
History and geography
Studying the domestication of dogs can also cover history and geography, as you and your child watch documentaries and read books to learn where certain breeds of dogs originated and for which purposes they were bred:

herding
retrieving
racing
hunting
guarding

Some kids enjoy taking their own photographs of dogs of various breeds and making a blog or notebook with information about the history and characteristics of each breed.
It's also interesting to learn the continents and countries of origin of companion birds, lizards, and rodents. How did these animals come to live as pets in people's homes?
The health care required for each type of animal also leads to (sometimes expensive) scientific discovery -- you may deal with an egg-bound bird, a lethargic lizard, a fish with ich (ichthyophthiriasis), or a dog with lyme disease. In each case, your child has an opportunity to expand his or her understanding of the physiology of an animal.
Setting up an aquarium is a scientific bonanza, as families learn to provide the right environment for fish to thrive. Learning about the importance of habitat is a great lead-in to environmental science, and the small concepts add up: learning about aeration, filtration, and pH of the tank's water.
Of course, learning about where the various species of fish occur in nature works well with a world map, and you can also study specific habitats such as:

coral reefs
salt marshes
stream, river, and ocean ecosystems

And why in the world do fish come in all these different colors and shapes?
Current events
Our companion animals are frequently in the news, which is a great connection for late elementary and middle school kids. Map the dispatch of search and rescue dogs to other states and countries when they are called upon to work following natural disasters such as earthquakes and storms.
Read articles with your kids such as this one, which discusses new research on how cats are less domesticated and much more similar to their wild cousins than dogs are to their wild cousins.
Studying at the high school level
I've done homeschool evaluations for one family for five or six years, and the daughter is now an older high school-aged homeschooler. Her love for and interest in her parakeet has been a big part of her student learning for years, but last year, she undertook an advanced biology study – ornithology.
In addition to working through a college-level text and completing a beautiful and scientifically detailed notebook about birds, she conducted an original research project about bird habitat. The paper she wrote for the project got her an invitation to present her research at a prestigious high school science seminar, hosted by a state university. She credits her years-long enjoyment of her domestic bird as inspiring her eventual advanced study of ornithology.
Another homeschooled high schooler I know volunteered at the rural veterinarian's office where her cat was treated. With each new experience she had at the vet's office, she did further reading and watched videos to provide herself with context and understanding. She learned about parasitology, microbiology, and the normal anatomy and physiology of cats and dogs.
At a homeschool picnic, I overheard a dad ask her, "What about biology lab?" and she laughed – "My life is a lab." At the vet's office, she was in on everything from surgeries to microscopy – and she actually did do some lab drawings and reports
Other homeschooled teens have brought their issue-oriented papers to their annual homeschooling evaluations with me, including well thought out papers on balancing the needs of animals and humans and the problems of pet over-population.
All of these are excellent ways to earn high school credit.
Formal or informal learning
If your children are passionate about their pets, consider how you can offer them more opportunities to learn through their interest. You can find pet-related projects and badges with specific learning objectives through 4H, DIY.org, Cub Scouts, Boy Scouts, and Girl Scouts, if you prefer a more structured approach. TheHomeSchoolMom.com has a lot of resources and lesson plans for learning about cats.
Another possibility is simply to make a pet unit study less overt, weaving the kids' learning through their interest in their pets into daily life, but using these ideas as possible activities and suggestions for your kids.
Either way, parents can also learn from pet schooling -- all about how interest-based learning works -- something which will enhance your homeschooling for years to come.