Jump to: Homeschool Arts | Homeschool Sports
In addition to the opportunity to get out of the house and socialize, homeschool sports and arts programs can offer long-term benefits by developing characteristics like leadership, self-confidence, perserverance, and self-esteem. Many organizations and businesses have opportunities specifically for homeschoolers, while others invite homeschoolers to participate in their regular programs.
Not sure how to choose activity/activities for your children? Read how Rebecca narrows down the choice of extra-curricular activities.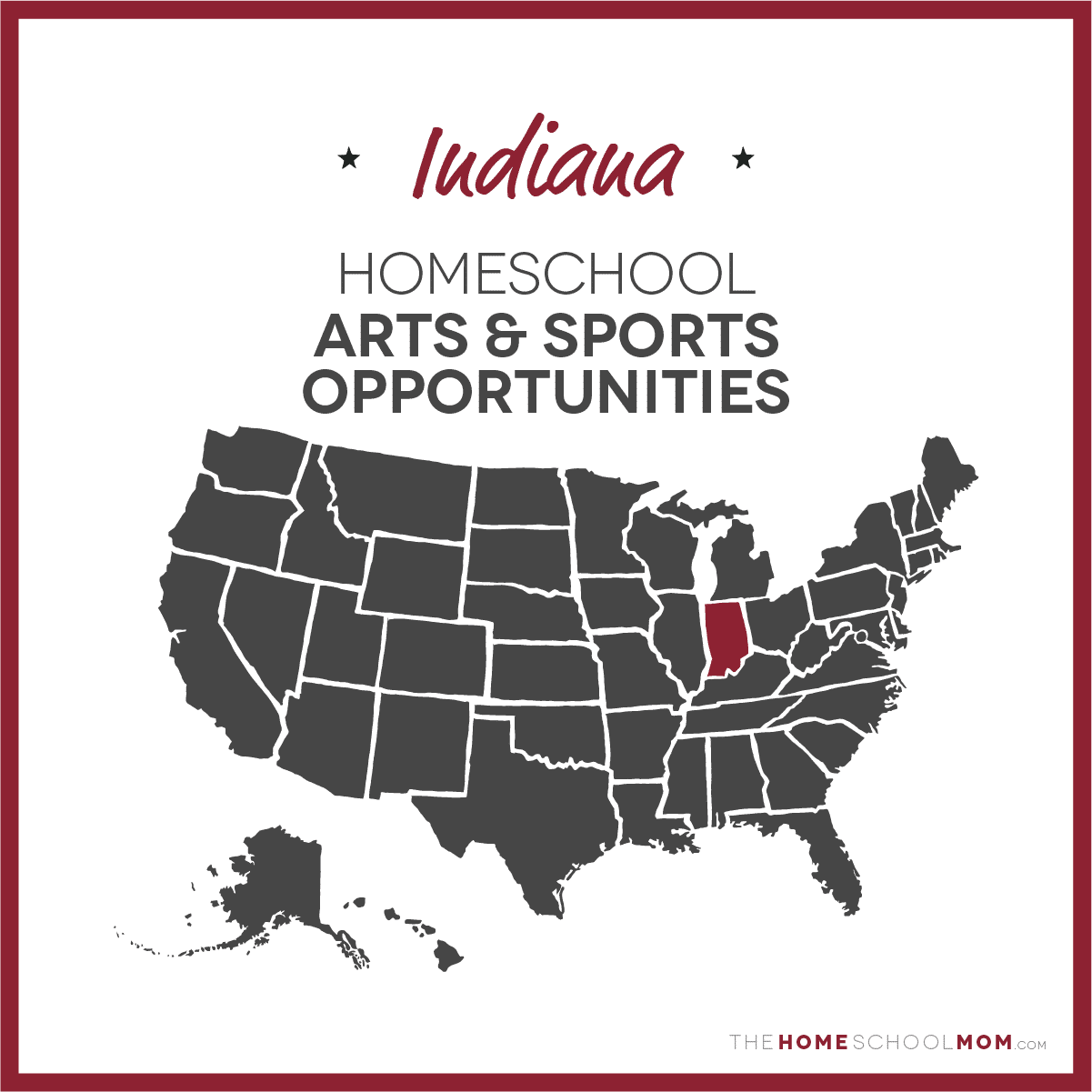 Submit a Local Resource
Our listing of Indiana list of homeschool arts and sports programs is ordered alphabetically by city, with arts in the first section and sports in the second section. If you would like to submit an Indiana arts or sports program, you may do so using the red button above.
Indiana Homeschool Arts Programs
Anderson University Early ConnectionsAnderson/Madison County
Homeschool students can take college classes through LAUNCH and Early STEM programs. The LAUNCH program offers introductory classes on campus to qualifying juniors and seniors in high school for college credit. The Ea...
Dance LegacyAvon, Brownsburg, Zionsville, West Indianapolis
Dance Legacy offers a daytime dance program for homeschooled students.
Mr.C's Music LessonsBloomington
Mr.C teaches beginning music students on many different instruments. Lessons are available for private and group and at home or at studio. Mr.C is a licensed and experienced K-12 instrumental and general music teacher...
Buskirk Chumley TheatreBloomington
Cardinal Stage focuses on nurturing a lifelong passion for the theatre in audiences of all ages, cultures, and economic backgrounds by investing in audiences of tomorrow and increasing access to underserved population...
Piano Lesson for Home School Students with Joni ChanBloomington
Piano Lessons offered during morning and afternoon hours for age 5+. One recital each semester plus other studio class performing opportunities. DMA graduate of the Jacobs School of Music.
Bridges Musical Arts Youth OrganizationBloomington
Local youth music organization with programs that include youth orchestras: chamber strings (violins, violas, cello, bass) and full orchestra (strings, brass, woodwinds, harp, percussion) as well as Zimbabwean marimba...
School of Rock CarmelCarmel
School of Rock offers students of all skill levels age 7-18 a performance-based music curriculum in a fun environment. Weekly private lessons are combined with structured group rehearsals. Students prepare to perform ...
Performance-based music programCarmel
School of Rock offers students of all skill levels age 7-18 a performance-based music curriculum in a fun environment. Weekly private lessons are combined with structured group rehearsals. Students prepare to perform ...
Classical Ballet Daytime Classes ages 6 and upCarmel
Performer's Edge Dance School along with Sarah Woolgar Movement Arts and Ballet Theatre of Carmel offers a Classical Ballet Daytime Education for ages 6 and up for the beginning student through pre-professional. The b...
Meridian Music SchoolCarmel
Meridian Music School can help you or your child become a musician! Our team of experienced, highly-qualified, and enthusiastic music instructors will guide you on this journey with one-on-one in-person or online less...
Phil Lashley, guitar instructorCarmel and Noblesville
Phil Lashley is a guitarist in the northern suburbs of Indianapolis and performers a wide variety of musical genres. Mr. Lashley is also a teacher with 25 years experience teaching students of all ages, levels and sty...
Simply Music classesCrown Point
Simply Music is a revolutionary, Australian-developed piano and keyboard method that presents a breakthrough in music education. Simply Music sets a new standard in music education, and explores learning piano, playin...
Expressive Dance AcademyEvansville
Offering a quality dance program teaching valuable lessons in respect, team building and commitments. Dancing sets the foundation for good work ethics and a heart for enriching the lives of others through performance....
Foundry HomeschoolEvansville
The Homeschool and Virtual Learning program at the Foundry is a 12 week drop off program for 1st - 10th graders. Drop off is at 12pm and pickup is at 3pm. ​ You can choose one of two days. $185 and all supplies includ...
Stage I Dance AcademyGreenwood
A local dance studio out of Greenwood, IN that has been sharing the love of dance for over 55 years. New homeschool daytime program offering dance classes for ages 2-18. Providing a nurturing environment where dancers...
Lindsay Davis Piano - Private Piano InstructionHamilton / Madison County
Interested in Piano Lessons? Students of all ages will have fun while working hard to build their musical gifts! 30, 45, or 60 minute lessons available Monday - Fridays Mornings, Afternoon, Evenings An Indy-native, Li...
ArtJack Creative StudioHamilton County
ArtJack Creative Studio is a creative collective in Fishers, IN offering classes, events, parties and open studio times. Homeschool groups may contact ArtJack directly to find an ongoing time for a class or participat...
Stumpf Music StudioHamilton/Butler County
Private Music lessons - piano, voice, handbell, organ and music theory lessons taught in the teacher's home studio. High School music theory curriculum also taught. Request daytime and evening lessons at https://pamst...
Books, Brushes & Bands for EducationHammond
Since 2000, Books, Brushes & Bands for Education has attracted thousands of public, private, parochial and home school students from ages 5 to 18 to experience excellent instruction and performance opportunities. ...
Homeschool Family/Group Pottery or Fused Glass ClassesIndianapoliis
Family and group pottery or fused glass classes held at 4550 Central avenue, Indianapolis. Register for your own family time for only $60. Reserve one hour time blocks for your family of up to six participants. Work i...
Christian Youth Theater - IndianapolisIndianapolis
Christian Youth Theater (CYT) is an after-school theater arts training program for students ages 4 - 18. CYT is a non-profit 501(c)(3) educational organization funded primarily through its tuition, ticket sales and ou...
Bongo Boy Music SchoolIndianapolis
Group Music Classes for homeschool children Starting in September on Tuesday afternoons. Class includes: A progressive rhythmic and melodic curriculum, will be based on the Indiana State Music Standards, and lessons w...
Indiana Fine Arts AcademyIndianapolis
The Indiana Fine Arts Academy offers premier music, dance, art, and theater instruction to the community. Students range in age from four years all the way to senior adults. Providing a wholesome Christian environment...
Center Grove Fine Arts AcademyIndianapolis
"Building Individuals Up - Through Fostering Relationships - and Growing Artists" Center Grove Fine Arts Academy, Inc. (CGFAA) began as an extension of the Worship Ministry of Center Grove Church. In 2018, CGFAA becam...
Hastings Chamber PlayersIndianapolis
Hastings Chamber Players provides high quality instruction for violin, viola, chamber music, and music for young children on an ongoing basis. Private instruction is available as well as group lessons. Parents are enc...
Ripple Mobile Arts: Design your own Family art classesIndianapolis
Small group art classes at my studio specifically designed for homeschoolers. Up to six students in a class for only $60 an hour. Focus on the Pottery wheel, handbuilding and clay, fused glass, recycled art and stem a...
Indianapolis Art CenterIndianapolis/Broad Ripple
Offering a Homeschool Art Program, built to provide high-quality and flexible visual art education that encourages students to lead in their art education and art making. Following the Teaching for Artistic Behaviors ...
The Arc Of Greater Boone County Art ClassesLebanon
The Arc is offering year long art classes located in Lebanon, IN. Classes are offered on Monday's and Wednesday's from 4-5.30 pm. Cost is $65.00 for a 5 week program. Budding artists learn about art history, sketching...
Havens Piano StudioMichiana
Learn to play the piano with Carole "Kelly" Havens, a Michiana area professional pianist and certified K-12 music teacher! Offering 1/2 hour lessons in your home (branching out from Granger area) for all ages and levels.
Lakeshore School of Performing ArtsMichigan City
We are an after school music and dance school owned and operated by a homeschool family. We offer classes in piano, violin, ukulele, voice & guitar, as well as dance with competitive dance teams and tumbling/acrob...
SW Indiana Music InstructionPrinceton
Music instruction with Alice Hammond, previous homeschool Mom and teacher (with a degree in teaching). Ms. Hammond offers her home music studio to students who have an interest in learning to play. Music instruction f...
The Classic Harpist: Harp and Piano LessonsSouth Bend
Individualized instruction in piano and harp for students ages four and up. Rental harps are available. There are opportunities for performances, exams, and contests.
Tina Mangos ArtsWestfield
Tina Mangos Arts holds art classes for youth in Westfield, Indiana for ages 10+. As the lead teacher, Tina has been in education for over 35 years in art, dance, and fitness, and is a certified teacher. In addition, t...
Indiana Homeschool Sports Programs
Kids Play GymBloomington
Kids Play Gym is an inclusive sensory gym, geared towards kids 10 and under (with Sensory-Friendly Nights Wednesdays 3pm-7pm open to 15 and under). They have a ball pit, a climbing wall, a sensory ... [Read more...]
Bloomington Bobcats Athletic AssociationBloomington
We are a homeschool athletic association in the Bloomington area. We offer soccer, cross country, basketball and track. If you are interested in participating in any of these sports (ages 9-19) ple... [Read more...]
Hagen's Custom Golf Home School ProgramBronson
We are excited to offer Home School Students and Public School students a new golf learning experience that will help them build confidence, develop golf skills, life skills and better athletic mov... [Read more...]
Tiger Homeschool Tennis Lessons and MatchesCarmel
Tennis lessons and matches open to boys and girls ages 7-19. Students learn how to do a proper forehand, backhand, volley and how to serve proper technique and instruction. Beginners learn to keep ... [Read more...]
Tiger Tennis Homeschool Tennis Teams for all kidsCarmel
"Blessed is the person who preservers under trial" James 1:12 Lessons and school matches for boys and girls age 5-19. Students learn how to do a proper forehand, backhand, volley and how to serve p... [Read more...]
Mountain Martial Arts & Wellness Center homeschool sports programCarmel
Mountain Martial Arts & Wellness Center is a family owned martial arts school that provides convenient middle of the day classes for homeschool children ages 8-14. All classes are taught by Mas... [Read more...]
Midwest Training Ice centerDyer
Largest State of the Art Training facility for Ice Hockey, Figure Skating, Gymnastics, Trampoline & Tumbling in the region. Offering 1-hour weekly classes in Gymnastics, Trampoline and Tumbling... [Read more...]
National Flag Football - ElkhartElkhart
National Flag Football is the largest NFL FLAG affiliate organization in the country. Offering programming designed exclusively for boys and girls Pre-K through 8th grade. This program provides a s... [Read more...]
DeVeau's School Of GymnasticsFishers
DeVeau's School of Gymnastics is Indiana's largest gymnastics academy. DeVeau's has been in business and family owned for over 30 years. With over 50,000 square feet, there is a wide variety of act... [Read more...]
Wright's Gymnastics CompanyGreenwood
Wright's Gymnastics Company has been in business for over 40 years currently serving the communities of Noblesville, Westfield, Geist, Indianapolis and Greenwood. They offer Gymnastics, Ninja, and ... [Read more...]
Circle City Cougars VolleyballGreenwood
The Circle City Cougars is an organization that offers competitive girls volleyball to families who homeschool. The Cougars play against other homeschool teams and Christian schools in and around I... [Read more...]
Dana Mannix GymnasticsIndianapolis
Gymnastics classes focus on balance, strength, coordination, speed, basic gymnastics and trampoline skills. [Read more...]
Indy Genesis - Homeschool SportsIndianapolis
Indy Genesis provides homeschool sports to youth at the elementary, middle school, and high school levels. Genesis has existed for 10+ years and is the largest homeschool sports organization in Ind... [Read more...]
Indianapolis Wildcats BasketballIndianapolis
We offer competitive basketball programs for boys and girls from 4th through 12th grade. A common misconception is that homeschool athletics is a non-competitive arena. THIS IS WRONG! Yearly the Wi... [Read more...]
Indy Metro MustangsIndianapolis
The Indy Metro Mustangs is a Christian homeschool volleyball organization that offers competitive girls volleyball to families in and around the surrounding Indianapolis, IN area. With three team l... [Read more...]
Living Water Marlins Basketball and SoftballIndianapolis west/Hendricks Co
Living Water Marlins provides competitive basketball for homeschooled boys and girls in a nurturing environment, as well as Indiana's only varsity softball team for homeschooled players who wish to... [Read more...]
National Flag Football - New HavenNew Haven
National Flag Football is the largest NFL FLAG affiliate organization in the country. Offering programming designed exclusively for boys and girls Pre K through 8th grade. This program provides a s... [Read more...]
Premier Martial ArtsNoblesville
Premier Martial Arts Noblesville is a locally, family-owned business. PMA specializes in character development and life skills for children and fitness and self-protection for adults. The staff bel... [Read more...]
Portage Christian High School SoccerPortage
Portage Christian School is accepting athletes in the High School soccer program for the 21-22 season starting now. Also opportunities to play the 21-22 indoor club season starting in October. [Read more...]
Go to...