Field trips are a great way to reboot a bad homeschooling week, get out of the house when everyone has cabin fever, and learn about your local area. Before heading out, check out Jeanne's tips for improving homeschool field trips.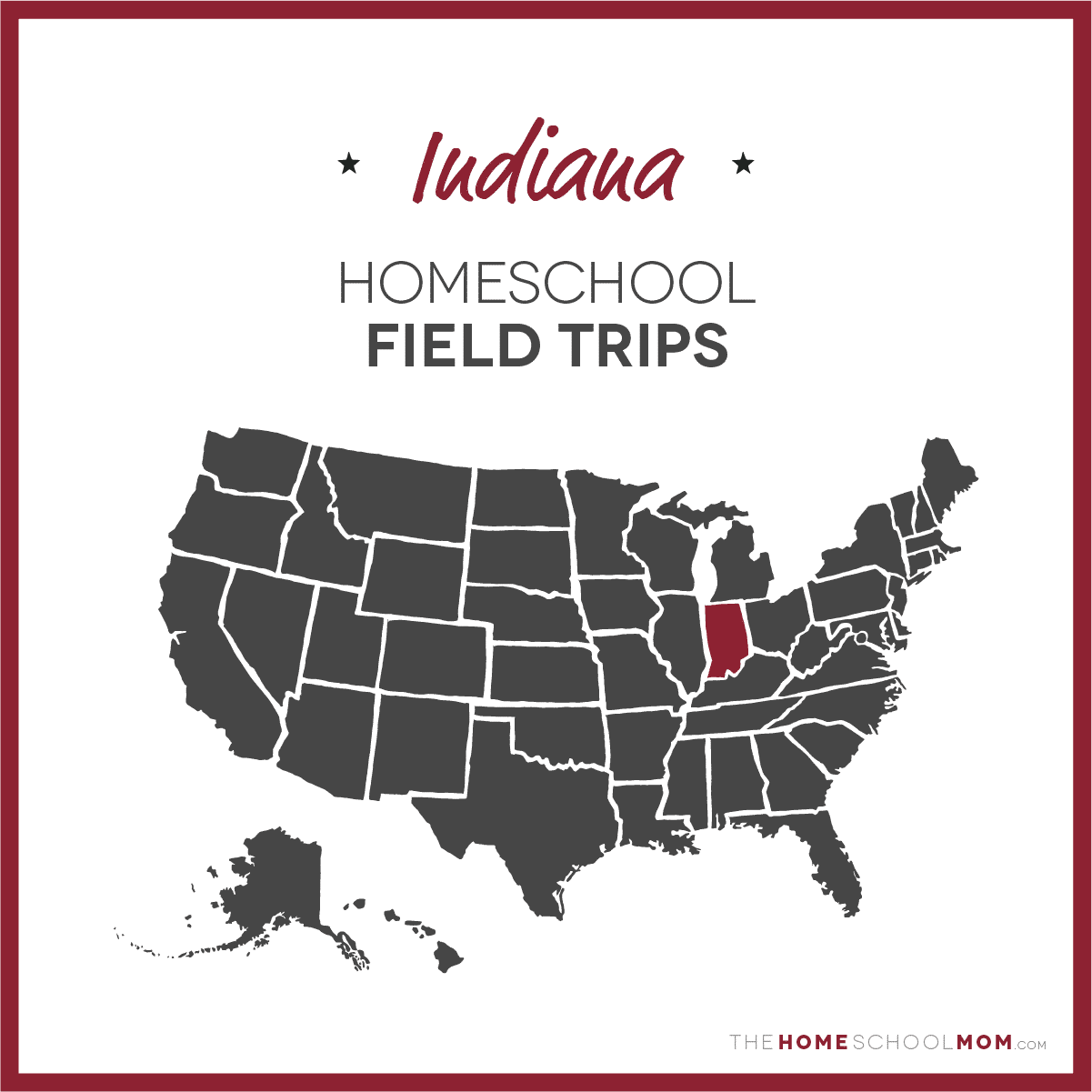 Submit a Field Trip Destination
Our listing of Indiana field trips for homeschoolers is ordered alphabetically by city. If you would like to submit a Indiana field trip destination, you may do so using the red button above.
An asterisk * after the title indicates that a virtual field trip is also available.
Black Pine Animal Sanctuary

Albion

Black Pine Animal Sanctuary exists to give rescued and retired exotic animals a safe haven, and to educate people and enhance their knowledge of exotic and endangered species, and responsible pet ownership.
Chain O' Lakes State Park

Albion

The park is a boat lovers paradise and offers boat launch ramp, boating (electric motor only), a nature center, shelters, canoe rentals, paddle boating, Kayaking, row boating, cross-county skiing, fishing, ice fishing, hiking trails, swimming, and a beach.
Mounds State Park

Anderson

Mounds State Park features 10 unique "earthworks" built by a group of prehistoric Indians known as the Adena-Hopewell people. The largest earthwork, the "Great Mound", is believed to have been constructed around 160 B.C. Archaeological surveys seem to indicate it was used as a gathering place for religious ceremonies. Visitors enjoy a Visitor Center and Gift Shop, picnic shelters, hiking trails, fishing, a camp store, and swimming.
Anderson Center for the Arts

Anderson

The Anderson: Provides outreach programming to seniors in assisted living facilities and nursing homes through a program called "Senior Explorations in Art" and to at-risk students through after-school art lessons. Offers a variety of classes and workshops for children and adults. Collaborates with other arts organizations throughout Indiana on exhibitions and arts programs and with other community organizations in Madison County to provide events such as Winterfest, Pow Wow, and more. Brings in artwork and artists from areas such as New York, Los Angeles, and even internationally for the enjoyment and educational stimulation of our community. Holds and displays a permanent collection of visual artworks. Develops and presents events for the community such as Pay Less Oktoberfest and Holiday Open House. Is a premier location to hold events such as corporate off-site meetings, wedding receptions, and other special occasions. Has a special area for children and families to visit and participate in experiencing and creating art and providing a unique location for children's birthday parties.
Pokagon State Park

Angola

The park is named after Leopold and Simon Pokagon father/son leaders of the Potawatomi tribe. . Pokagon park is considers a winter wonderland, with cross-country ski rental, sledding, ice fishing and a twin-track toboggan run.
National Automotive and Truck Museum of the United States

Auburn

Welcome to the National Automotive and Truck Museum of the United States located in Auburn, Indiana. NATMUS is a non-profit museum with emphasis on post World War II cars and trucks but with vehicles on display from 1908 "high wheelers" to current production pick ups. Also you will find inside the doors of NATMUS a Model Car / Truck & Toy Museum (NATMATMUS).

National Automotive and Truck Museum of the United States website
National Military History Center

Auburn

Home to the WWII Victory Museum. Never, in the history of the world, has a fighting force consistently shown so much compassion, vision, and courage. Never have men and women so willingly given of themselves that others might enjoy the fruits of liberty.
Hillforest

Aurora

Hillforest, overlooking the Ohio River, was the home of industrialist and financier Thomas Gaff and his family between 1855 and 1891. Shipping and riverboats were significant elements of the Gaff business enterprises and are reflected in the architecture of the home. Note the third floor belvedere resembling a pilot house. The style is Italian Renaissance, completely symmetrical and characterized by broad overhangs, ornately carved brackets, arched windows and graceful balconies and porches.
Wolf Park

Battle Ground

Wolf Park offers a Field Trip Experience like no other! This program includes a private tour of Wolf Park's facility to see our gray wolves, red foxes, gray foxes, and bison (approximately 60 minutes) and a husbandry demonstration in which our wolf keepers interact and train with one of our wolf packs (approximately 15-20 minutes). This program is excellent for all ages, school groups, summer camps, or senior excursions. For groups of 30 or more people. Scheduling restrictions apply. Please call for pricing for your group.
Indiana University Art Museum

Bloomington

No matter what your perspective, you can experience art from all angles at the Indiana University Art Museum. From world-renowned architect I.M. Pei's soaring triangular atrium, to galleries filled with extraordinary works of art from all corners of the globe, the IU Art Museum will engage, stimulate, and satisfy your curiosity about the worlds of art.
Mathers Museum of World Cultures

Bloomington

Want to take a trip around the world? Then check out the Mathers Museum of World Cultures, at Indiana University. The Museum has exhibits, events, and educational programs that give you a chance to learn more about objects from Australia to Zimbabwe...
Monroe County History Center

Bloomington

The History Center is a building in downtown Bloomington, Indiana, one block east of the Square at the corner of 6th and Washington Streets. It is home of the Monroe County Historical Society, the museum, genealogy library, and store
WonderLab Museum

Bloomington

The WonderLab mission is to provide opportunities for people of all ages, especially children, to experience the wonder and excitement of science through hands-on exhibits and programs that stimulate curiosity, encourage exploration, and foster lifelong learning.
Wylie House Museum

Bloomington

Built in 1835, Wylie House was the home of Indiana University's first president, Andrew Wylie, and his family. Today it is a historic house museum recreating the Wylie home prior to 1860. The house is distinctive and unusual for south-central Indiana, a blend of Federal and Georgian styles of architecture. The mission of the museum is to preserve and study the house, artifacts and documents and through them to interpret for the public our local history and domestic heritage as it is embodied by the early Wylie home.
Ouabache State Park

Bluffton

Ouabache pronounced "wabash" is the French spelling of an Indian word Visitors to the park enjoy a nature center, picnic shelters, picnic tables, fishing, boating, hiking trails, paved bicycle trails, a swimming pool, tennis courts, basketball courts, volleyball courts, and playgrounds .
Warrick County Museum

Boonville

A repository of treasured momentos and priceless artifacts from our history, assembled and exhibited for the pleasure and education of present and future generations.
Camp Tecumseh YMCA

Brookston

Camp Tecumseh, a beautiful setting on the Tippecanoe River, serves over 36,000 guests of all ages, every year. The Groups, Conferences and Outdoor Education teams are eager to host homeschool co-ops and groups.
Huddleston Farmhouse

Cambridge City

Tours of the Huddleston Farmhouse highlight the history of farm life and commerce during the nation's great westward expansion along the historic National Road.
The Museum of Miniature Houses and Other Collections, Inc.

Carmel

Come and see what is on display today! Explore our gift shop, which offers fine and unusual miniatures, books and periodicals about miniatures and dollhouses. Visiting children can play the Museum Treasure-Hunt Game.

The Museum of Miniature Houses and Other Collections, Inc. website
Charlestown State Park

Charlestown

Visitors to the park enjoy hiking the rugged terrain to view Devonian fossil outcrops and areas of Karst sinkhole topography. Bird watchers enjoy the 72 species of birds, including bluebirds, black vultures and an occasional Bald Eagle.
Indiana Dunes State Park

Chesterton

The park is aptly named by the presence of large sand dunes. Visitors enjoy a Nature Center, picnic shelters, cross-country Skiing, fishing, hiking trails, swimming, a beach, and birding.
Falls of the Ohio State Park

Clarksville

The 386-million-year-old fossil beds are among the largest exposed Devonian fossil beds in the world. The park features a spectacular interpretive center overlooking the fossil beds. Inside you will find a 14 minute movie, an exhibit gallery with river and marine aquariums.
Atterbury-Bakalar Air Museum

Columbus

The Atterbury-Bakalar Air Museum Complex preserves history, educates and honors those in uniform who serve and have served.
Bartholomew County Historical Society

Columbus

The mission of the Bartholomew County Historical Society (BCHS) is to collect and preserve Bartholomew County artifacts, photographs, and documents. Through interpretive programs and displays, BCHS teaches the heritage of this region to enrich both present and future generations. Our goal is that we may know who we are today based on where we came from yesterday.
O'Bannon Woods State Park

Corydon

The O'Bannon Woods State Park offers visitors a Nature Center, picnicking shelters, horse trails, picnic tables, fishing, boating, hiking trails, and a family aquatic center.
Corydon Capitol State Historic Sites

Corydon

After Vincennes, the first territorial capitol, was isolated, the capitol was moved to Corydon because of it's central location. Visitors will learn about the beginnings of Indiana history when visiting this limestone capitol building.
Old Jail Museum

Crawfordsville

Hailed when it opened in 1882 as an Industrial Age solution to the problem of housing prisoners safely and efficiently, the Rotary Jail of Montgomery County was one of only seven known prisons of its kind ever built in the United States. By rotating a mechanism on which a two-tiered turntable pivoted, a jailer could bring one of 16 pie-shaped cells to the opening, allowing a prisoner in or out. Today, the Old Jail Museum pays homage to a time when ornamentation and invention were seen as the solution to social ills. Come explore this curiosity of our past.
Lake County Historical Museum

Crown Point

Showcases a variety of memorabilia representing the origination of Lake County and its developing years. Featured are artifacts that stand as a reminder of earlier ways of life in Lake County: farm implements, clothing, musical devices. Also features unique Lake County artifacts, including the enormous clerk's desk where several famous people such as Rudolph Valentino received license to marry in Crown Point, Indiana. Also available for viewing are the family Bibles of Mariah Evans Robinson (wife of Crown Point founder Solon Robinson) and of Reverend Timothy Ball. Another feature is a full-size replica of the canoe that the French explorer LaSalle used for explorations; this replica canoe was used in an actual voyage in 1976 which re-enacted LaSalle's exploration. A Washington Printing Press, the last edition of the Guttenburg Press, is also displayed.
Carroll County Historical Museum

Delphi

The Mission of the Carroll County Historical Society is to acquire and preserve the History and Genealogy of Carroll County, Indiana, and promote the understanding to the Region, State and Nation, convey and teach the significance of Carroll County, Indiana's history to children and adults with exhibits, programs, research and genealogy.
Midwest Museum of American Art

Elkhart

The Midwest Museum of American Art is a showcase of the 19th and 20th century American Art, with original paintings by Grandma Moses and Norman Rockwell. Along with the original Norman Rockwell the Midwest Museum houses a large collection of hand signed lithographs by this famous American artist. In all, the permanent collection numbers over 2,500 works with at least 600 on display at any time during the Midwest Museum's 52 week year.
New York Central Railroad Museum

Elkhart

Elkhart's National New York Central RR Museum recaptures the days when locomotives were symbols of progress, and ambassadors of goodwill across the country. The Museum was founded in 1987 and is an ever growing preserver of both local and national railroad heritage. Elkhart is a natural home for the museum; its railyard is among America's largest. Then, just as it is today, Elkhart was and is a vital link between East and West during our country's growth. Visitors enter the Museum through a 1915 passenger coach. This area introduces a timeline to the local railroad history beginning in 1833 with the Lake Shore and Michigan Southern RR, and tracing it through 1914, when the New York Central gained control of the LSMS. At the end of the coach, the path leads through the Central System Gift Shop and into the Museum's main gallery in an 100 year old freight house complex.
Woodlawn Nature Center

Elkhart

Woodlawn Nature Center is dedicated to the preservation and conservation of Indiana's native flora and fauna through hands-on education.
ETHOS Science Center

Elkhart

ETHOS Science Center is an Elkhart-based non-profit dedicated to helping children learn and love science. ETHOS offers many types of field trip experiences, including the Star Lab (an inflatable observatory), C.S.I Investigation, Rocketry & Flight, and Nanotechnology & Hologram Exploration. There is also a "mini-museum" made of donated exhibits. ETHOS Science Center will customize your experience to meet local science standards, topics, or any other ideas you may have.
Reitz Home Museum

Evansville

Indiana's only Victorian House Museum is noted as one of the country's finest examples of French Second Empire architecture. Authentic period furniture, much of it original, is arranged as if the family is about to return.
Evansville Museum

Evansville

Home to one of Southern Indiana's most established and significant cultural centers, the Evansville Museum encourages you to view our lively world through our many permanent and changing galleries.
James Dean Memorial Gallery

Fairmount

Established in 1988 in the actor's hometown and final resting place, this extensive exhibit is the private collection of James Dean archivist David Loehr, who began collecting in 1974. The collection is housed in a beautifully restored 1890 Victorian home. The exhibit consists of literally thousands of items of James Dean memorabilia and gives visitors the opportunity to see the worldwide impact that this Indiana native and American film star has made.
Fairmount Historical Museum

Fairmount

Displays artifacts related to the town, its families, and schools, the museum also holds many pieces related to and once owned by James Dean and his family. These include awards, clothing, motorcycles, and much more. In addition, the museum houses a tribute to another Fairmount native, Jim Davis and his creation, "Garfield."
Conner Prairie Living History Museum

Fishers

Conner Prairie is a place to hear, see and participate in the stories of our American past. It's a large, open-air living history museum made up of five distinct historic areas, a modern museum center and over 1,400 acres of natural beauty. Conner Prairie's mission is to serve as a local, regional and national center for education and activities exploring the lives, times and values of the 1800s in America.
Science Central

Fort Wayne

Science Central provides stimulating family-oriented environments and community programs to inspire exploration of science, technology, engineering and math through dynamic "hands-on" participation.
Little River Wetlands Project Eagle Marsh Nature Preserve

Fort Wayne

Seed to Marsh is an all ages, FREE, stewardship-based program designed around community, phenology, education, and restoration. Through the Seed to Marsh program, Little River Wetlands Project wants our participants to learn about native plants and restoration, why it's important, and be actively involved in our restoration efforts. Our program is offered all-year and we can work with your group to provide a program that is relevant and fun. Our programs last from 1 to 2 hours and activities are contingent on time of year

Little River Wetlands Project Eagle Marsh Nature Preserve website
DeBrand Fine Chocolates

Fort Wayne

Visit our beautiful corporate headquarters in Fort Wayne, Indiana to see our chocolatiers in action. You'll enjoy a short video on the history of DeBrand and view our chocolate making kitchens where you'll see the artisan process involved in making our coveted chocolates along with tasting several gourmet chocolate samples. The cost of a Private Reserved School Tour is $10 per person, with each attendee receiving a rebate of $10 off a purchase of $20 or more. To schedule a tour, contact publicrelations@debrand.com or call 260.969.8335.
The History Center

Fort Wayne

The History Center is home to the Allen County-Fort Wayne Historical Society, its museum and collections. When formed in 1921, the society's assets were few, consisting of some historical relics that had been preserved by the Mary Penrose Wayne Chapter of the Daughters of the American Revolution. Today it maintains a collection of more than 23,000 artifacts, photographs and documents representing the history of Fort Wayne and Allen County.
Foellinger-Freimann Botanical Conservatory

Fort Wayne

Surround yourself with nature at the Foellinger-Freimann Botanical Conservatory - an oasis in the heart of downtown Fort Wayne Indiana. Visit the Showcase Garden with its lush seasonal displays, wander through the Tropical Garden where orchids and palms thrive in the shadows of a cascading waterfall, or retreat to the quiet beauty of the Desert Garden. The gardens are perfect for all ages, and offers self-guided tours, classes, and rentals.
Fort Wayne Zoological

Fort Wayne

The Fort Wayne Children's Zoo exists to: Help people gain a greater appreciation of wildlife, encourage family fun in a natural setting, help save the world's wild animals and wild places.
Fort Wayne Firefighters' Museum, Inc.

Fort Wayne

The Fort Wayne Firefighters' Museum, Inc. was organized on April 20, 1974, two years after the City closed Fire Station #3 in downtown Fort Wayne. Along with the many artifacts on display, the Museum also teaches fire safety to young and old alike.
Fort Wayne Museum of Art

Fort Wayne

The mission of The Fort Wayne Museum of Art is to collect, preserve, present and interpret American and related art as well as engage audiences as it builds for the future.
Levi Coffin House

Fountain City

A part of the legendary Underground Railroad for fleeing slaves of pre-Civil War days, this registered National Historic Landmark is a Federal style brick home built in 1839. Levi and Catharine Coffin were legendary in helping many former slaves escape to freedom in the North. During the 20 years they lived in Newport, the Coffins helped more than 2,000 slaves reach safety.
Anderson Flower Farm

Frankfort

We are a family-owned, and operated U-Pick Flower Farm in Frankfort, Indiana. Our season is June-October. We offer tours, events, workshops, and are open to the public Thursdays-Saturdays. During a workshop or tour we educate guests about our growing practices, give in depth information on how we choose flowers to create a bouquet, and teach participants how to best harvest flowers. U-pick customers cut by the bucket. We offer a $25 or $35 bucket for adults and a $5 bucket for kids with the purchase of one adult bucket.
French Lick Scenic Railway

French Lick

Come take a ride with and journey back into the days when the railroad was considered the most luxurious way to travel. You will ride aboard historic pieces of railroad equipment and pass through parts of Hoosier National Forest, the 2200 foot Burton tunnel and past impressive limestone rock cuts.
Hancock County Museums

Greenfield

1. The Kibbe Hancock Heritage Museum 2. Carthage Jail Visitor's Center 3. The LaHarpe Historical Society Museum 4. The Warsaw Museum - Warsaw, IL. 5. French Icarian Museum - Nauvoo,IL 6. Rheinberger Museum, Nauvoo State Park
Hartford City Civil War Days!

Hartford City

Indiana's largest Civil War Reenactment and Artillery Night Firing. Step back to 1865 to see how life was for our ancestors during this time. Converse with civilians, sutlers and soldiers of the time. This event is a reenactment and living history that portrays the time when this great nation was divided. Brother against brother, father against son and son against father. During this event you will be able to observe demonstrators and ongoing presentations covering the period of 1865. There will also be battles during the entire weekend portraying multiple engagements during the year of 1865. Visit the sutlers who sold their goods to soldiers and civilians alike. Walk through camps and converse with the presenters. You can also purchase both period and non-period food. Visit the blacksmiths, weavers, spinners, rug makers, refugees, the medicine show and much more! Most importantly do not forget to come out and see Indiana's Largest Artillery Night firing event!
Hayden Historical Museum

Hayden

Highlights include a Pre-1900 Bedroom, 1939 Kitchen, 1965 Living Room, mid 1950's School Classroom, Gallery of Agriculture Leaders, Former Indiana Governor Ed Whitcomb Display, Military Exhibit and others.
Myers Dinner Theatre

Hillsboro

A family friendly live dinner theatre that offers a great package for their Education Series. Includes a syllabus and learning curriculum at state standard in conjunction with their Education Series productions. Please Email for further information and materials about our Education Series. mailto:MyersDTCasting@gmail.com
Historic Forks of the Wabash

Huntington

The Forks offers tours and programs for Public, Private, or Home School groups. Tours are also available to families and to the public, reservations are required. To book your tour call our office at 260-356-1903.
Dan Quayle Center and Museum

Huntington

From indispensable patriots to infamous traitors, the United States Vice Presidential Museum is the place to discover the unique stories of each man who has ever held our nation's second most powerful office.
Indiana Medical History Museum

Indianapolis

The Indiana Medical History Museum interprets and preserves the Old Pathology Building. Through its exhibits, publications, and programs, the museum educates the community concerning health care, health careers, and life sciences in Indiana during the nineteenth and first half of the twentieth centuries.
Indiana State Museum

Indianapolis

Constructed completely from Indiana materials including limestone, sandstone, steel, brick and glass, the building itself is a work of art. Discover icons representing each of Indiana's 92 counties on the exterior, then step inside to explore Indiana's past, present, and future through scientific, cultural, historical and art exhibits.
Indianapolis 500 Hall of Fame Museum

Indianapolis

The Indianapolis Motor Speedway Hall of Fame Museum, located five miles northwest of downtown Indianapolis on the grounds of the famous Indianapolis Motor Speedway, is recognized as one of the most highly visible museums in the world devoted to automobiles and auto racing. In 1987, the museum and Speedway grounds were honored with the designation of National Historic Landmark.
Indianapolis Art Center

Indianapolis

Started in 1934 after the Great Depression to provide employment for artists, the Indianapolis Art Center stays true to its mission by hiring professional artists as faculty (classes and outreach), exhibiting the work of working artists (exhibitions) and selling artist-made gifts and art (gift shop and Broad Ripple Art Fair). The Art Center is the place to make art, see art and buy art.
Indianapolis Museum of Art

Indianapolis

Serves the creative interests of its communities by fostering exploration of art, design, and the natural environment. The IMA promotes these interests through the collection, presentation, interpretation and conservation of its artistic, historic, and environmental assets. The IMA has a collection of over 50,000 works of art. At the Museum, you will find art from a variety of cultures and periods in art history. The Museum also features national and international traveling exhibitions throughout the year.
Indianapolis Zoo

Indianapolis

Take a trips to the Indianapolis Zoo to see and learn more about animals from around the world.
IPS Crispus Attucks Museum

Indianapolis

The Crispus Attucks Museum professionally house treasures from the first all-black high school in the state of Indiana, with its history-making African American community that produced such legends as basketball great "The Big O," Oscar Robertson; jazz sensation, Freddie Hubbard; and opera sensation, Angela Brown. The museum's archival collection consist of yearbooks dating back to the turn of the 20th century, plus a vast collection of city and state memorabilia, with an especially rich African/ African-American memorabilia and art collection.
James Whitcomb Riley Museum Home

Indianapolis

The James Whitcomb Riley Museum Home steps visitors back to the beginning of the 20th century. The country's only late-Victorian preservation offers authentic furnishings and decor.
Fort Harrison State Park

Indianapolis

The features walking and jogging trails, picnic sites, fishing access to Fall Creek and two national historic districts. The former Citizen's Military Training Camp is preserved around the park office in what was once known as Camp Glenn. Visitors enjoy the Museum of 20th Century Warfare to view exhibits about the lives and history of the soldiers who once marched the grounds of old Fort Harrison.
National Art Museum of Sport

Indianapolis

The private, not-for-profit Museum fulfills its mission by acquiring, preserving, and presenting sport art through exhibits, educational materials and outreach programs.
President Benjamin Harrison Home

Indianapolis

Dedicated to maintaining and preserving the President Benjamin Harrison Home as a museum and memorial to the only President of the United States elected from the State of Indiana. Open to the public as an educational and historical service, the Home seeks to promote patriotism and citizenship through appropriate educational activities and by artfully exhibiting the Victorian time period as Harrison and his family might have experienced it.
Indiana Historical Society

Indianapolis

You have studied history; now you can DO history. Our experiences bring Indiana's stories to life. A visit to the History Center in downtown Indianapolis includes admission to all exhibits in the Indiana Experience and can include additional interactive activities. Our team will customize an experience that fits your needs, no matter what age or topic is of interest!
American Military Heritage Foundation "Island Doll"

Indianapolis

Dedicated to preserving, in flying condition, a vintage PV-2 Harpoon in memory of all who fought in the air on behalf of the United States of America.
Arts Council of Indianapolis

Indianapolis

The Arts Council serves as central Indiana's chief arts resource, not only for artists and arts organizations, but also for government, business, educational institutions, neighborhood and community organizations, visitors and residents.
The Children's Museum of Indianapolis

Indianapolis

The Children's Museum of Indianapolis, a nonprofit institution committed to enriching the lives of children, is the largest children's museum in the world. The more than 400,000-square-foot facility houses 11 major galleries that explore the physical and natural sciences, history, world cultures and the arts. The Children's Museum is a place to learn and do. Whenever possible, exhibits are "hands-on" or participatory in nature. The Children's Museum strives to be one of the vital links in the lives of children as it supports their intellectual curiosity and love of learning. The museum, situated on 19 acres of land in Indianapolis, presents thousands of programs and activities each year.
Indiana War Memorial Plaza

Indianapolis

The Indiana War Memorial Plaza Historic District contains two museums, three parks and 24 acres of monuments, statues, sculptures and fountains. It is also home to the national and state headquarters of the American Legion.
Eiteljorg Museum of American Indian and Western Art

Indianapolis

The Eiteljorg Museum of American Indians and Western Art in Indianapolis is as much about people as it is about art. Through exhibitions, hands-on workshops with artists and interaction with members of this country?s earliest cultures, the Eiteljorg Museum immerses visitors in the indigenous cultures of the American West and Native America ? the only museum in the Midwest to offer this combination.
Freetown Village

Indianapolis

Freetown Village, Inc. is a living history museum without walls. The trials, triumphs, and daily life of African Americans are presented through theater, storytelling, folk crafts, heritage workshops, music, day camp, and special events. The town of Freetown Village is a symbolic community representing many of the predominantly African American settlements scattered throughout Indiana during the post-Civil War years. The residents of Freetown Village are composite characters of the approximately 3,000 men, women and children identified on the 1870 Indianapolis census. Freetown Village's mission is to educate the public about African American lives and culture in Indiana through living history performances, the collection and preservation of artifacts, exhibits and allied programs.
Historic Landmarks Foundation of Indiana

Indianapolis

Historic Landmarks Foundation of Indiana saves and restores historic places. We defend Indiana's architectural heritage, and we promote preservation through education, advice, advocacy, heritage tours, and events at our own historic sites.
Shakamak State Park

Jasonville

Shakamak is made up of three man-made lakes. visitors enjoy fishing, boating, a family aquatic center, and swimming.
Howard Steamboat Museum

Jeffersonville

Step back in time to the Great Steamboat Era with a tour of the Howard Steamboat Museum. This beautiful 1894 home, built by premier steamboat builders, the Howards of Jeffersonville, features original furnishings, brass chandeliers, stained glass windows, and intricate carvings throughout and even a grand staircase! Master craftsmen from the shipyard created much of the decor in the mansion. Howard built steamboats included the luxurious J.M. White, the speedy City of Louisville and the popular Indiana. Models, photographs, paintings, half-hull models and other artifacts from the Great Steamboat Era abound at this unique Jeffersonville Museum.
Mid-America Windmill Museum

Kendallville

Mid-American Windmill Museum is a non-profit museum whose mission is to collect, display, preserve and tell the story of wind power from its origination through to the American water-pumping windmill to present day. Restored windmills are displayed inside a historic bank barn and outside along a graveled walking path. Museum is open April through November, Tuesday to Sunday. Guided tours can be arranged for any size group and usually take an hour.
The Elwood Haynes Museum

Kokomo

The Elwood Haynes Museum is the former home of Elwood Haynes. Haynes is credited with developing the first commercially built automobile. Many of Haynes' inventions and possessions are housed in the museum.
The Howard County Historical Society

Kokomo

The Howard County Historical Society believes in the daily relevance of history. As the custodian of Howard County's unique heritage, the society preserves our community's collective experiences. In sharing that history, we foster a sense of community - connecting us to our neighbors, the past to the future, and our home to the world.
La Porte County Historical Society & Museum

La Porte

All of the over 100,000 items on display in our Museum are gifts to the Society by interested and generous citizens who share the interest in preserving the past for future generations. Included in the displays are the relics and rare firearms willed to the City of La Porte by W. A. Jones. This collection is considered to be the third largest antique firearms collection in the world.
Civil War Encampment and Living History

La Porte

The La Porte County (IN) Historical Society Museum is hosting an Encampment and Living History event. The event will be open to the general public, at no charge, with impromptu demonstrations of camp life, care and use of weapons, and more going on throughout the day. An artillery drill will take place at 11:00 a.m. and a skirmish at 2:00 p.m. Plans for the event include a Civil War Ball on Saturday night with food and drink inspired by recipes from the 1860's. Check website for event held in June.
Tippecanoe Battlefield

Lafayette

It seems hard to believe that a wooded area seven miles north of Lafayette, Indiana, played such a major role in American history. Yet it was on this spot the Native Americans lost their grip on the fertile Midwestern lands they had roamed for thousands of years. It was also on this spot some years later that a gathering took place that helped launch the modern political campaign. That wooded area is the Tippecanoe Battlefield, a National Historic Landmark that attracts tens of thousands of visitors annually to northern Tippecanoe County. Explore the site of The Battle of Tippecanoe. Explore the grounds where the conflict occurred. Visit vivid museum displays and discover the history of a time when two Shawnee brothers, Tecumseh and The Prophet, had a dream of uniting many tribes into an organized defense against the white settlers. Walk the battle ground where Native Americans and settlers clashed and a conflict of cultures was resolved.
Art Museum of Greater Lafayette

Lafayette

The mission of the Art Museum of Greater Lafayette is to celebrate the power of art to inspire, challenge, and instruct our community through collections, exhibitions, and programs.
Joshua Tree Earth and Space Museum

Lakeville

Collection includes fossils, rocks, minerals, meteorites, and artifacts. Developing classes and learning materials and invite the public to participate.
Whitewater Memorial State Park

Liberty

The park features shoreline hiking, flat-water boating, swimming, fishing and camping opportunities around the man-made lake. The access to Brookville Reservoir provides many opportunities for seeing migrating flocks of birds.
Annie Oakley Perfumery

Ligonier

Tour the only Perfumery in the country! View where the creative perfumery process takes place on your perfume factory tour, including the bench lab where fragrances are created and blended, and the factory where they are bottled and readied for distribution. You will experience first-hand perfumes being hand-made and have an amazing sensory experience with some of the world's most exquisite perfume essences, including those considered rare and vintage. Cost is just $5 a person.
Lincoln State Park

Lincoln City

The park was opened in 1932 as a memorial to Lincoln's mother, Nancy Hanks. The park offers a Boat Launch Ramp, boating, camping, canoe, paddle boat and row boating rentals, fishing, a general store, hiking trails, Interpretive and nature Center, picnicking, and swimming.
Lincoln Boyhood National Memorial

Lincoln City

Abraham Lincoln spent fourteen years of his life (1816-1830) in southern Indiana. Read the words of Abraham Lincoln and other pioneers about the lives that they led on the frontier. The website offers historical information about the park for those who cannot visit in person.
Linden Depot Museum

Linden

The Depot represents an important part of Linden's heritage and was central to the town, and surrounding area's existence for much of its early years. Passenger service was a vital part of the function of the depot. Passenger service ran until 1957 on the Nickel Plate and until 1967 on the Monon Railroad. In 1954 alone, more than 13,000 freight were exchanged between the two railroads at the Linden Depot. The memory of what the Depot meant to the community, and the desire not to lose this piece of history, became the driving force behind the establishment of the Linden-Madison Township Historical Society.
Cass County Historical Society and Museum

Logansport

The museum houses historical documents, photographs, paintings, music, books, and Indian relic exhibits.
Clifty Falls State Park

Madison

Clifty Falls State Park offers exciting scenery year-round. Visitors enjoy a nature center, shelters, picnicking, hiking trails, tennis, meeting and conference facilities, the Clifty Inn and Restaurant, swimming pool, and waterslide.
Lanier Mansion State Historic Site

Madison

Lanier Mansion is the former home of pioneering businessman James Franklin Doughty Lanier. Visitors will learn more about Lanier's life as well as life in general during the 1800s.
Turkey Run State Park

Marshall

The park offers visitors picnic areas with shelters, a nature center, planetarium, cabins, fishing, hiking trails, Turkey Run Inn, meeting and conference facilities, playgrounds, a saddle barn with escorted rides, tennis, and swimming.
Lawrence D. Bell Aircraft Museum

Mentone

The citizens of Mentone, Indiana are preserving the memory of and developing appreciation for Lawrence D. Bell, aviation pioneer and native son. - a museum was established to house both personal and historical items related to Lawrence D. Bell and the history of aviation in America.
Old Lighthouse Museum

Michigan City

At the bend of Trail Creek in the Michigan City harbor stands an historic old structure whose beacon served as a guiding light for Great Lakes sailors for more than 100 years. Michigan City's well-lighted port has a long and interesting history, bound to Lake Michigan with all its mysteries and beauties. The Old Lighthouse Museum is open for public tours from April through October, every day except Monday.
Barker Mansion

Michigan City

Learn more about the mansion built by one of the founding fathers of the rail car industry, John H. Barker. This house, while actually lived in for only a very short time, has brought many years of enjoyment to the Barker family, and to the residents of the City of Michigan City. From educational guided tours to special seasonal functions, the Barker Mansion and Civic Center is a true jewel in the crown of Michigan City.
Spring Mill State Park

Mitchell

Spring Mill is a restored pioneer village from the early 1800s. Visitors can explore the park's four interpretive facilities; the Pioneer Village, Nature Center, Grissom Memorial, and Twin Caves Boat Tour.
White County Indiana Historical Society

Monticello

White County Historical Society is a not-for-profit Society established to bring together those who share a common interest in White County Indiana's history. The Society has a Museum that has many displays recently reworked for public viewing and a variety of programs for our community. Our new remodel provides the public an opportunity to research and to share their research with others.
Minnetrista

Muncie

Minnetrista is a museum and cultural center that serves the people of East Central Indiana. Minnetrista offers exhibits and programs for children, families, adults, scouts, teachers and students that focus on nature, history, gardens, and art. Minnetrista's 40-acre campus includes beautiful gardens, a modern museum facility, an historic home, Nature Area, numerous sculptures, and a portion of the White River Greenway.
Muncie Children's Museum

Muncie

Dinosaurs, snakes and trains! Oh my! Dig up dinosaur bones in our Dino Dig, visit our three snakes, Desi, Lucy and Maze or watch the model trains go around the miniature city of Muncie. There are many more exciting exhibits for you to explore when you come to the Muncie Children's Museum!
National Model Aviation Museum

Muncie

The world's headquarters for model aviation is in Muncie, Indiana! Visit the National Model Aviation Museum and view the largest collection of model aircraft in the United States. Discover how aeromodeling helped change the world of aviation and examine the astonishing craftsmanship and artistry of its masters. The museum store offers educational items for all ages. During the summer months, visit the 1,000 acre flying site and see Academy members fly their aircraft in competitions, especially on weekends and during the National Championships in July and August.
Ball State University Museum of Art

Muncie

The Ball State University Museum of Art cultivates lifelong learning and recreation in the visual arts through its collection of original works of art, engaging exhibitions, and educational programs for the university community and other diverse audiences.
Brown County State Park

Nashville

Indiana's largest state park offers visitors comfortable accommodations at the rustic Abe Martin Lodge, large campgrounds, hiking trails, mountain bike trails, interpretive services, and extensive horse riding facilities.
John Dillinger Museum

Nashville

The interactive museum illustrates the life and times of John Dillinger and other gangsters during the 1930's depression era and shows advancements made in crime fighting technology during the first 30 years of the 20th century. The museum was renovated and developed into an educational and historic experience and uses John Dillinger and other era criminals as examples of what happens to people who engage in criminal activity. Guests are invited to learn about the birth of the FBI as they chase John Dillinger and his gang through the Midwest. The museum includes interactive displays, life-size wax figures and educational and historical displays. Included are the notable "death trousers" (the pants Dillinger was wearing when he was shot outside of the Biograph Theater in Chicago), the infamous wooden gun, Dillinger's lucky rabbit's foot and more.
Brown County Historical Society: Pioneer Museum

Nashville

The mission of the Brown County Historical Society is to collect, preserve and present the history of Brown County, Indiana. To approach this goal, we maintain the Pioneer Museum in downtown Nashville, The Bailey/Reeve Archives at our Society building and present a monthly program on local history.
River City Field Trips

New Albany

Taking education outside the classroom
Summit Lake State Park

New Castle

Summit Lake State Park offers visitors campsites, boat ramps, a beach bathhouse, picnic shelters, and an excellent bird watching and wildlife observation area.
Indiana Basketball Hall of Fame

New Castle

The rich tradition of Indiana basketball is proudly celebrated at the Hall of Fame Museum in New Castle. From High School, College, and even Professional Basketball, we have the memories and memorabilia from Indiana's finest athletes. Come relive the history and learn about the legacy of basketball and Indiana.
Harmonie State Park

New Harmony

Harmonie State Park offers visitors a beautiful swimming pool, shady picnic areas, ravines and pristine landscapes.Trail lovers will enjoy trails for walking, biking and nature hikes.
Historic New Harmony

New Harmony

Site of two of America's earliest utopian communities, New Harmony State Historic Site is now focused on living history and historical archaeology. Visitors to this State Historic Site will learn more about life at this Indiana settlement from the early 1800s through the 1940s.
Indiana Transportation Museum

Noblesville

For family fun, an historic educational experience, call ITM! Our volunteers will take you on a wide range of train excursions for the whole family including caboose rides, our Pizza PLUS Express and the always popular Dinner on the Diner.
Hoosier Valley Rail Museum

North Judson

Hoosier Valley Railroad Museum is a non-profit (501-c-3) all volunteer organization with the goals of: Bringing together people who are interested in preserving, restoring and maintaining interest in railroading, railroad history and railroad items from the past to the present. The organization has established a working railroad museum on the former right-of-way of the Erie Railroad, through North Judson. Land, buildings, railroad cars and locomotives have been donated from numerous individuals and corporations to help establish this railroad museum.
Potato Creek State Park

North Liberty

Native peoples used the area for hunting and fishing. The area's first people of European descent settled here in the 1830s. Today, park visitors enjoy a Nature Center, picnic shelters, bicycle trails, boat launch ramps, bridle trails, cabins, cross-country skiing, fishing, ice fishing, hiking trails, mountain bike trails, playgrounds, swimming, a beach, tubing hill, and wildlife observation area.
Snite Museum of Art - University of Notre Dame

Notre Dame

The Snite Museum of Art educators endeavor to interpret the museum's collections for diverse university and community audiences through tailored touring programs, outreach activities, teacher services, and special events designed to enrich visitors' understanding of our shared humanity and our place in a changing world.
Pendleton Historical Museum

Pendleton

Pendleton is proud to preserve the history of the South Madison area.
International Circus Hall of Fame

Peru

Located on the old circus winter quarters where circuses of the past wintered until they left in the spring for a new circus season. One of 55 National Historic Landmarks in the State of Indiana. The "Circus Greats" enshrined in the Circus Hall of Fame, along with the colorful posters, wagons, models, and exhibits, bring the circus to life. Also on exhibit is a miniature replica of the 1934 Hagenbeck Wallace Circus, complete with all the animals, performers, and even the Circus parade!
Miami County Museum

Peru

Step through the museum's door and visit Miami County's Historic past. The first object that meets your eyes is Cole Porter's 1955 Fleetwood Cadillac and the Cole Porter Exhibit. On your immediate left is the history of circus in Miami County including three stagecoaches (one belonging to movie star legend, Tom Mix). Also, on the first floor you will enjoy exhibits of the Miami Indians, pioneer living, railroads, the archives, and last, but not least the museum's gift shop. On the second floor, you will step back in time and visit Peru during the 1910 era which includes a one-room school house, church, dental office, home, shops and other businesses.
Marshall County Historical Society Museum

Plymouth

Our mission is to present programs which develop a better appreciation and awareness of our county and state. The Museum collects artifacts and documents which illustrate this county's history in terms of natural resources, Indian heritage, exploration, economic and industrial development and cultural achievement. When you visit our Museum, you can enjoy a variety of activities, including a tour of our exhibits, research in our extensive genealogy/historical research library and special presentations and workshops scheduled throughout the year.
Indiana Dunes National Lakeshore

Porter

Experience these sights at Indiana Dunes National Lakeshore: Waves crashing on sandy beaches, Karner Blue butterflies landing on wild lupines, Sweaty draft horses working the Chellberg Farm fields, Peaceful silence lingering along winter trails, and Bank swallows flying from their nest inside the dunes.
Museum of the Soldier

Portland

The MOS, in a continuing effort to educate and entertain its members and those who have an interest in military history, has instituted a Guest Lecturer Series. The individuals chosen to speak have imparted the actual events of their histories as it happened to them. Hearing the stories or historical information direct from these individuals is an enlightening experience.
Joseph Moore Museum

Richmond

An Egyptian mummy and giant pre-historic mammals captivate audiences of all ages. See a pre-historic mastodon, allosaurus skeleton and observe birds and mammals in their natural habitat. The Joseph Moore Museum, established in 1847 as a teaching collection, was officially named in 1905 for Joseph Moore, the Earlham president and geology professor who originated it. The museum is now staffed almost entirely by Earlham students who design exhibits, maintain collections, and lead tours.
Museum of Overbeck Art Pottery

Richmond

Overbeck Pottery, produced between 1911 and 1955, is recognized as an important part of our national art history. The museum preserves the creative art of the six Overbeck sisters who lived and worked in Cambridge City, Indiana.
Richmond Art Museum

Richmond

The Richmond Art Museum, founded in 1898, is a fine art museum with a permanent collection of American Impressionists, Taos School, the Hoosier Group, the Richmond School and other regional artists. We also have a small but significant collection of local ceramic artists including works by potters of the Arts and Craft Movement, the Overbeck Sisters and the Bethel Pike potters.
Wayne County Historical Museum

Richmond

Comprised of eight buildings on a compact site, the museum is a unique repository of Wayne County and Richmond history from early pioneer life through the industrial revolution into modern times. Exhibits include period clothing, furniture, portraiture, two log cabins of local origin, a genuine Conestoga wagon, a blacksmith shop, print shop, bakery, loom house, a superb collection of early Richmond made automobiles, steam powered tractors, the first Davis airplane manufactured in Richmond in 1929, and a whole lot more about Richmond's rich industrial heritage.
Gaar Mansion and Farm Museum

Richmond

Listed on the National Register of Historic Places, the Gaar Mansion was built in 1876 for Abram and Agnes Gaar. Original cost to build the mansion was $20,000. It was completed in 8 months. Complete interior/exterior restoration of this Victorian style mansion boasts hand-painted ceilings, parquet wood floors, and features many original furnishings with their actual bills of sale. Advanced for its day, the home has many unique features, including central heating, indoor plumbing, gas, electricity, and an intercom system throughout the residence. Jonas Gaar and his sons, Abram and John Milton Gaar, and Jonas' son-in-law, William G. Scott were founders of Gaar-Scott and Company, the leading manufacturer of threshing machines and steam engines from 1842 to 1911. This Second Empire style mansion is open for tours of 10 or more by appointment and may be rented for special events.
Indiana Football Hall of Fame

Richmond

A sports museum and hall of fame honoring high school, college and professional American football in Indiana. The hall was founded in 1973 as an affiliate of the Indiana Football Coaches Association.
Stevens Memorial Museum at the John Hay Center

Salem

Built in 1970 as a memorial to preserve community history, the Stevens Memorial Museum is the centerpiece of the John Hay Center. The two and one-half story building was built using bricks from various historic structures in Salem. The main exhibit area includes special sections devoted to early lawyers, a dentist's office and one of the town's earliest and most popular confectionaries. In addition to thousands of items related to southern Indiana history, the museum contains and extensive genealogy and historical library which draws researchers from all over the United States. The library contains many family histories, church, cemetery and census records, obituaries, newspaper clippings, old photographs and other information.
Freeman Army Air Field Museum

Seymour

The Freeman Army Air Field Museum offers free tours of two buildings filled with artifacts dating to World War II. Once used as a multi-engine plane training facility, the Field also featured captured enemy aircraft which was later buried as parts and - decades later - recovered. Ideal for those interested in Indiana, WWII, or aviation history.
Freeman Army Air Field Museum

Seymour

In late 1997, a large quantity of Luftwaffe aircraft parts and other equipment was unearthed at Freeman Field, in Seymour, Indiana. This discovery came after several years of research and exploratory digging. The story of the finding of the World War II German aircraft parts is an interesting one that helps answer many of the rumors about the field's activities at the end of the war.
Menno-Hof

Shipshewana

Menno-Hof is a non-profit information center that teaches visitors about the faith and life of Amish and Mennonites. Menno-Hof invites groups and individuals to learn about and experience Anabaptist history and lifestyle. Menno-Hof's multi-image presentations, historical environments, and colorful displays take you on a fascinating journey inside the unique world of the Mennonites and Amish. See where the Anabaptists had their beginning in a Swiss courtyard and how they were persecuted for their faith in the dungeon. Travel with the Anabaptists down the cobblestone streets of Holland and board a 17th century sailing boat on a journey to America and freedom. Take a virtual tour for a glimpse of what Menno-Hof has to offer.
Kidsfirst Children's Museum

South Bend

Imagine growing up in a log cabin, attending a one-room schoolhouse, bargaining at a trading post and moving across the wilderness in a Conestoga wagon. You can, when you visit Kidsfirst Children's Museum. Kidsfirst engages children's imaginations through hands-on environments and provides fun ways for young ones to discover history. Kids can pretend to be pioneers in the 1830s in the log cabin that's complete with a child-sized dining table, chair and bed, plus hands-on household items. Climbing aboard a Conestoga wagon, they can make-believe they're journeying cross-country to their new homestead. An 1838 map of South Bend, McGuffey Readers and hand-crafted furniture give an authentic feel to the 1830s one-room schoolhouse. Completing the pioneer village is a hands-on trading post.
Northern Indiana Center for History

South Bend

If you're looking for a magnificent historic site that showcases an elegant, 38-room Victorian mansion, a charming cottage reflecting the 1930s, a gallery that chronicles local history, a gallery of Notre Dame history, a children's museum plus compelling exhibitions, that place is the Center for History.
Potawatomi Zoo

South Bend

Potawatomi Zoo's Education Department offers a variety of classes and programs for children and families. Your children can learn about animals throughout the year by attending Zooper Edventures or ZooCamp. The zoo closes for the winter each year.
South Bend Museum of Art

South Bend

The Museum offers a wide range of classes and workshops for children and adults including instruction in all media. Some of the courses offered are: drawing, painting, sculpture, ceramics, stained glass, jewelry, photography and textiles. The main facility contains ten studio classrooms. Students have the opportunity to learn new skills, express themselves visually, and experience a community of creative people. These classes are an excellent, economical source for creative knowledge and information. The museum faculty, a diverse group of community artists, provides an important bridge for the museum between the display of art and the production of art.
Studebaker National Museum

South Bend

Home to a priceless collection of vehicles, artwork, archival material, and artifacts spanning nearly 200 years, The Studebaker National Museum is a state-of-the art facility designed to be reminiscent of the Studebaker dealerships of the 20s and 30s. On display is the largest collection of presidential carriages outside of the Smithsonian Institution, including the carriage that President Lincoln arrived in at the Ford Theatre the night he was assassinated.
Copshaholm, the Oliver Mansion

South Bend

Copshaholm is a 38-room Romanesque Queen Anne house designed by New York architect Charles Alonzo Rich. It was owned and lived in by industrialist J.D.Oliver. The furnishings on all three floors are original, giving visitors a remarkable glimpse of how the mansion appeared during the 72 years the Oliver family lived there. Copshaholm and its gardens are listed on the National Register of Historic Places and Copshaholm is registered as an American Treasure.
McCormick's Creek State Park

Spencer

Unique limestone formations and scenic waterfalls are some of the beautiful highlights at Indiana's first state park. Visitors enjoy camping, picnicking, pony rides, swimming, a recreation center, and fishing.
Swope Art Museum

Terre Haute

he Sheldon Swope Art Museum exists to collect, preserve, exhibit, and interpret the best of American art, with special emphasis on painting and sculpture of the first half of the twentieth century and on Wabash Valley artists past and present.
CANDLES Holocaust Museum and Education Center

Terre Haute

CANDLES Holocaust Museum and Education Center is dedicated to the Mengele twins who survived the horrible experiments of Dr. Mengele. Through the continued efforts of the survivors, family members, and community support we hope to shed light on the effects of hatred and prejudice. The center strives for the elimination of hatred and prejudice from our world. CANDLES pursues this goal through education about the Holocaust and the power of forgiveness. Personal accounts, programs, activities, and the museum facilities and resources are used to educate students, teachers, and the general public.
Terre Haute Children's Museum

Terre Haute

Mission: To enrich our children's lives through the exploration of science and technology. Vision: To create a fun, dynamic science and technology learning environment of the highest quality, which serves as a point of community pride.
Eugene V. Debs Foundation Museum

Terre Haute

Dedicated to an outstanding Terre Haute labor and civic leader. Museum features Virgil Morris Memorial Gardens that honor prominent pioneers of the American labor movement. The Debs home is an official National Historic Landmark.
Brauer Museum of Art

Valparaiso

Located in the state-of-art Center for the Arts on the Valparaiso University campus, the Brauer Museum of Art is home to a nationally recognized collection of 19 th- and 20 th - century American art and includes works by Frederic Edwin Church, Asher B. Durand, Childe Hassam, Georgia O'Keeffe, and Ed Paschke. It also houses the largest known collection of works by Junius R. Sloan, a Hudson River School painter who lived and worked in the Midwest. Other focus areas within the collection include world religious art and Midwestern regional art. As well as displaying selections from its permanent collection, the Brauer Museum hosts a full schedule of special exhibitions and events.
TimberNook Northwest Indiana

Valparaiso

Children dive into the sensory aspects of nature, challenge their bodies and minds, and develop confidence and lasting friendships through our innovative programs! Each day is designed to excite, enchant, and bring imaginations to life. Children are given time, space, and inspiration to immerse themselves in deep and meaningful play. TimberNook offers large scale experiences, staging the environment to inspire. As a result of this transformative method, children try new things, practice conflict resolution, and improve gross and fine motor skills, while engaging in exciting adventures! Address
Jennings County Historical Society

Vernon

The Jennings County Historical Society presents, preserves and documents the history of Jennings County. The 1838 landmark is owned and maintained by the historical society.
Versailles State Park

Versailles

Versailles State Park offers fishing, paddle boating, rowing, kayaking, canoeing, hiking trails, mountain bike trails, and swimming.
Switzerland County Historical Society

Vevay

Our Mission: To unite those people interested in the history of Switzerland County, Indiana, and the surrounding region for its protection, preservation, and promotion to the public. In pursuit of our mission we undertake a variety of educational programs, special exhibits and preservation projects. Central are our three museum properties. The Switzerland County Historical Museum and the "Life on the Ohio" River History Museum display and preserve a great variety of artifacts and documents and are currently open to the public. Our Agricultural Museum Center is under development and is open to groups or individuals by appointment.
Indiana Military Museum

Vincennes

The Indiana Military Museum (IMM) exists to serve the citizens of the community, the state, and the nation with educational programming, archives, displays, and opportunities for intense research related to America's military history from the American Revolution to the present day. The museum is dedicated to fostering the memory, understanding, and appreciation of U.S. military history. This is accomplished by maintaining, preserving, and displaying artifacts which represent the strength and freedom of our American heritage.
George Rogers Clark National Historic Park

Vincennes

One of the greatest feats of the American Revolution - The British flag would not be raised above Fort Sackville Feb. 25, 1779. At 10 a.m., the garrison surrendered to American Col. George Rogers Clark. His American army, aided by French residents of the Illinois country, had marched through freezing floodwaters to gain this victory. The fort's capture assured United States claims to the frontier, an area nearly as large as the original 13 states.
Shades State Park

Waveland

Shades State Park is a day use park offering picnic areas, picnic shelters, hiking trails, and fishing.
Prophetstown State Park

West Lafayette

The park's landscape was shaped by ice from the glaciers, moving water, and fires that helped maintain the vast tallgrass prairies. Today, visitors enjoy picnic shelters, hiking trails, a bicycle trail, camping, interpretive naturalist services, and a family aquatic center.
Wabash & Erie Canal Park, Boat, Museum

West Lafayette

Canal Boat Ride - 35 minute float trip on The Delphi (19th century replica canal boat) with stories from tour guides. Canal Park - hike or bike trails that were once the towpaths traversed by mules pulling the canal boats. Canal Museum - immigrant history, architecture and canal exhibits, historical dress-up - interactive and kid-friendly! Pioneer Village - log school house, fur trapper's cabin, blacksmith shop, smokehouse, cabins, boat house. Campgrounds.
Fort Ouiatenon

West Lafayette

Fort Ouiatenon was the first fortified European settlement in what is now Indiana. It was established by the French in 1717 at a site five miles southwest of Lafayette as a military outpost to prevent British expansion into the Ohio and Wabash country.
Mascot Hall of Fame

Whiting

The Mascot Hall of Fame (MHOF) features interactive, educational displays that incorporate S.T.E.A.M - based activities complimenting state and local curriculum. Our mascot-themed exhibits offer standard embedded learning opportunities for students K-8. These fun, curricular activities were designed to be open-ended, giving Educators the opportunity to augment instructions based on the specific needs of your students.
Tippecanoe River State Park

Winamac

Visitors to the park enjoy picnic areas with shelters, boat launch ramps, bridle trails, cross county skiing, fishing, and hiking trails.
Sullivan Munce Cultural Center

Zionsville

The SullivanMunce Cultural Center features a wide range of exhibits, events and programs designed for anyone interested in celebrating the culture of a historic town where the past is preserved and the future is embraced. We invite you to make the SullivanMunce your destination for art, history, and genealogy.