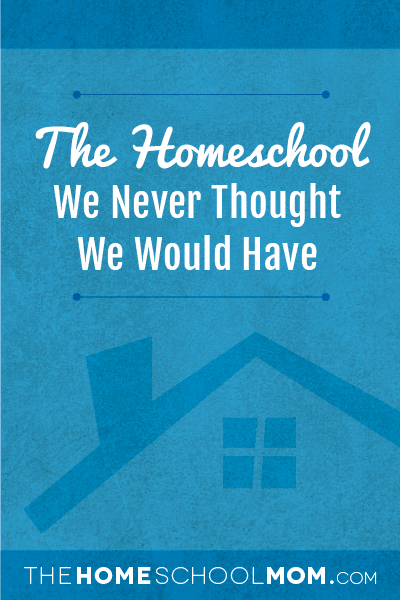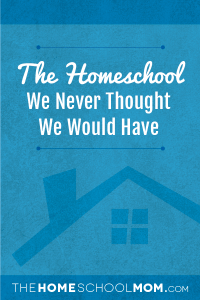 We have a new mark of a homeschool year, now. And it's not the commencement of new curricula, or the beginning of September.
The mark, for us, of the year is what we now refer to as "Dominic's week" – the week our baby boy both came into the world and left it.
Yes, a year ago, we were thrust into a homeschool we never thought we would experience – learning how to deal with the loss of a child. It has been a tremendously painful education; one we would not have willingly chosen. But, like all education, it has also put us into a better position to be able to understand and navigate this thing called life – and has shaped who we are…for the better.
And isn't that what homeschooling is about?
I didn't want this homeschool. I've hated it and fought against it and refused, some days, to attend. I thought I couldn't do it. Wanted to throw in the towel many, many times this past year, and give up and somehow figure out a way for us all to get some other kind of education – any other education. I wanted to be the teacher in my homeschool, not the student. I wanted to be in charge and in control and have everything go according to my neatly disciplined little plan, so I could produce wonder children who knocked the world's socks off and proved that I was the best mother-educator ever.
And then Dominic happened and life intervened and wrenched control out of my hands, and then God showed me that His homeschool is always better than any one I could come up with on my own.
Yes. This painful, devastating homeschool has done more to teach our family what matters than anything I could have possibly done myself.
We have learned so very much this past year. Here are just a few things:
Snuggling in bed together a little longer is more important than jumping up and getting out the books.
You begin to re-think your extra-thorough homeschool preparation, on such topics as how to diaper and care for a newborn, when the only opportunity for your kids to practice their knowledge is on someone else's baby.
Attitude, both yours and your kids', is ever so much more important than aptitude.
Sometimes you have to stop in the middle of whatever you are doing and answer really important questions about life, even when those questions are totally unrelated to the topic at hand.
Mom and Dad being honest, open, and supportive matter more than Mom and Dad being happy.
If you have to choose (and you do), family time is more significant for your child's well-being than extra-curricular activities.
No matter how busy you are, you need to stop and really pay attention to that picture your child just drew, or the story she is trying to tell, or the hairdo she just created on her doll. And, while you do, remind yourself that she won't be asking you to do so for much longer.
Test scores, in the large scheme of things, really just don't matter at all.
If you're going to spend your money on your kids, it should be on experiences rather than on things; while things get old and lose their value, experiences build memories and character that last forever.
The only moment we are guaranteed is the one we are in, so we need to fully, completely live in it – and not in the past or the future.
Cereal for breakfast and peanut butter and jelly for lunch, even for days on end, don't kill children.
Trips away as a family can be more educational and worthwhile than the best at-home school days.
Kids can weather any storms life may bring, if their Mom and Dad love each other well through the rain.
The world's "standard of success" – academic excellence, job savviness, economic well-being – no longer applies when you realize just how brief a time we are actually in this world.
Read aloud and devotion times bring out the stuff of the soul.
Birthday cakes should be made on birthdays, even if those being honored aren't on earth to enjoy them.
Relationships count more than knowledge.
Schedules, agendas, and goals must all bend to the individual needs of the people for whom they were created, and not the other way around.
The nursery continues to be called "the baby's room" long after the crib has come down and it has been re-converted back to a guest bedroom.
The most important learning in our homeschool happens outside of the books, and is caught rather than taught.
Unmade beds, disorganized shelves, and dirty laundry are only problems when the children causing them are alive and well.
Sometimes, the best thing you can do together as a family is cry.
When you have lost a family member, one of the top extra-curricular activities you can engage in is art therapy.
It seems like you have all the time in the world with our kids until, suddenly, you don't. It is only after losing time you thought you would have that you realize just how brief and precious time is.
Yard sales to sell unused baby items can be valuable, albeit poignant, lessons in money management for kids.
Freedom and joy come not from getting what you want in the way you want it, but in finding God's good in whatever comes.
Yes, this homeschool is not what I had planned. But this difficult, soul-stretching education has given my family something that my homeschool – the one I would have chosen – never would have…
Perspective.
Faith.
Character.
Suffering does for the soul what education does for the mind.
Yes, this year has been excruciating. Yes, this new homeschool has challenged me to depths I never knew existed. But, a year later, I am thankful for it. Our eyes have been opened, our hearts have been deepened, our souls have been lifted. Illusions of control have been replaced with trusting relinquishment, slavery to discipline has been superseded by reveling in relationships, expectation has been overcome by love. This past year's homeschool has saved me from getting to the end of my own homeschool – only to discover that I'd ultimately been teaching all the wrong things.
I do not know what this next year has in store for our family, but I do know this. Whatever comes, we can do this new homeschool. Because, when we do, by the end of it, we will have learned what really, truly matters.
And because, in this homeschool, we are learning from the best Teacher of all.