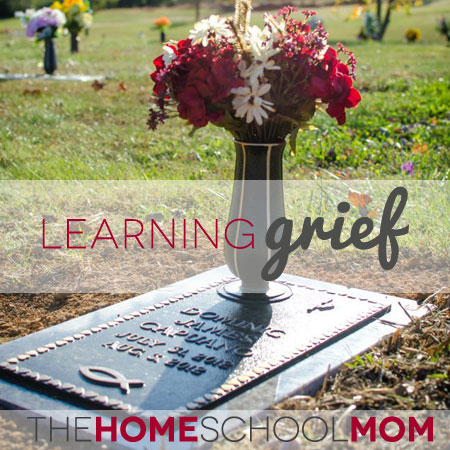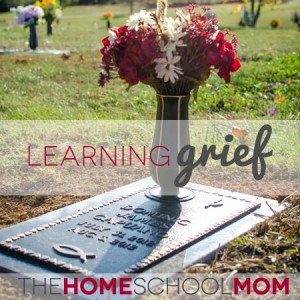 "Mom, I want to watch movies."
"Movies? What do you mean?"
"In the van, Mom. I want to watch movies in the van".
"Honey, we only watch movies in the van when we go on a trip."
"I know! I want to watch one when we go to heaven to see Dominic!"
Children and Grief
A psychology major undergrad, and social work graduate degree-holder, you'd think I would know how to handle these situations. Yet, somehow, all of the grief education in the world doesn't adequately prepare you for going through it with your own children. Losing our baby, just 4 days after his birth, has opened up an entirely new world of education for us. We have a new homeschool now. We're learning how to grieve together; how to move forward and find a "new normal".
In this new normal, we've gone back to homeschooling. And it has been a tremendous blessing. Homeschooling affords us the time to be together, and to focus on ourselves. It gives us the freedom to have a bad day, or change around our schedule to accommodate wherever we are in our grieving process. Instead of rushing to get out to school each day, or hustling to finish homework before dinnertime, we are able to find comfort in each other and in the haven of home. We've had to put aside reading time more than once in order to answer questions about what Dominic looks like in heaven, or why he had to die in the first place. And upon finding out, during art time, that my youngest drew "an angel. He's taking Dominic away. And he's mean", we decided to take some time to process that. Because, honestly, how is one supposed to focus on Math or English or History with those kinds of things going on inside?
But, interestingly, by being there with my children through this journey of grief, I've realized that the tables have turned a bit recently. Instead of me doing all of the homeschooling, my kids have been teaching me. They've been teaching me how to grieve. And I have to say, I've learned a lot. Here are just a few of the things I've learned so far:
1) Children don't grieve like adults.
Whereas we adults tend to experience grief as an all-encompassing emotion that we often try to suppress or sublimate in unhealthy ways, children grieve in spurts, and they naturally gravitate toward healthy ways of releasing that grief, if allowed to do so. Kids grieve episodically, with healthy times of "regular living" in between. My girls' grief has usually come out somewhat suddenly, such as during their playtime, or when reading a story, or upon hearing a certain song. Sometimes it comes out in the form of crying, sometimes by asking questions, and sometimes by simply referencing issues of life and death in their play. But it is usually relatively brief – a few moments of expression – and then they return to life as if nothing had happened.
It has been enlightening, actually, to watch their ability to manage such deep, intimate, difficult emotions so effectively. They allow themselves to question, to cry, to feel deeply, for just a little while. And then, once they have, they go back to living. They have no qualms about tackling the sorrow or hurt or questions. They don't shy away from their fears or devastation. They face it all, fully and honestly, but in small pieces. Then, when they've had enough for the moment, they return to a place where life is good. In that way, without hiding from it or pushing it down, slowly over time piece by piece, the "regular living" times get longer and they move forward through their grief.
2) Children need honesty.
My girls have had so many questions. And some of them I just can't answer. But I've learned that my kids need the truth, as well as I can state it for their level of understanding. They don't want me to make up sweet stories about God needing more angels in heaven, and they don't want me to sugarcoat what happened with admonitions of not needing to be upset because Dominic is "in a better place". They want to know the truth - that there are bad things that happen in the world, and that we can't control them. There are diseases, like Spinal Muscular Atrophy, that take the lives of people, and, yes, it is very sad. They need to know that it's not anyone's fault, but that God loves us and hears our pain and is taking care of Dominic in a place where there aren't any more tears. And when they ask something to which I don't know the answer, I tell them honestly, "I don't know. There are a lot of things about death that we don't understand". And then I point them to principles of our faith, and about what we do know about our God. When they grow older, I want them to know that I shared with them the truth, the best I knew how to say it.
3) Children need things explained in concrete ways.
Many of the euphemisms that we adults cling to so tenaciously are counterproductive for children. Young kids do not understand what it means that someone "passed away" or "went home". They need to be told things in concrete terms: "He died." And then children need clear words about what that means: "His body parts have stopped working, and he does not breathe anymore. He won't talk anymore or eat or be able to communicate with us. The part that makes him him, his spirit, is not inside his body anymore." Clear, simple, concrete words are best. But it can still be very challenging to explain something to children that we don't really understand ourselves.
Our baby took his last breaths in our arms. Afterward, we had to explain to my daughters what was going to happen with his body. We did not want them to be surprised when the funeral home came and took his body away, so we talked about how his body was like a shell. Using the imagery of cicadas, which my girls often pick off of the trees, we tried to help them understand in concrete terms a very abstract concept – what happens to your soul and your body after you die. We explained that the part of Dominic that made him alive and able to interact with us, his spirit, had left his body (his shell), just like cicadas leave their shells on the trees. This seemed to help them understand what was happening, and took away some of the mystique or uncertainty that can be associated with death. Hopefully, as they better understand what happened, they will better be able to heal and move forward.
4) Children need support.
Even more than answers, kids need to know their parents are there when they grieve. My girls want me to be there, whenever those moments of grief come. They may ask questions, but mostly they just want to know that I love them, and that I grieve with them. We do a lot of hugs, and extra doses of "I love you"s, and when they need to talk about their brother, we stop what we're doing and we talk. I've learned that my job as their parent is not so much to say the right things as it is to listen to them, and to give them the freedom to express their grief however they need to do so.
Support can also come in other forms. Counseling can be beneficial for anyone who has lost a loved one. My daughters participated in art therapy, which gave them wonderful opportunities to express their grief verbally and artistically. We also read books about grief, or stories about people who have lost loved ones. Doing so gives the girls the chance to more effectively process what happened, and offers a safe environment in which to bring up questions or concerns. It is much easier to talk about a character's loss than it is about your own. Stories create a safe barrier between the difficult emotions of grief and the person experiencing them.
One of the best ways parents can support children who are grieving, I've learned, is by allowing them to see that we grieve as well. Although our most raw, most intimate moments of grief are best saved for when we are alone, it is healthy for kids to see their parents cry, and feel sad, and give expressions of missing the lost loved one. When my girls see my sadness, they feel a freedom to express their own. On numerous occasions, when my girls have found me tearing up while looking through photos of my son, they have come over to me and expressed how much they miss him as well. We have hugged, we have reaffirmed our love for each other, and we've become closer. And, in so doing, we've each taken one more step along the journey of grief toward healing.
Stay tuned for more grief lessons in Part 2...