Fall back-to-school often brings many homeschoolers to a choice: Do I join a homeschooling support group or co-op?
There are many different types of homeschool groups, including intimate family groups with shared teaching, nationally-based tutor-led groups such as Classical Conversations, local extra-curricular-based homeschool groups, state-based associations, and local co-ops with parent-rotated teaching.
The goals, purposes, cost, and time commitment varies with each different group, so it's almost impossible to speak in generality about the myriad options homeschoolers have for joining with other home educators.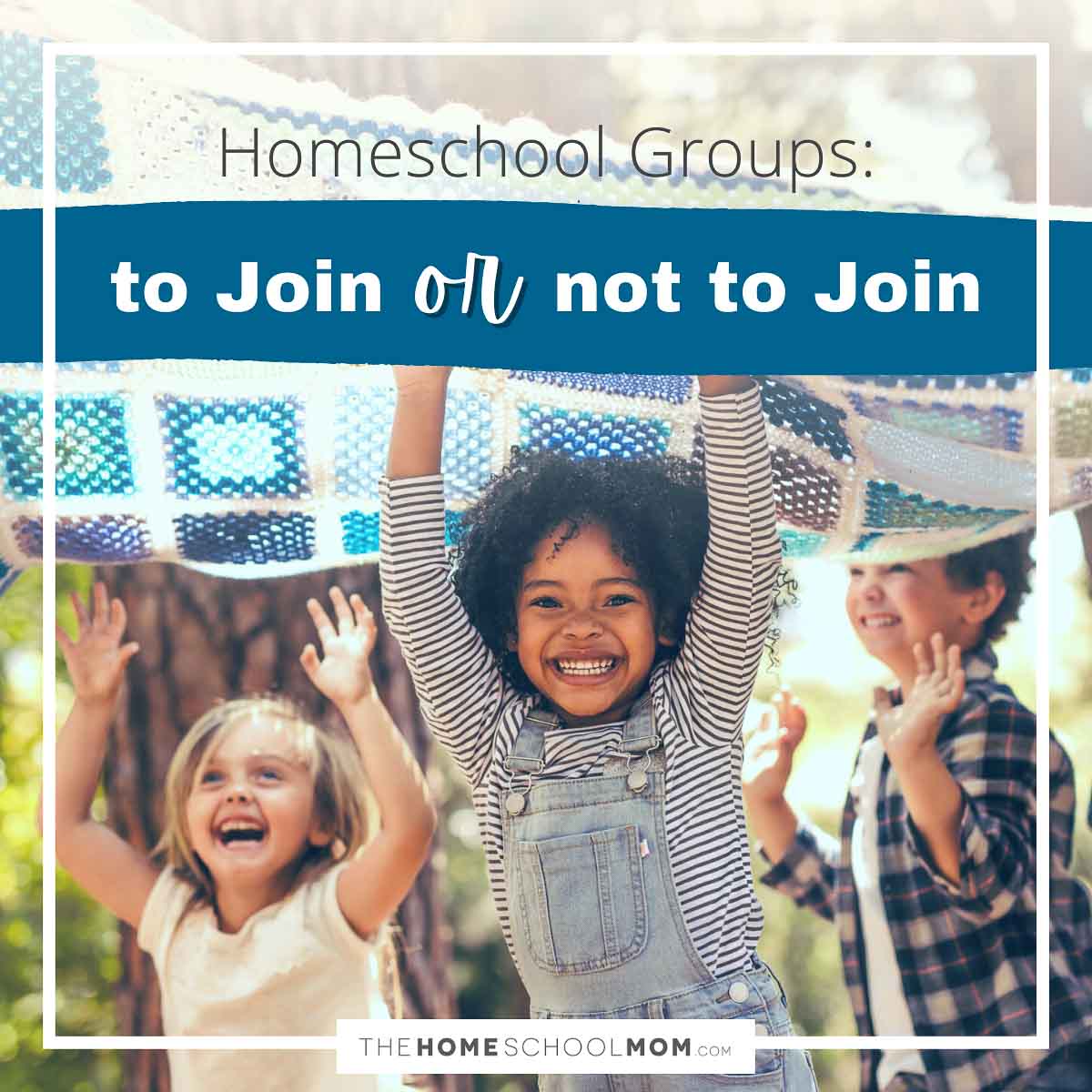 Some of the major reasons for joining a co-op or homeschool group include:
Academic advice, support, diversity or expertise in teaching
Socialization opportunities with same-age peers
Exposure to curricula, resources, and ideas from other homeschoolers
Structure and direction for the homeschool
Extra-curricular activity options
Emotional support from other homeschoolers
Social networking
"Traditional" schooling benefits such as experiencing a classroom setting, diplomas, dances such as prom, and graduation ceremonies
My own experience has been that some type of homeschooling group can be helpful for almost every family. Whether you join together with some homeschooling friends and simply get together to share ideas or pay tuition to be part of a structured state-level group, homeschool groups can provide a tremendous amount of emotional and academic support.
Bottom line: Homeschooling can be very lonely (and daunting) by yourself. My opinion? The question is not really "Should I join a homeschool group?" but "Which homeschool group should I join?".
When we began homeschooling, I knew I wanted to be part of a group that could help provide some structure for me as a new homeschooling mom, would allow me to get support and ideas from other homeschoolers, and would give my children the opportunity to spend time with peers of similar values and educational goals.
I also knew that I wanted to be primarily in charge of my kids' academics, and didn't want to be too overly encumbered with classes or teaching dictated by others. We joined the nationally-based homeschool group Classical Conversations, which has local chapters in our area.
For a few hundred dollars a year, the group offers once-a-week, 3-hour-long sessions with classes taught by trained tutors (all of whom are homeschoolers themselves), in the Classical model of education. Homeschooled kids are in classes of no more than 8 students, and they learn memory work in Latin, History, Math, English, Science, and Geography, most of which is put to fun, kid-friendly songs.
This option has worked perfectly for our family, because it has provided a structured base of memory work that supplements the primary curricula we use in a variety of subjects. My children get the benefit of having to sit in a traditional classroom and learn the discipline of listening to a teacher once a week, while enjoying the flexibility of schooling at home with Mom the rest of the week.
They get to be a part of a peer group that learns the way they do, and I get the support, friendship, and inspiration that comes from spending time with parents who are doing what I do. Even more? We don't miss out on many of the advantages of traditional schooling options, such as field trips, Christmas parties, classroom presentations, or even saying the "pledge of allegiance". It has been a win-win option for this homeschooling family.
What all have we gained from being a part of a homeschool group? Here are just a few of the things that come to mind:
I have a guideline to follow for academics, with plenty of flexibility to do what I feel is best. Rather than always having to ask myself the question, "Am I providing what my kids should be getting educationally?", our homeschool group helps me fill in any potential academic holes that might exist if I were trying to do it by myself. It is reassuring to have some educational goal posts and structure, so that I don't have to bear the entire responsibility for the scope and sequence of my kids' education.
I've learned about some awesome resources! There is just so much out there to use with your kids. It has been incredibly helpful to cull through the overwhelming amount of options by hearing what works from homeschooling moms in my group whose children have similar educational needs and interests to those of my own. It's like having a bunch of built-in curriculum guides!
My kids have a peer group of friends with like-minded values, who learn the way they learn. They get the benefit of being immersed primarily in the values of our home, while not feeling like they are deprived of same-age friend relationships. And because they are all "in it together", homeschooling feels, to my children, as mainstream or "normal" as any traditional school option (or maybe even more so!)
My kids get to learn from somebody besides me! I know, I know, I homeschool partly so that my children can learn from me, but it is really nice to not have to do it all. It is wonderful for my children to experience another teacher's strengths, and for them to be exposed to different teaching styles. Let me just say, it makes this Mom's heart happy to know my kids are doing some exceptionally messy (albeit creative and informative) project for art, or some supply-and-material-laden science project, and I didn't have to do anything to make it happen (or clean it up)!
Field trips and special projects! We've done everything from visiting a pumpkin patch (with a special farm classroom on how pumpkins grow) to seeing a play (in which some of our homeschool friends were involved) to visiting Thomas Jefferson's home together. We've given a mini-concert at a nursing home, visited the D-Day Memorial, learned about flora, fauna, and geographical water features from a camp in the mountains, and hosted a Medieval feast. Learning is so much more fun when done together as a group in some creative way; I would never have known how many special events and options are available for homeschool groups if I weren't a part of our group!
I don't feel alone in this homeschooling journey. When I think I'm the only one experiencing the challenges I'm facing, or feel inadequate, frustrated, or just exhausted, I just have to talk to some of the homeschooling moms in my group to discover that they all feel (or have felt) exactly the same way. And that's enough to keep me going.
So, fall is here and the question about homeschool groups begs: To join or not to join? Once you figure out which one is right for you, I think the answer is easy: Join!