Well, it's already into the first week of November, and I'm realizing that I am supposed to be doing something Thanksgiving-y with my kids. I mean, I even write for TheHomeSchoolMom on creative ways to celebrate the holiday with the family, fun Thanksgiving activities, and ways to express gratitude. You'd kind of think that I would have this whole Thanksgiving-focus-during-the-month-of-November thing down. But, here I am, already into November, and realizing I'm not prepared, so I turn to ready-to-use Thanksgiving unit studies.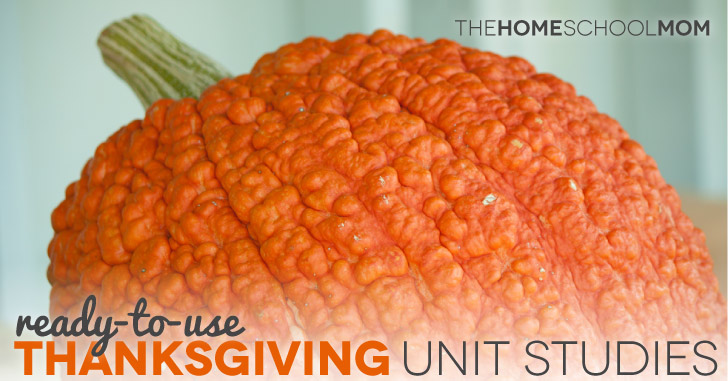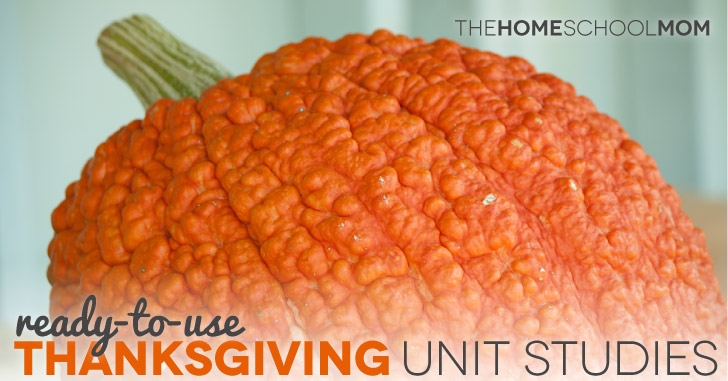 Can I get an "Oh yeah!"?
No? Well, then you're probably the kind of homeschool mom who doesn't use cranberry sauce out of a can, either.
I work hard to be prepared. Really, I do. I try to plan ahead and have all of my materials ready in advance and get exciting, interesting lesson plans for the holidays all laid out and ready to go…
And then, often, I find myself here. Not…prepared.
Discovering that the holiday or event I'm trying to plan for sneaked up on me, somehow, necessitating last minute scurrying so my kids aren't the only ones on the planet who make it through a holiday without doing anything interesting to celebrate it.
Eeek. How does life go by so dang fast?!
In the past, when I've found myself here, I've started to panic. I don't have time to search out a billion activities on the internet or to order some great book that's going to take 10 days to arrive. I need something fast, complete, all-in-one. Something that requires little to no effort on my part. Something I can print and, within an hour or less, be ready to actually do with my kids, using most of the stuff I've already got on hand in my house.
Have no fear, Thanksgiving homeschooling procrastinators, all is not lost.
That's right – apparently, there are a lot of other "How-did-time-go-by-so-quickly" homeschool moms out there like me because I have found options. There are tons of print-it-out-and-go unit studies and lapbook materials that cover everything I want to address during the month of November.  No trolling Pinterest for insanely involved craft ideas. No figure-it-out-yourself Thanksgiving game searches. No expensive holiday recipe books. Not even any trips to the library required. Just you, your computer and printer, and some craft supplies.
A homeschool Thanksgiving isn't lost, yet.
So stop panicking and check out these wonderful, printable options for November, to prepare your family for the Thanksgiving holiday, learn a little history, and have some fun at the same time with this ready-to-go Thanksgiving unit studies.
Ready-to-Use Thanksgiving Unit Studies
Amanda Bennett's Thanksgiving study - Amanda Bennett's wonderful unit studies can be used for multiple ages, with each day's lesson including both a lower level for elementary grades and an upper level for junior and senior high grades. This interactive, electronic study permits students to click on links in each lesson to further their learning, and includes a companion lapbook as well as notebooking pages. This comprehensive study includes family project ideas, history, vocabulary, scripture, geography, and lapbook activities to reinforce learning. Learning objectives are clearly stated for each week, and plenty of additional resources are listed for further study. A wonderful resource for the month of November.
Thanksgiving Lapbook [website temporarily unavailable - Facebook page] from Hands of a Child - "With this unit study you will be able to teach your multi- grade classroom about Thanksgiving. Every year Americans look forward to the fourth Thursday of November and enjoy the feasting and good times with their families. But Thanksgiving is not just about eating all that wonderful food. Make your lesson planning easy with the Thanksgiving Curriculum from In the Hands of a Child. This pack includes a 7-day Planning Guide, Related Reading List, 17 Hands-On Activities, a 12-page Research Guide, and an Answer Key. Introduce your students to the history, people, symbols of the holiday, recipes, and more!"
Pilgrims Lapbook [website temporarily unavailable - Facebook page] from Hands of a Child - Kids explore what it was like to be a pilgrim in this 54-page project pack. Similar to the Thanksgiving Lapbook by the same publisher, it includes a research guide and hands-on activities to teach children the history and life of the Pilgrims.
Thanksgiving Lapbook by Knowledge Box Central  - Designed for K-8 (although it can be adapted for older grades as well) this lapbook provides templates for a variety of mini-booklets, as well as a guide for putting the books together to make the completed lapbook. Booklets include the Pilgrims, Mayflower supplies, Mayflower Compact, and more. Accompanying history overviews are provided.
Thanksgiving Lapbook with Study Guide from A Journey Through Learning - This Thanksgiving study includes a lapbook and all the information needed for filling out each mini-book within it. Includes a 14-page study guide and 22 mini-books that address everything from Thanksgiving history to symbols to God's blessings. For grades 2-7.
Pilgrim Chores from Notebooking Nook - This set of notebooking (writing) pages will assist your children in creating short writing assignments about pilgrims and the chores they used to do.