Turkey and stuffing might be the staples of Thanksgiving, but for many families the holiday means much more. Homeschoolers often seek to go beyond simply a festive meal to create a culture within the home that encapsulates a sense of belonging, security, and love. One important way to do this is through creating Thanksgiving family traditions.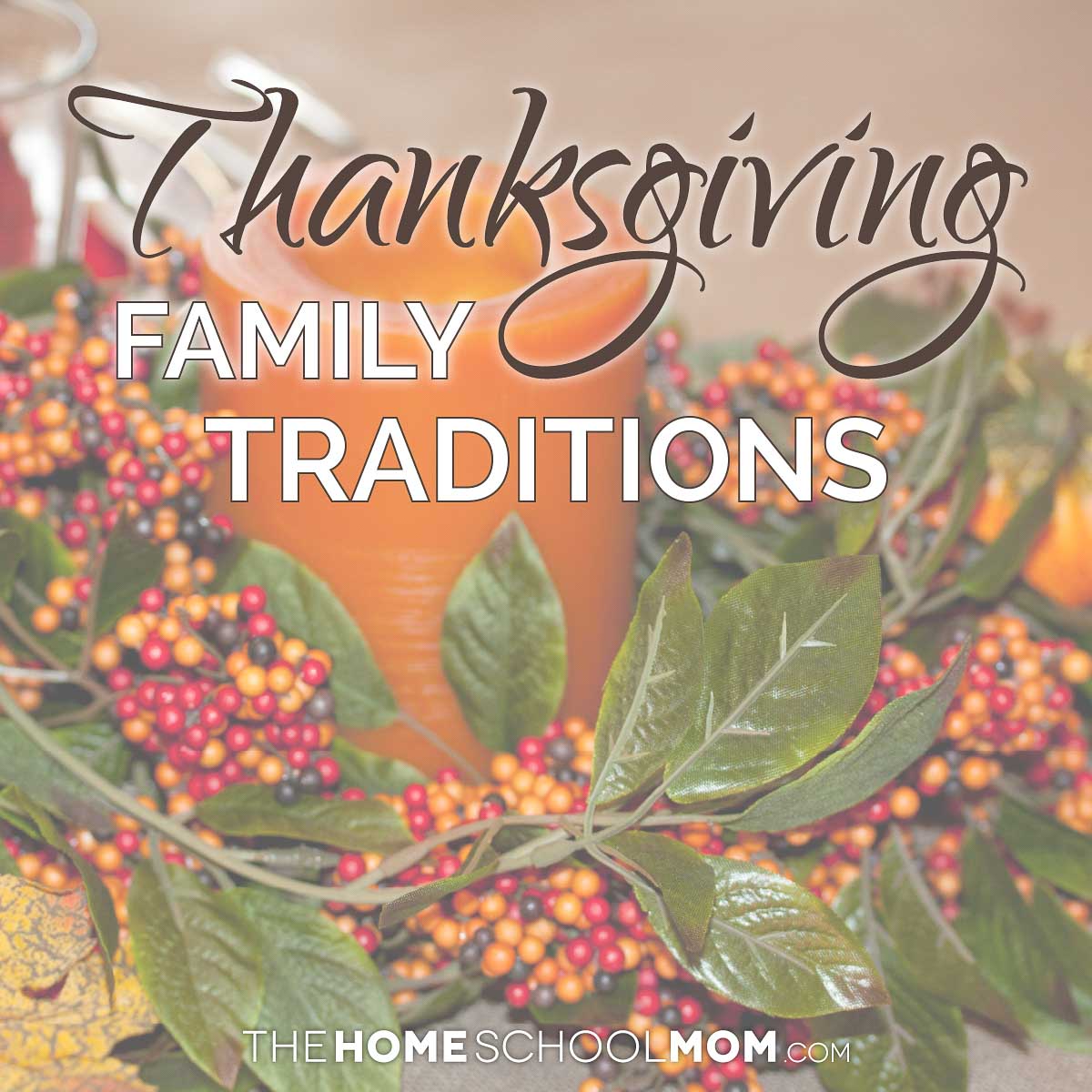 Research indicates that family traditions, or routines, are associated with marital satisfaction, child adjustment, adolescents' sense of personal identity, and stronger family bonds. A study by Syracuse University, which reviewed 50 years of research on family routines and rituals, explains, "Family routine practices are an indication of family organization and are important for the psychological health and well-being of its members". Read more about this research here. Certainly, homeschoolers, who work daily to directly impact their children's education and well-being, have a vested interest in creating traditions which will instill a sense of family togetherness and significance.
While traditions for Christmas are common, it is easy to skip over Thanksgiving as simply a chance for good food in between Halloween and Christmas. This holiday, take the time to create some special Thanksgiving family traditions that children can look forward to year after year, and which emphasize gratitude. Doing so will make Thanksgiving not just a great feast, but a meaningful celebration of family.
Thanksgiving Family Traditions for Kids
Share your blessings. Pass around a basket of corn kernels (or cranberries) at the table and ask each person to take some kernels (do not specify how many). Then go around the table and have each guest share one thing they are thankful for, for each kernel of corn they chose.
Make pilgrim hat cookies. These simple-to-make treats are a hit with children! Not only can children participate in a cookie baking tradition, but by doing so they are able to contribute to the Thanksgiving feast! Click here for the recipe and directions.
Make a video journal. Have children interview family members and guests about the things for which they are grateful. Then video portions of the Thanksgiving feast and any other activities for the day. After the Thanksgiving meal, watch video journals from previous Thanksgivings.
Invite someone to the Thanksgiving feast who would otherwise be alone on Thanksgiving. Think about neighbors, co-workers and other associates. If you do not know of someone offhand, contact a local church to get the names of elderly member or other individuals that would likely be alone on Thanksgiving.
Create a Thanksgiving scrapbook. Take a photo of each person at the table, and provide him or her with a piece of paper to write down things for which he/she is grateful. Put together each photo with each person's "thankful" list into an album, along with highlights from this particular Thanksgiving. Add to the album each year and review it as a family.
Create a gratitude tablecloth. Give each member of the family a fabric marker and have them record one thing for which they are thankful on the cloth. Be sure to include the year next to each thanksgiving. Then use the tablecloth for the Thanksgiving meal. Each year, add thanksgivings to the tablecloth and watch the blessings grow as the years pass! Click here for a variation on this idea with a table runner.
Make a Blessing Box. Children can decorate a box and label it the "Blessing Box". Throughout the year, whenever something wonderful happens (Dad gets a new job, the baby learns to walk, Johnny receives an A on his report, etc.), have family members write the blessing on a slip of paper (along with their name) and put it into the box. No one is allowed to open the box or read the slips of paper until Thanksgiving Day. At the meal, open the box, read each of the slips of paper, and celebrate your blessings!
Create a Thanksgiving table centerpiece. Have children gather leaves, branches, berries, gourds, Thanksgiving-themed crafts they have made, other items such as candles or lamps, and small items that represent things or people they appreciate. Let them use their creativity to put together a one-of-a-kind centerpiece that reflects some of the things for which they are grateful. Take a photo of the centerpiece to remember each unique decoration year after year.
Have family game day. While watching football on Thanksgiving might be one of the strongest "family traditions" around, try turning off the t.v. and engaging with the family instead. Pull out the board games, or other fun games like Guesstures or Catch Phrase (affiliate links).
Take a Thanksgiving meal or food basket to someone in need. One of the best ways to help children develop a sense of gratitude is to expose them to people who have less than they do. Contact your local church, food bank, or hunger relief organization for a list of people who are in need of food. Have children be a part of preparing and delivering the food, to make it personal.
Get some exercise. After the Thanksgiving feast, something must be done to make room for dessert! Make it a tradition to take a walk as a family, play a game of football outside, ride bicycles, or even do something creative like play a game of laser tag! A "be active together" Thanksgiving tradition makes the most of holiday time when everyone is together to have fun and create memories that last forever.
Make place cards for each person at the Thanksgiving meal. Each year have children come up with a different theme for the place cards. This way children get to be creative and contribute to the Thanksgiving meal as well. Save one place card to put into a Thanksgiving scrapbook for each year. Click here for free printable place-cards or here for instructions on how to make Thanksgiving-themed place cards.
Celebrate family gratitude. Pull out old family albums and have older family members (Grandma and Granddad, for example) share what they remember about the family's history. Particularly talk about specific blessings the family has received, and any important traditions that have been passed down.
For more ideas on making the most of Thanksgiving in the home school, including games, arts and crafts, books, and websites, click here!