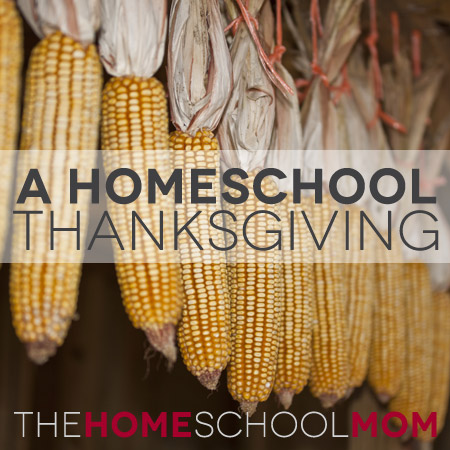 Thanksgiving can easily become the bump in the road on the way to Christmas, but the holiday deserves special attention and effort in its own right. Part 1 of this series offered a variety of ways homeschoolers can prepare children for Thanksgiving, including teaching opportunities and fun activities. There are just so many great ways to enjoy this holiday!
Check out more ways to make the most of the day of giving thanks:
Teach by making food.
Do a Thanksgiving Unit Study.
Create your own Thanksgiving unit. This step-by-step checklist at Oklahoma Homeschool gives all the instructions and resources you need to put together an exciting, informative Thanksgiving unit study that will address the needs of all different types of learners.
Littleton Homeschooling Examiner Lynda Ackert has created a free, downloadable unit study that includes Thanksgiving history, notebooking pages, lapbooking pages, and more.
LessonPlansPage.com has links to a variety of Thanksgiving lesson plans for almost every subject.
Thanksgiving – A Focus on Clothing by Melissa Dove is a lesson plan for a unit study for grades 1-3, focused on the clothing of the Native Americans and the Pilgrims.
Education World Thanksgiving lesson plans – These lesson plans include Thanksgiving teaching ideas for a variety of subjects, including Language, Nutrition, Science, Math, Art, and more. Plans for both older and younger students.
Thanksgiving, A Celebration of Gratitude provides Thanksgiving lesson plans for grades 1-2, including art projects, crafts, History, and more.
Celebrate Thanksgiving Unit Study by Charlene Notgrass. This highly recommended unit study for $9.95 includes 15 Thanksgiving lessons that cover History, Bible, Geography, Traditions, Art, Science, Poetry, Grammar, Creative Writing, and Crafts.
Make Thanksgiving crafts with your kids.
Make mini-books for young children.
These simple reader books from DLTK's Growing Together are a great way for kids to learn basic Thanksgiving words, and have fun at the same time. Printable templates come in color and black and white.
My Thanksgiving Booklet from Homeschooled Kids Online offers a variety of choices of covers and book activities.
The Colors I Eat mini-book is excellent for preschoolers, and includes plenty of drawing.
Investigate the science of Thanksgiving.
Play some online Thanksgiving games.
Change up the homeschool day and add in a dose of fun with some Thanksgiving computer games!