Thanksgiving can easily become the bump in the road on the way to Christmas, but the holiday deserves special attention and effort in its own right. Part 1 of this series offered a variety of ways homeschoolers can prepare children for Thanksgiving, including teaching opportunities and fun activities. There are just so many great ways to enjoy this holiday!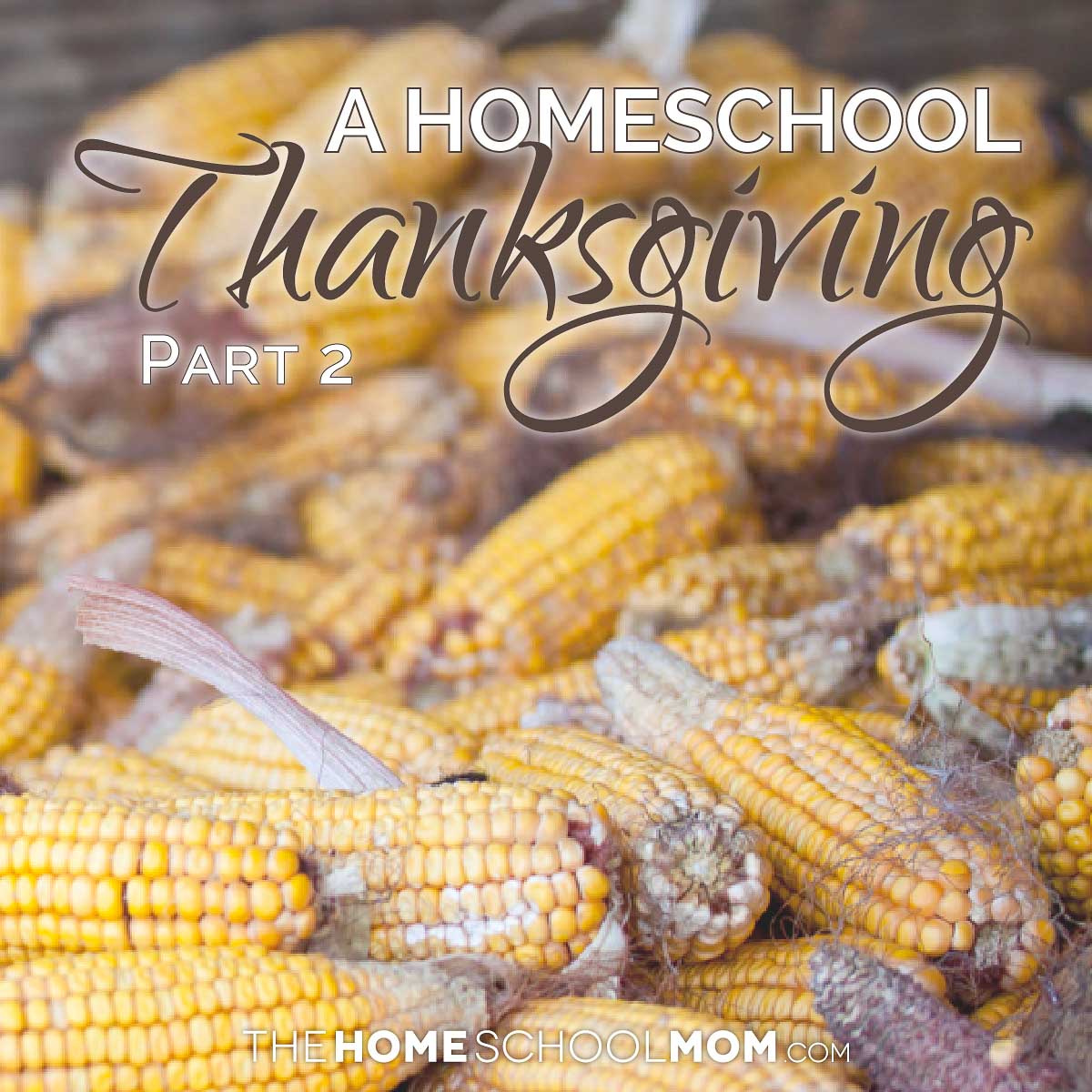 Check out more ways to make the most of the day of giving thanks.
Jump to:
🥧  Teach by making food.
Teach children how to process pumpkins. Basic culinary skills are important for kids to know before they leave home, and Thanksgiving is a great time to help them learn how to translate those hard orange vegetables into something that can be enjoyed on the Thanksgiving table. Check out this video on processing pumpkins and squash to help you in your teaching.
Teach kids how to cook a turkey. It's amazing how many people never learn how to cook a turkey until they get married and are suddenly responsible for their first family Thanksgiving dinner! Help your kids be prepared for this annual skill by having them help make the bird. Check out Top 10 Turkey Tips for ways to make the turkey turn out great.
Help teens learn how to carve a turkey. After teens learn how to cook the turkey, they have to be able to do something with the meat when it's done! Watch this video at Real Simple for instructions.
🦃  Do a Thanksgiving Unit Study.
Create your own Thanksgiving unit. This step-by-step checklist at Oklahoma Homeschool gives all the instructions and resources you need to put together an exciting, informative Thanksgiving unit study that will address the needs of all different types of learners.
Education World Thanksgiving lesson plans – These lesson plans include Thanksgiving teaching ideas for a variety of subjects, including Language, Nutrition, Science, Math, Art, and more. Plans for both older and younger students.
Celebrate Thanksgiving Unit Study by Charlene Notgrass (affiliate link). This highly recommended unit study for $9.95 includes 15 Thanksgiving lessons that cover History, Bible, Geography, Traditions, Art, Science, Poetry, Grammar, Creative Writing, and Crafts.
✂️  Make Thanksgiving crafts with your kids.
📔  Make mini-books for young children.
These simple reader books from DLTK's Growing Together are a great way for kids to learn basic Thanksgiving words, and have fun at the same time. Printable templates come in color and black and white.
My Thanksgiving Booklet from Homeschooled Kids Online offers a variety of choices of covers and book activities.
The Colors I Eat mini-book is excellent for preschoolers, and includes plenty of drawing.
🍁  Investigate the science of Thanksgiving.
💻  Play some online Thanksgiving games.
Change up the homeschool day and add in a dose of fun with some Thanksgiving computer games!