We all know the pure joy adopting a pet can bring to our family.
Pets love unconditionally and provide loyal companionship, even on our darkest days. All the same reasons pets are beneficial for grownups apply to kids as well.
Pets are fun and offer so many learning opportunities.
Here are 8 reasons why pets are good for homeschool families and some creative alternatives for apartment dwellers and those with allergies.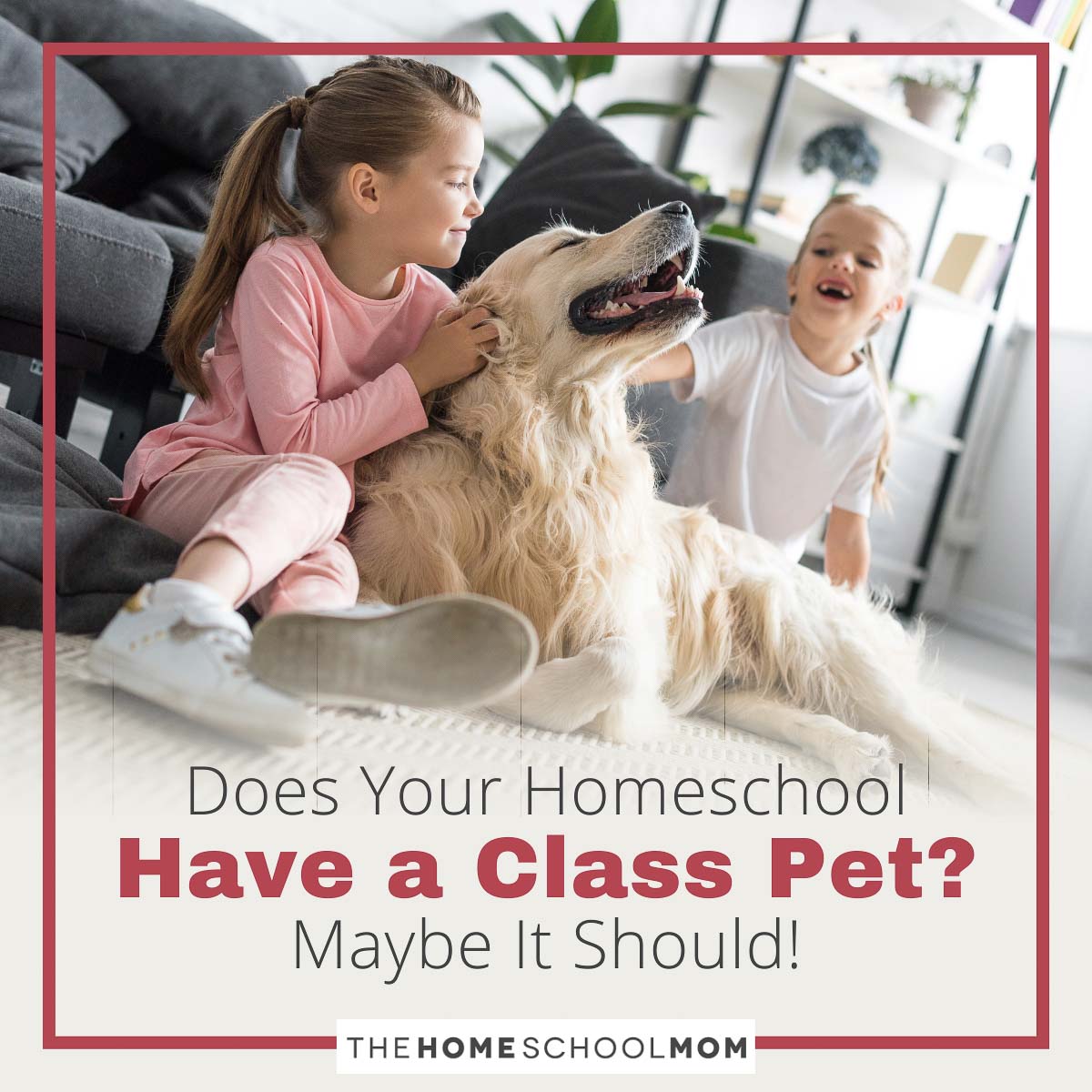 8 Reasons Pets are Beneficial For Homeschool Families
Taking care of a family pet teaches kids responsibility. This is a necessary skill that will benefit kids for the rest of their lives.
Bonding with an animal and meeting its basic needs helps instill a sense of compassion and empathy for all living creatures.
Pets provide their owners with unconditional love and companionship. Given the effects of the worldwide pandemic, these are needed now more than ever.
Interacting with a pet gives kids a chance to practice crucial social-emotional skills that are integral for healthy relationships.
Pets are known to reduce anxiety and boost confidence. They offer a nonjudgmental listening ear for kids to vent their frustrations and unload the day's worries.
A pet, no matter what type, offers educational opportunities galore. Kids can research the proper way to feed and care for their animal, its ideal habitat, the breed history, and more. You can even make teaching this responsibility into a pet unit study.
Pets encourage a healthy lifestyle; dogs especially. Getting out to play with and walk the dog encourages kids to get outside and be active.
Family pets are FUN! There's nothing better than snuggling with your pet at the end of a long day, or taking a road trip and bringing your furry friend along.
Pet Alternatives For Apartment Dwellers
If a long-term pet commitment isn't possible, consider fostering animals for a local rescue. This allows your family the benefit of having an animal in your home while doing something worthwhile for your community.
Zoos and animal sanctuaries are both wonderful places to see and interact with a variety of animals. Check and see what's available in your region. Some zoos offer memberships to help families save money and visit more often.
If your kids are old enough, try volunteering at a local animal shelter. Shelters often need help walking dogs, bathing and grooming animals, and even taking pictures and sharing on social media in order to help animals find their forever home.
Is your child an entrepreneur at heart? If so, help them set up their own business dog-walking for neighbors. This is a fun way to bond with dogs while earning some extra money.
Horseback riding lessons offer an exciting experience. If these are too pricey, see if the stable will let your child help out with the horses to reduce the cost of lessons.
Farms in many towns are opening for tours and letting kids spend time with the animals. Farm tours offer a wonderful educational experience while helping to support a local business.
Check your local library for programs that allow emerging readers to read to dogs. Reading to dogs helps give kids extra reading practice while boosting their self-confidence.
Dog parks are an awesome way to spend time with dogs. Teach your kids to always ask permission before interacting with anyone else's animal.
Cat cafes are popping up all over. They're a fun place to snuggle with cute kitties and enjoy a good cup of coffee. Bonus: if you're looking to adopt a cat, these are fantastic organizations to support.
Sponsoring an animal through a sanctuary or rescue is a rewarding way to enjoy a pet without the commitment of owning one. Often, the organization will send you pictures and updates on the animal you're sponsoring.
Pet Alternatives For Families With Allergies
Hypoallergenic cats and dogs are a good choice for many families with allergies. Research breeds and see if you can find the best fit for your your family.
Fish are another alternative for families with allergies. You can keep it simple with a goldfish or beta, or you can buy a large aquarium and fill it with a variety of exotic fish.
Birds may or may not work for families with allergies, depending on what they're allergic to. Many times animal allergies are due to dander and fur; neither of which birds have.
Reptiles are another safe alternative. You can adopt turtles, snakes, lizards, frogs, and more.
Tarantulas are a low-maintenance pet and good for families with allergies.
A digital pet, like an old school Tamagotchi, is fun for kids and offers some of the same caretaking benefits as owning a real pet (with less mess!).
Pet rocks are fun and can be bought online or made by painting a smooth stone and gluing on some googly eyes. These can be carried around in a child's pocket and held in stressful situations. Decorating a shoebox is a fun way to craft a bed for a beloved pet rock.
A child's favorite stuffie can be a good stand-in for a pet when allergies are a road block. They're inexpensive, easy to carry everywhere, and never poop in the house. Win-win!
The Takeaway
We've covered in detail above why pet ownership is beneficial for homeschool families and offered some alternative suggestions for apartment dwellers and families with allergies.
We'd love to hear from you. Does your homeschool have a class pet?
If so, share in the comments below!