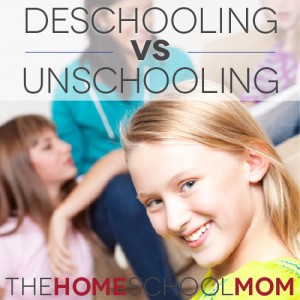 New homeschoolers and non-homeschoolers sometimes wonder about the word "deschooling" vs. "unschooling". The prefixes "de" and "un" often mean such similar things. We "de-humidify" and we "un-tie" our shoes — both acts of reversing the meaning of the root word.
And in that sense, the words are related. Both deschooling and unschooling require thinking about the inverse of schooling.
But within the world of homeschooling, the two words deschooling and unschooling have meanings that are, most often, distinct from one another.
Within the culture of homeschooling, deschooling refers to the transition from school. Here at TheHomeSchoolMom.com, I have written about deschooling for kids as well as a whole series about deschooling for parents.
Within the culture of homeschooling, unschooling refers to a specific approach to homeschooling -- a homeschooling style that emphasizes living and learning without regard to school expectations and norms. TheHomeSchoolMom.com also has a lot of information about unschooling, and a good place to begin is, well, with this Beginner's Guide to Unschooling.
Deschooling is important for all families who are starting homeschooling, even if they will ultimately use an ongoing approach or homeschooling style that is not unschooling. After a period of initial deschooling, they may choose a unit studies approach, a curriculum approach, a Waldorf- or Montessori-inspired approach, an eclectic approach, an engaged homeschooling approach, a Charlotte Mason approach, or the Moore Formula, all homeschooling styles which are explained here at TheHomeSchoolMom.com.
What can get tricky to wrap your head around terminology-wise, is that deschooling might also lead to unschooling. Some families go through the deschooling process and become so comfortable with the ideas of learning without school, that they make a conscious decision not to turn to a different approach to homeschooling.
Some families just slip into unschooling without a decision. During the deschooling period, they see their kids are learning, and the parents continue to facilitate that learning, brushing aside the idea that they would adopt a different homeschooling style once a certain deschooling period was complete.
In that sense, deschooling trails off into unschooling. And many unschoolers will tell you that they continue to "deschool" for years and years, looking for ways that clinging to the defaults of schooling may be harming effective learning at home.
There are even parents who know they will unschool from the beginning (they come to home education planning to use unschooling as their ongoing approach to their children's learning) -- who still find themselves deschooling. We live in a society where schooling is so pervasive, that getting out of the box of school norms can take a lifetime.
This can make embarking on deschooling especially scary. What if I can't get my kid back to My Plan? What about graduation requirements or college admission? (There's a wealth of information out there by people like Alison Mckee, who explains how this can work -- but it's another topic for you to pursue as you are learning about home education).
And yet, even advocates of more formal and structured approaches to homeschooling (homeschooling styles other than unschooling) continue to advocate deschooling as an initial step to home education. There is, quite simply, no substitute for it, especially for families who have been in or around schools for a long time.
To complete the circle (and add to the confusion?), I know many families whose unschooled kids have chosen to attend school, particularly for high school and college. Without compulsion to be there (they know they can return to learning at home), and without burn-out from years of schooling, they often enjoy school and do well. Others decide after a semester or a year that the trade-offs are too great, and they go back to learning at home.
And, of course, we know kids who have always attended school for whom school happens to be a great fit. These kids and their parents may wonder why anyone would need to deschool, unschool, or homeschool at all!
If you were one of those successful school kids, or if you are a teacher by training, and you are now embarking on homeschooling your kids, you may resist deschooling at first and dismiss unschooling altogether. If you homeschool more than a year or two, hang on for the ride of your life.