Wear gratitude like a cloak, and it will feed every corner of your life. ~ Rumi
We've been homeschooling for so long that it's become second nature. Days, weeks, months, and years go by, and homeschooling remains a huge part of our lives. We've had ups and downs with awesome seasons and really difficult ones too.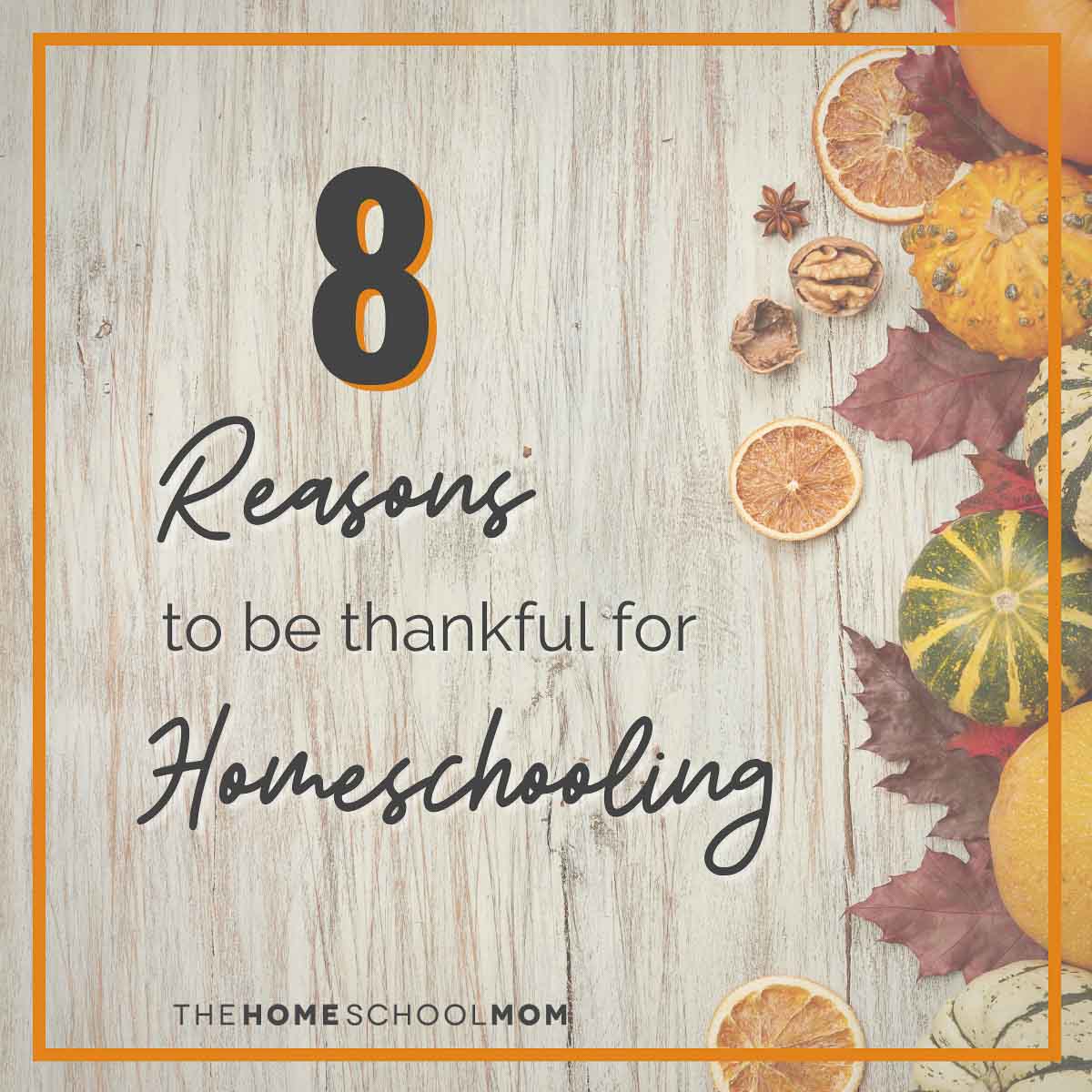 That said, I wouldn't change anything. Homeschooling is a lifestyle and not a 9:00 AM to 3:00 PM schedule. There is no clock to punch.
Thank goodness, right?
I've been in a reflective mood lately, maybe it's the time of year or maybe it's just this year. I feel very fortunate that we chose to homeschool all those years ago. I hope that by sharing some of the reasons I'm grateful for homeschooling, I will inspire you to do the same.
Make a list, write it down somewhere that you can refer back to it again and again.
Here is mine...
No packing lunches.
Lunch and I don't get along. Never have. Never will. The one year my oldest was in first-grade in traditional school packing school lunches nearly did me in, folks.
With our allergies, food sensitivities, and me not being uber-organized, it's just too much pressure. I jokingly told my friends I was going to homeschool to avoid packing lunches... and here we are ten years later.
Time to sleep, rest, and heal.
This is an important one. Our bodies need sleep. Full stop. Our bodies need to time rest and to heal—whether from illness, stressful life events, or just because.
We've been in seasons of life where we've experienced various health issues, or have moved (twice in 16 months), or just needed extra space to simply be. Homeschooling and not being on anyone else's schedule allows for this. Mental, physical, and emotional health will always outweigh academics for us.
Space to follow interests.
I am a huge proponent of interest-led learning—or kids and adults! Homeschooling is wonderful for this. You and your kids can deep-dive into any topic—for as long as you'd like!
We've explored everything from trucks and big machinery, football, ducks, Disney World, and more. When kids find a topic that lights them up—learning naturally happens.
Don't forget to model this type of learning too, parents. Your interests and hobbies matter!
The ability to speed up or slow down.
Flexibility is a huge reason people chose to homeschool. To be on your own schedule and not at the mercy of the traditional school calendar is important to many families.
But what about the flexibility surrounding how and when your child learns?  This is also key. You can take your time learning to read or learn multiplication facts. You can speed up topics that your child grasps quickly and move onto more challenging information. You can skip things too!
Every child is different and learns at a different pace.  Having the flexibility to tailor your child's education can be life-changing.
Real-world experiences.
When the world is your classroom, learning can happen wherever and whenever! Going to stores, library, post office, doctor's appointments, etc. gives homeschool kids daily interaction with people of all backgrounds and ages—something you cannot get when you're in a classroom all day with people the same age! Teens can work or take college classes or apprentice with a mentor.
Creating community. 
Over the past ten years, we've been blessed to connect with various homeschool groups and co-ops. During different seasons of our lives, these communities have been touchstones in our days and weeks.
Knowing you're surrounded by other homeschool families who "get" why you home educate is important. Participating in online homeschool communities with other parents has also been something near and dear to my heart.
Whether it's through Facebook groups, online conferences, Instagram, or other platforms, I've been able to create wonderful friendships with homeschooling parents around the world.
Taking field trips.
The ability to travel at off-peak hours/months is a definite perk to homeschooling.
When my kids were younger, we'd enjoy last-minute day field trips to local zoos, museums, historical parks, and more. Often, places had homeschool discounts which were always helpful.
We were also able to take advantage of longer vacations when we'd travel in the winter or when traditional schools were back in session.
Choosing products/curricula that work for us.
In the ten years we've been homeschooling, the increase in educational products and curricula has been mind-blowing! There's so much to choose from!
We've been able to change-up what's not working and also tailor each child's education based on their needs. I love being able to do this because not only does it boost confidence for my child, it puts ME in charge and not the curriculum or product.
Gratitude is a powerful catalyst for happiness. It's the spark that lights a fire of joy in your soul ~ Amy Collette
Of course, there are thousands of reasons to be grateful for homeschooling. I was so inspired when I polled my Instagram community and they shared all the reasons they love and appreciate the ability to homeschool.
And while there are days when it feels hard (and it is), the benefits always outweigh the negatives. Approaching homeschooling with a heart of gratitude is important, especially as the homeschooling parent.
What are you grateful for? Let us know in the comments below.