Christmas symbols are out in force–holly wreaths, festive Christmas trees, eggnog, and of course good ol' Santa himself. But many homeschoolers seek to move beyond the cultural harbingers of the season to focus on the birth of the Christ child; to celebrate God coming to earth.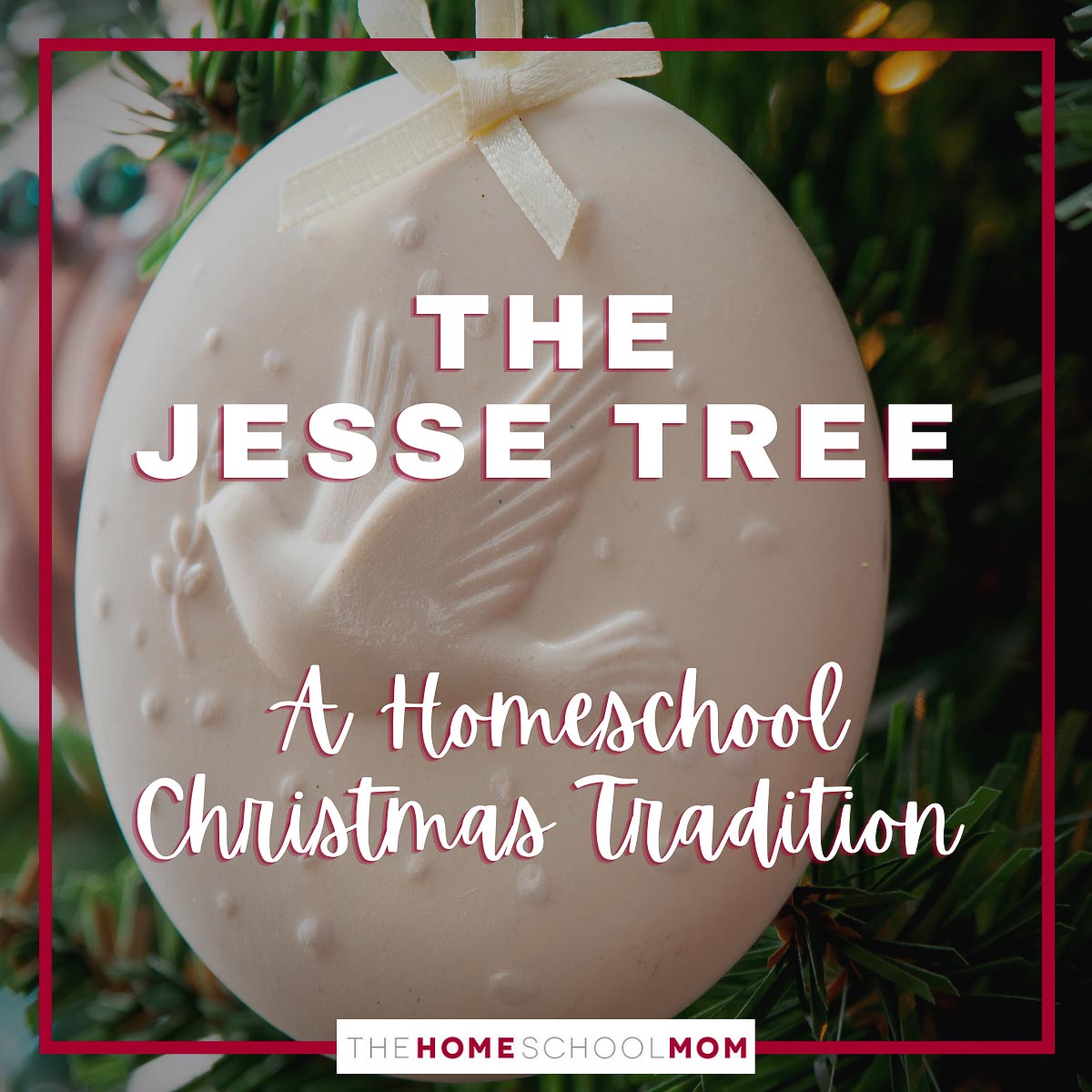 Creating a Jesse Tree for Advent together is a meaningful way to help the family emphasize the true meaning of Christmas. This wonderful tradition centers the significance of the holiday around Christ.
Jump to:
What is a Jesse Tree?
The Jesse Tree is a simple idea with profound meaning.  The name of the tree comes from a messianic prophecy from Isaiah 11:1:
Then a shoot will come up from the stump of Jesse, from his roots a branch will bear fruit
This "branch" from the line of Jesse is Jesus Christ (whose lineage descends from King David's father, Jesse).
The tree tradition traces God's plan for salvation for humanity from the beginning of time. It demonstrates God's faithfulness and grace to His creation throughout history, from His covenant with the nation of Israel to the fulfillment of His deliverance through Christ.
Families create or purchase a small tree and then place a symbolic ornament on that tree each day in December. Alternatively, the ornaments can be placed on the family tree. Each ornament represents part of the salvation story and is accompanied by a related reading from scripture.
How to use a Jesse Tree for Advent
Families read the appropriate passage and put the related ornament on the tree for that day.
The tree is a tradition that can grow as your family grows. Even the youngest of children enjoy pulling out the ornament for the day and putting it on the tree. Older children can make their own ornaments so that their tree becomes truly personal and unique.
Making and hanging the ornaments helps to instill the scriptural truths around each piece of God's revelation through history. The readings and ornaments provide children the background behind why Christ's birth at Christmas is so meaningful.
Create a Jesse Tree Advent calendar by putting the ornament or reading for the day into a traditional advent calendar. Children can mark each day with the Jesse Tree tradition, rather than with candy.
Jesse Tree Symbols
Each day uses scriptural passages to illustrate God's work throughout history in revealing His plan of salvation through Christ. Beginning with creation and ending with the birth of Jesus in Bethlehem, the ornaments include Scriptural themes like these:
creation (the earth)
Christ's birth (Chi-Rho symbol, candle, manger, etc.)
the first sin (tree with fruit and serpent)
God's leadership through Moses (burning bush)
Passover and the Exodus (lamb)
the giving of the law at Mount Sinai (tablets)
the exile of the Jews (tears)
repentance and John the Baptist (water)
the hope of a Messiah through Mary (mother and child)
Jesse Tree readings
CRI Voice.Institute offers a wonderful list of related scripture passages and suggestions of corresponding symbols that can be used with any ornament set. Includes instructions for the tree tradition and its background.
Jesse Tree Calendar – online advent calendar including a daily scripture reading, activity, song, and book idea of the day.
Free Jesse Tree Advent printable book
Jesse Tree ornament printables
How to make Jesse Tree ornaments
These natural wood slices with predrilled holes (affiliate link) are perfect for turning your Jesse Tree symbols into durable keepsake ornaments. They are larger than comparable ornaments and will fit many of the featured printables.
Jesse Tree coloring pages
Shower of Roses – List of Jesse Tree scripture readings and coloring pages for children. Excellent for younger children who might not have the dexterity to color small ornaments.
This Jesse Tree devotional book is for young children. It includes coloring pages for each day, a 1-2 sentence explanation of the theme, and a simple bible passage.
Jesse Tree ornaments for purchase
Jesse Tree ornament kit (affiliate link) - includes options to make your own ornaments or use the included poster and pre-drawn ornaments for coloring. The background of the Jesse Tree and scripture passages to go along with each ornament are also included.
Jesse Tree ornament kit (affiliate link) - 50 stickers (25 colorful symbols for the fronts and 25 scripture reference stickers for the backs), 25 discs, twine hangers, and a drawstring bag along with simple DIY instructions and a reading guide.
Handmade set of Jesse Tree Ornaments (affiliate link) - 25 colorful, high-quality, felt embroidered ornaments, a velour drawstring bag for storage, an illustrated instruction pamphlet, and the Bible verses associated with each ornament; also includes which chapter in the book Unwrapping the Greatest Gift: A Family Celebration of Christmas (affiliate link; not included in ornament set) corresponds with the ornament.