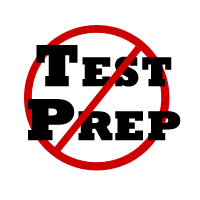 Many a homeschooler feels "tested" by testing time. It often feels like standardized tests are a test of us. Of how we're doing, of our efficacy as homeschoolers, of our success as educators and parents. And it is easy to transfer our own inadequacies and fear of failure to our children at test time. Sure, we want them to learn. Sure, we want them to do well on tests. Sure, it would be great to have high scores to show off to nay-saying friends and family members as "proof" that our little homeschooling experiment really is working. But in order to be responsible homeschool parents, we need to take a true look at how much our focus on standardized testing is about our children, and how much it's about us.
As mentioned in a previous article, there is a lot that standardized tests don't tell us. And although they can be good benchmarks to see progress in students over time, and can provide information on specific areas for focus, they should not be used to judge our effectiveness as homeschoolers. Nor should they be used to make determinations about our children's intelligence. We must resist the temptation to use test scores as a type of overarching evaluation of our homeschool experience. So how, then, should we approach standardized testing?
The answer varies for each homeschool family. Some homeschoolers work diligently with their children prior to testing, to prepare them for the tests. Stanford, Iowa, and California are the most popular standardized tests, with Stanford having a reputation as being the most rigorous and California as being the easiest.[1] There are many test-prep materials available, such as Scoring High, Test Best, Spectrum Test Prep, or Bob Jones University Press Test Prep. Many homeschoolers choose to use test prep booklets to prepare children (especially those new at taking standardized tests) for the testing process. This can be especially helpful for students who do not, in the normal course of their homeschooling process, take tests. These test preparation materials can significantly help students develop skills such as following along with the correct question in the right sequence, handling multiple choice, getting used to being timed, and becoming accustomed to the style of questions. For many students, test prep can help them feel more comfortable with both the information and process related to standardized test taking. And in many cases, it can help students improve their test scores.
Although I have taken that route in the past, this year I am changing tactics. I discovered that, for our family, test preparation ended up being more hurtful than helpful. Now that I have children who are familiar with the test-taking process (from doing previous standardized testing), I found that test prep caused us to put undo emphasis on the testing process – something we never do the rest of the year. It let both me and my children to become stressed about scores and numbers, while neglecting the real reason we homeschool to begin with – to become educated, responsible people of character who love learning. Test prep in the past has, for our family, meant neglecting the joy of science experiments and reading literature aloud in favor of repeated multiple choice question practice. Hands-on learning and character development suffered during test prep season at the hands of basic skill review and test-taking strategies. And all of the effort toward maximizing "the scores" led me to (in spite of my attempts to do otherwise) emotionally weigh my children's results as the ultimate indicator of my effectiveness as a home educator and of their status as learners. High scores meant I was a stellar home educator who had birthed genius children. Low scores meant... well, let's not go there. Apparently, I'm just a little too "Type A" for standardized testing.
Wait. Isn't it the students who are being tested? Oh yeah. Right.
All that to say, this year we've done no test prep. And that's good for us. Because this year I'm going to enjoy looking at my children's scores as a comparison of their progress on the test from last year, and an indicator of their general strengths and areas for improvement (according to Virginia's standards of learning). And I'm going to then remind myself that I'm homeschooling not to follow the prescribed sequence of learning according to public education guidelines, but to give my children an even greater depth of knowledge over time than the public schools expect, to make sure they are able to think critically and use the knowledge they gain, to teach them to love learning, and to bring them up to be responsible persons of integrity. When I keep those things in mind, I'm able to rejoice in the blessing of the children I have, and in being able to educate my children in the ways I believe to be most important. And I can avoid being seriously tested at testing time!
---
[1] Olbris, S. Testing and Evaluation. Virginia Homeschool Manual, p. G-8