"Rain, rain, go away" - not just a classic children's song.
If you've got high-energy kids, you may find yourself humming those catchy lyrics when the weather won't cooperate and outdoor playtime isn't on the day's agenda.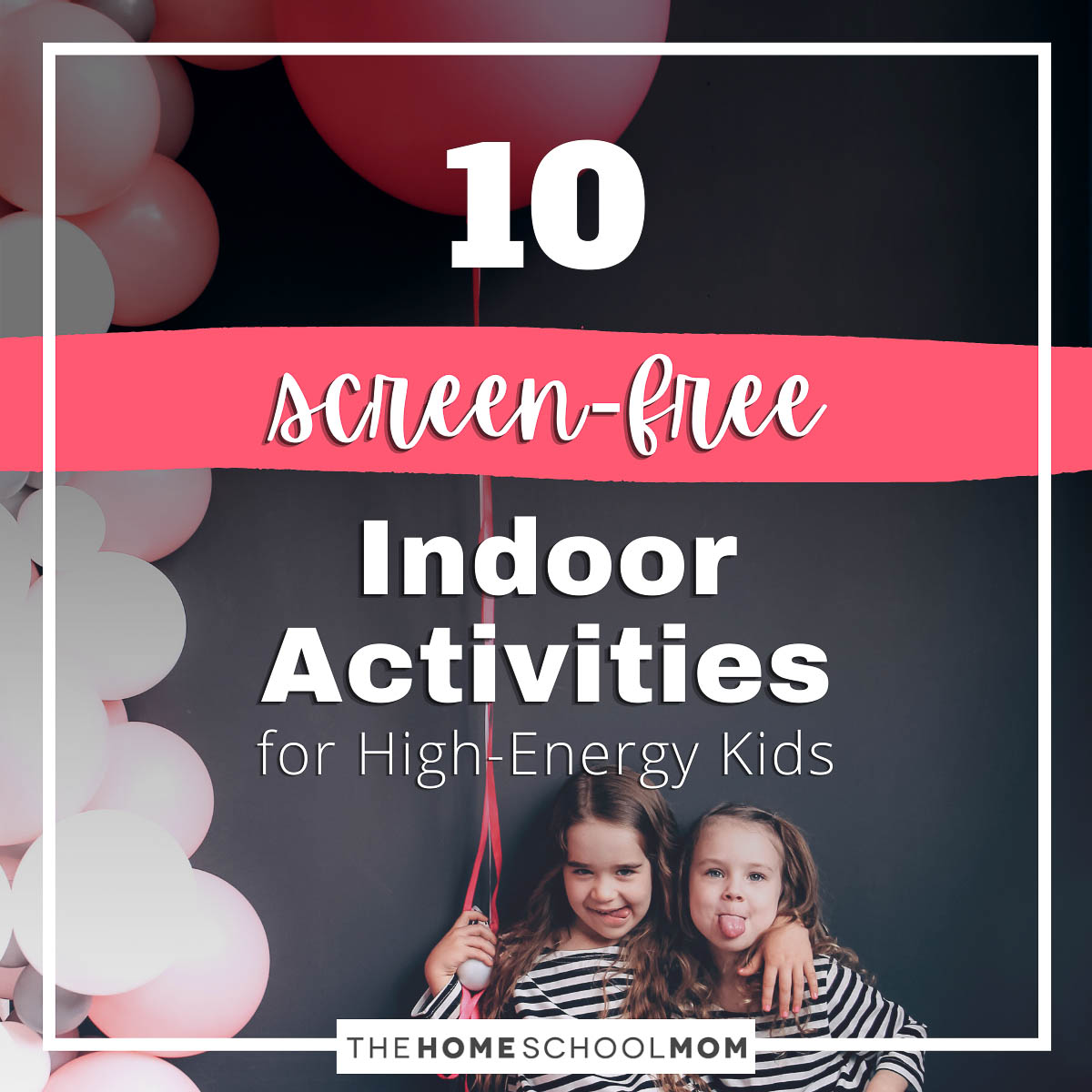 The truth is, we all benefit from time spent outside. Fresh air and sunshine have a huge impact on our physical and mental wellbeing.
Unfortunately, Mother Nature has a mind of her own. She doesn't always grace us with days that are warm, sunny, and made for play.
Whatever the weather, kids still need a way to burn all that extra energy.
Here are 10 screen-free activities to keep high-energy kids entertained indoors on bad weather days.
1. Paper Airplane Flying Contest
With scrap paper and a little imagination, you've got everything you need for a fun afternoon indoors.
Watch YouTube videos, pick up a paper airplane book from the library, or let your kids go to town engineering their own designs.
Then…..let them fly!
Put masking tape down on the floor to mark your children's starting point and then take the tape and mark where each plane lands. You can label the tape with each child's initial and "round 1", "round 2", and so on to track every toss.
To expand on the experience, have your kids note what works (and what doesn't) in their efforts to make each plane fly farther and faster.
2. Sock Skating
An "oldie but a goodie", sock skating is something many of us did when we were kids (ya know, before tablets and cellphones…).
This simple pastime is exciting for kids (and, let's be real, adults too!) of any age. Just put on your favorite - and most slippery - socks and start "skating" across your tiled floors.
3. Balloon Fun
Balloons are a frugal, fun dollar store find.
Blow them up and play catch, or just try to keep them in the air.
The best part about balloons is that they won't damage your valuables.
4. The Floor is Lava
If you haven't seen this Netflix hit, what rock have you been living under?
I'm kidding - sorta.
My kids absolutely love this show. And even more, they love playing the game.
It can be played by turning your living room into an obstacle course. Or, you can just buy the board game.
The rules are simple. Don't touch the floor….because it's lava.
My six-year-old got it for Christmas and it has provided hours upon hours of active fun for the entire family.
5. Simon Says
This is a game you can play with no prep and no equipment.
Anywhere you've got a bit of space to spread out, you can engage your kids in a quick game of Simon Says.
Not only does it work for getting kids on their feet, but it also teaches necessary skills like critical listening and following directions.
6. Tumbling Tower
I don't know that there's an "official" name for this, but if you've got a block set, this is a fun way to spend an afternoon.
Kids love to build block towers. More than that, they love to knock them down.
You can use any type of block set, or even make your own giant blocks with cardboard boxes (here's a free tutorial from KiwiCo).
Make a game out of this and have your kids build the tallest tower they can.
Then...  knock it down.
Rinse and repeat.
7. Yoga
Yoga is a fantastic way to keep kids active indoors.
It can be done to start your school day or as a break between lessons.
You'll find plenty of yoga poses for kids online. Or alternatively, you can buy a deck of yoga cards.
Either way, this is a calming exercise for both the body and brain.
8. Nerf Wars
If your kids have a stash of Nerf gear, have them put it to use by setting up an all-out foam dart war indoors.
Our kids got a joint gift for Christmas that included Nerf guns, darts, and tactical items such as vests, masks, and safety glasses.
Nerf wars have brought so many hours of screen-free fun!
Plus, it's endlessly expandable. As they grow, so can their collection.
9. Charades
Charades is a family favorite for many.
If you don't have the game already, it's easy to DIY at home.
Simply decide on some categories (i.e. fairy tales, famous figures, or animals and insects) and create lists for each one.
Then, write down the items on slips of paper and have each person draw one to act out when it's their turn.
If you need some ideas, Country Living has a great list to get you started.
10. Freeze Dance
This is another game that requires zero prep and is fun for all ages - especially tiny tots.
Bust out your Bluetooth speaker and crank up the tunes.
Then, hit pause.
When the music stops, so does the movement.
Unpause and keep dancing.
It's really that simple.
Wrapping it up
Bad weather days can really throw a wrench in your plans.
But they don't have to be a jail sentence.
And you don't have to resort to technology to entertain your kids (unless you want to, which is totally okay!).
There are plenty of screen-free ways for high-energy kids to stay active indoors.
Tell us...what are your favorite ways to keep kids busy and engaged when the weather won't cooperate?
Share in the comments below.