What about homeschool PE?
Homeschoolers have lots of options when it comes to physical education. First, we can remind ourselves that what we do for P.E. doesn't have to look like what schools do for P.E. We can get our kids moving, learning about fitness, improving their coordination, building strength, and enjoying their physical selves in a variety of ways. Here are some homeschool PE activities from TheHomeSchoolMom contributor Jeanne Faulconer, below are links to external resources.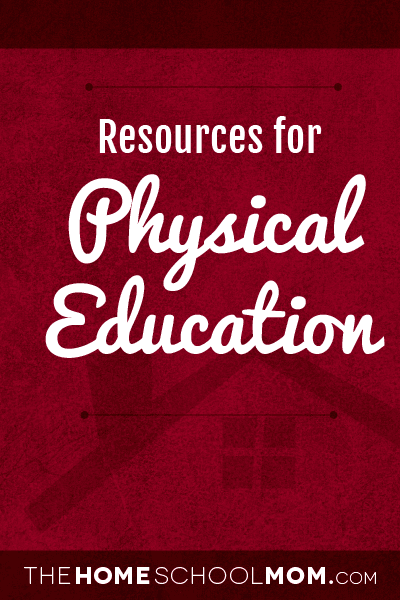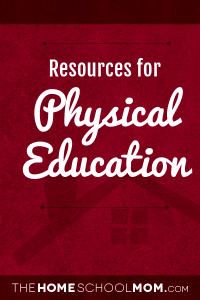 15 Easy and Exciting Indoor Physical Education Ideas (Y, M)
Fun games for indoor PE from The Deliberate Mom blog
Indoor Physical Fitness Trail (Y, M, O)
Download and print the physical fitness trail signs, post them throughout the house, then have students complete the indoor trail by following the signs and completing the activities (for example, do 20 jumping jacks" or "Do 10 side leg lifts" (from Connections Academy)
Five Indoor PE Activities for Elementary School Students (Y, M)
Five activities to keep kids moving (from EducationWorld)
Operation FitKids Curriculum (Y, M, O)
Free activity and nutrition lesson downloads for grades 3-5 and 6-8 from ACE Fitness
Exercise Library (No Equipment Required) (T)
The ACE Fitness website offers this online exercise library. Geared toward adults, the library has illustrated exercises rated by body part used, equipment needed, and difficulty level. This link goes to exercises requiring no equipment; you may change filters based on equipment you may have at home.
Heart Rate Zones (T)
Teach kids how to measure their heart rate and evaluate their exertion level during exercise (from ACE Fitness)
Cosmic Kids Yoga YouTube Channel (Y, M)
Yoga, mindfulness, and relaxation designed specially for kids aged 3 and up; choose the Playlist tab for a large list of yoga playlists
GoNoodle (Y, M)
A free online resource for parents, caregivers, teachers, and kids. It offers free movement, yoga, and mindfulness videos, downloadable curricular activities, and off-screen home activities; be sure to download the progress chart linked on the landing page
fit by Sanford (Y, M)
Activities to keep kids moving; includes sneaky ways to keep kids moving, making the best of indoor recess, ways to incorporate physical activity, related downloads, and more
123 Certificates (T)
Print custom sports certificates, sports certificate templates and personalized sports awards. 123 Certificates offers free rewards, recognition award ribbons and certificates to print. Print rewards for players, coaches, assistant coaches, moms, or a player that has worked hard.
How much exercise do you need? (Y,M,O,T)
Physical Activity for Everyone from the Center for Disease Control. Includes information on The President's Challenge. Beginning March 20, you can win awards for staying active - and track your progress along with kids across America.
Let's Move (Y,M)
America's move to raise a healthier generation of kids.
Physical Activity Tools and Resources (Y,M)
Tools and resources help families and communities better understand physical activity and how it relates to maintaining a healthy weight.
The President's Challenge Activity Log (Y,M,O,T)
You have to record your activities to earn awards in the President's Challenge.
Presidential Youth Fitness Program (Y,M,O,T)
Empowering students to be fit for life. The national fitness education and assessment program helping schools achieve excellence in physical education.
Xtreme Stix Tutorial (Y,M,O,T)
Devil stick manipulation is a form of gyroscopic juggling, or equilibristics and is generally considered to be one of the 'circus arts'. The name, "Devil Stick" most likely comes from a confusion of 'diabolo' (to toss across) with 'diablo', or devil. Sometimes called "devil-sticking" other terms often used are: "twirling", "sticking" and "stick juggling". & tutorials to learn with a Devil Stick.
Juggling (Y,M,O,T)
Ancient Egyptian tomb paintings show people juggling. Juggling develops hand-eye coordination and keeps the kids amused for hours. Give it a try!
How to Juggle (Y,M,O,T)

Physical Activity Resources (T)
Activities to help students to eat healthy and get active