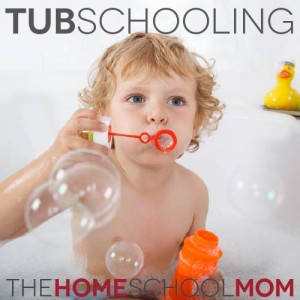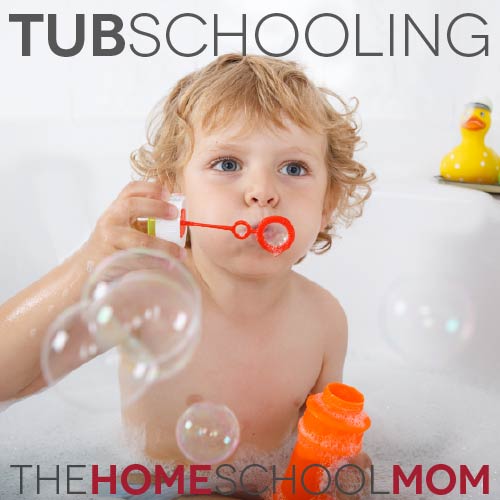 What are the toys in your bathtub? And how good are you at tolerating a little mess?
If you're able to create a nice collection of bathtub toys and allow some extended playtime in the bath, you have the possibility of giving your preschool and kindergarten age kids a good experience "tub schooling."
It's more important for your kids to enjoy creative play than to sit at a table doing worksheets for hours a day from ages 3 - 6, and there's no place better to play than in the bathtub.
I suggest having a plastic bin full of toys, stocked with:
A set of plastic measuring cups, measuring spoons, bowls, and spoons. Encourage pouring, measuring, and stirring.
A set of plastic nesting funnels and a plastic colander.
A water wheel type toy, such as the one offered by Discovery Toys. Pour water on the water wheel to make it spin. This is one item I'd pay more for in order to get one that works well in bath tub and sandbox. Our sturdy water wheel lasted three boys over a decade, and they never tired of it. One concrete payoff was during a field trip to an old Virginia grist mill and having the boys immediately understand how water from the mill stream turned the water wheel and powered the revolving grinding stone. The other payoff was just how much fun they had with it.
Boats, including a wooden rubber band boat. Wind the rubber band, let it go, and watch the propeller move the boat. Include other types of boats -- sailboats, submarine, motorboats, canoes -- and encourage story telling during play with the boats.
A set of stick-on letters and shapes. These adhere to the bathtub with moisture but come right off without leaving any sticky stuff behind. Kids can spell their names or simple words, and they can make designs with the geometric shapes.
Soap crayons. Test for color safeness on the tub surface and make sure the kids aren't irritated by them, but once you've done the test -- let the kids enjoy writing and drawing on the inside of the tub and enjoy washing the designs away. A good way to get rid of bathtub rings, too!
Spray bottles full of plain water. Let the kids spray down their writings, create "rain" for their boats, and power their water wheel with squirts from the spray bottle.
Bubbles and foam. Again, make sure these aren't irritating for your particular child, but once you've made sure, allow the kids to play in the frothy stuff, making beards and eyebrows for their faces and foamy waves for the boats to navigate.
Some kind of collection of toy creatures or people. Sometimes we had dinosaurs, sometimes a zoo full of animals, sometimes sea creatures (oh, the sharks were fierce!), sometimes super heroes or trolls. The important thing is to have a cast of characters so small stories can be told about them or acted out with them.
Top off your preschooler's bath with a hooded towel with rabbit ears or a doggy face, and join in a little make believe as you towel off your bunny or pup and talk to him or her about an animal adventure.
We're frequently asked about the right curriculum for preschoolers. We've looked at the research and seen over and over that imaginative play and exposure to read-alouds and stories are actually the most developmentally appropriate ways for preschoolers to learn.
Good props to encourage the imaginative play is the "curriculum" you'll want to provide, in or out of the bathtub. Exposure to ABCs, incidental opportunities to "write," and telling stories (your stories, their stories, and stories as narration to "let's pretend" in the tub) combine to form a pressure-free way to expose children to literacy skills.
You'll also want to balance your own involvement with letting the kids play. You can sometimes ask questions or start stories, but it's also wise to let kids continue to work things out themselves when they are happily narrating their own bathtub scenarios. It's sort of like the adage, "Don't wake the sleeping baby" -- "Don't interrupt the playing preschooler" with ideas of your own, if she's happily engaged.
Tub schooling can be a fun and effective part of an approach to enjoying the preschool years at home. It can be a bit splashy, but the floor wipes up easily with a big towel, and the kids smell great when they emerge from the depths having completed a few thought experiments about water, and with a few more stories in their heads.
Of course, there is no substitute for direct supervision of young children in a bathtub.